Registered User
Join Date: Jul 2009
Location: Lubbock, TX
Posts: 249
Not really a build thread
---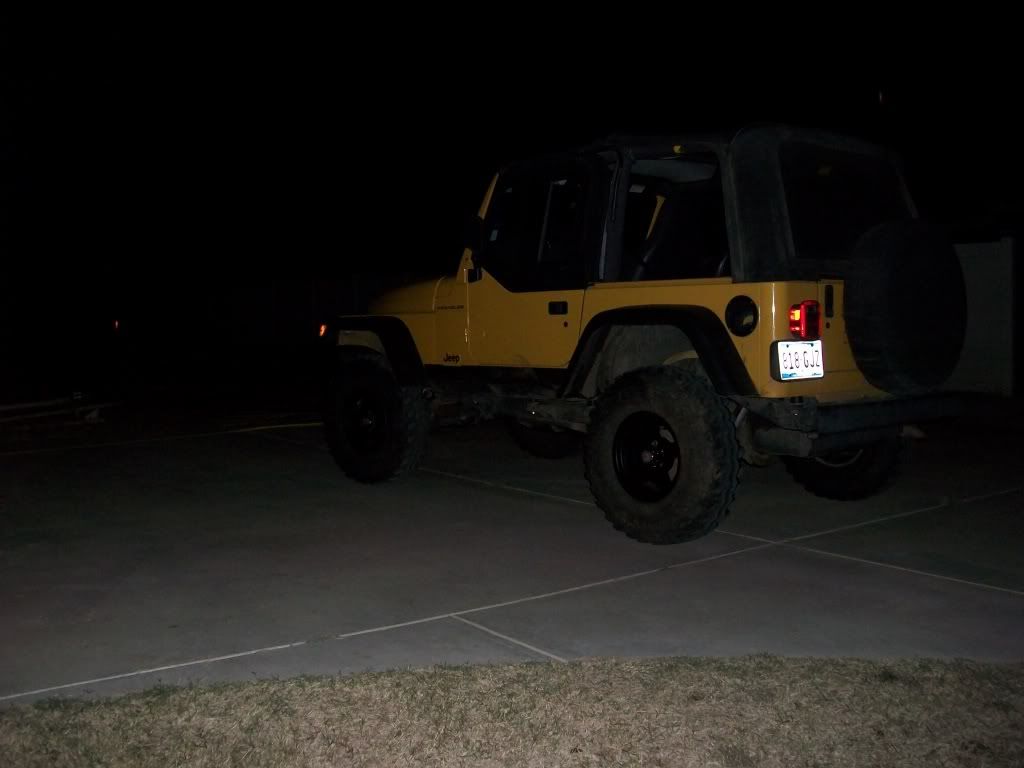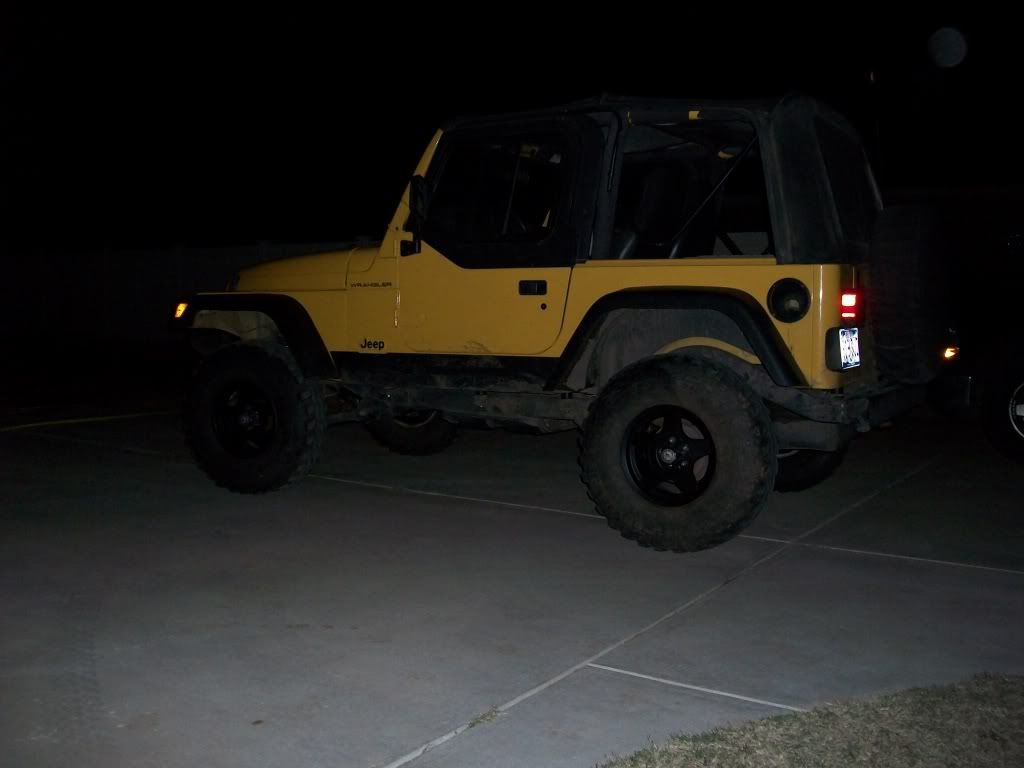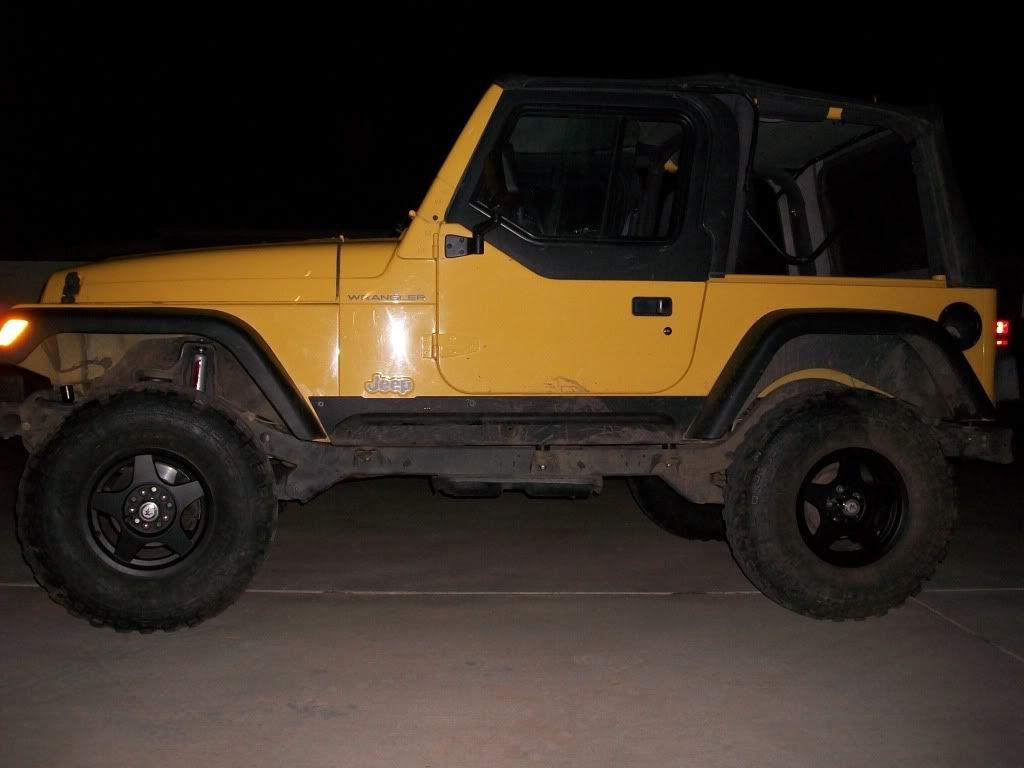 Sorry the pics are dark I JUST finished
It took me ALL day to put on RC 2.5" SL/1.25" BL/MML/2.2 Steering Stabilizer and 33" TSL's on some wheels I got on Craigslist for $50 and then spray painted flat black (I had to use the chrome lugs and center caps from my old wheels).
After I took it for a test drive I had no vibes up to 75 MPH
I know that is how it supposed to work but knowing myself I figured something would go wrong.
All my gears on the bottom of the shifter (2nd, 4th and reverse) seem further away but still go in easily. Should I adjust something or is this OK?
My speedometer is also perfect (according to my handheld GPS) with the 4.88's and 33's.
The only thing I forgot was to screw the gas filler back in and put the gas cap on
I saw it after the test drive when I smelled gas in the garage
Now I just need to go out and do some hard wheelin and break my turdy5 so I have a NEED for a S35/D44
Overall, I'm pretty happy with it! What do ya'll think?
Registered User
Join Date: Mar 2009
Location: Okemos
Posts: 1,812
very nice, it looks great. be sure to get some day pics up once you can.
---
Quote:
I took a poo once, and when I stood up, there was nothing in the toilet. I was positively terrified.
Quote:
Get a good tummy tuck with engine skid and treat it like a pimp does a crack whore.
Purple Jeep Club member #8
To view links or images in signatures your post count must be 10 or greater. You currently have 0 posts.
OK daytime pics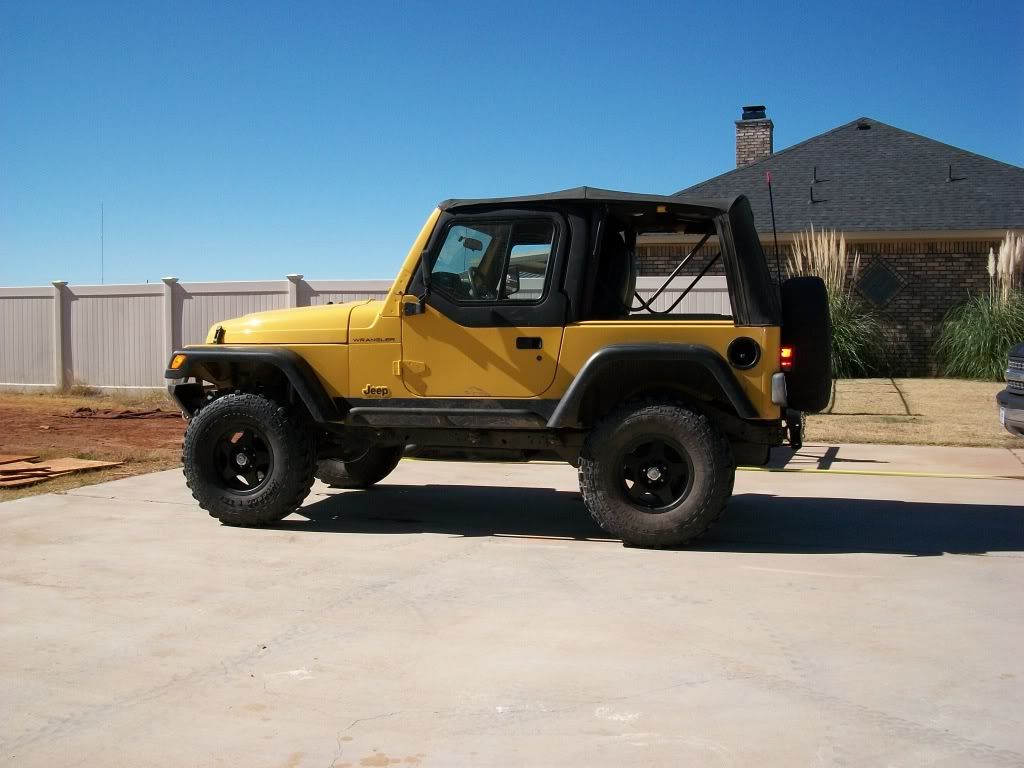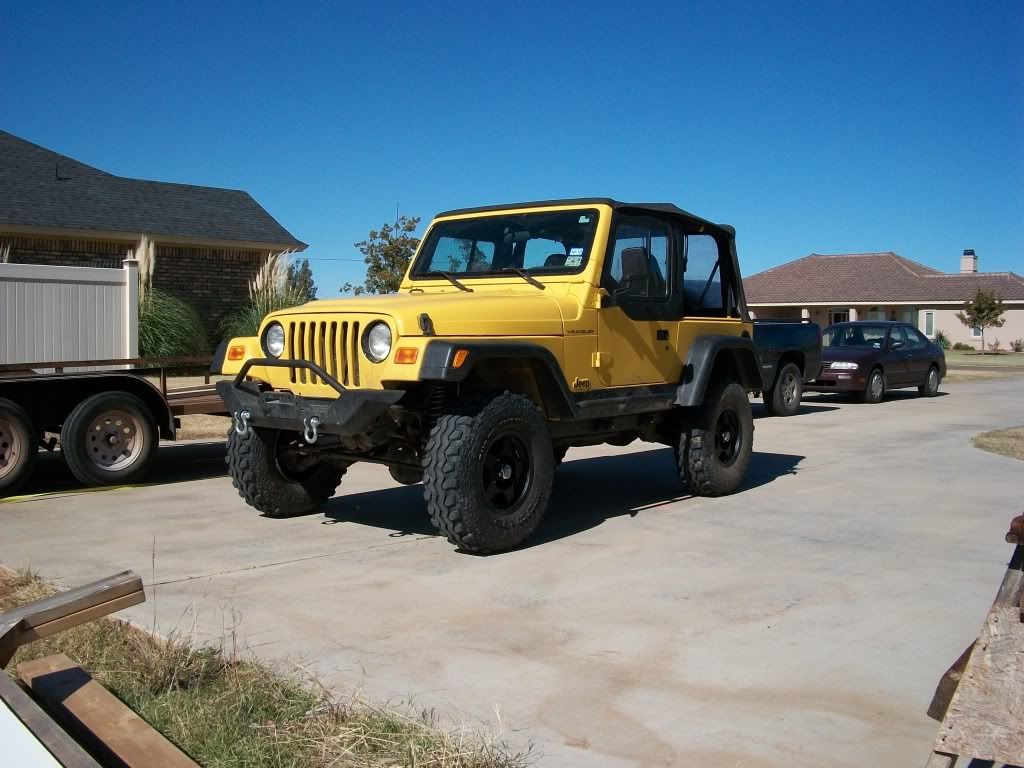 Registered User
Join Date: Jun 2008
Location: SE Atl, Ga
Posts: 472
Nice looking Jeep. Also great score on the rims from Craiglist!
---
US Navy "SPOOK" RETIRED
Impact Orange member # 39
Registered User
Join Date: Jan 2009
Location: Colorado
Posts: 334
Hows the ride? I've heard Rough Country shocks can get a bit firm.
Quote:
Hows the ride? I've heard Rough Country shocks can get a bit firm.
It is definitely stiffer but it seems like it is from the springs, not the shocks. It is a good ride.
Registered User
Join Date: Feb 2010
Location: Long Island
Posts: 614
looks good. i like tht color too
Registered User
Join Date: Aug 2009
Location: South Africa
Posts: 25
I haven't updated in a while and my jeep is a little different now.
Tube Fenders, Super 35, HD tie rod and drag link, 35" KM2's and a few other odds and ends.
Now Im having a problem maybe someone could help me with. I used the 3/4" led's for side blinkers. And even though they are a two wire light I TRIED using them as parking lights. My goal was to use them as a parking light only and not flash. However, when I hooked them up to the 3rd wire they still flash. Does anyone know what the problem is?
If all else fails I was going to just splice in to the power on my headlights so that anytime my headlights are the parking light led's would come on.
Any thoughts are appreciated!
Currently Active Users Viewing This Thread: 1

(0 members and 1 guests)
Posting Rules

You may post new threads

You may post replies

You may not post attachments

You may not edit your posts

---

HTML code is Off

---