Recent aftermarket Jeep product introductions indicate a real change in how they are now being designed for our Jeeps vs. the "old days". Old designs made it easy to bolt enough steel on to turn our Jeeps into heavyweight hogs on the trail. Count me as one whose Jeep became overweight over the years. It has only been since the last six months or so when I started removing steel and replacing it with lighter aluminum parts from Savvy to get my then overweight TJ back down to its previous fighting weight.
So thankfully, a few manufacturers of aftermarket accessories have gotten smart and have gone in a new and much better direction with their products… light-weight but still strong & functional. Innovative and creative.
So in this thread, I'm pleased to have been asked to introduce a new company, Modern Classic Enterprises and install their first product, a complete vintage-looking Flattie Fender replacement kit for TJs and LJs. Founding partners in MCE are long time members of this forum and like many of us, live and breathe Jeeps.
So finally, cool-looking light, flexible, & inexpensive front flattie fenders for the masses. Lightweight, flexible, easily replaceable in the unlikely event you break one, and get this… $159.99 complete for both sides. If you manage to break a fender while grinding your way through a rock garden, individual replacement piece-parts are only $44.99!
What are they made of? A very flexible yet tough ABS plastic. ABS is tough stuff and a very good choice for fenders that expect to see much abuse.
Factoid... football helmets are made from ABS, it must be tough stuff.
How flexible? Very, take a look.
Can it take trail abuse? Check it out…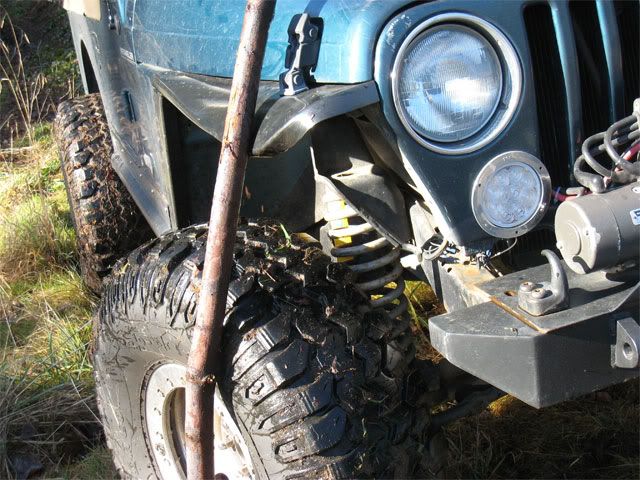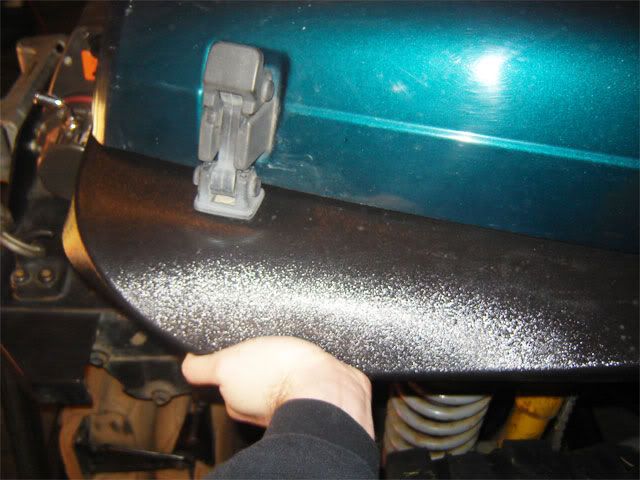 Benefits of the Modern Classic Enterprises ABS flattie CJ-style fender...
· Light weight
· Flexible strong ABS
· Won't damage or tweak the tub when you smack it into a rock like a steel tube fender can
· Replaceable in minutes if you manage to break one
· Low cost. $159.99. Compare that to the cost of tube fenders
· Won't rust if you scrape it up
So after years of coveting a steel tube fender, after all they do look cool, I finally accepted that what some of my knowledgeable friends was saying was true… that steel tube fenders can damage or tweak the tub. Not good. So when Mike at MCE contacted me to tell me about a new replacement fender design and told me about the above benefits, I was all over it. They couldn't even send me photos until they got into the patent stage so the wait for the first photos was frustrating. Yep, the design will be patented.
So here goes… the kit arrived very well package and I was stoked. The top parts in the below photo cover the side of the wheel well after it gets trimmed. The bottom parts are the new flattie fender top pieces.
I wanted to paint mine to match the Jeep so I used Krylon Fusion paint after carefully cleaning the plastic with thinner per Krylon's directions. They look great in their natural black finish so painting them is strictly optional.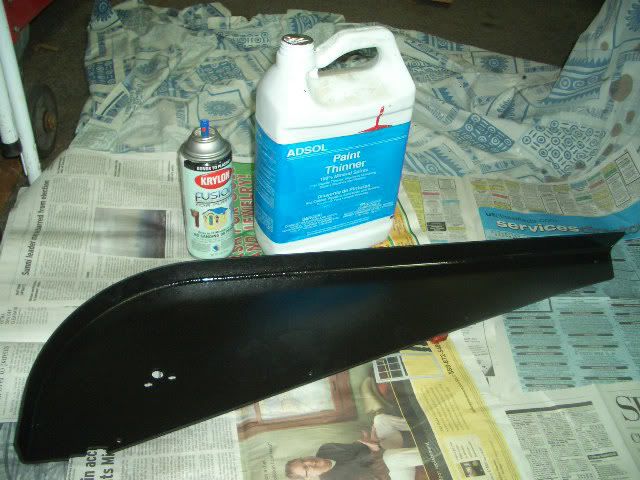 Here they are freshly painted sitting on the old fender.
So here's the "Before". Dang, look how wide my TJ is, we'll be fixing that. It's hard to see here but I've had to jack my fenders back up several times after a few run-ins with rocks. Steel fenders can be a PITA on some trails.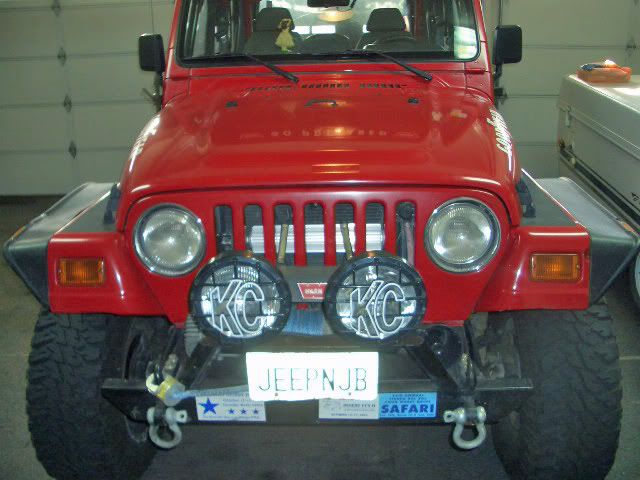 So the installation begins.
Remove the old flares first that are held in place by a half-dozen screws or so.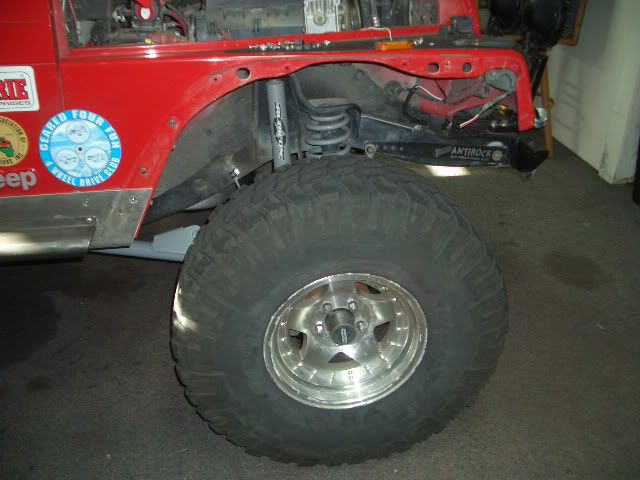 Using a straight edge, follow the edge of the wheel well up & mark it with a felt tip pin. That line you mark is where you'll trim the fenders. Directions are very clear, mostly, on how to make such cuts. That first cut is the hardest.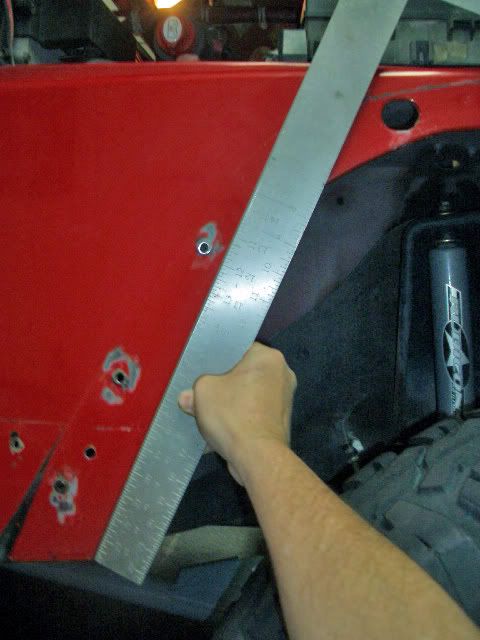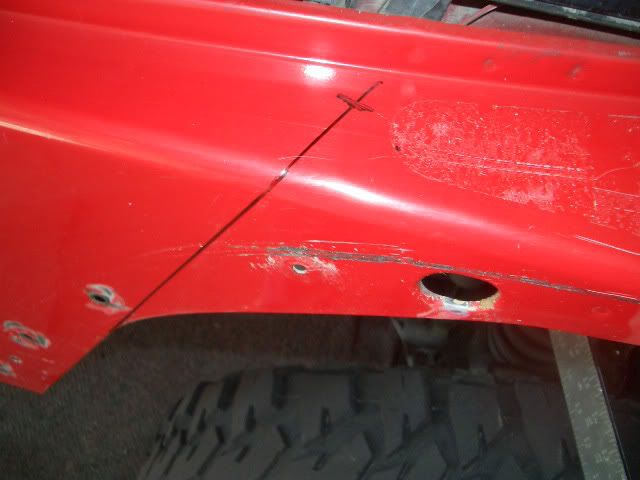 Joe Bertain (Humboldt) below, always a helpful friend, came over to spy on what I was doing so I put him to work making the first cut along that line. Nearly anything can be used to make the cut… hacksaw, jigsaw, cut-off wheel on an air tool, sawzall, whatever you have.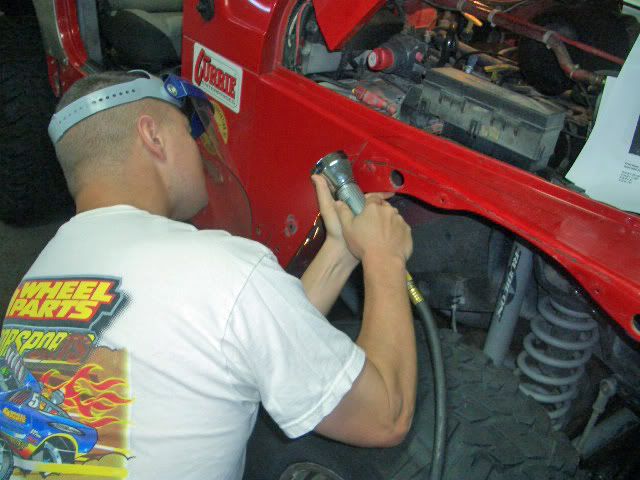 I finished the cut up on top with a jigsaw which really did a nice job cutting the curved part.
Here's what it looks like after the cut is done as Joe holds the old fender for me. Pretty cool looking.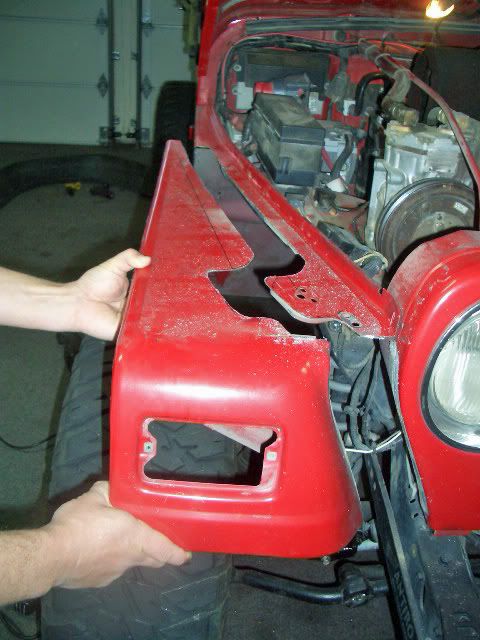 You have a few threaded inserts the fender flares were screwed into. Grind them down flush with the body off using a Dremel tool, angle grinder, grinding wheel on your drill motor, whatever. This is where the side piece attaches so it needs to be flat.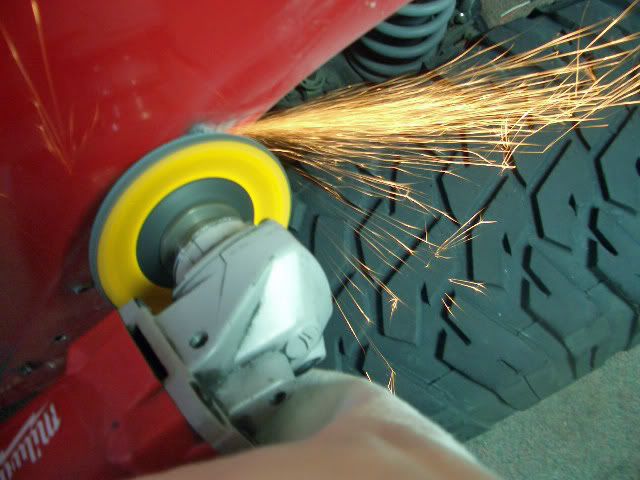 Looking good, the new fender fits perfectly during this trial fit. You can see where the edge of the grill was painted with rattle can paint, removing the old fender leaves an unpainted edge so a little paint is in order here.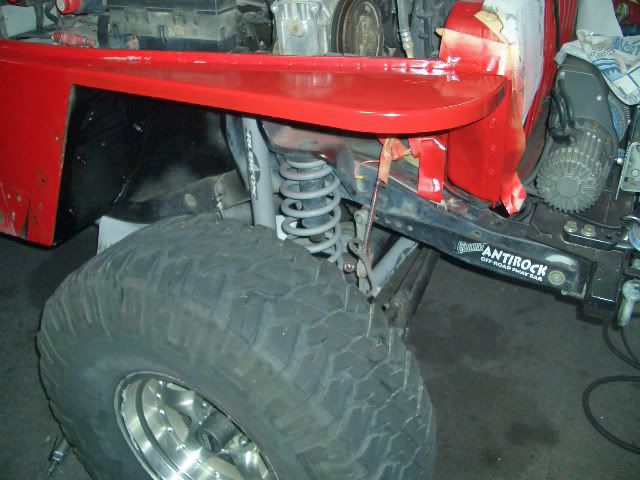 Drilling the first of five small holes per top piece. The top is held in by an allen-head stainless steel machine screw & nyloc nut with four push-in plastic body trim holders. This is what makes it so quick to remove & replace if that should ever become necessary (for you abusive types).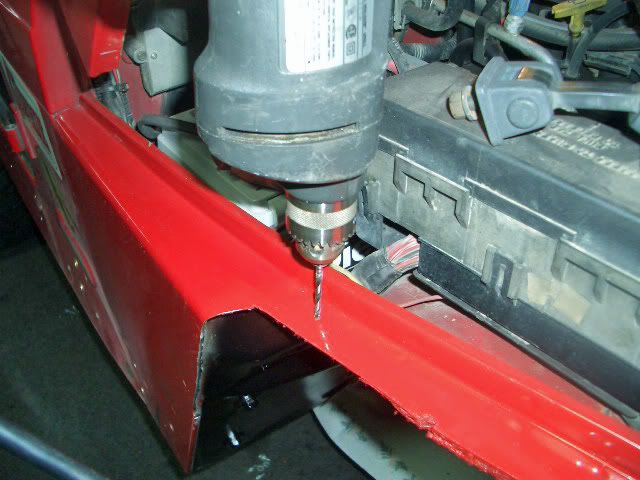 I didn't really just hammer it in like this. I used a punch between the hammer and push-in holder so it wouldn't mar the surface. But you can't hold a hammer, punch, and camera all at the same time you are taking a picture so there.
This shows all four of the push-pins with the side trim piece as well as the hood latch installed.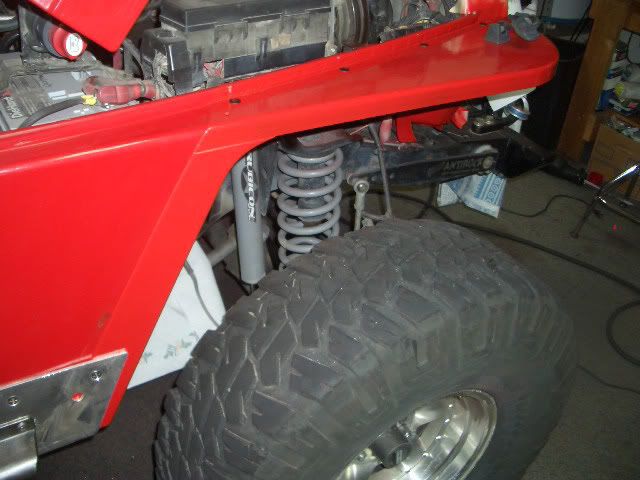 I reinstalled my Savvy rocker guard over the top of the trim piece. I've been really happy with the design during the installation process, it's innovative and easily installed.
Finished with the fenders, now it's time to install the side markers and front turn signals. I think it looks awesome so far.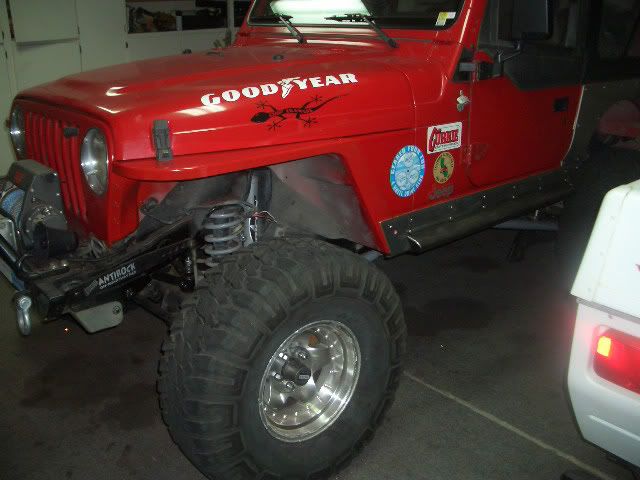 A 3 1/8" hole was required for the JK turn signals I used. What's cool about the JK turn signals is not only do they have that classic CJ-look, they accept the OE TJ turn signal bulb holders without any mods needed. Thanks to Mike/GzrGlide for that awesome JK turn signal idea and help on how to do it. I drilled mine so the hole is centered under the headlight instead of centered left-to-right in the space. That allows the turn signals to be outboard of things like driving lights, a winch, tow hooks, etc. so they aren't blocked.
I retained the three ribs on the sides of the JK lights & after notching them & placing corresponding notches into the grill, mounted them in such a way that a 30 degree twist locks them in place without having to use RTV.