Registered User
Join Date: Sep 2011
Location: Ada
Posts: 58
New jeep lift help??
---
Hey guys I just sold my 97 4 banger and bought a 6 cyl Sahara and it is supposed to have a 4" lift just like my old tj but it looks and feels a lot shorter. This jeep has 33"s where mine had 35s but it shouldnt make that much of a difference. My ?s are 1. How can I tell if it was a 4" lift and 2. Can I just put new 4" springs under it to pick it up? It has a drop pitman arm and extended sway bar links so any help is greatly appreciated......
---
98 TJ 4cyl, 4" lift ,35s, super 35-lock rite, smitty armed all the way around....SOLD
99 Sahara, 4" lift, 35s, 8.8, 4.56s, Detroit locker......SOLD
Looking for new project
Disturbed Jeepaholic
Join Date: Aug 2006
Location: CharlottesHELL
Posts: 35,714
Post pics.If it has a drop pitman arm,most likely it's a 4" lift.If it doesn't have an adjustable track bar with a frame side drop also,remove the drop pitman arm and go back to stock.You can just replace the 4" springs IF it has a 4" lift.
http://www.jeepforum.com/forum/f9/fa...7/#post6077636
My old 05' when it had a 4" lift and 33's.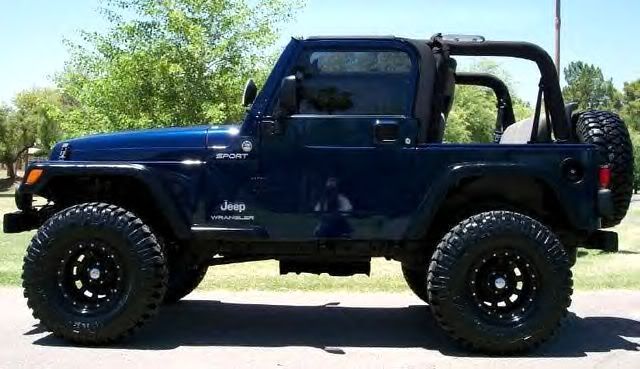 Registered User
Join Date: May 2010
Location: Stormville, NY
Posts: 7
some springs sag and arn't as big as other companys, the lift in your new jeep can be a different company if it has a drop pitman arm its most likley a 4 inch as said above throw some different springs in and you should be fine!
---
02 tj 4" lift 4:10 d30/35 aussie front locker 1.25bl 1"mml stinger xrc8 winch fully skidded
Registered User
Join Date: Sep 2011
Location: Ada
Posts: 58
Ok let me try to figure out how to add photos from a iPhone and I'm 99% sure it's got a drop pitman arm and I know it's got a tcase drop
---
98 TJ 4cyl, 4" lift ,35s, super 35-lock rite, smitty armed all the way around....SOLD
99 Sahara, 4" lift, 35s, 8.8, 4.56s, Detroit locker......SOLD
Looking for new project
Currently Active Users Viewing This Thread: 1

(0 members and 1 guests)
Posting Rules

You may post new threads

You may post replies

You may not post attachments

You may not edit your posts

---

HTML code is Off

---