Registered User
Join Date: Jun 2010
Location: Grove City, Ohio
Posts: 439
Mounting Hockey Pucks ?
---
I just got my pucks. Now, what is the best and easiest way to mount them ?
I really do not want to drill through my spring plate on my 99 Wrangler. PITA
I am going to install my RC Lift Kit this weekend so my suspension will be apart as I want to do it then.
Thanks.
Registered User
Join Date: Jan 2008
Location: Houston
Posts: 470
I didn't have to do it on the front, but on the rear I bought a waterproof epoxy. Just scuff the pucks and clean the spring pad really well.
They have been on for 2 years with 3-4 pretty rough wheelin trips. Haven't fallen off yet.
---
1990 YJ - 96 to 03 My first. She will be missed.
2004 TJ - 03 to 11. Old Faithful. I will have another TJ one day.
2007 JKU - SOLD
2005 LJ - In the mail, hope I like it. Everybody's doin it, here is the build:
To view links or images in signatures your post count must be 10 or greater. You currently have 0 posts.

Registered User
Join Date: Oct 2008
Location: Winston-Salem, NC
Posts: 37
Same here. I epoxied mine to the spring perch. Has been on there for about 1.5 years w/ lots of wheeling. No signs of coming loose yet.
Registered User
Join Date: May 2010
Location: Glasgow
Posts: 29
I have seen hockey pucks used for a lot of things on a Jeep, but I am not following this one. Are you using them as bumpstops?
Registered User
Join Date: Oct 2008
Location: Winston-Salem, NC
Posts: 37
Yup. A hockey puck glued to the spring pad makes a great 1" extension for your bump stops. It's a cheap and effective solution.
Registered User
Join Date: Jun 2010
Location: Grove City, Ohio
Posts: 439
Bump Stop Extensions.
I thought it was wierd also. After doing research on here and the internet from different people. The reviews and satisfaction from people who have used them when adding a lift kit convinced me to go ahead and use them as extensions.
Registered User
Join Date: Sep 2006
Location: Wisconsin
Posts: 272
I welded a nut to the spring plate (I own my own welder).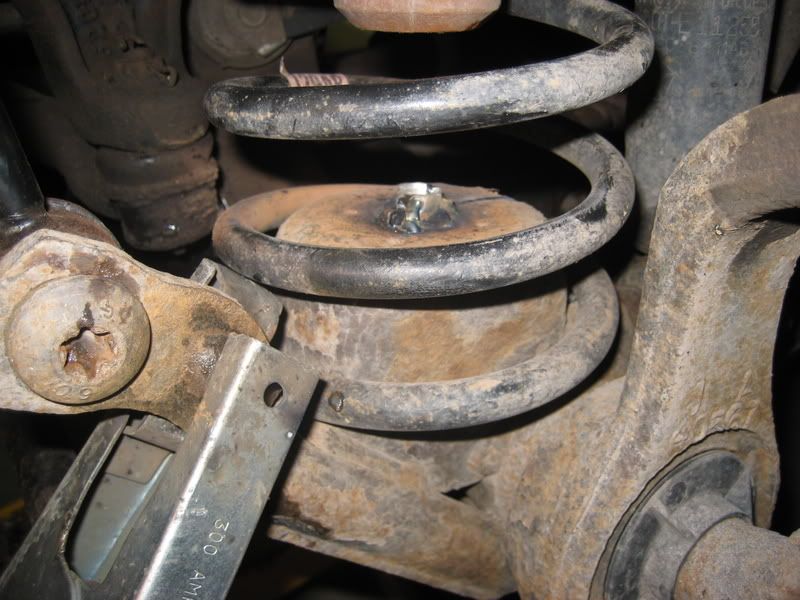 Then I drilled a hole through the center of the puck and bolted them down. This is a little more permanent than glueing them on.
---
I intend to live forever. So far, so good.

'99 Wrangler Sport: 2.5" Old Man Emo lift and shocks, adjustable trackbars, Quick-Disko sway links, rollin on 31" BFG A/Ts
Registered User
Join Date: Feb 2007
Location: Fresno
Posts: 685
Epoxied pucks to the spring perch for front bump stops. As was mentioned earlier, scruff up the perch and the puck. Have had mine on for 2 years.
---
gmb08
Tags
lift , tj , wrangler , puck , hockey puck , bump stop , bumpstop , install , installation , advice , help , tips
Currently Active Users Viewing This Thread: 1

(0 members and 1 guests)
Posting Rules

You may post new threads

You may post replies

You may not post attachments

You may not edit your posts

---

HTML code is Off

---