The day finally came when I had some unexpected time off and my good friend Moses2564 on here kept insisting this would be the perfect opportunity to get this project done. I had bought Monstaliner a few months back after taking advice from Luckrider. He probably has the best write up I've seen so far but I thought I would have a little fun with it too.
Anyways I decided to take Moses' advice and suddenly start the project. Headed to the garage and within an hour and a half or so I had removed everything from the interior except the dash board (of course), and roll cage padding. One thing to be sure to do was get all the little screws (carpet snaps, jack accesory pouch straps, and any wires that were clipped onto the floor pan). I did this all while waiting for him to come over; we had painted his fenders the previous night before and he had to put them back on before he could drive over.
Supplies Needed:
(Kit will supply some of basic needs)
-Gloves, lots of them!
-Sandpaper/Scuffing pad
-MEK
-Blue tape
-Extra Polyurethane brushes (if you don't feel like cleaning old ones)
-Extra paint trays (same reason as above)
-Maglight (for spotting for touch ups)
-Some sort of tarp or cover to keep paint off your garage floor
-Breathing mask (highly recommended)
-Dawn soap (helpful if you get paint on your hands
-Caffeine
-Friends
-Music, lots of it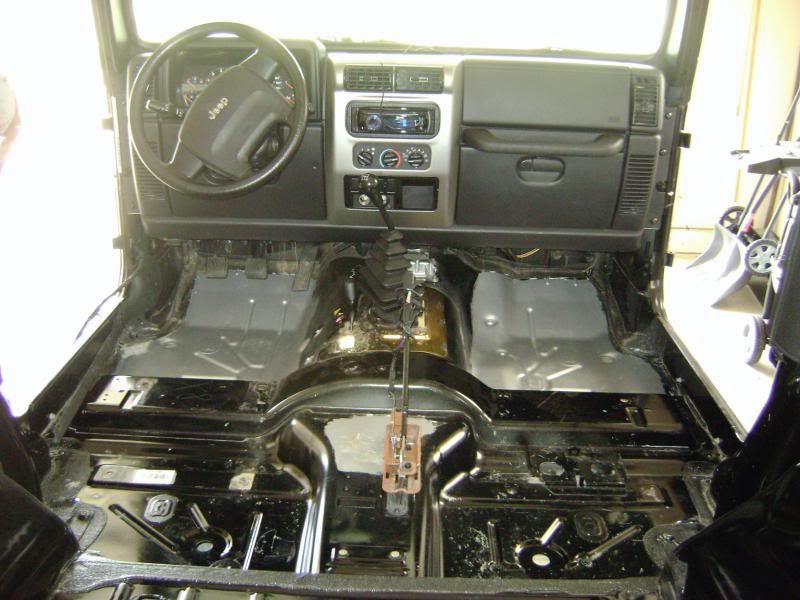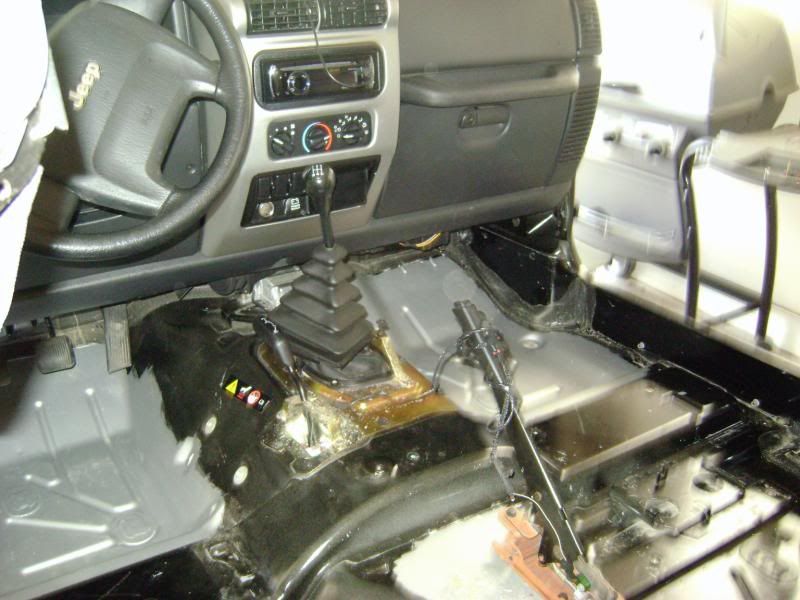 The stripped interior. Notice my floor pans were silver because I used Chassis Saver 2 months prior to control the surface rust I was getting from the leaks in my Jeep. It worked pretty good.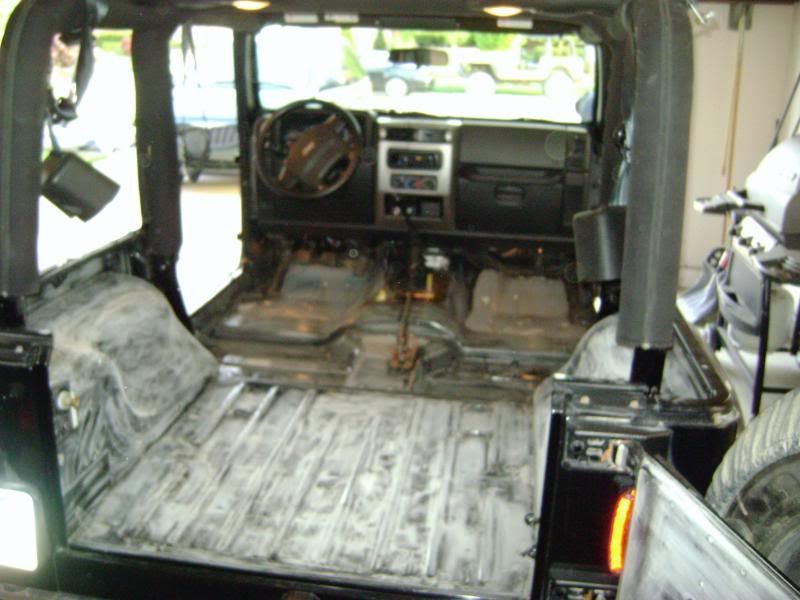 After Moses arrived at 5:30 we scuffed the interior using the supplied scuffing pad which did a great job, and 120 grit sand paper I believe. Then came the MEK, which I suggest holding your breath while doing.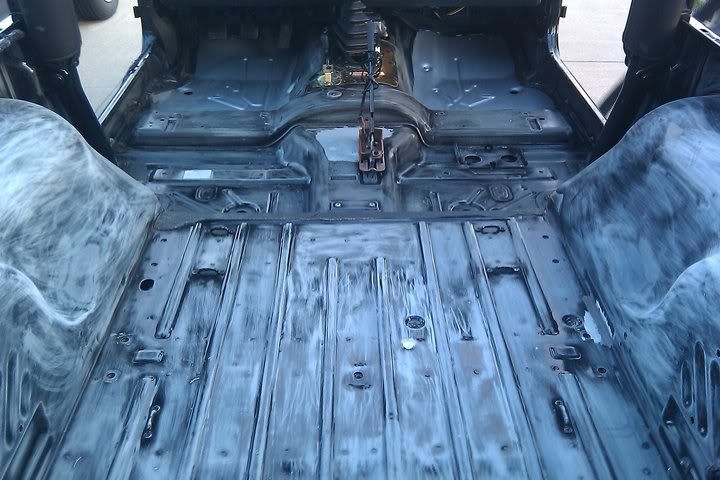 (this picture is prior to wiping it down with MEK)
By 7:30 we finished up and watched the Wings destroy San Jose 7-1!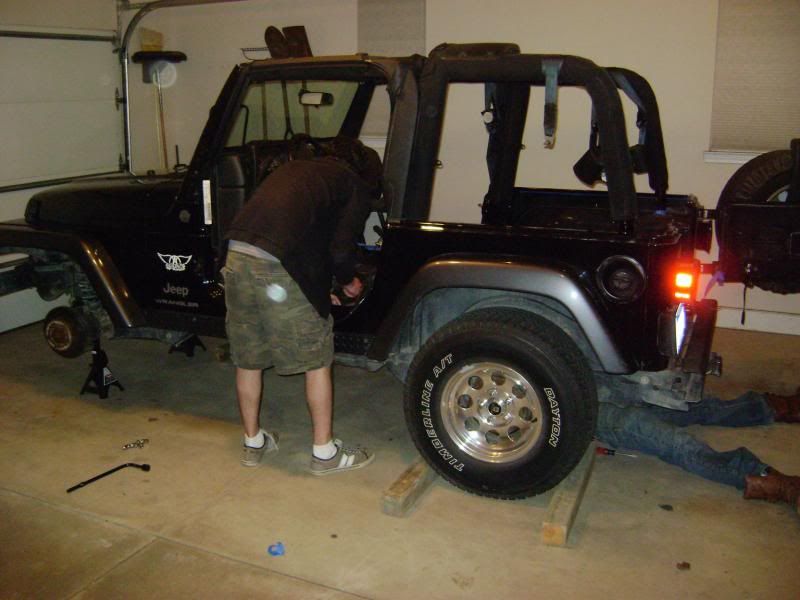 Sometime around 9 we got back to working. I began taping while he was under the Jeep inspecting the drive shafts and brakes. We tend to do stuff like that when ever we hang out lol.
The taping was annoying but very crucial, the better you tape, the better the result so don't skimp on it.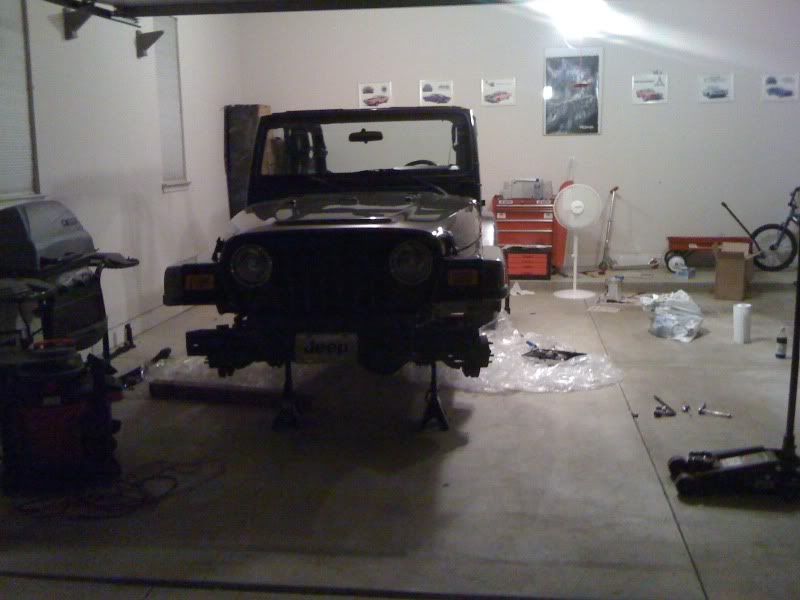 The Lair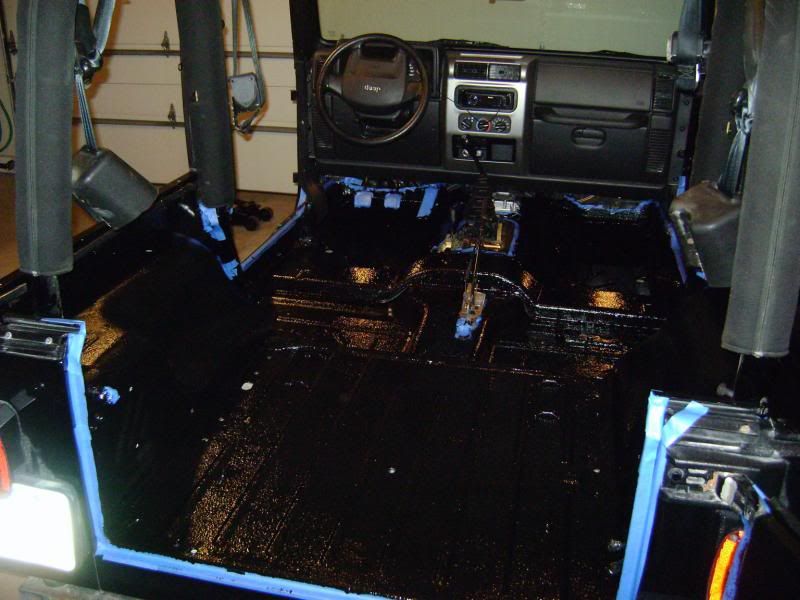 Originally we were going to call it a night but Moses had this great idea of "lets start painting now!" It had to have been 1:30 AM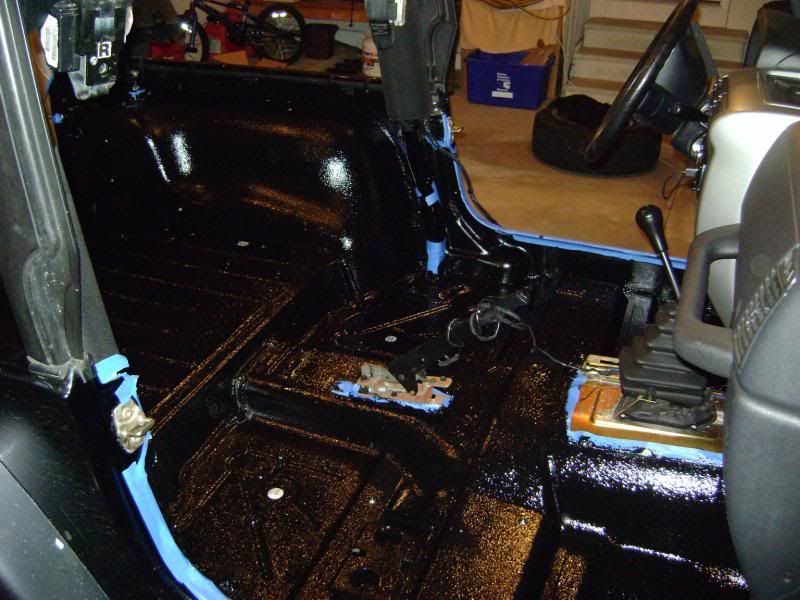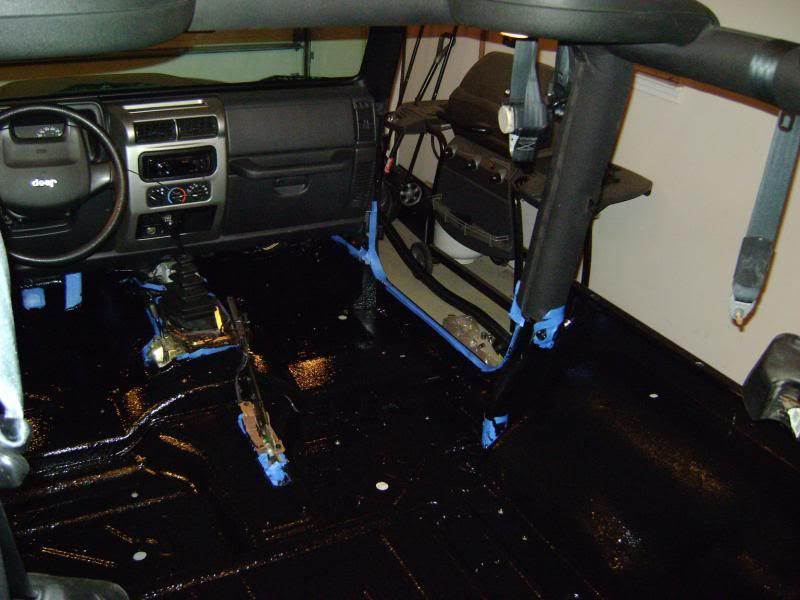 I decided to paint all the way up to the tub rails, thought it wouldn't hurt. It's a little bit of a pain to paint but it's worth it.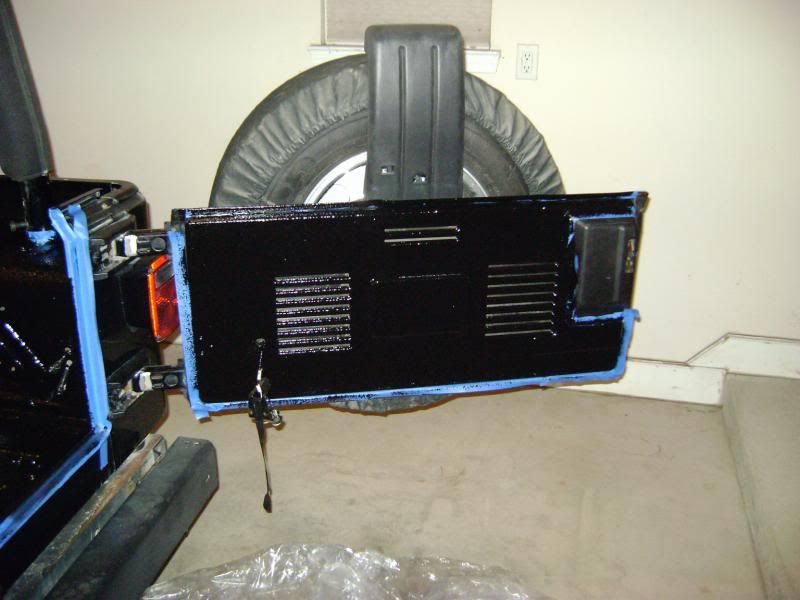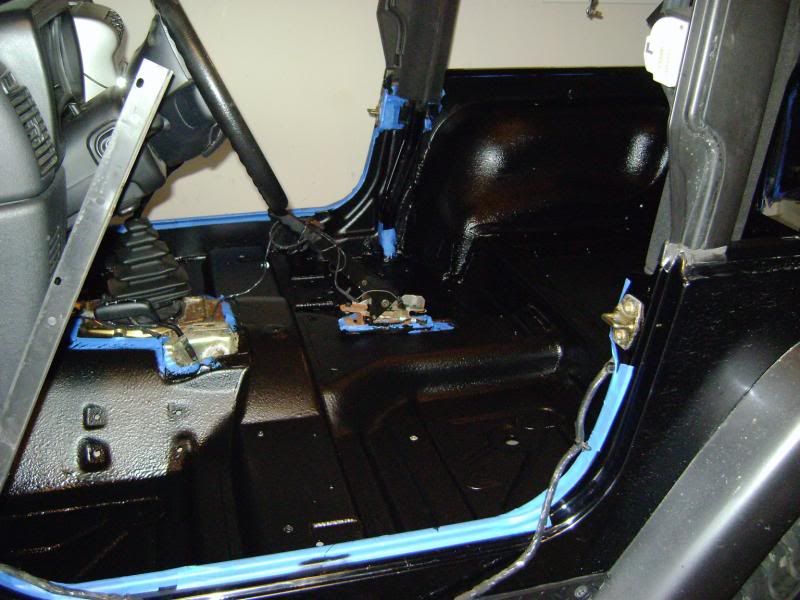 Caffeine and listening to Taking Back Sunday on repeat helped the time fly! It had to have been around 3:45 AM when we finished the first coat. Many parts required the brush and dabbing to get the texture. If you're in my situation where the lighting isn't all that great (and you lack extra utility lights) we realized using a mag light and spotting the tub over you can actually catch spots you missed. We each took turns with one spotting and the other doing touch ups.
We went inside sometime after 4, both of reeking of Monstaliner. I will explain why, and I don't suggest you following us on this route. The temp really dropped to the high 40's that night so we kept the garage door shut while painting. Every 20 mins or sooner we would crack the door or open it completely to get some fresh air in there but the instructions suggested not painting unless it's 50 degrees or higher. With the garage door shut it was definitely more than 50 in there. Regardless we got the painting done, but Moses walked out of my garage and he said he saw his Jeep looking all wavy. The fumes were a bit strong. Listen to what the instructions say about ventilation!!
We took a nap at around 6 AM and planned on getting up at 9:30 to go back at it but my phone died and the alarm didn't go off. We got up at 11 and had to have a buddy come get us to go up to Meijers to get more supplies. It had stormed all night and morning and Moses' Jeep was soaked inside and out lol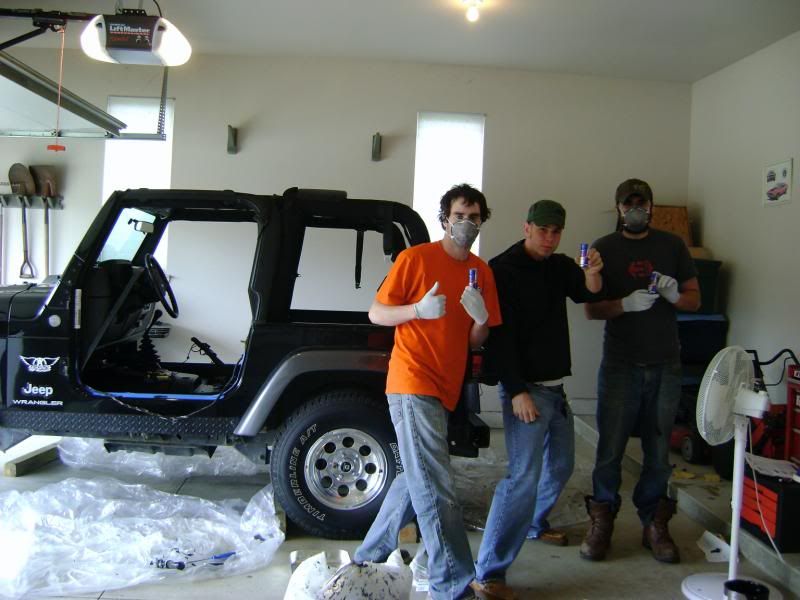 Before the second coat, the Red Bull girls made a visit to my place and hooked us up with some energy!!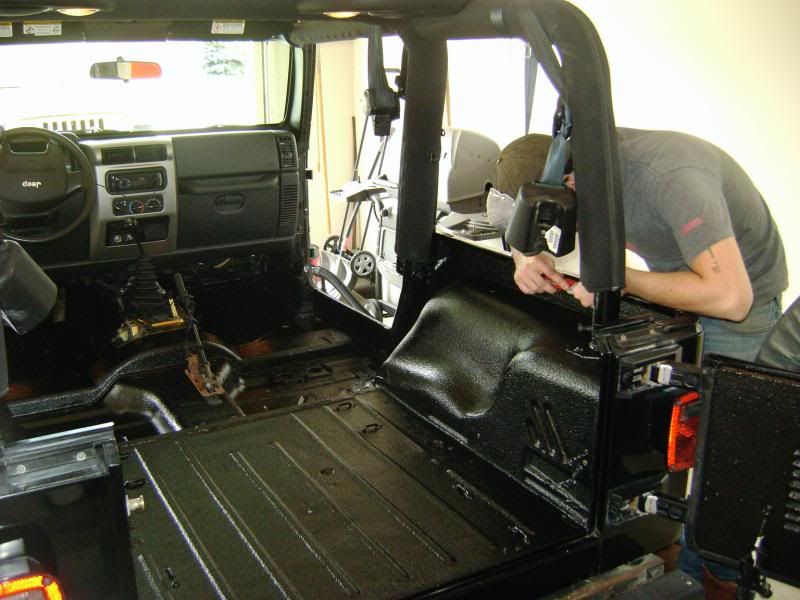 The tape is removed immediately after the second coat.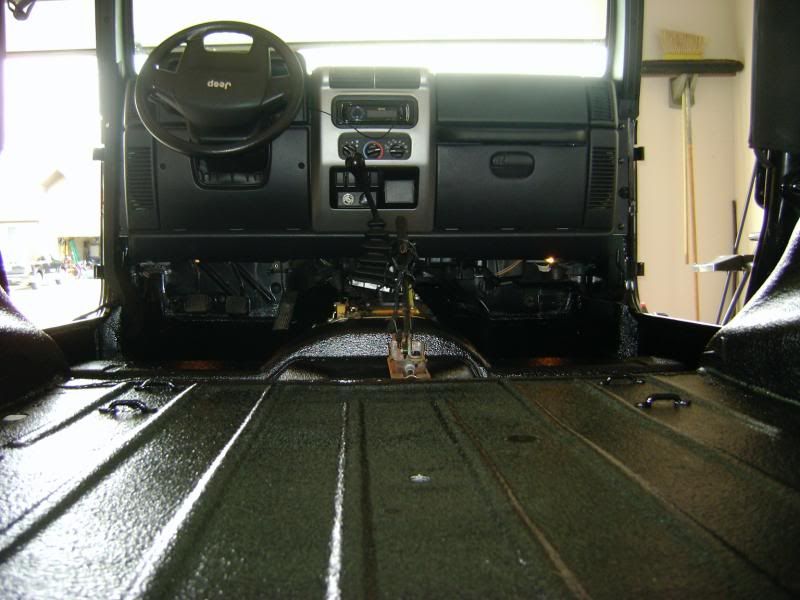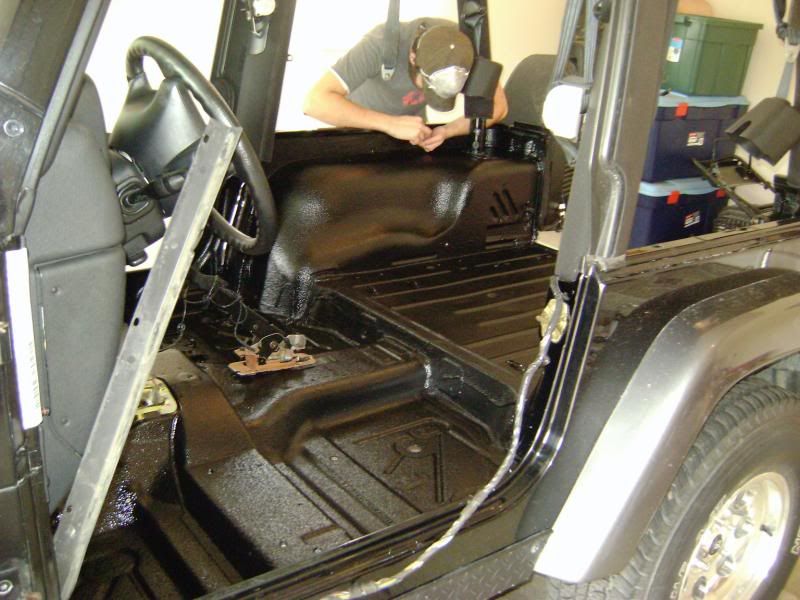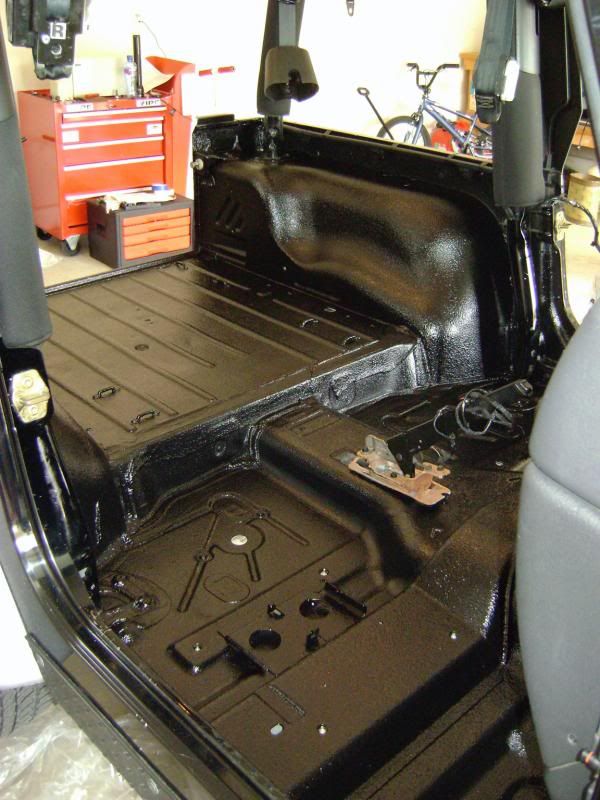 The second coat came out beautiful and we then removed the all the tape which at times were difficult but the results were great. We finished around 2-3 PM estimated.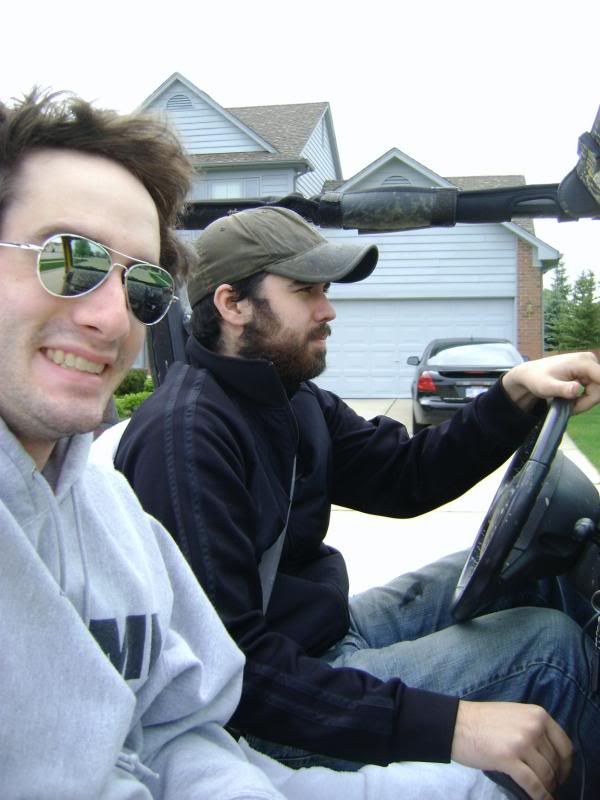 After cleanup we headed back to Moses' place to finish working on the linkage for his TC and then we went to test it out off road....then it stormed, but luckily we put the top on this time.
The paint is basically dry now but it needs to cure and what not. I'm going to mist it tomorrow when it's ready to help cure it some more then maybe later or the following day put it all back together. Surprisingly we almost went through the whole gallon but as I said earlier it looked awesome! I think I am going to be pretty happy with this product and I'm glad I let Luckrider talk me into this over Rhinoliner. If you do this, be sure to have a bud help you out, it helps time go by faster.
Hope you enjoyed!
Buy Monstaliner!