Jankoid
Username: Jankoid
Name: Jake Mauldin
Mods:
HP30 front w/ ARB and chromos
D44 rear w/ Detroit & chromos
4.88 gears
37" Pitbull Rockers
~4" suspension lift
1.25" body lift
Front Y link
Custom rear 4 link
101" wheelbase (8" rear stretch)
Genright alien stretch tank
Currie steering
JKS front track bar
Poison Spyder tube fenders
Moab Fab custom cut corner guards
Story:
My dad owns and runs a paint/body shop, and he and I buy and fix salvaged Jeeps as a side job. Occasionally we buy salvaged Jeeps to keep for ourselves, as was the case with this '02 TJ. It is actually a conglomeration of 2 heavily wrecked '02 TJs, one with major frame damage and one with major body damage. I took the good tub and good frame, combined them into a working Jeep, and had it on the road in less than a month. Originally I planned to keep it nearly stock and daily drive it while I used my LJ as a trail rig, but then I took my dad wheeling one day and he got bit by the bug. So then we had to build it to keep up with my LJ, so I decided I was gonna stretch it and practice my fab skills. The majority of the parts used to build this Jeep were left over from other Jeeps or purchased used, leading my dad to affectionately nickname it "Patches." It is technically my main trail rig right now since my LJ is broken, but once the LJ is going again my dad and I can go tear up some trails together!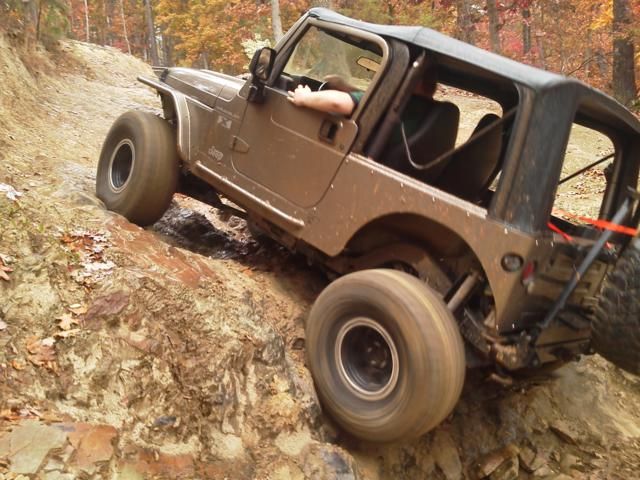 tyvanwie
Name: Tyler Van Wie
Username: tyvanwie
Mods:
-2" BDS coils
-Fox 2.0 shocks
-JKS 1.25' body lift
-M.O.R.E. 1" MML
-Metalcloak front and rear UCAs
-OME rear trackbar bracket
-Rough ****ry quick discos
-ZJ tierod
-Front LockRight
-Rokmen steering box skid
-Crown sliders
-Rampage frameless soft top
-Some interior stuff no one cares about
-33x12.5x15" Duratracs
-15x10" Ultra something wheels
-Later model mirrors
Story: Sold a VW GTI and bought this thing. Dad bought the tires, everything else I bought and we installed it all together. Still a long way to go until I'm satisfied with it though. And ****, I need some wheeling pictures lol.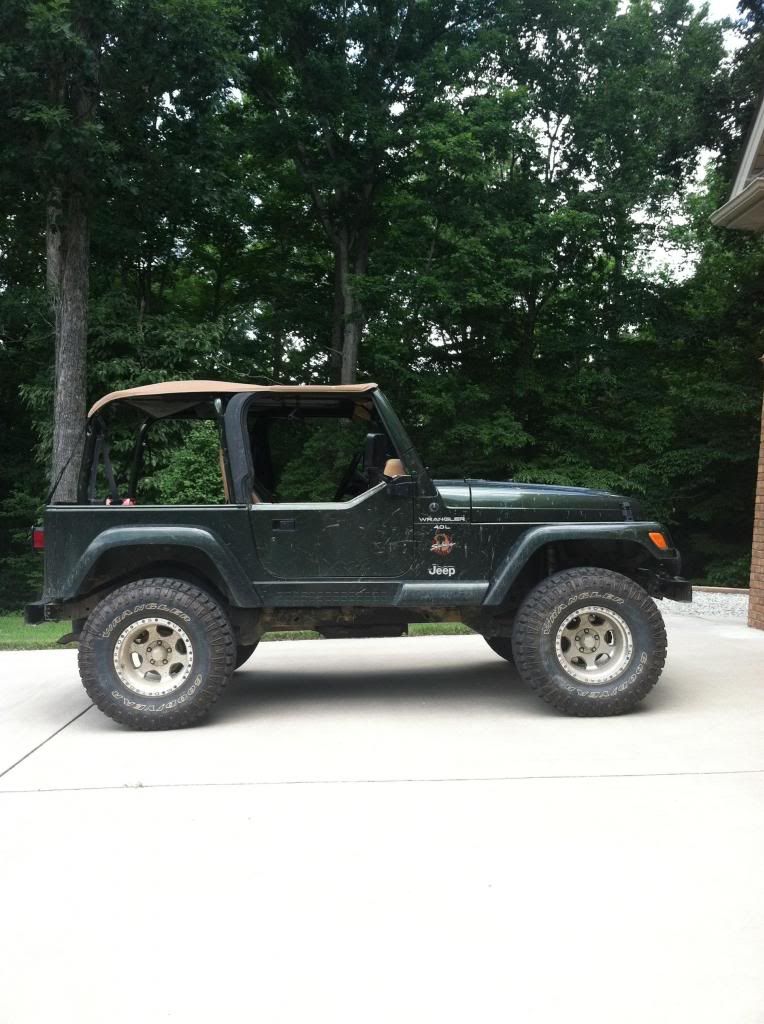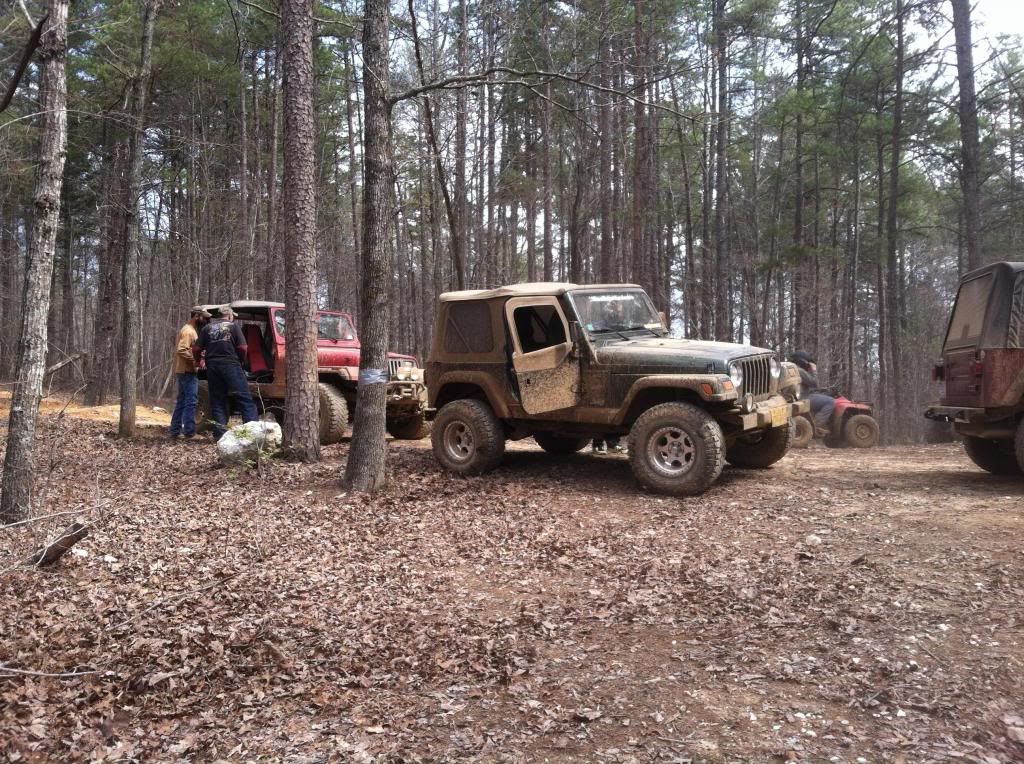 sjones26573
Name: Seth Jones
Username: sjones26573
Mods (optional):
3" BDS Front Coils
4" Fabtech Rear Coils (BDS 2" to be swapped in next week)
Front Bilstein 5100's
Rear Fabtech White Bodies (5100's to be swapped in next week)
5 17" Fuel Hostage wheels
5 33x12.5x17 Mickey Thompson Baja MTZ's
Custom tranny crossmember
Flat 1/4" homebuilt skid
Dana 30 4.10 w/ Truetrac (temporary axle)
Narrow Ford 8.8 Axle w/ 4.10 gears
Artec 8.8 Truss/Bracket Kit
Metalcloak Sliders
Rokmen Rear Upper Control Arms
JKS 1 1/4" Body Lift
RC 1" MML
Novak NP-231 Shifter Cable
Crown Performance Braided Brake Lines
JB Conversions Super Short SYE
Carolina driveline 1310/1330 Shaft
Metalcloak Aluminum Stubby
Rampage Rear Recovery Bumper/Tire Carrier
ZJ Tie Rod Conversion
Warn M8000
Warn Snatch Block
12voltguy Custom 8 Switch Panel
8 OTRATTW Custom Contura V Switches
4" LED Tail Lights
Custom (Homemade) LED 3rd Brake Light
Sho-Me LED Flasher
4" LED Backup Lights
Blue LED Dash/HVAC/Interior Lights
Kenwood KDC-X395 Head Unit
Nalin Mfg Brackets
Polk DB5251 Dash Component Speakers
Kicker KS525 Pod Coax Speakers
2 JL Audio 10W3V3 Subwoofers
JL Audio XD600/1 Monoblock Amp
Iggee Seat Covers
Uninstalled parts in possession:
BDS 2" Rear Springs
Rear Bilstein 5100 Shocks
12x Cree 3W Rock Lights
CJ tailgate
Wagoneer 44
TnT Wagoneer 44 Truss kit
706528x Chevy Small Bearing Spindles
'70's Ford Bronco/F150 Hub/Rotor Assemblies
Dana 44 4.88 R&P
Dana 44 Lockrite
Warn Dana 44 Premium locking hubs
Superior Super 88
Superior 8.8 4.88 R&P
Dana 44 Master Install Kit
ECGS 8.8 Master Install Kit
Story (optional): Always wanted a Jeep. Had it for nearly 4 years, but caught the mod bug about 3 years ago. Rushed into it and started off with an overall crappy Fabtech kit. Once I started on the forum and learned the error in my ways, I began fixing all of the things I did wrong (a lot). Swapping in the 8.8 was my first major project and a learning experience. The 8.8 and trans crossmember raised my confidence in custom fabrication and inspired me to go farther. I am now in the process of collecting parts for a front Waggy 44 swap and building both axles to run Hutchinson Beadlocks and 37" Falken Wildpeak MT's.
Pictures: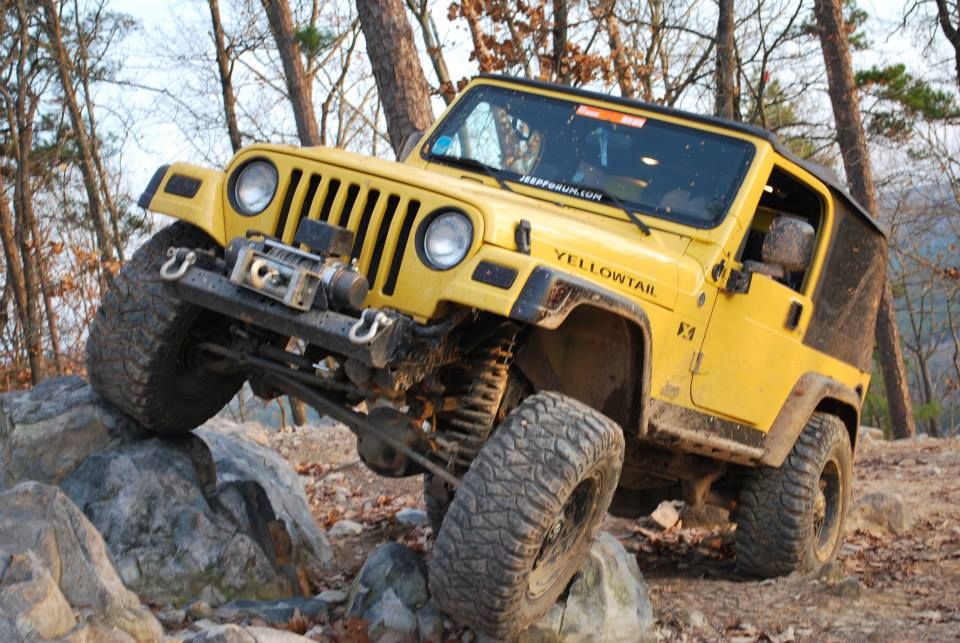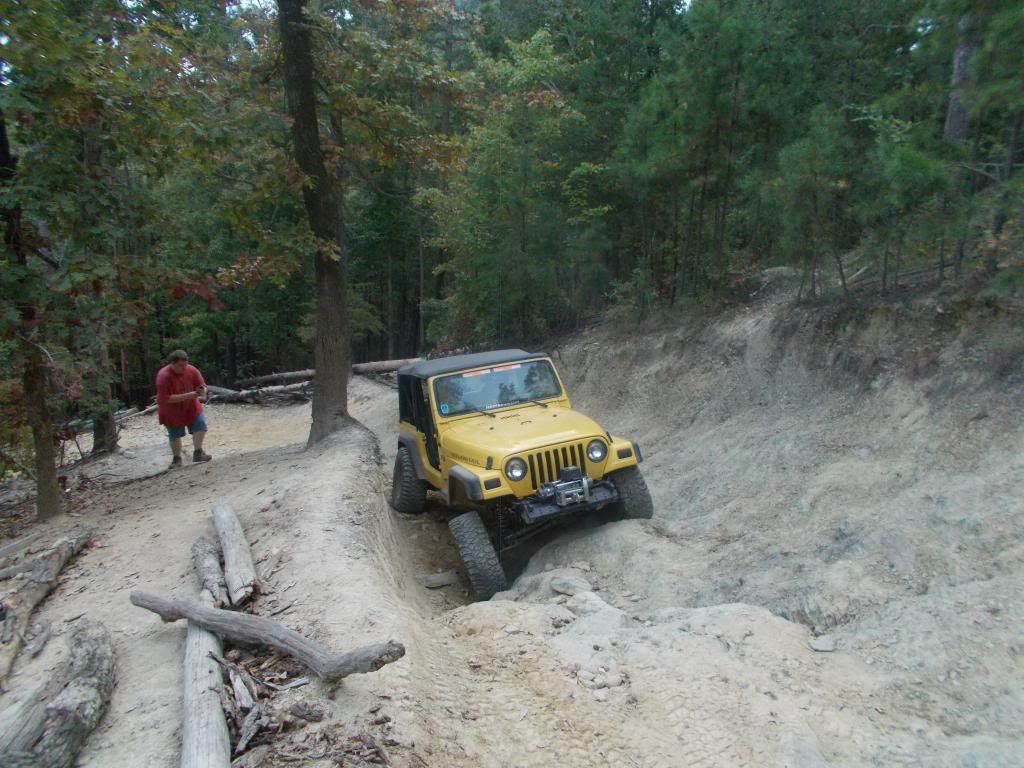 Porscheguy
JF Username: Porscheguy
Mods: Chevy 5.3 w/4l65e & NP241(JB slip yolk eliminator)
Rubi 44 front w/ 4:10 gears, yukon locker, truss
Ford 8.8 rear w/ trac lock (both f&r have molly shafts)
Full Aluminum Metal Cloak Fenders/armor w/4" flares
35" MTR's w/ M/T aluminum rims
JCR F&R bumpers w/ warn 9000 winch
4.5" short arm lift various pieces since rear is 8.8
Tera flex s/t front sway bar
2 hella rally hid lights
Rock Krawler front sway bar
custom rear sway bar w/custom drop links
crane diff covers
Story: sold my cj5 to help pay for my sons adoption, and wanted to build another fun jeep(5 years later)
pics
MisfitSeven
Name: Matt Bohrer... Bennington, NE
Username: MisfitSeven
Mods:
1998 RHD TJ:
Swapped in 4.0L.
M.O.R.E. 1" motor mount lift.
All aluminum radiator.
FF Dynamics electric fan.
Rough Country 2.5" springs.
JKS 1.25" body lift.
AX-15 with 4.31 Toyota first gear.
NP231 with JBC SSSYE, wide chain, and Tera 2Low.
4.88 axle gears.
57:1 crawl ratio.
Jana 54 front axle.
Super 88 rear axle.
Detroit lockers.
Poly Performance front shock mount extensions.
Doetsch Tech 12" travel shocks, x4.
Flat steel skid.
3 link front.
4 link rear, triagulated uppers.
Vertical rear springs.
Anti-Rocks front and rear.
Savvy Black Magic Brake pads.
PureJeep 5" stretch gas tank, cut for 4" more.
Gen-Right steel body armor.
3" rear stretch,1" front stretch.
Total of 98" wheelbase.
TNT 3" front tube fenders.
RuffStuff steering, double shear over the knuckles.
37" Wrangler MT/R tires balanced with AirSoft BBs.
15x10" 5x5.5" Cragar soft 8s with Copper Head fab rock rings.
132 amp Dodge Ram alternator.
Flush mounted stock taillights.
Twin throttle body spacers.
Flowmaster Super 44OR muffler.
Story: I bought the TJ bone stock complete with the right hand drive conversion in 2006, everything else was built by me. I bought it to deliver mail in and wanted to keep it stock for the most part because my CJ-7 was my toy. After finding out that TJs are more capable and more fun than the simple CJs, it became more of a toy.
Having to keep it drive-able at all times kept my modifications at a minimum, or had to be finished before the next delivery day.
Last year I moved to a mail route with a postal truck on it and retired my TJ to commuter and weekend warrior. When that day came, I bought a stinger front bumper, soft top, and half doors. Otherwise this is how I delivered people's mail!
Adding to the stock cage and finishing the rear suspension will be tackled this spring.
Pictures: