Garza
Name: Ricky Garza
Username: Garza
Mods (optional):
2005 LJ Unlimited 4.0 6spd
Tera low 4 to 1, AA SYE
Front axle: Custom HP Dana 44 thicker tubed, Alloy shafts and Yukon Super joints, Warn locking hubs, 5.13's, Detroit, BTF cover.
Rear Axle: Superior Super 8.8, TNT truss/brackets, 5.13's, Detroit, BTF cover
Suspension: OME 2" HD coils, RE HD trac-bar, Currie Anti-Rock, Rokmen upper and lower control arms with Johnny Joints on all, long travel front shocks, OME rear shocks
Steering: PSC Saginaw steering box, pump, cooler, and reservoir. 1.5" DOM steering links with Chevy 1 ton ends.
Tires/Wheels: 37"x12.5"x17" Goodyear "New Tread" MTR Kevlars on 17"x9" Polished Walker Evans Beadlocks. 5 on 5.5.
MISC:
Savvy front aluminum bumper w/winch guard
Superwinch Epi9
Viking 3/8 syth line
In-cab winch control
Hand throttle
Rokmen fairlead
Rokmen high line tube fenders
Rokmen Sliders with tube and internal re-inforcements
Savvy aluminum corners with stainless rub rails
Savvy rear aluminum receiver bumper
Rokmen Belly up
Rokmen engine skid
Rokmen Steering box skid
Savvy Gas tank skid
Tom Woods Drive-shafts F&R
JKS Motor Mount lift
1.25" body lift
CJ tailgate conversion
VisonX Tantrum LED Rock lights
VisionX 12" LED Xmitter
PSC trail cage/custom additions
Big-bore throttle body
Amsoil filter charger intake w/prefilter
Heavy duty LUK PRO GOLD clutch
Savvy LED taillights
CB/Firestick
Ultimate Air 10lb CO2 setup
Pictures:
seekrtruth
Name: Travis Murray
User Name: Seekrtruth
2001 Wrangler Sport
Mods: 4.0L , 5 speed with Hesco Throttle body spacer ,K&N cold air intake, Jet Chip(Stage one),Dynamax headers, cat, and exhaust, and Optima Redtop. Rubicon Express Hand throttle. Suspension is a mutt set-up on a budget. Rough country progressive 2.5" springs in front, 2.25" budget spacers in rear with stock Rubicon springs, all stock control arms, except Currie rear adjustable uppers. JKS Control arm skids, Rubicon express 2" bumpstops front and rear. Rubicon Express Monotube shocks, JKS Quick Disconnects, JKS rear adjustable trackbar, JKS 1.25" Body lift and 1" Motor Mount lift. Old Man Emu Steering stabilizer and ZJ tie rod. Hawk Brakes, Rotors , and extended brake lines. Front Dana 30 with Alloy axle rebuild , royal purple and Bad Apple Fab Differential guard, Dana 44 rear with Trac-lock limited slip, Alloy axle Rebuild, Alloy Tube seals, Royal purple and Bad Apple Fab Differential guard. Big Daddy Offroad front stubby bumper, Mile Maker channel, and Champion 8500lbs winch. Garvin Wilderness rear bumper and Tire Carrier, with highjack. Homemade engine skid, Hella head lamps. The heep is rolling on 285/75/16 Fierce MT's mounted on Rubicon Moabs with Spidertrax 1.25" wheelspacers. Kicker replacement speakers, Herculined Tub under carpet, husky mats, and one of my favorite must need mods…lol, my XDM 9mm mounted under front drivers seat. In the process of making Rocker guards now
Story: I always wanted a Jeep, but never had the opportunity to buy one. Soooo…. with the Wife at the time deciding she wanted to be single after 4 years of marriage and sleeping with one the ****** bags at her work…needless to say I was quickly in the market. After I cleared my head by giving that guy a severe @$$ kicking , came to terms with life… sold both of my houses at the time and had a little bit of cash on hand. Fishing , hunting, other outdoor activities only held my interest for the seasons and I needed a new hobby to keep my mind off things. So I found this Red 2001 sport with 78,000 miles on it and talked the dealer down from $14,900 to $9,000(thanks!) and she was mine. She was completely stock and had been babied by the PO. I started my build up with the purchase of a hardtop, replacement speakers, added the BB and Moabs. The rest came slowly after when I moved up to 33's. I attacked this project from a everyday Joe Shmoe budget mindset. Keeping it simple, but capable I went with quality parts, a lot of which I scored off Craigslist. With the help of Jeepforum and some great local fellas I was able to skip a lot of unnecessary modifications and put my money in the right places.
My future plans include…fully adjustable control arms(Rokmen, JKS, or Full circle Fab), raised gas tank and skid plate, Rokmen tummy tuck, Short Corners, SYE, CV-driveshafts, Chromoly axle shafts, 4.56 gears, Aussie locker for D-30, and go from there as the cash allows. Not much to look at but it has brought me much needed happiness on and off road over the past few years.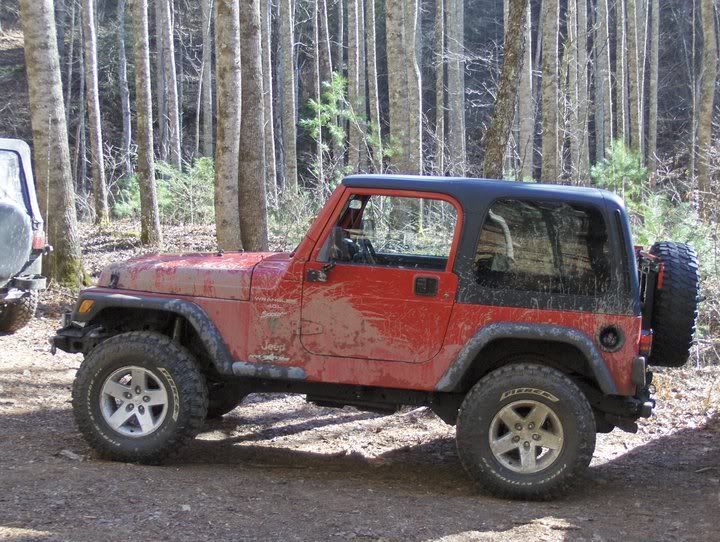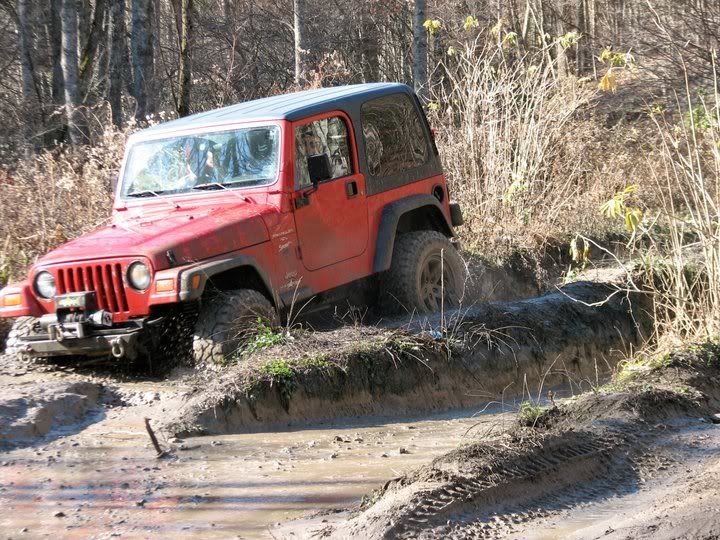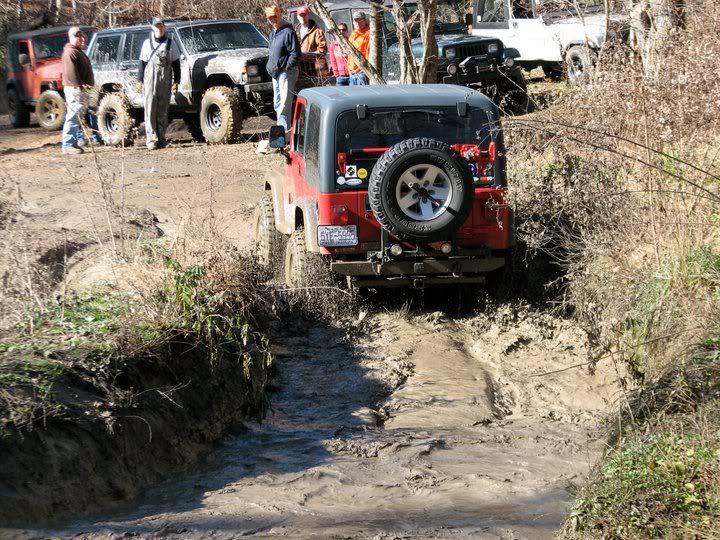 cotton_4x4
Name: Eddy Cotton
Username: cotton_4x4
1997 Jeep Wrangler Sahara
-4.0L
-AX15
-NP231 with AA SYE and Tattons Custom CV Driveshaft
-Came with Dana 30 and Dana 35 with 3.55's, swapped in a Rear Dana 44 out of a 01 TJ and a Dana 30 out of an 04 LJ with 3.73's. HP 30 and 4.56 gears waiting to go in.
-BTF Heavy Duty Lower Control Arm Brackets
-35x12.50xR15 Goodyear Kevlars
-Pro Comp Flat Black Rock Crawler Rims
-Custom K&N Cold Air Intake
-Sanden OBA Converstion
-4" Pro Comp Springs
-Rubicon Express SuperFlex Upper Control Arms
-ROKMEN Dual JJ Lower Control Arms
-1" Currie Body Lift
-AA Transfer Case Relocation Bracket
-Undercover Fab Ultra High Clearance Skid
-ROKMEN Steering Box Skid
-ROKMEN Corner Armor
-Superlift Front Adjustable Track Bar
-RC Rear Adjustable Track Bar
-Kilby Gas Tank Skid
-Bilstein 5100's
-Poison Spyder Front Tube Fenders
-BTF Front Bumper
-WARN 8000i Winch
-Custom Rear Tire Carrier and Bumper
-Hanson Rocker Guards
-Rampage Fastback Soft Top
-Cobra CB
-Dash LED Conversion
-OTRATTW Switches
-Relocated Upper Rear Spring Perches
-JK Front Turn Signals
Future Mods:
-Cage
-HP D30
-4.56's or 4.88's
-ARB's
-Rear Tube Fenders
-Outboarded Rear Shocks
Story:
-Bought this Heep off craiglist back in July of 08 after it had been totaled. The front was smashed in to the engine block, the front axle was bent, there was some serious damage to the rear passenger tub and overall it was in rough shape. Bought the jeep sight on seen and had no idea if the frame was bent or if the engine had any serious problems. Got the heep back home and started gather parts to put it back together. My goal with this build was to do it on a budget and get as many things used as possible and sell off any un-used parts I could to recoup some of the costs. I worked every night after work in the parking lot of my apartment into the late night hours and had it running and drivable within a month. (Thanks to my buddy Evan for all his help and helping me install the front axle in the parking lot in the middle of a rain storm) After it was running and drivable it has been a constant build with adding mods here and there in between wheeling trips to Moab and around Colorado. It has been a great rig that has brought much joy and adventure to my family and I.
Thanks for looking!
My Build Thread:
http://www.jeepforum.com/forum/f22/h...-build-665501/
DezertTJ
DezertTJ
Name: Craig Anderson
(2003 Rubicon)
Build:
Engine:
*4.0L Auto
Suspension:
*4" Procomp Coils
*ProComp Front Lower CA's
*Teraflex Adj Rear Lower CA's
*RE Rear Upper Adj CA's
*JKS Ajustable End Links
*RE Gen2 Disconnects
*Fox 2.0x10" Smoothbody Resivior front shocks
*Bilstein 5100 rear shocks
*JKS Upper and Lower Racing Shock Conversion
Wheels and Tires:
*33x12.50x15 BFG A/T
*15x8 D-Window Locks
Axles and T-Case:
* Dana44 Front with Rubicon E-Locker
* Dana44 Rear with Rubicon E-Locker
* Rubicon 241 Transfercase
* 4.10 Gears
* RE Rear Drivshaft
Steering:
*Currie HD Steering
*OME Steering Stabalizer
Armor:
*Kilby Steering Box Skid
*Warn Front Bumper
*Warn Rear Bumper and Tire carrier with Custom Hi-Lift mount
*Rubicon Sliders
Accesories:
*KC 100w Long Range Lights
*Bestop Bikini Top
*C.R.E.S Netting
*Hi-Lift Jack
*H.I.D Bulbs in stock Fog lights
*Sony XPlod Head Unit
*Infinity 10" Subwoofer
*Cobra 19DX CB/PA
*Golden Eagle Antenna
*Mastercraft Grab Handles
*One Amazing Girlfriend as a Co-Pilot
Story:
Owned for a little over a year now. Keeps getting bigger as time goes. I want it bigger, and it will get there eventually
Pictures: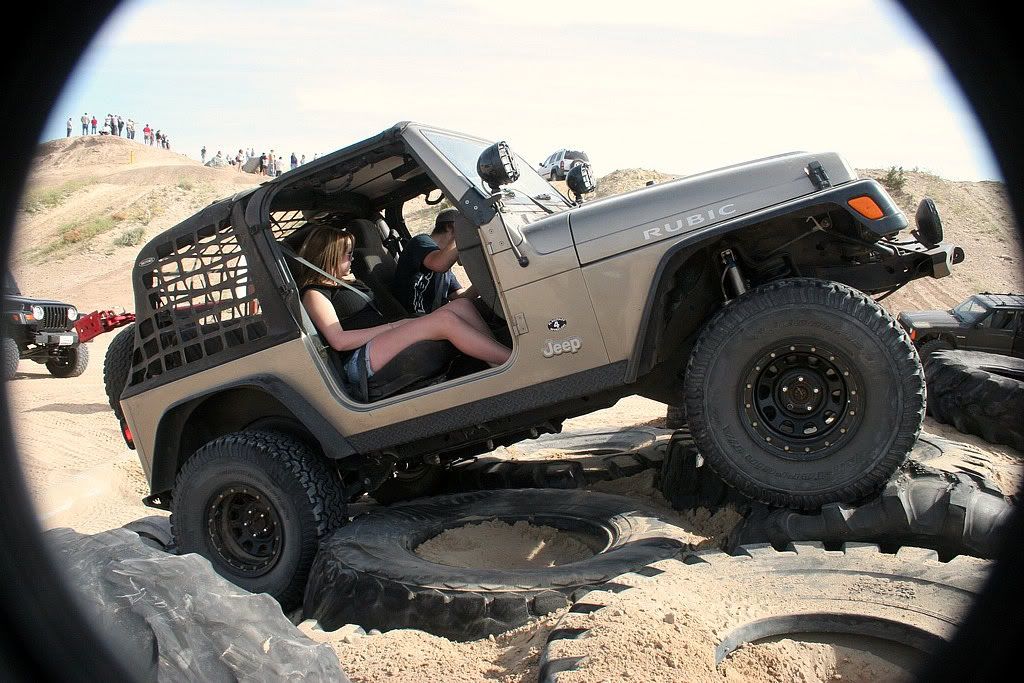 Unlimited04
Name: Mike
Username: Unlimited04
2004 Jeep Wrangler Unlimited with:
33x12.50R15 Goodyear Duratracs
4.0L/42RLE/NV231J w/ SYE
4.88's with Detroit TrueTrac's front and rear
HP D30 front, with custom sleeve truss & reinforced mounts
D44 rear, with reinforced track bar mount
JeepMedic engine skid & tummy tuck
Solid diff covers front and rear
Kilby Steering box skid & Body Clamz
Savvy Gas tank skid
Skid Row radiator skid
JKS 1.25" BL, Currie 1" MML
Vanco 15" brakes w/ Crown stainless lines
Springs: OME 2.5" - 934 front, 949 rear
Shocks: OME N66 & N67
Custom adjustable front and rear track bars
JKS front sway bar disconnects
Skyjacker steering stabilizer
Bumpstops: 1-3/8" front and ~1.25" rear
AirLift load leveling airbags in rear, with modified bumpstops
Poison Spyder Customs Trail Cage with custom additions
'knoblockbumpers' front and rear bumpers
Homemade GPS mount, CB mount, antenna mount & third brake light
Rokmen sliders with internal reinforcements
All 8 Rokmen control arms
ZJ V8 tie rod
Homemade JKS disco storage cams
Homemade 42RLE trans temp setup
Superwinch EPi9000S
Picture 1:
Picture 2:
Picture 3: