Alright, little back story.
I had been toying with the idea of putting an LS1 in my jeep for a while. I had done a lot of research, but could never come up with the cash flow needed. Then I deployed to Iraq with the Army, and decided that it was time to do the swap when I got back. Well Im back, and we are well under way.
Now, I had intended on ordering all these parts, and THEN doing the swap once I had everything I needed. That way, I would still have a vehicle, and it wouldnt take as long. Unfortunatly, something went drastically wrong with my NP231 and it decided to rearrange itself under my jeep, and along the trail.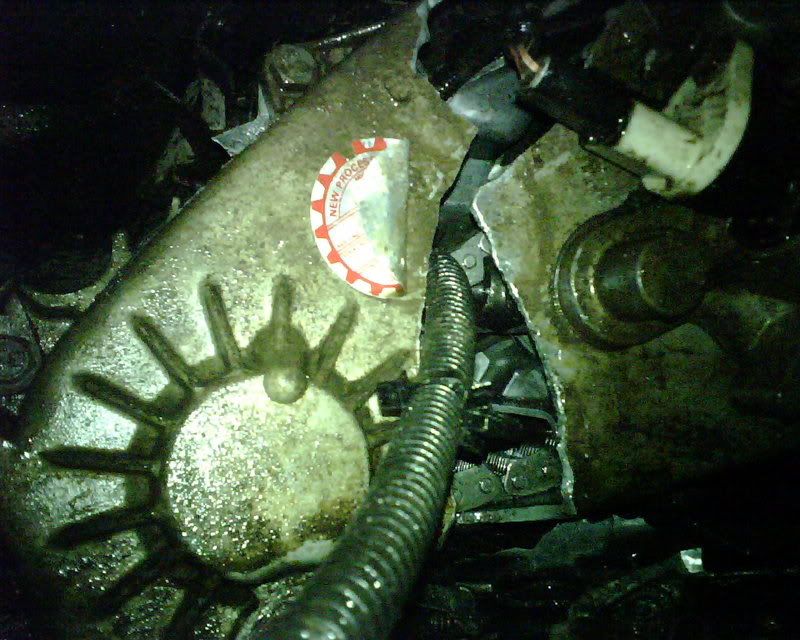 There it is on the flat bed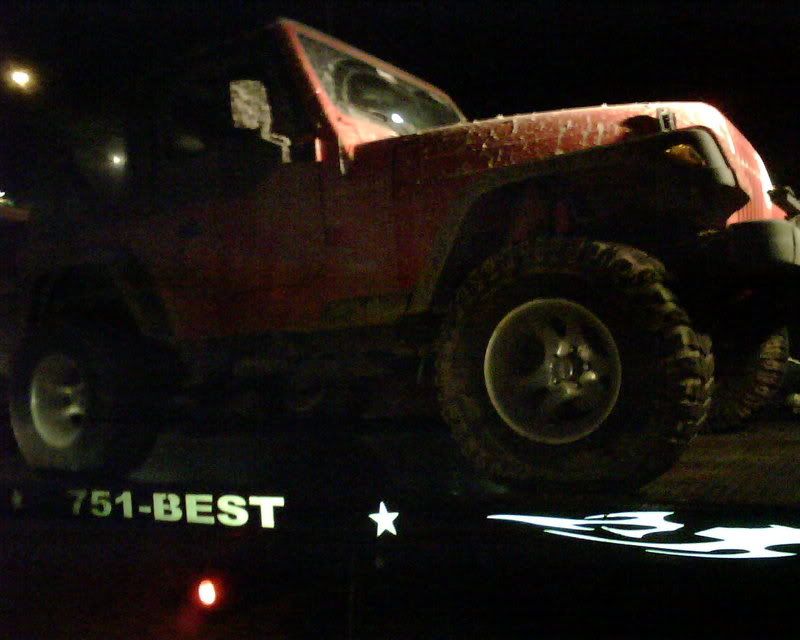 That happened around january of this year. Mind, you I was beating the hell out of it, fully aware something was wrong with it to begin with. I just didnt expect it to literally blow up on me. Call it stupid... call it carelessness. Ive been without a vehicle since then, so Ive payed the price. The next day I started ordering parts, and doing research.
I decided that the LS1 was not the way to go. Instead I will be dropping an LS2 straight from a 2005 corvette. Complete pull, with PCM and all belt driven accessories. Picked up this little beauty for 6400 dollars shipped, with 16000 miles on it.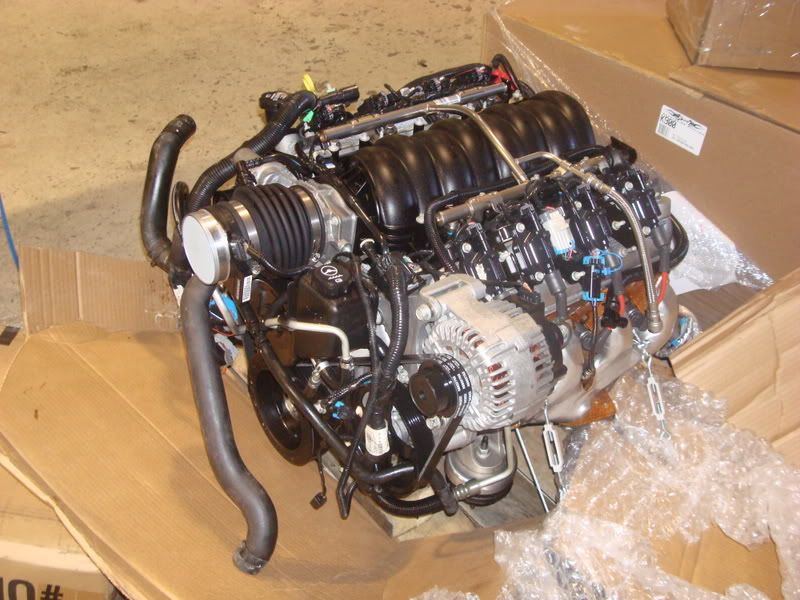 Now, I couldnt just put any old tranny behind it. It had to be something substantial, that could hold up to 400hp and 400ft/lb of torque. Here is the NV4500 out that I had custom built for me by Mantrans. These guys are awesome and would recommend them for anyone looking for a rebuilt tranny, or something custom built
www.mantrans.com
. They took the NV4500 and built it to mate to my chevy engine in the front with the 29 spline dodge output in the rear. They are also a certified Advance adapters distributor, which was a great help, when they told me they could also get me the custom bell housing, to match. Not only that, but they called advance for me, and talked to them to make sure there would be no issues in mating the Atlas II that I had ordered. And yes, thats a centerforce clutch to go with it
Heres the tranny
Now for the Atlas II. Again, advance is another company I will be doing future business with.VERY helpful. They did everything they could to make sure my order was everything I needed and wanted. Ordered my atlas with the 3.8 low gears. I also elected to get the brand new cable shifters that bolt right into the TJ.
Heres my Atlas II
Now for the largest investment in my whole project. I couldnt slack on any part of this project. I ordered front and rear Dynatrac pro 60s. Although all companys were outstanding, Im going to say Dynatrac was by far the best. I told Steve what I was doing, and he helped me every bit along the way. They even gave me a military discount. I really cant say enough about customer support from dynatrac, A+ Anyway, I got the stronger axle shafts, and upgraded everything I could without shelling out the cash for the Pro Rock 60s. They are stuffed with 4.88 gears, and detroit lockers. I will be running 35s on them, possibly 36s.
I KNOW THESE ARNT PROROCKS THEY ARE PROS THERE IS A DIFFERENCE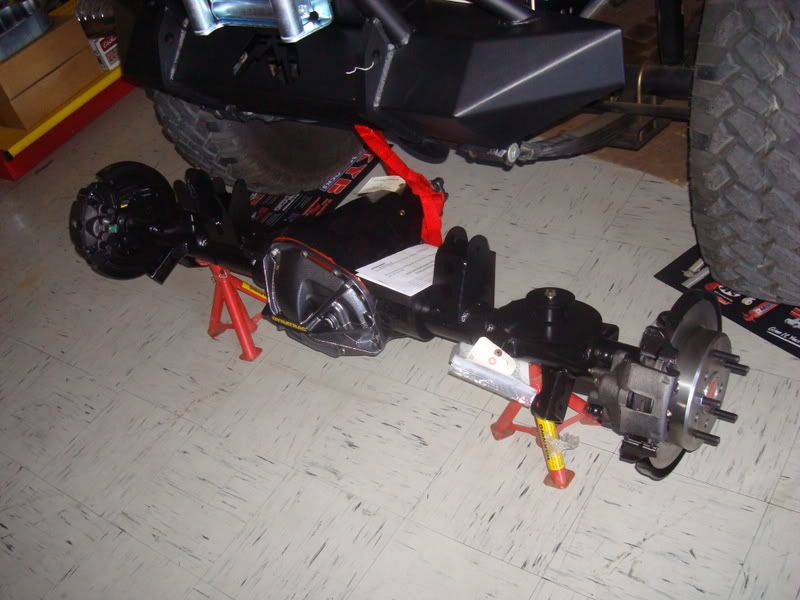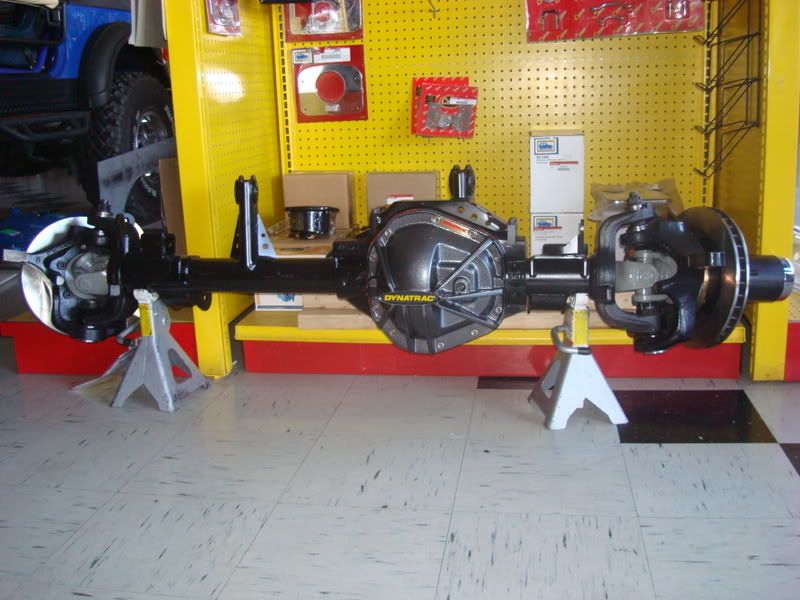 Note - Yes these are my axles. The shop I have doing the swap asked if they could display them, because as you can see, they are gorgeous!
I also have a larger radiator from Novak on order. Its there Radlock, and will have some pics up when it gets here.
A higher flow/pressure fuel pump is also on its way.
Once the engine, tranny, and transfer are in I will also be ordering custom drive shafts from Tom woods.
Also ordered a new throttle body, because the one on the engine was electronic and I needed a cable driven one.
I would love to be doing this swap myself, but due to time constraints, lack of tools/place to work and being extremely busy with army stuff, I decided that the local 4x4 shop would be better suited. They are called 4 wheel center, and are out of El Paso TX. They are just as excited to do the swap as I am.
Also - I have to give credit where its due. TXjeepTJ has been instrumental for this swap. He has given me tons of advice, and has dealt with me for the past 8 months, and my grand ideas. Thanks again TXjeepTJ