Looking to upgrade the shocks in my jeep. currently running 4.5" RE springs front and rear. Short-arm with Currie JJs adj. uppers and RE adj. lowers. RE monotubes with km2 35s. The ride has been pretty rough for some time now. with the Shocktober sale through Rancho, i think its a good time to make a change.
I feel my set up is just too tall given my current and future use of this vehicle as my DD and want to downsize a little. ideally, i wish to get this down to 4" Currie with outboarded rears. but things are going to happen over time. First thing is first. Ride quality needs improvement, then would most likely perform spring swap and outboard at the same time. With that said, I'm looking for some feedback on few things
1st- would i notice a height difference when changing from the RE 4.5s down to the currie 4"? i have running boards, winch, bumper, full spare and rear drop down tire carrier.
2nd- in regards to the future change in the shorter shocks and outboarding. SAVY's recommendation shock sizes is below. If i watch my travel while riding offroad, (which has been seldom the way work and life has been). Then going with the set up arrowed below should be okay until i outboard and swap shocks?
Any input? thanks all.
[IMG]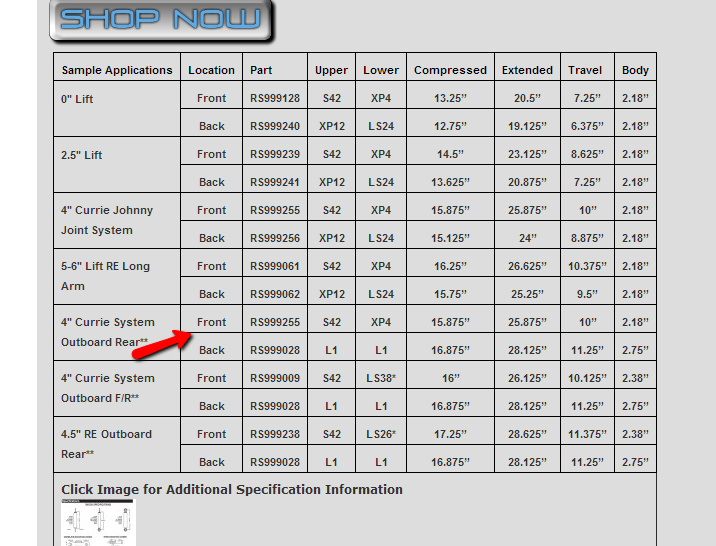 [/IMG]