2006Sport
Name: Zachary Cropper
Username: 2006sport
Mods (optional):
2 inch BDS suspension lift
31 inch GY Duratracs
Uniden 520xl pro CB with 3' firestik antenna
Upol Raptor bedliner
JKS adjustable rear track bar
Hella 500 driving lights
Delta Quadbar hyper white xenon headlamps
PSC steering box skid
JKS 1 inch Motor mount lift
Hi lift Jack
Rugged Ridge bumper light bar
15x8 Cragar Soft 8s with 4 inch backspacing
Story (optional): In October of 08 my father told me to start looking for a new car and off the start I was looking at mustangs. After realizing that in the winter they are useless, I drove my buddies 02 wrangler around for a bit and loved it. I started looking for a wrangler of my own. It took me until January of 2009 before I found a Jeep with low miles in my price range and picked her up on January 9th 2009 with 33k miles on the clock for 15,000 off the lot. I got myself a 2006 sport with dana 30/44 combo with 3.73 gears and a 42RLE automatic transmission. Fell in love after day one.
Pictures:
I may not have the best wheelin pics, but at least it's dirty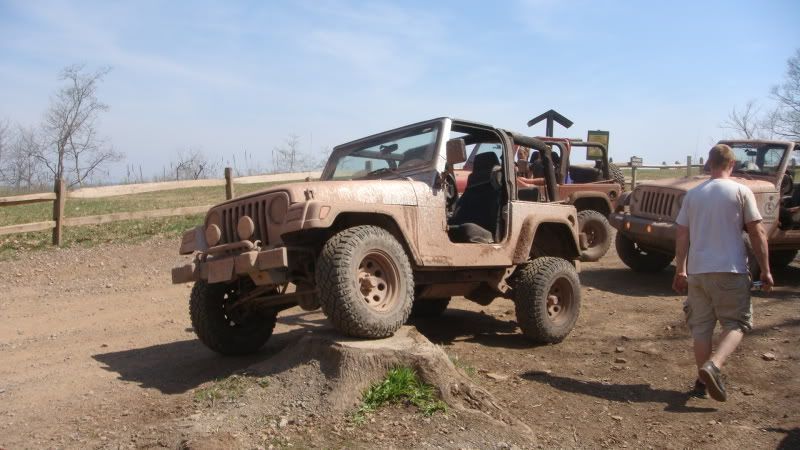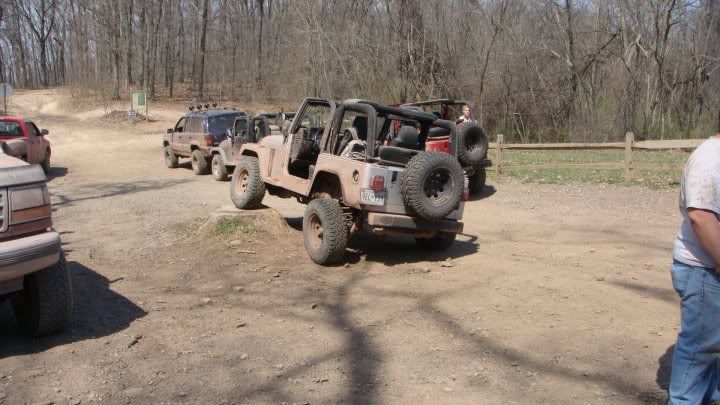 *
Zachary*Cropper
yellowismellow
Name: Nick Poltorak
Username: yellowismellow
Mods: OME 2.5" springs, OME long travel shocks, rokmen LCA's, Currie UCA's, AA SYE, Coast CV Driveshaft, XRC8 winch, Smittybilt rear bumper with tire carrier,*33" Cooper Discoverer STT tires, Rokmen short corners, gas tank skid. skid row engine skid, radiator skid, Warn Rockers and PS skid, Rock hard spreader bar, LED taillights.............
Story:* My 3rd jeep, had an 89YJ and a 97TJ.* started brand new with my 2006.* skids were first on the mod list, and after wheeling, started lifting, and eventually got it where i was happy with a DD and weekend wheeler.* still need a better cage, but im done building for a while now....i think.
TuffJeeper
Name: Justin Andrew
Username: Tuffjeeper
Specs:
4.0L
NV3550
4" Superlift lift Teraflex 9550 Shocks
Currie Anti-rock Sway bar (not shown in pics)
Superchips programmer
Dana 35-Superior Super 35 kit and Detroit Locker- Yukon 4.88's
Dana 30- Detroit Locker- Yukon 4.88's
Teraflex front bumper
Crown Automotive 6" flares
Rokmen Steering Box skid
Smittybilt Rockcrusher Rear Bumper
33x12.5x15 BFG KM2 Tires
15x8 Cragar Simulation Beadlocks
Cobra CB- Firestik CB Antenna
Ipod Interface
Story:
My family has been wheeling since i was young. *My first Easter Jeep Safari was in 1989 at the age of one. *I have missed only 3 Jeep Safari's since. *This is my second Jeep. *I started out with a 95 XJ and now am wheeling my TJ that was bought in November of 2008. *I bought it off an auto auction as a wrecked vehicle with a clean title. *I wheeled it for a year and a half with 3.07 gears and open differentials. *Then the money came along and I installed lockers etc this spring. *I love the rig and wheel it often.
The Wedgie on Poison Spider Trail in Moab, UT.
My poser pic!
On an obstacle on Metal Masher Trail
Jeep02Apex
Name: Brian
Username: Jeep02Apex
Mods: Rubicon Express 3.5" Longarm, 35x12.50 Goodyear old style MT/Rs wrapped around 15x8 Cragar Soft 8s, Superior Super35 kit, rear ARB, HP30, front lockright,*4.10 gears, Advanced Adapters SYE, Tom Wood front & rear driveshafts, Currie AntiRock, Metalcloak Arched tube fenders, Rokmen steering skid, Savvy front bumper, Savvy corner armor, XRC8, Raingler nets, RockHard bolt-in cage, Riddler diff cover, ZJ tie-rod, Herculiner, Uniden Pro538W CB, full and half doors and some frame mounted sliders.
*
Future mods include:* outboarded rear shocks, relocated rear spring perches
*
*
DogMan
name; Larry
*
* user name ; Dog Man
*
** 2001 TJ Sahara 4.0
*
** mods :* 3 1/2 in. coils 1in. body lift JKS adj. upper arms pro comp boxed lower arms
************* Dana 44 rear ECTED locker 4.56 gears Nth diff. slider & diff guard
************* Dana 30 front ECTED locker 4.56 gears diff guard cont. arm sliders
************* 35in BFG A/T on steel wheels &* maxxis big horn M/T on beadlocks
************* 3550 trans NP231 JB Conversions short HD 32 spline SYE HD CV drive shaft
************* Front & rear adj. track bars & HD front tie rod
************* Gen Right full width rockers/ rear corners/Kilby gastank & steering box skids
************* Nth degree oil pan skidplate
************* EBC yellow pads / K&N intake/ magnaflow muff./hand throttle
************* Wilderness roofrack/front winch mount grill guard 9000lb winch
************* cobra nightwatch CB & PA system firestick ant.
**************Made my own rear bumper tire swing out / hitch rec. D-rings frame tie in
************* Made my own front roll cage fully welded tied into frame
************* 10lb CO2 system & onboard air pump/ 2 fire ext./recovery gear/ high lift jack
************* Advanced Clutch technology HD cluch
*
story; It's a JEEP / money pit. I started with a stock Sahara and have been building this thing for the past few years, the mods seem to never end.
******** This is not a mall crawler it has done almost all of the trails in Southern California ( from Johnson Valley Hammers to Glamis sand dunes ) I have
******** wheeled them all and this July the RUBICON trail.
******
******
******
BrickTop2
> Brian Sanders
> BRICKTOP2
>
>> 2002 TJ Sport w half doors
>> Engine- *4.6 L Stroker, Golen performance head, AFE intake, Gibson header, custom exhaust, Unichip, 24 lb injectors, Walbro fuel pump.
>> Transmission- *Freshly rebuilt 3 speed auto, B&M shift kit, vent mod, external cooler, deep well pan
>> Suspension- *Rubicon Express 2.5" Extreme Duty Rear Radius Stretch kit with belly skid
>> Axles- *JK Dana 44s with electric lockers, custom driveshafts, SYE, front and rear axles located for a wheelbase a little under 100".
>> Armor- *Genright full cage, tire carrier, stretch corners, fuel tank replacement with skid, boatside rockers, Metalcloak Arched Tube Fenders w/ 6" removable flares front and rear, Metalcloak front frame-built bumper w/stinger, Warn M8000 winch, Viking Synthetic Winchline with safety thimble.
>> Wheels- *17" Trailready beadlocks
>> Tires- *37" Pitbull Radial Rockers
>> Other stuff- *Customized seats with personalized logo, HID headlight conversion hi and lo, Powertank 10lb air tank, full line of ARB recovery gear, custom stereo with custom sub box mount, cb, Optima Red Top battery, etc.
>>
>> Picked this up for $3000 with a 4.0L that was toast, a bad tranny, a hacked up attempt at a lift, torn seats, etc. *A year later and she's looking great and performing incredibly on and off road.