Yellow_snocone
Name: Kyle
Username: Yellow_snocone
Mods:
3.25" RC lift
35x12.5x15 MTR's with kevlar
15x8 Mickey Thomson Sidebiters
MetalCloak overline fenders
SRC front bumper modified
XRC 800lb winch
quick disconnects
Banks cold air intake
Yellow top optima
1" MML Browndog
1" BL daystar
UCF ultra high skid
HP Dana 30 with aussie lunch box locker 4.88
8.8 with Artec truss, lock rite locker 4.88
Safari straps
hella lights
JB conversation SYE
BigDaddy Tie rod
Tom woods drive shaft
JKS Front track bar
Rear RC xflex control arms (temporary)
15 gallon genright stretch tank
Future plans- 4 link rear, outbound rear shocks, rear genright stretch armor and all
Build thread-
http://www.jeepforum.com/forum/f22/c...build-1420405/
Story: I purchased my jeep from a seller at Holloman AFB back in 2009 after my BMW had a gasket leak in the cylinder heads. I always wanted a jeep and got a great deal on this one. I started with a mild lift (2") and some 31's and did some wheeling and learned how to drive stock. After lots of learning I started upgrading pieces of my jeep with lockers and a few other mods. I took a dive when I had to upgrade my dana 35 rear and got a junk yard 8.8 and cleaned it up and welded on an artec truss. I'm doing lots of research on a 4 link for my rear with a stretch, here's hoping I do it right
.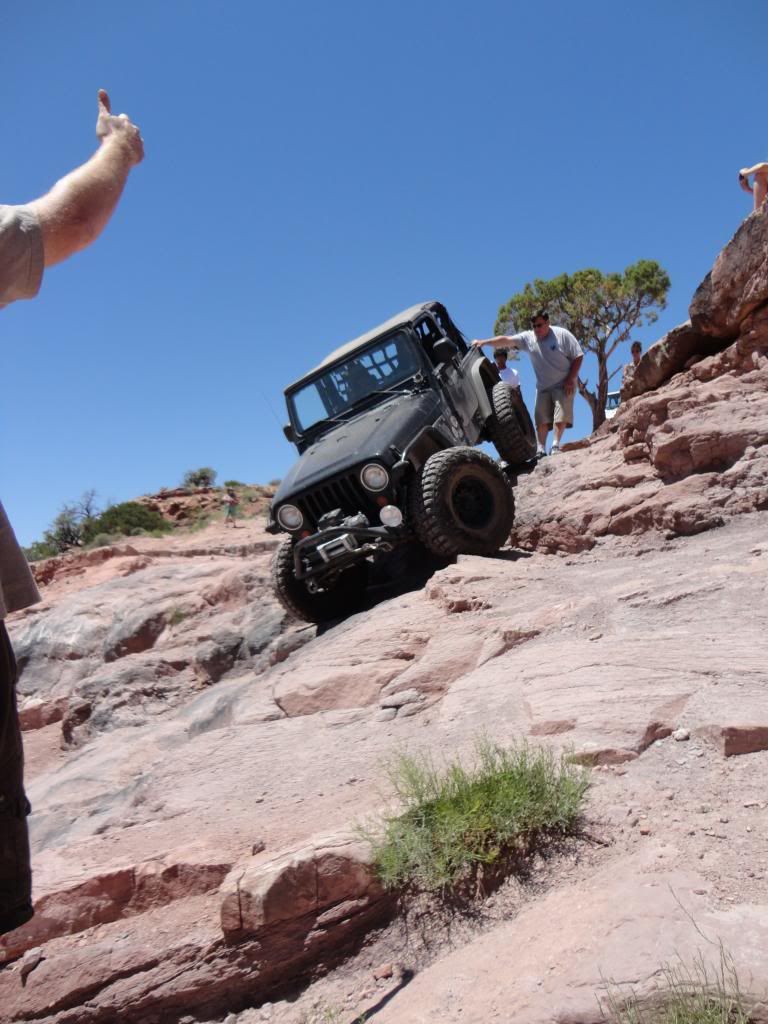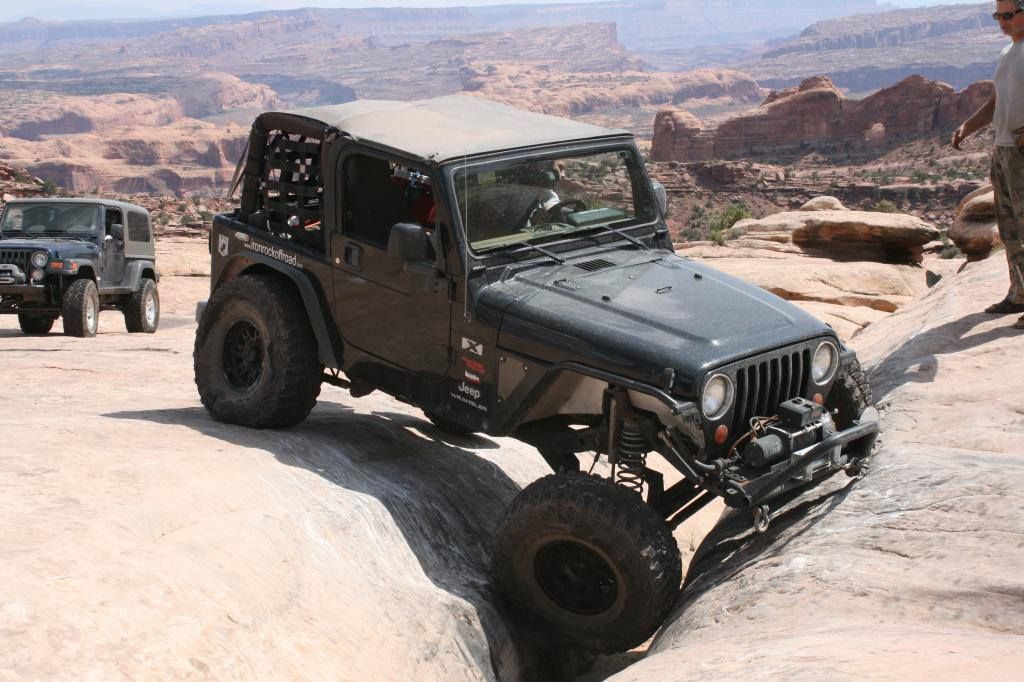 Unlimited04
Name: Mike
Username: Unlimited04
2004 Jeep Wrangler Unlimited with: 4.0L/42RLE/NV231J w/ SYE, HP D30 front, D44 rear, 4.88's with Detroit TrueTrac's front and rear, 33x12.50R15 Goodyear Duratracs, JeepMedic engine skid & tummy tuck, modified "Soli" diff covers, Kilby steering box skid & Body Clamz, Savvy gas tank skid, Skid Row radiator skid, rock sliders with internal reinforcements, JKS 1.25" BL, Currie 1" MML, Vanco 15" brakes, Springs: OME 2.5" - 934 front, 949 rear, Shocks: OME N66 & N67, lots of bumpstop work, adjustable front and rear track bars, adjustable control arms, front sway bar discos, Viair 460C with 1 gallon air tank, rear load leveling airbags, Poison Spyder Customs Trail Cage with custom additions, ebay 'knoblockbumpers' rear bumper, some homemade stuff (GPS mount, CB mount, antenna mount & third brake light), ZJ V8 tie rod, trans temp gauge & tranny cooler, Superwinch EPi9000S on Warn winch plate, Hesco High flow thermostat housing, Bestop tire carrier, 160A Durango alternator, custom exhaust. In Progress: shock mount relocation w/ long travel shocks and off-road camping/utility trailer w/ roof top tent.
stwilson74
Name: Sean
Username: stwilson74
Mods (optional):
Currie Johny Joint 4" lift
Rancho RS 9000 shocks
Currie front Antirock sway bar
Currie front upper axle JJ housing kit
Currie front lower axle mount mini-skids
Currie/Savvy Ultimate steering kit
Savvy MML
Savvy 1.25" BL
Currie/Savvy Ultimate steering kit
Vanco 16" big brake kit
Savvy Modular Under Armor with oil pan skid
Crown extended Stainless braided brake lines bent to avoid the shocks (Vanco kit creates interference but it is an easy fix)
Novak transfer case shifter
Modified locker switch to run the Rubicon lockers in 2H and 4H as well as 4L
Savvy MML
Savvy 1.25" BL
Pro Comp wheels
GoodYear Wrangler MT/R Kevlar tires 315 75 16
Tom Woods rear CV drive shaft
Riddler front differential cover
Warn XD9000i with Spydura Synthetic rope (winch was bought used for under $300, rebuilt and color matched to the Jeep by me)
Poison Spyder BFH front bumper with Brawler Bar, shackle tabs, and aluminum hawse fairlead
Hanson Enterprises rear bumper with tire swing
Tuffy glove box, Tuffy Unlimited drawer
Uniden PRO-520XL CB with tuned FireStik antenna
Rampage H4 Headlight conversion
Rampage Roll Cage Handles
Fire Extinguisher and Mag Light (Cage Mounted)
Hi-Lift X-Treme jack
Assorted recovery shackles, straps, etc.
Staun deflaters
Custom 2 tire inflator line that I made
Mini inflator pump
BestTop Soft Doors
Sony stereo with Quadratec iVault
Story (optional): I bought the Jeep new in 2005, it's a Rubicon Unlimited Sahara Edition with the 6 speed trans and I have put nearly 150,000 miles on it. I found out its number 603 of 1000 limited edition Jeeps released for the movie Sahara, that didn't stop me from modifying it but it makes it one of only 1000 Jeeps that they ever made with the Rubicon and Sahara packages together and it is an Unlimited too so it was fully loaded. My wife named her Betsy and we love taking the boys (5 and 7 years old) out in her for off-roading or even just going for a top down, doors off ride around town or ice cream run. My mods will never be done, future additions I am hoping to add soon are a Savvy Gas Tank skid, Cage upgrades, corners, MetalCloak Overline fenders and possibly either theirs or Savvy's rockers, outboarding the shocks, maybe alloy shafts or ton axles (I've got a 78 Ford with HP D60 front…), OBA system, ...I can just keep listing here! The Jeep works really well and looks great, and best of all there is room for me to bring my whole family out wheeling or just top-down driving on a nice day. I have done all the work myself and try to select the best parts I can afford (almost... hahahaha) so that I can do each upgrade just once.
Pictures: Here are some shots from Rausch Creek, PA in June, enjoy!
tyvanwie
Name: Tyler Van Wie
Username: tyvanwie
Mods: (as of right now)
-Tuffy security console with 8" Polk subwoofer and custom box
-Polk PA330 amplifier
-pioneer speakers all around
-inclinometer
-Rampage frameless soft top
-33x12.5x15 Duratracs
-BDS 2" lift
-Fox 2.0 shocks
-JKS body lift
-M.O.R.E. 1" MML
-ZJ tierod
-RC quick disconnects
-Dana 30 Lockright locker (not yet installed)
Story: The whole jeep disease started when my parents bought me an '08 JKU. I loved it. It had a budget boost on some 32's. I knew I wanted another wrangler. I saw a 1998 Sahara at a local shop for $10,995. I went to my parents but they wouldn't give me the extra money. So I went to the credit union and took out a $6,000 loan and hoped they'd come off the price. I test drove it and it was perfect. No rust, 84,000 miles, and new wheels and tires. I told him I have the money right now but I need it for $9,999 when all is said and done. They did it. I was literally the happiest kid ever. Being 19 and making payments on my own
car was such a great feeling. I have big plans for this jeep.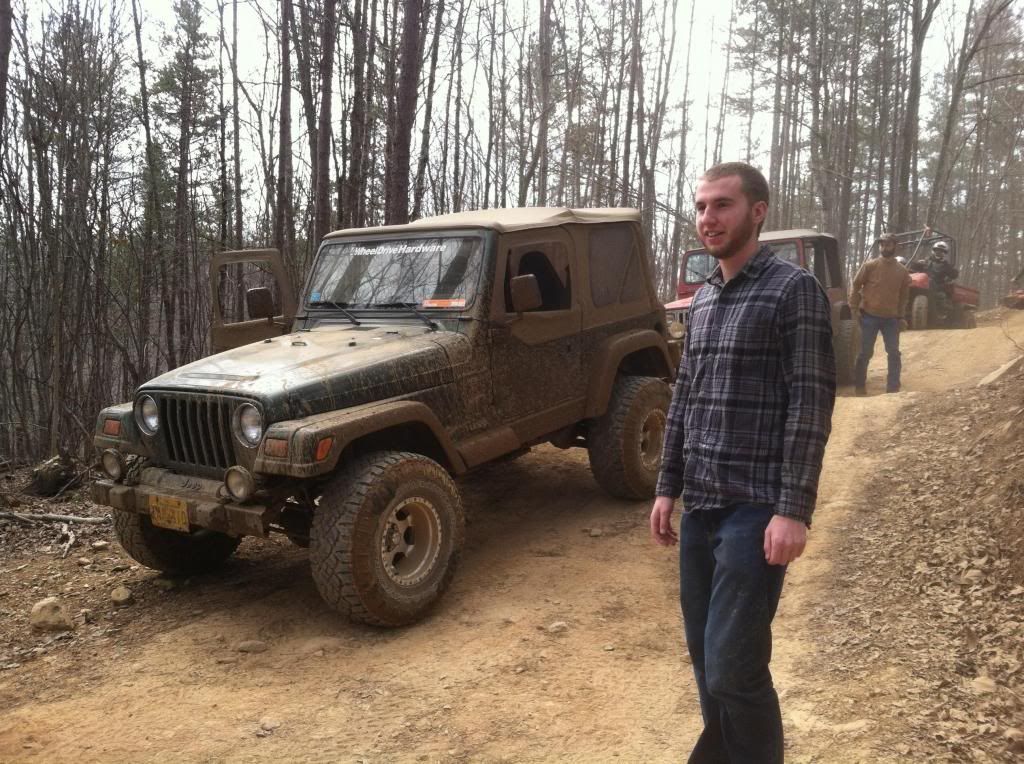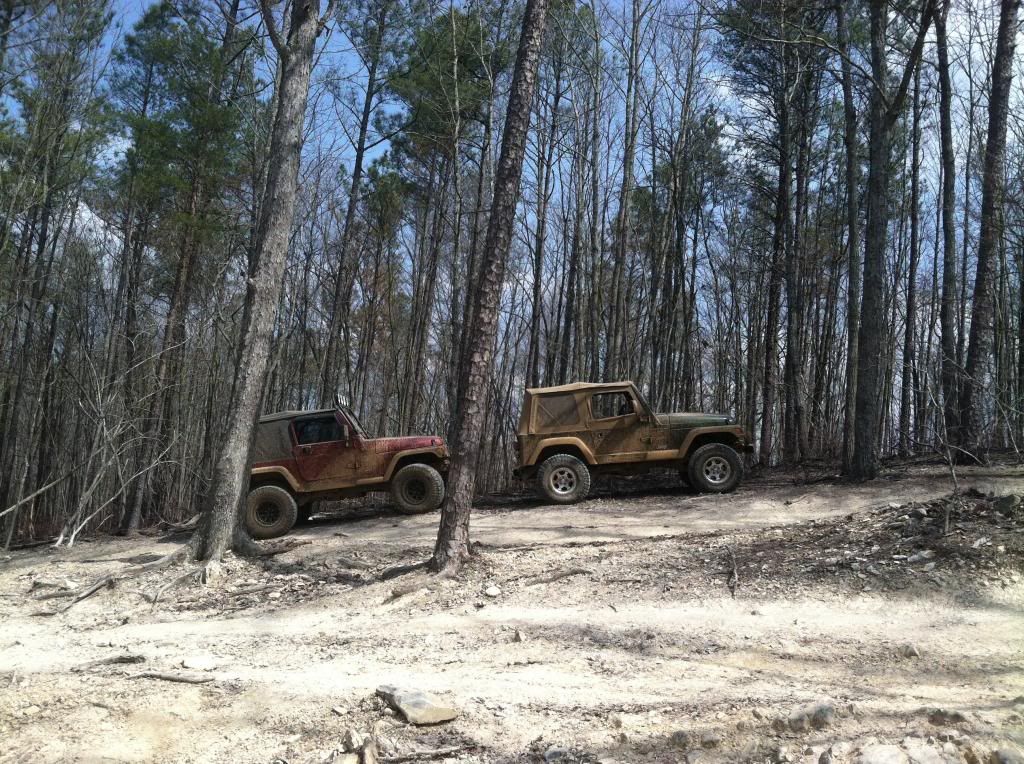 EugeneTheTJ
me: Chris
Username: EugeneTheTJ
2003 Jeep Wrangler Sport
4.0/NV3550/NP231/4.88 R&P
35" MTR Kevlars on 15" black ProComp alloys
Mods:
>HP D30
-Spartan Locker
-2003 TJ Shafts and Unit Bearings
-Black Magic Brake Pads
-Centric Premium Rotors
-YJ brake lines
-Solid Diff Cover
>Ford 8.8 Rear Axle
-LSD
-Black Magic Brake Pads
-Centric Premium Rotors
-ECGS E-Brake Cables
-ECGS Driveshaft Adapter
-Solid Diff Cover
>Suspension/Steering
-BDS 3" Front Coil Springs
-RC 2.5" Rear Coil Springs
-Currie Johnny Joint Control Arms front and rear
-Currie Currectlync 1-ton steering
-Currie Johnny Joint Trackbars front and rear
-Mismatched shocks
>Other
-Advance Adapters SYE
-Cut down XJ Double Cardan Driveshaft
-Warn M8000 winch
-JKS 1.25" Body Lift
-Brown Dog 1" Poly Motor Mount Lift
-DieHard Platinum P4 Battery
-KC Slimlites (Long Range)
-Delta Quadbar Hyperwhite Headlights
-Novak Shifter Cable
-Flo Pro muffler
-Smitty Bumpers
-Skid Row Steering Box Skid Plate
-Teraflex Oil Pan Skid Plate
-A to Z Fabrication custom rock sliders
-OrFab Roll Cage
-Midland CB Radio/Firestik Antenna/Teraflex Antenna Mount/PA Speaker
-Alpine Head Unit
-Memphis dash speakers
-Kicker sound pod speakers
-Memphis 1000.1 Amplifier
-Kicker Solo-Baric L7 (12")
Story:
I got this Jeep when I was 17 and I have been building it as my time and wallet have allowed ever since. College slowed down progress quite a bit but I recently finished my Master's program so hopefully I will soon have the time and money to continue working on my baby. Running the TJoTM contest has opened my eyes to a lot of quality builds and I have tried to incorporate what I like in others' work into my own Jeep. I know it is not the biggest or baddest in the world but it gets me through everything I need it to and it still manages to be a decent daily driver. Thank you for your consideration!