Holaday
Name: Lee Holaday
Username: Holaday
Jeep:
2004 TJ Sport
4.0
32RH 3 speed Auto with Shift Kit
Dana 44 and HP Dana 30 w/4.56 gears
Story:
I bought the Jeep 3 years ago as a father son project with my then 2 year old. It was worn out and hacked together. A couple dollars and 100s of hours later. This is the finished product. My son is now 5 and does not miss a trip out. We frequent the Missouri parks, but are looking forward to the Jeep forum 2.0 trip to Colorado this summer. I have been through a handful of axle shafts, a transmission, and 3 ring and pinions. Needless to say, I have learned a ton and had some great experiences.
I also have already started collecting parts for swapping in Super Duty axles and a rear stretch next winter.
Build-
http://www.jeepforum.com/forum/f22/noob-build-1395973/
Mods:
CAI
Throttle Body Spacer
Savvy Aluminum Front Control Arms
Savvy GTS
Savvy Front Bumper with hoop
Savvy Tailgate Skin and lower valance
Savvy Corners and SS rub rail
Skid Row Steering Box Skid
Skid Row Engine Skid
Rock Krawler Steering heavily modified with Teraflex Knuckle and PSC Extreme Duty Hydraulic Assist
M.O.R.E. steering box brace
Rokmen Belly Up
Spiderweb Shade Trail top
Rampage soft top
1 inch BL
3 inch SL
AA SYE
Bilstsein 5100s
Brown Dog MML
Solid Diff Covers (F&R)
ARB rear locker and large pump
Detroit Locker Front
Custom full cage
5 point harnesses
Beard Suspension seats
35 inch Procomp MT2s on Method Beadlocks
Genright Aluminum "zero Flare" front fenders
Genright aluminum rear stinger with bumper plate and frame tie ins
Genright Rocker Guards
Currie Antirock front and rear
Currie JJ front Housing kit
Currie Control arm Skids
Bedlined Tub
CJ style turn signals
Alloy USA rear axle shafts
Ten Factory Front shafts
Tom Woods Drive Shafts (F&R)
Warn M8000 Winch W/Viking Synthetic line
PSC Hood Louver
Genright LED tails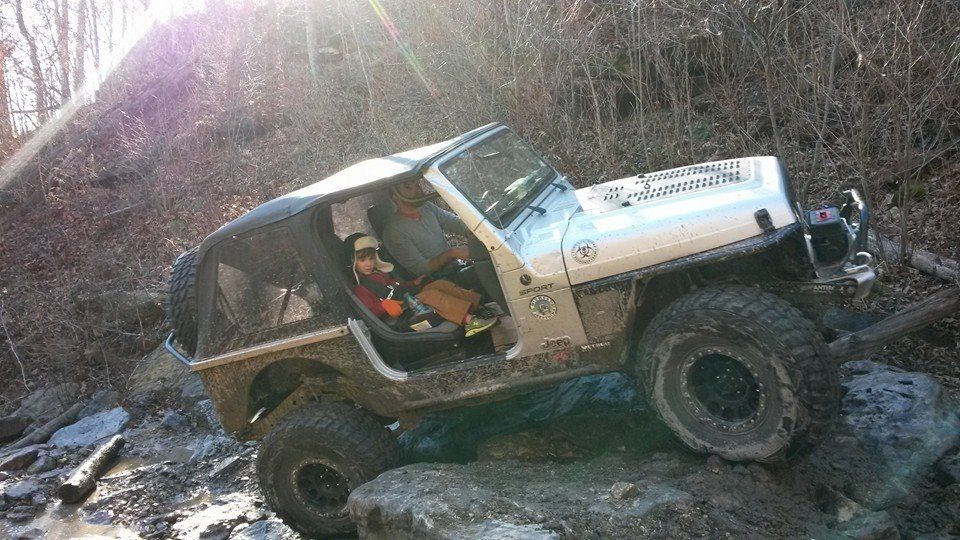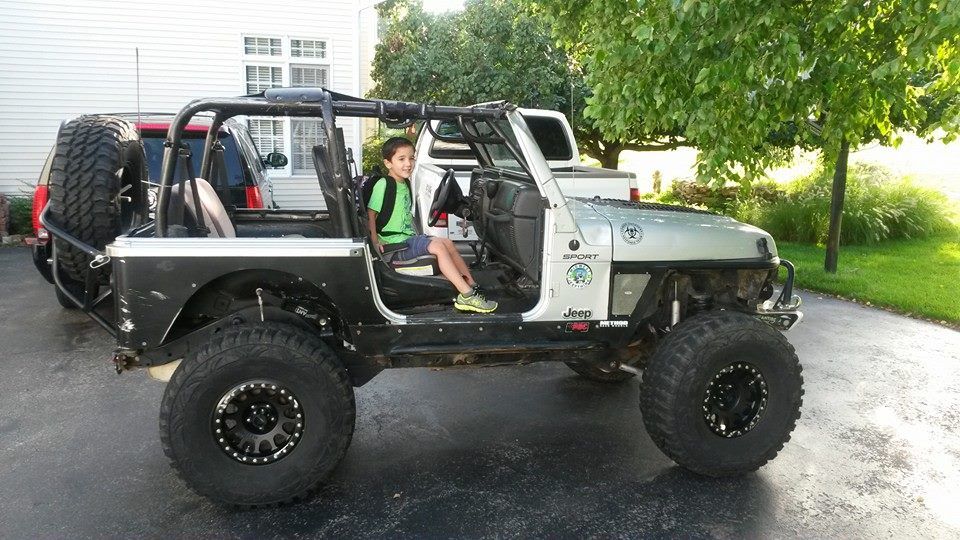 MisfitSeven
MisfitSeven
Name: Matt Bohrer... Bennington, NE
Username: MisfitSeven
Mods:
1998 RHD TJ:
Swapped in 4.0L.
M.O.R.E. 1" motor mount lift.
All aluminum radiator.
FF Dynamics electric fan.
Savvy/Currie 3" front springs.
Rough Country 2.5" rear springs.
JKS 1.25" body lift.
AX-15 with 4.31 Toyota first gear.
NP231 with JBC SSSYE, wide chain, and Tera 2Low.
4.88 axle gears.
57:1 crawl ratio.
Jana 54 front axle.
Super 88 rear axle.
Detroit lockers.
Poly Performance front shock mount extensions.
Doetsch Tech 12" travel shocks, x4.
Flat 5/8" aluminum skid.
3 link front.
4 link rear, triagulated uppers.
Anti-Rock sway bars.
Savvy Black Magic Brake pads.
PureJeep 5" stretch gas tank, cut for 4" more stretch.
Gen-Right aluminum body armor.
TNT 3" front tube fenders.
Poison Spyder BFE comp stinger front bumper.
Savvy taillights.
Savvy steering box skid.
6" rear stretch, 1" front stretch.
Total of 101" wheelbase.
RuffStuff steering in double shear.
37" Wrangler MT/R tires balanced with AirSoft BBs.
15x10" 5x5.5" Cragar soft 8s with Copper Head fab rock rings.
132 amp Dodge Ram alternator.
Twin throttle body spacers.
Flowmaster Super 44OR muffler.
Story:
http://www.jeepforum.com/forum/f22/m...build-2397081/
Pictures: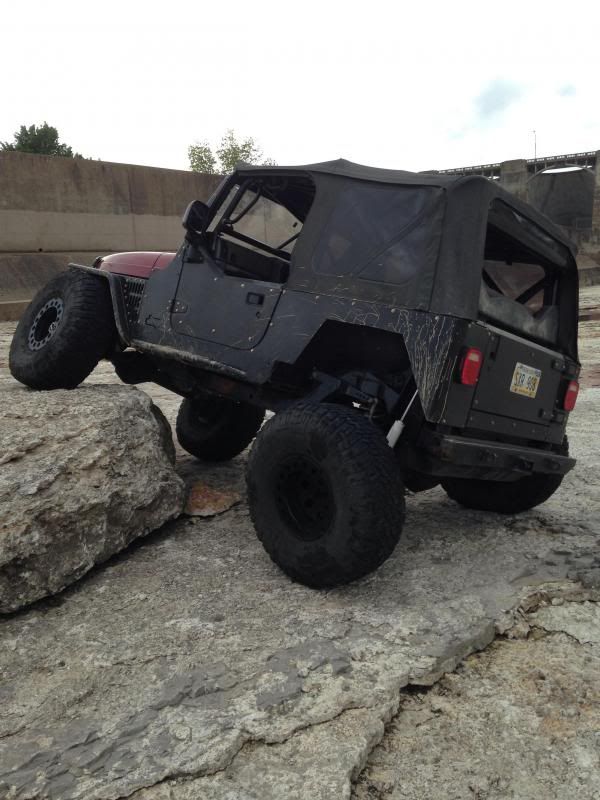 tkfx
Name: Tigran Khopshanosov
Username: tkfx
Mods:
Drivetrain
York OBA
4.0L I6, 42RLE
JK Rubi Front Dana 44, OX Diff cover, gusseted, Clayton Bridge
Front axle long side Retubed with 3"x 0.25" DOM, short side sleeved with 3"x 0.25 DOM.
Front OX Locker with electronic actuator
JK rear Dana 44, Clayton Bridge
5.13 Gearing
37" Goodyear MTR/K
17x7 JK Moab Rims
Suspension
Custom Ruff Stuff Tie Rod
Custom Ruff Stuff Drag Link with TRE flip
Custom Ruff Stuff Panhard Bar
Front Ruff Stuff Coilover Tower
Rear Poison Spyder Coilover Tower
Front Clayton 3 Link Stretch
Rear Clayton Tri 4 Link Stretch
Front and Rear 14" Remote Reservoir King Coilovers
RE Swaybar Disco
Exterior
Poison Spyder Front BFH Bumper
Poison Spyder Hood Louver
Poison Spyder Daddy Long Legs Stretch Corners
Hacked Smitty Sliders
CJ drop down Tailgate Conversion
Truck-lite Headlights
Bestop Trek Top
Spring Loaded Race Mirrors
MetalCloak Front Fenders
10" Lifetimeled Lightbar
LED Rock Lights
Windshield LED Light Pods
Runva 12k Winch
Interior
IGGEE seat covers
12 OTRATTW Switches
JK Floor Mats
Cobra CB
Sony BT4100P Headunit
LED color changing lights
G1W-C Dashcam
MISC
Train Horns
Custom Prewired box with 12 Accessory connections
Story:
My family's stock LJ was passed down to me when I turned 17, when I got my license. Over the course of the next 4 years, I have slowly modified it to what it is now. This forum, and a few like this are really what has given me the knowledge to build my jeep to what it is today. You can follow my build here:
http://www.jeepforum.com/forum/f22/t...ildup-2337401/
Pictures:
leemastergt
Username: leemastergt
Mods:
4" suspension lift
Clayton Pro Series long arms; 4 link rear, 3 link front. JJs all around
10" Fox coilovers front, 12" outboarded Fox remote reservoirs rear
35" Wrangler MTR-Ks
Hutchinson 15" Rock Monster Beadlocks
Metalcloak 3.5" rear springs with relocated blue torch fab upper perches
Currie Anti-Rock
Currie steering
UCF High Clearance Skid w/LoPro mount
2.5" Aluminum exhaust with Magnaflow muffler.
Savvy Rear Bumper
Metalcloak front fenders with 6" front and rear flares
Metalcloak Rocker guards
Kenwood headunit, 4-channel and mono amps, 10 inch sub, upgraded alpine speakers everywhere
HID headlights
Next Mods: Savvy GTS, Savvy front bumper, homemade cage, WHEEL IT!
Story (optional):
My dad bought his first Jeep when I was 14. A 2004 Rubicon that we've taken to Moab multiple times a year since that time. I was always hooked and knew that once I was out of high school I would definitely need to be getting my own Wrangler. When I was finally able to purchase my own vehicle I found this awesome 2006 Rubicon within my price range. Picked it up and have slowly been changing out all the parts that didn't work for me or were worn. It drives perfectly down the road and is constantly surprising me off-road even though I'm always scheming new ways to afford more parts for it. It is really a lifelong hobby and joy for me. In the near future I hope to get it competition ready for events like the Utah Old School Rock Crawl, and races around the Southwest.
It's really been a great learning experience. Doing things I never thought I would be, like welding, wrenching, and even fiberglass repair and body work!
Pictures: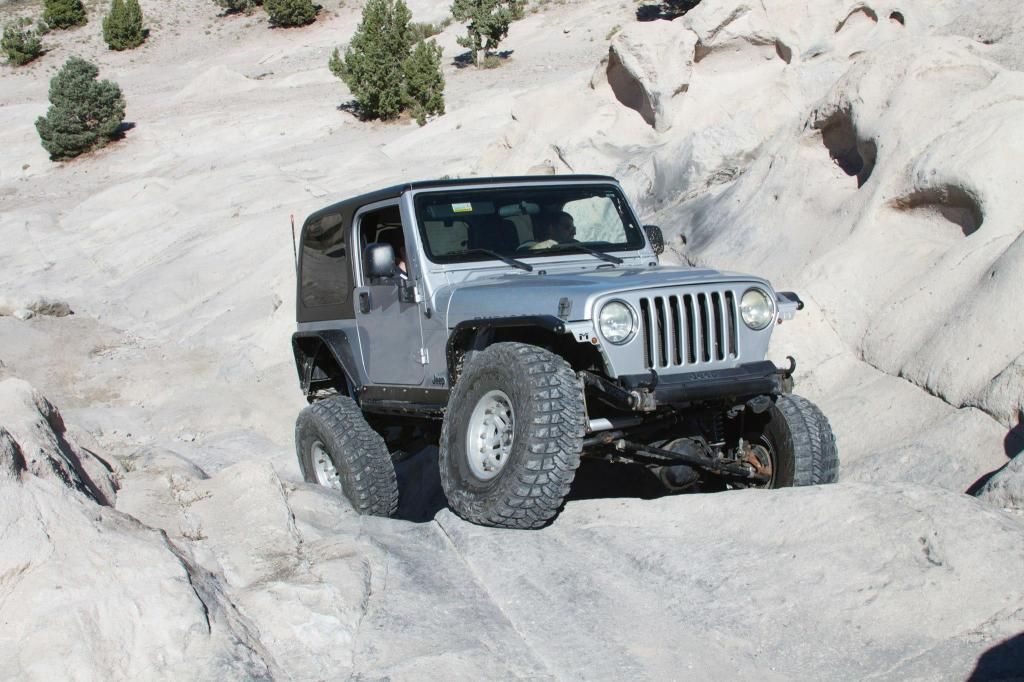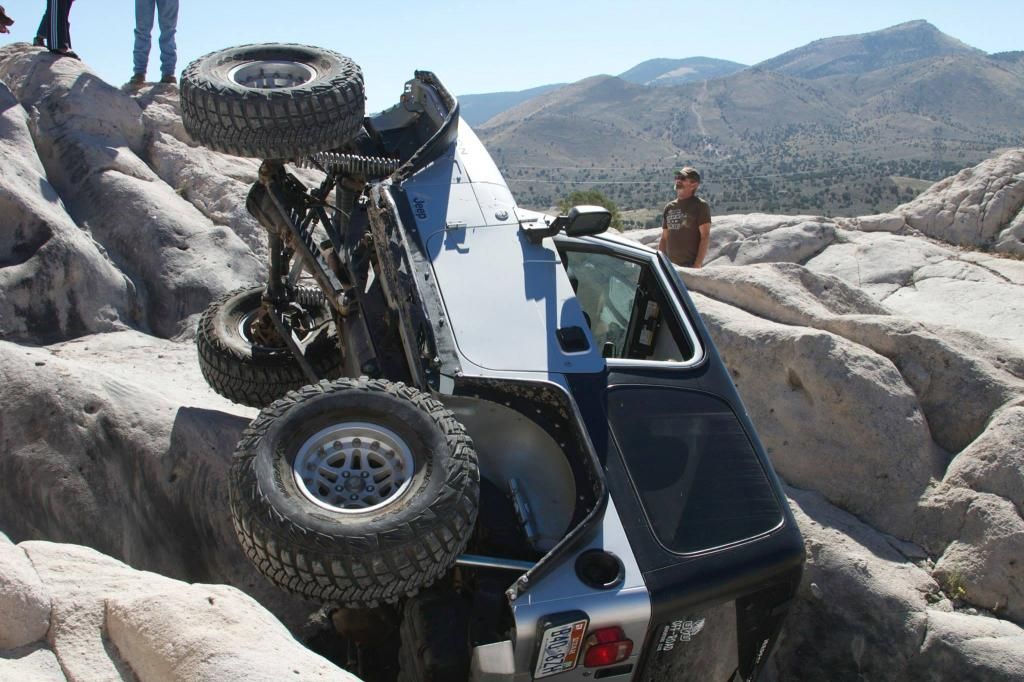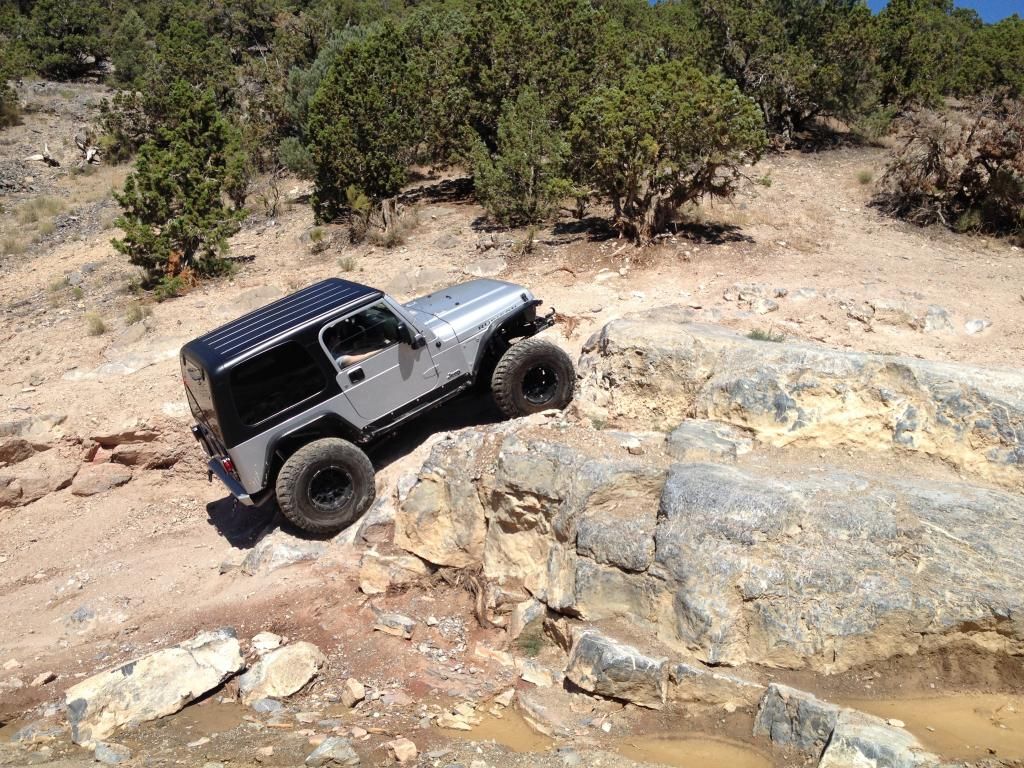 bradentaala
Name: Braden Ta'ala
Username: bradentaala
Mods: LS1 engine swap (out of a Corvette), 4l60e, atlas 4 speed (1:1, 2.72:1, 4.3:1, 11.7:1), custom built cage, 1 tons, 42's, and a few more small things here and there. For more details, check out my build thread. TAALA 2 BUILD THREAD
Story: I never thought I would end up building a jeep to this level. I started off with a budget boost and 31's on this jeep. Which turned to 33's, then 35's, then 37's, then 39.5's, and finally 42's while going through 3 sets of axles. It has been quite the journey! This jeep is the enabler for so many instant friendships that have evolved into years of true friendship. This jeep has been one of the best investments I've made.
Pictures (a big thanks to by friend Scott Jarvie and his mad photography skills):
"Moab Moonrise" Yep, that is the moon behind me.
This picture was taken on Fins and Things in Moab.
This is Pritchett Canyon Trail in Moab.