MisfitSeven
Name: Matt Bohrer... Bennington, NE
Username: MisfitSeven
Mods:
1998 RHD TJ:
Swapped in 4.0L.
M.O.R.E. 1" motor mount lift.
AX-15 with 4.31 Toyota first gear.
NP231 with JBC SSSYE.
1.25" body lift.
Rough Country 2.5" springs.
4.88 axle gears.
57:1 crawl ratio.
HPD44 front axle.
Super 88 rear axle.
Detroit lockers.
Poly Performance front shock mount extensions.
Doetsch Tech 12" travel shocks.
JKS 1.25" body lift.
Flat steel skid.
4 link rear, triagulated uppers.
3 link front.
Vertical rear springs.
Savvy Black Magic Brake pads.
PureJeep 5" stretch gas tank cut for 4" more.
Gen-Right steel body armor.
3" rear stretch,1" front stretch.
Total of 98" wheelbase.
TNT 3" front tube fenders.
RuffStuff steering, double shear over the knuckles.
37" Wrangler MT/Rs tires.
15x10" 5x5.5" Cragar soft 8s with Copper Head fab rock rings.
132 amp Dodge Ram alternator.
Flush mounted stock taillights.
Twin throttle body spacers.
Story: I bought the TJ bone stock complete with the right hand drive conversion in 2006, everything else was built by me. I bought it to deliver mail in and wanted to keep it stock for the most part because my CJ-7 was my toy. After finding out that TJs are more capable and more fun than the simple CJs, it became more of a toy.
Having to keep it drive-able at all times kept my modifications at a minimum, or had to be finished before the next delivery day.
Last year I moved to a mail route with a postal truck on it and retired my TJ to commuter and weekend warrior. When that day came, I bought a stinger front bumper, soft top, and half doors. Otherwise this is how I delivered people's mail!
Adding to the stock cage and finishing the rear suspension will be tackled this spring.
Pictures: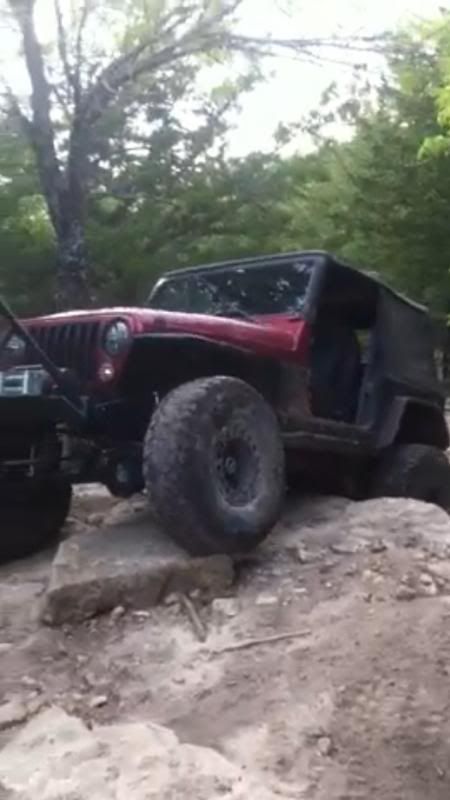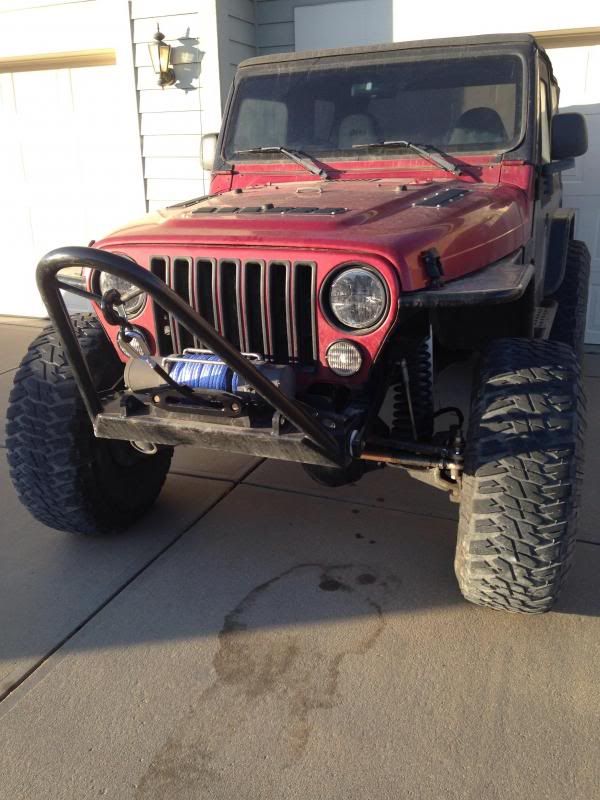 H82LOSE
Name: Chris Wilkerson
Username: H82LOSE
Mods:
Drivetrain:
4.0L I-6 Engine
32RH Transmission
Np231 Transfer w/Tera Low 4.1
Front diff. Currie HP9 w/ARB air locker and 4.88's
Rear diff. Currie HP60 w/ARB air locker and 4.88's
Suspension:
Rock Krawler 7.5" X Factor Plus w/102" stretch along with bumpstops and limit straps added to all four corners
QA1 Springs all four corners
Exterior:
XRC front fenders
Poision Spyder rear corner armor
Custom rock sliders
Custom rear bumper w/auxiliary air tank
Warn XD9000i winch
Warn winch mount and grille guard
KC Hilites
Custom 15x8.5 Beadlocks
38x12.50 15 TSL Swampers SX's
Story:
I have owned and built several Jeeps in my lifetime ranging from a 75 CJ5 to 02 TJ. Hands down this is my favorite rig in which I've had the most fun. Remaining upgrades include a front stinger, full cage, suspension seats and harnesses.
LA-Sahara
Name: Chris Kotar
Username: LA-Sahara
Mods (optional):
315/75/16 Mickey Thompson MTZs on 16" Cragar simulated Beadlock
4" Procomp springs
Rancho 9000xl shocks
1" Performance Accessories BL
Savvy double adjustable all except stock front uppers
Front antirock
JKS front Adj. Trackbar
Metalcloak rear trackbar
Currie steering
UCF 2" Skid plate with Engine skid
Savvy GTS
A to Z rocker guards
JKS MML
Adams CV driveshaft
JB conversions SYE
Ares Fab rear bumper/tire carrier
Bestop HighClearance front bumper, "custom" stubbied with fog light cut-outs
MileMarker Winch with homemade in-cab controller
Borla Catback
Powersteering cooler
HP30 front axle with Lockright and 4.88s
D44 with Detroit Softlocker and 4.88s
Black Magic brakes
PIAA driving and fog lights
Custom HID projector headlights
York OBA
Diehard Platinum battery
Windstar air intake
Uniden 520 CB with 3' firestik
Custom in dash JVC touchscreen
2 Rockford Fosgate 8" subs in SirGCal box powered by RF amp
2 LED backup lights from Amazon
Custom Switch panel in place of ashtray
JeepAir A/C kit
Bestop Supertop NX
Future mods:
Tube fenders (currently building)
Savvy hydro assist
Story (optional):
1998 Sahara 4.0L 5speed. Got my Jeep for Christmas as my first vehicle 2 years ago. Pretty sure I was modifying it the next day! I love this jeep and love working in it. Plan to keep it forever. I have definitely caught the bug!
Pictures: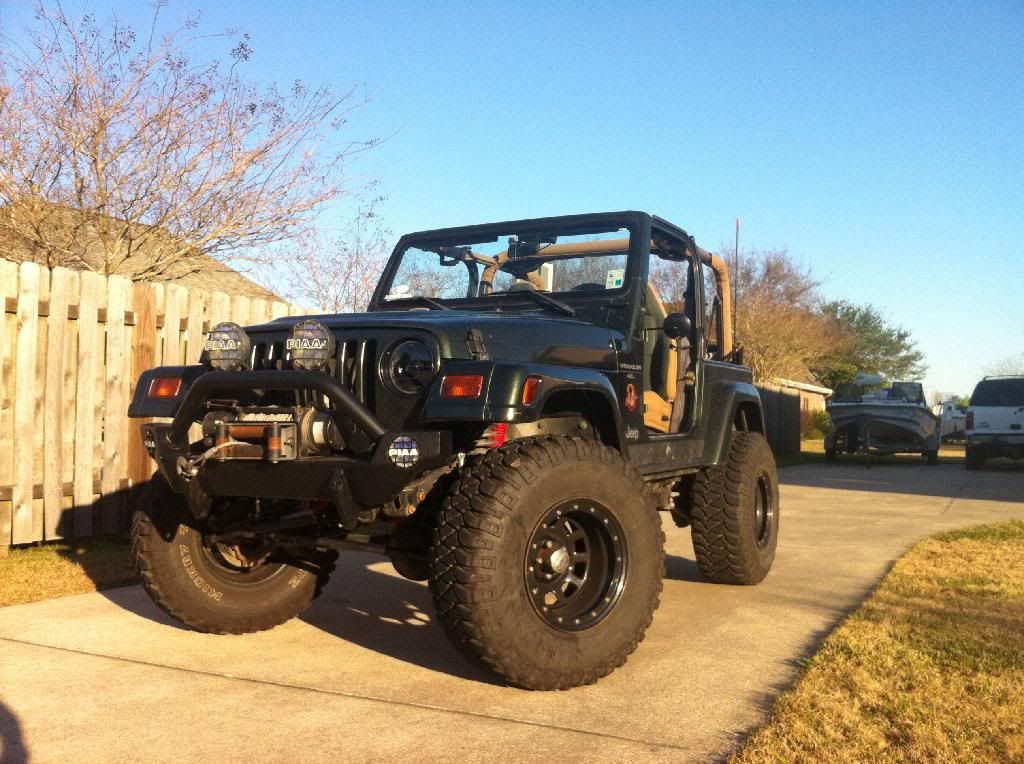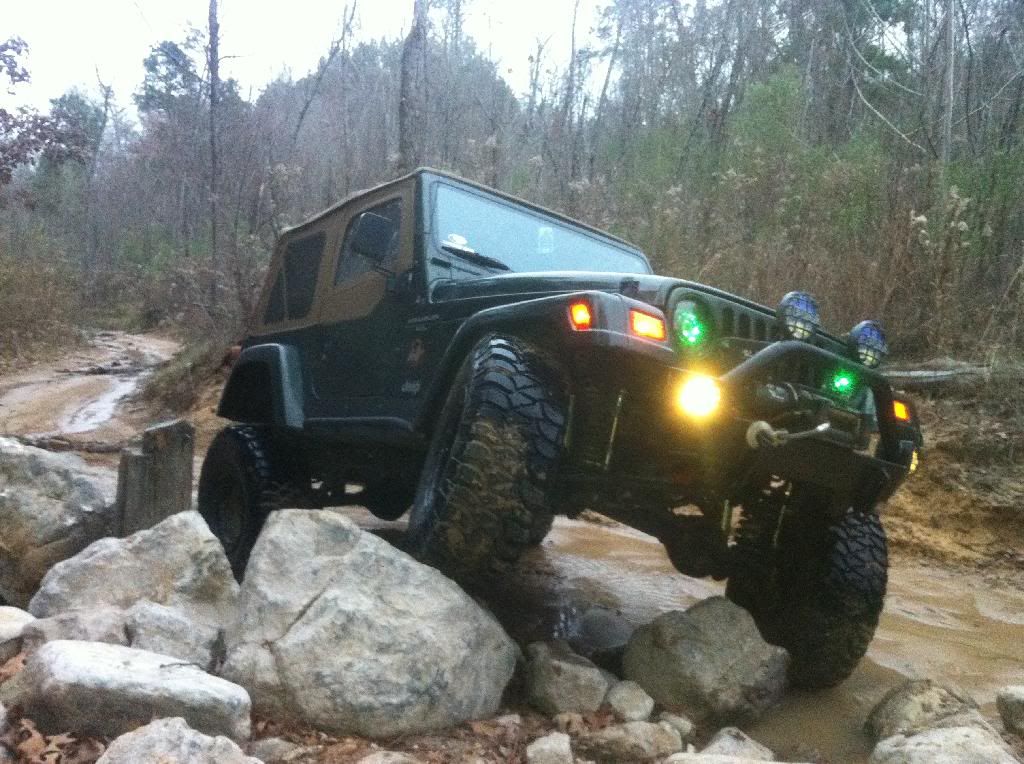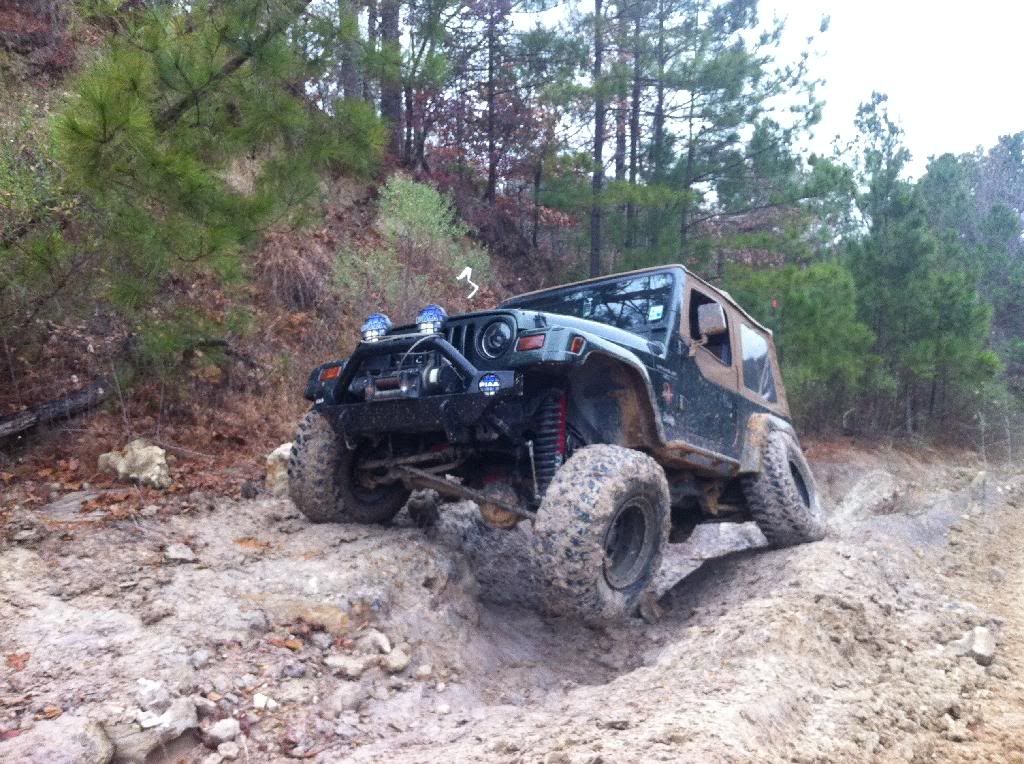 IH8PEPL
Name: Dan Krok
Username: IH8PEPL
Mods
Armor:
Mopar Rock Crawler front and rear bumpers
Rokmen - steering, engine, transfer case and gas skids., as well as rocker guards and corner guards.
Nth front and rear diff skids
Genright windsheild armor
Wheels/Axles:
AEV JK Savegre rims
Spidertrax adapters
35" Goodyear MTR Kevlars
RCV Shafts front, Yukon shafts rear
Currie diff cover front, Riddler diff cover rear
Suspension:
OME Nitrochargers
Stock coils
JKS ACOS front and rear
JKS 1.25 body lift
Rokmen Control Arms
Currie HD steering
Currie track bars
Currie Antirock
Lighting:
Trucklight LED headlights
Trucklight LED spotlights (roof rack)
Savvy LED taillights
Recovery:
Warn VR8000 Winch with Viking synthetic line
Maxtrax
Engine:
JBA Header
Airaid Intake
Accessories:
Gobi roof rack
AEV Highline Kit
2 Clean agent 2.5lb fire extinguishers on Drake mounts
Powertank OBA
Bestop Tire Carrier
Tuffy Security console and glove box
OrFab Sport Cage
Diehard Platinum Battery
Story
After winning TJ of the month in Feb 2011 ive learned a lot and my Jeep has undergone some changes. So I figured it was time to try TJOTM again. I took it from newb mall crawler to functional expedition rig. Nothing over the top, just an all around versitile Jeep. All mods listed have been added to the Jeep since Feb 2011.
Pics:
290tjjeep
Name: Ryan Cowan
Username: 290tjjeep
Mods:
1998 Jeep Wrangler 2.5l
AX-5
G2 Dana 44 w/ ARB
Old Man Emu Coil Springs
Rancho 9000xl Shocks
Currie Control Arms w/ JJ
Currie Anti-Rock
JKS 1.25 BL
JKS Control Arm Skids
JKS 1" MML
Smittybilt Bumpers & Rock Rails
ProComp Wheels
33" BFG KM2's
UCF Aluminum Transfercase & Engine Skid
Novak Shifter Cable
Savvy Offroad GTS
Savvy Offroad LED Taillights
Smittybilt XRC Seats
OR-FAB Roll Cage
Gen-Right Aluminum Tube Fenders
Xenon Rear Flares
Delta Headlights
KC Fog and Windshield Lights
Rhino Lined Tub
Dana 30 Aussie Locker
Dana 30 RCV Axles
Re-geared to 4.88
Front Differential Skids
Kilby Steering Box Skid
Rampage Hood Bra
Advance Adapters SYE
Tom Wood's Driveshaft
Dynomax Exhaust
Mr. Grille Grill Overlay
ZJ Tie Rod
Spiderweb Shade Mesh Top
Drake Offroad Hood Tie-Downs
Bazooka Tube Subwoofer
JVC Head-unit
Kicker Speakers in Soundbar
Polk Audio Speakers in the Dash w/ NalinMFG Adapters
Cobra CB
Firestik Antenna
Story:
My Dad bought my jeep when I was thirteen as a weekend car and when I turned sixteen he passed it down to me. Now let me let you know that when I got my jeep from my Dad it looked nothing like it does today. It was basically the "Pep Boys special". It started as a jeep with no lift on 32's and had plastic stick on air vents and cheap seat covers. So with each job I worked at I saved up money to start building my jeep. I wanted to keep my jeep as a "sleeper", meaning that most people see my jeep as just another jeep with 33's and a few bolt ons. Clearly it's not and will keep up with the "bigger" jeeps. I can say that if I looked back seven years ago today, I would of never had imagined how fair i've gone in building my jeep. I'm truly satisfied.
My plan for now is not to add anything to my jeep. Just travel and take advantage of my jeep and what the U.S has to offer.
Pictures: