IOD Fuse Location.
---
[SOLVED]
1999 TJ - 4CYL - No AC
Problem: My dome light, radio, and gauges stopped working. I can hear that the radio's amp is getting juice (small pop when I turn it on) but it doesn't light up and is not making any other sound.
Everything I can find on Google points to the IOD (Ignition Off Draw) fuse.
In all cases the fuse was found in the PDC (Power Distribution Center) under the hood.
The problem is, I can't figure out which one it is.
The bottom of the PDC cover has a diagram that numbers the first half of the fuses but not the second (see Image)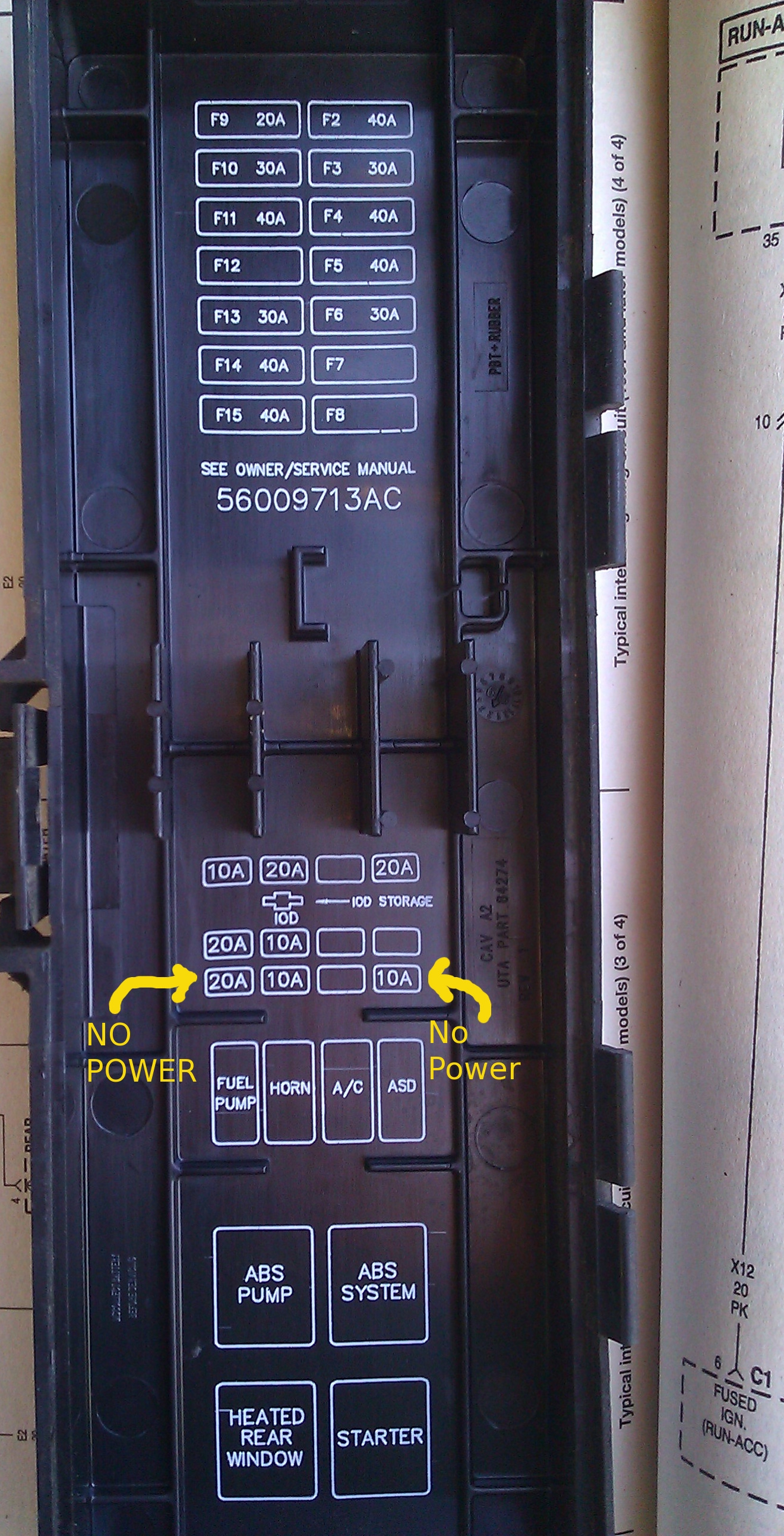 Note that the first section has F2, F3, F4, etc to let you know which is which.
The second section, where I assume the IOD fuse is, doesn't have these labels.
It does point out the storage slot for the IOD Fuse (where you should put the fuse when you're going to store the Jeep for a while and don't want the battery to die) but it never mentions which fuse
IS
the IOD fuse. The owner's manual says it's #17. This, of course, does me no good if they are not numbered.
So, I checked every fuse in the PDC, as well as every fuse behind the glove box and they are all good. I checked visually and tested each for continuity with a DMM. I also checked with the DMM to make sure that there is juice going to each of them. Two fuses do not have power, a 10A and a 20A. I've labeled these in the image.
I'm assuming that, somewhere, there is a broken wire. I'm just not sure if it's before the fuse in the PDC or after it.
Does anyone know for certain which fuse is the IOD fuse?
Assuming that the problem is a broken wire, can anyone recommend to where I should start looking? Is there a spot under the dash where this wire connects to something where I can check for current?
Should there be two fuses without any current going to them in the PDC?
Any help is greatly appreciated.
Thanks,
-Ben
---
Last edited by bpsouther; 11-03-2012 at

09:02 AM

. Reason: Marked as solved