DezertTJ
Name: Craig Anderson
Username: Dezerttj
2006 LJ Rubicon
Mods:
Drivetrain -
D44s F&R. E-lockers in both
4-1 TCase
6spd Manual
Suspension -
4" Currie coils w/ RE Monotubes
Zone quick discos
Armor -
Warn tirecarrier and bumper
Rokmen Engine/tranny skid
Poison Spyder Steering box skid
Stock sliders, tcase skid, and gas tank skid
Stubby front bumper w/ XRC8 winch
Wheels/Tires -
255/85/16 KM2s (33.5x10)
Moabs
1.5" Hubcentric spacers
Story: Finally bought my dream Jeep and love every bit of it. Still in the beginning stages and I can't wait to take it on the rocks.
Pictures: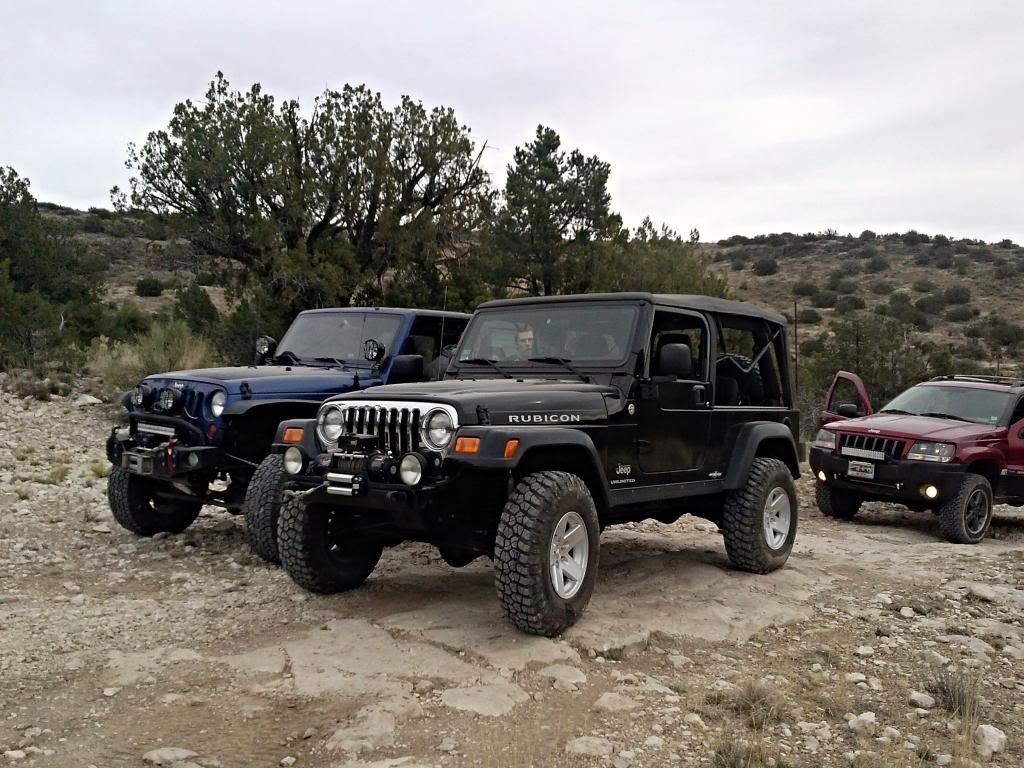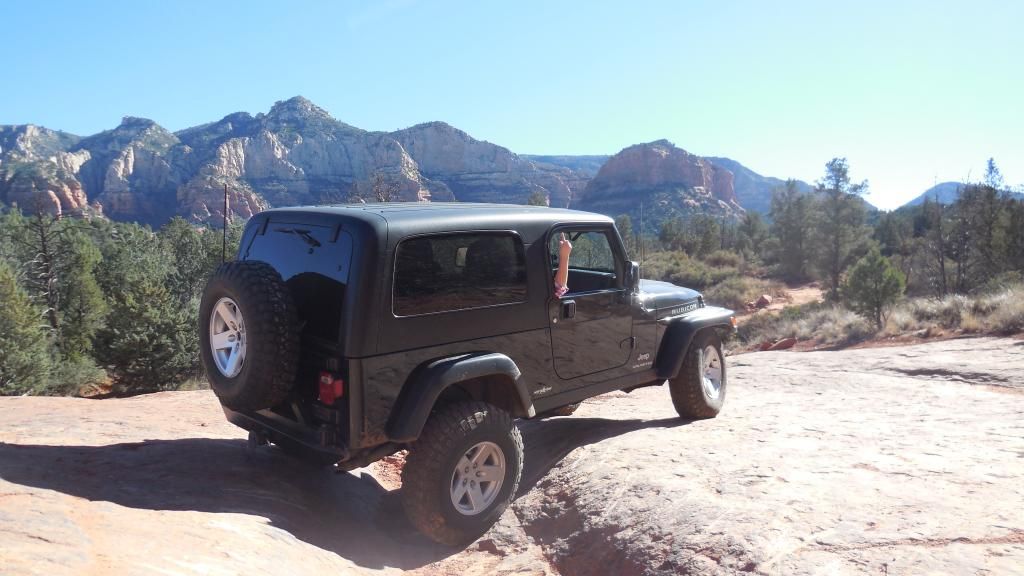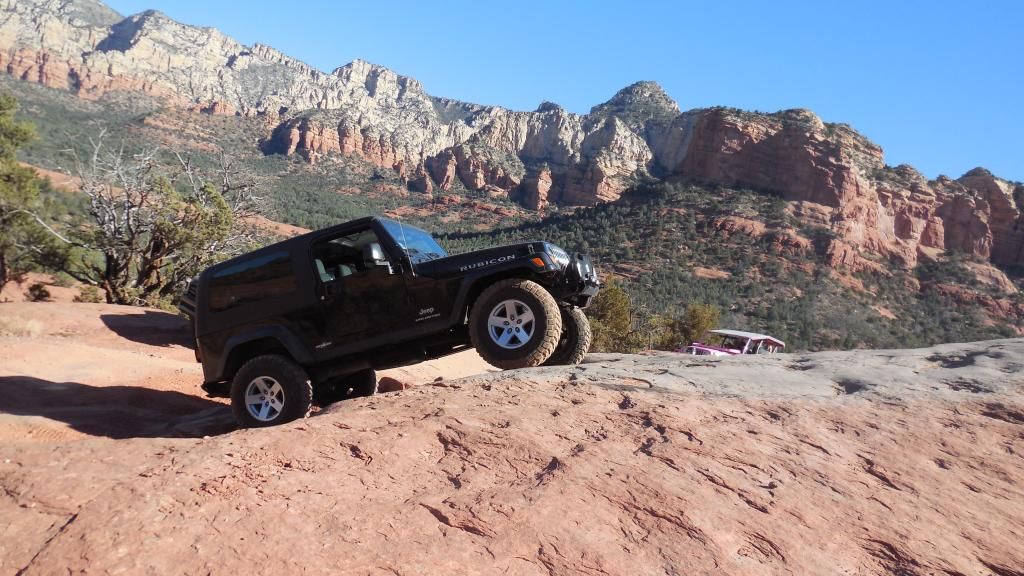 MisfitSeven
Name: Matt Bohrer... Bennington, NE
Username: MisfitSeven
Mods:
1998 RHD TJ:
Swapped in 4.0L.
M.O.R.E. 1" motor mount lift.
Rough Country 2.5" springs.
JKS 1.25" body lift.
AX-15 with 4.31 Toyota first gear.
NP231 with JBC SSSYE, wide chain, and Tera 2Low.
4.88 axle gears.
57:1 crawl ratio.
Jana 54 front axle.
Super 88 rear axle.
Detroit lockers.
Poly Performance front shock mount extensions.
Doetsch Tech 12" travel shocks, x4.
Flat steel skid.
3 link front.
4 link rear, triagulated uppers.
Vertical rear springs.
Anti-Rocks front and rear.
Savvy Black Magic Brake pads.
PureJeep 5" stretch gas tank, cut for 4" more.
Gen-Right steel body armor.
3" rear stretch,1" front stretch.
Total of 98" wheelbase.
TNT 3" front tube fenders.
RuffStuff steering, double shear over the knuckles.
37" Wrangler MT/R tires.
15x10" 5x5.5" Cragar soft 8s with Copper Head fab rock rings.
132 amp Dodge Ram alternator.
Flush mounted stock taillights.
Twin throttle body spacers.
Flowmaster Super 44OR muffler.
Story: I bought the TJ bone stock complete with the right hand drive conversion in 2006, everything else was built by me. I bought it to deliver mail in and wanted to keep it stock for the most part because my CJ-7 was my toy. After finding out that TJs are more capable and more fun than the simple CJs, it became more of a toy.
Having to keep it drive-able at all times kept my modifications at a minimum, or had to be finished before the next delivery day.
Last year I moved to a mail route with a postal truck on it and retired my TJ to commuter and weekend warrior. When that day came, I bought a stinger front bumper, soft top, and half doors. Otherwise this is how I delivered people's mail!
Adding to the stock cage and finishing the rear suspension will be tackled this spring.
Pictures: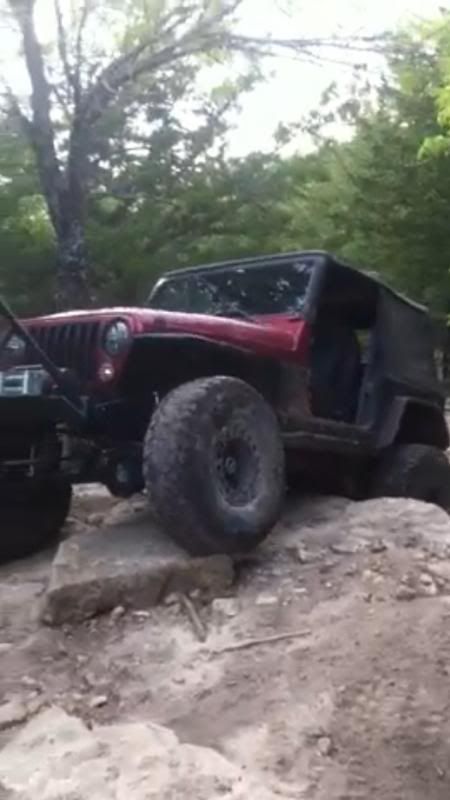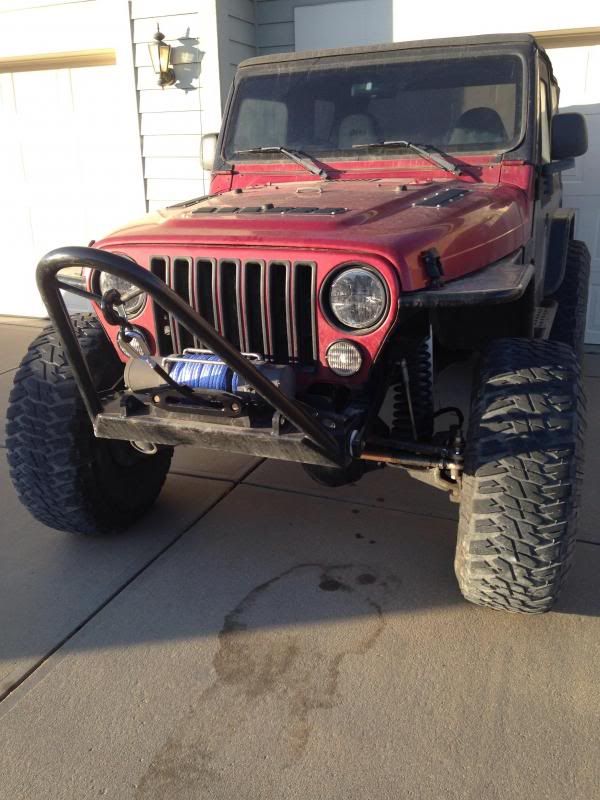 Cavasar
Steven Cavasar
Cavasar
Mods:
Suspension:
-Zone 3" lift
-1.25" BL
-1"MML
-RE steering stabilizer
-JKS front adjustable trac bar
-Antirock
-MC contrl arms (8)
Armor:
-Metalcloak front bumper
-MC steering skid
-Dirtworx rear bumper/tire carrier
-CCFABS no flare hood line front fenders
-Smittybilt rear flares
-AtoZ Fab rockers
-Rokmen drop down aluminum tailgate
Drivetrain:
-Aussie lunchbox D30
-Adams rear driveshaft
-Rugged Ridge SYE
-D44 w/ TenFactory Chromo Shafts
Misc:
-Rugged Ridge D-windows
-BFG T/A KO 33x12.5
-Spiderweb shade
-Monstaliner tub
-PSC hood louver
-PSC light bar mounts
-Totron 50" LED light bar
-Poly Performance hood pins
-Ground Pounder Fab fram tie ins
-JK turn signals
-Bestop seat covers
-Maxxima reverse/STT LED lights
-Uniden PRO520XL CB
-3' Firestik II
-XRC8 w/ Amsteel Blue Synthetic line
-Novak Cable Shifter
Story:
My dad bought this Jeep new on Easter weekend of '98 and drove it for a while, then he gave it to my sister, and then to me the summer before I left for college. The Jeep has been mine for about a year and a half now. They kept it stock and it has been other Jeep buddies and myself that have made all of the modifications to it so far. It is currently my daily driver and one day I want to retire it from DD duty, but keep it street legal with good road manners.
Pics newest to oldest:
Aggie Barn
Hidden Falls Adventure Park
Bridgeport OHV Park
LA-Sahara
Name: Chris Kotar
Username: LA-Sahara
Mods (optional):
315/75/16 Mickey Thompson MTZs on 16" Cragar simulated Beadlock
4" Procomp springs
Rancho 9000xl shocks
1" Performance Accessories BL
Savvy double adjustable all except stock front uppers
Front antirock
JKS front Adj. Trackbar
Metalcloak rear trackbar
Currie steering
UCF 2" Skid plate with Engine skid
Savvy GTS
A to Z rocker guards
JKS MML
Adams CV driveshaft
JB conversions SYE
Ares Fab rear bumper/tire carrier
Bestop HighClearance front bumper, "custom" stubbied with fog light cut-outs
MileMarker Winch with homemade in-cab controller
Borla Catback
Powersteering cooler
HP30 front axle with Lockright and 4.88s
D44 with Detroit Softlocker and 4.88s
Black Magic brakes
PIAA driving and fog lights
Custom HID projector headlights
York OBA
Diehard Platinum battery
Windstar air intake
Uniden 520 CB with 3' firestik
Custom in dash JVC touchscreen
2 Rockford Fosgate 8" subs in SirGCal box powered by RF amp
2 LED backup lights from Amazon
Custom Switch panel in place of ashtray
JeepAir A/C kit
Bestop Supertop NX
Future mods:
Tube fenders (currently building)
Savvy hydro assist
Story (optional):
1998 Sahara 4.0L 5speed. Got my Jeep for Christmas as my first vehicle 2 years ago. Pretty sure I was modifying it the next day! I love this jeep and love working in it. Plan to keep it forever. I have definitely caught the bug!
Pictures: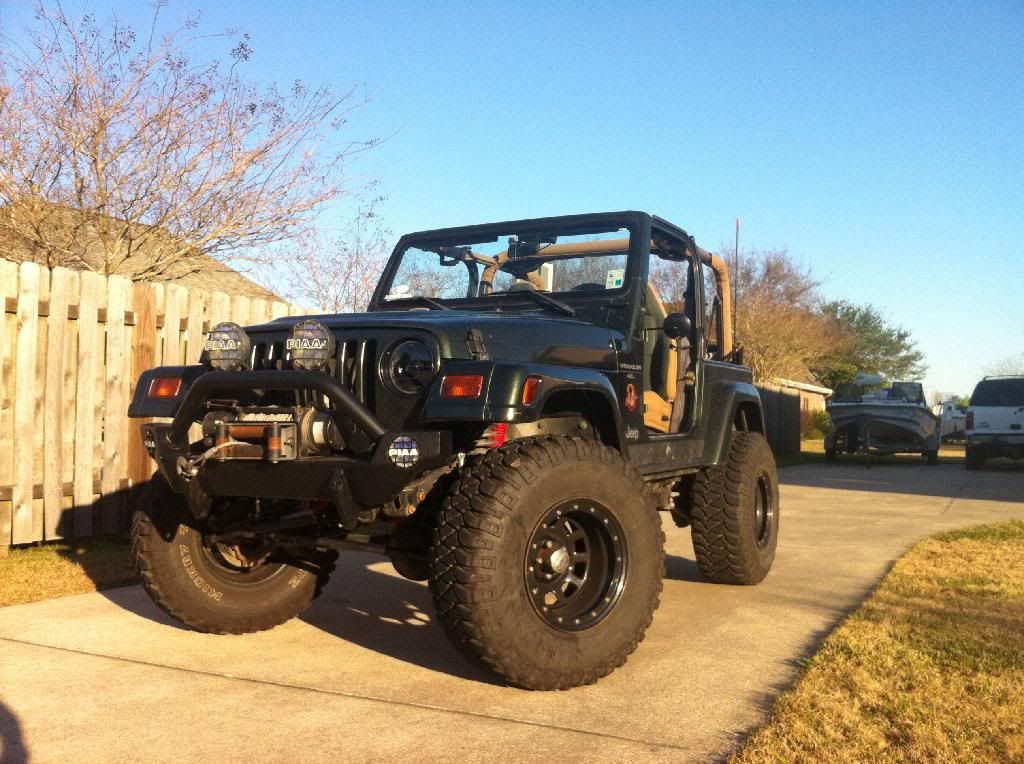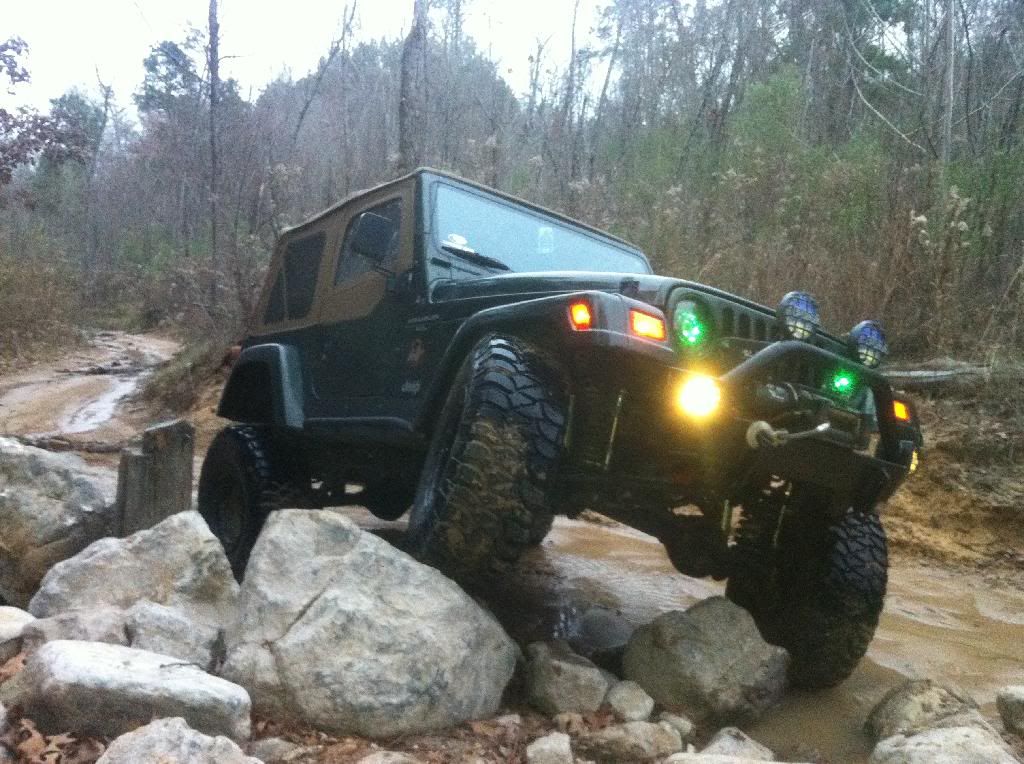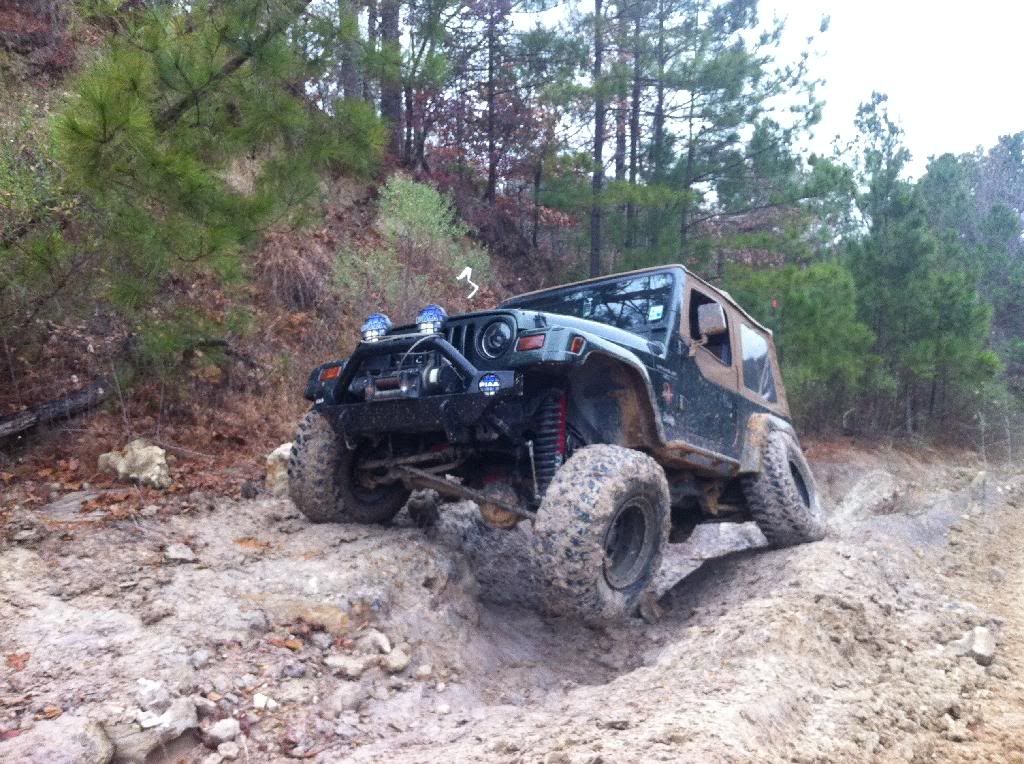 Moabrubi
Juan
Moabrubi
Mods:
2005 Jeep Wrangler Rubicon 6spd manual
35/12.50/15 MTR/K
15" Trailready Beadlocks
Currie Antirock
Rokmen Mercenary front bumper
Rokmen steering box skid
Rokmen TT
Warn 9.5TI with synthetic line
KC Daylighters 130w
Garvin Wilderness tire carrier
Savvy Ultimate steering
Line-X Fenders and mirrors
Dynatrac front diff cover
Ruffstuff rear diff cover
Midland 75-822 CB
3' firestik
Super ultra custom backup lights
Banks catback
Black Magic brake pads with Centric Premium rotors
Black Magic Delrin door bushings
Comet Tri Band Antenna with Kenwood TH-F6A
Polk DB521 speakers with Nalin MFG dash brackets
Savvy 1.25" Body Lift
Savvy 1" Motor Mount Lift
Novak Shifter
Savvy Step Rock Sliders
Savvy gas tank skid
Powertank 10# with rollbar clamps
Savvy Aluminum Adjustable CA's
Black magic brakes JJ washers
Currie 4" Springs
Fox 2.0 Smoothbodies
Currie TJJ Front Trackbar
Currie rear trackbar with housing bracket
Currie Bumpstops F/R
Goodridge Extended Brakelines
JJ housing kit
Currie mini skids
Daystar 3/8" spring isolators
Currie extended rear sway bar links
Ten Factory front chromoly axleshafts
G2 rear chromoly axleshafts
Warn 2.5CI suckdown winch mounted on coil bucket
Rokmen TT
Tom Woods 1310 CV driveshaft
Black Magic Brakes tie rod flip and raised sway bar brackets
Pics: