I have enjoyed the threads others have posted on Jeep build and thought I would join in. My now fiancee purchased this jeep right before we started dating. She was able to find a 98 TJ with only 60,000 miles. It is the 4 banger, but it does ok. SHe bought it mainly for on-road driving as she had a Prius at the time and needed something for winter and to have a little fun in the summer. This is a bad picture of it when she brought it home.
ANd just when you though it wouldn't get worse, that picture doesn't show all the chrome that was on it.
So the first order was a lift and 33s. I was able to score the 33s on Jeep wheels from a buddy of mine pretty cheap. Also picked up the 3" lift from a friend of mine and put it on myself.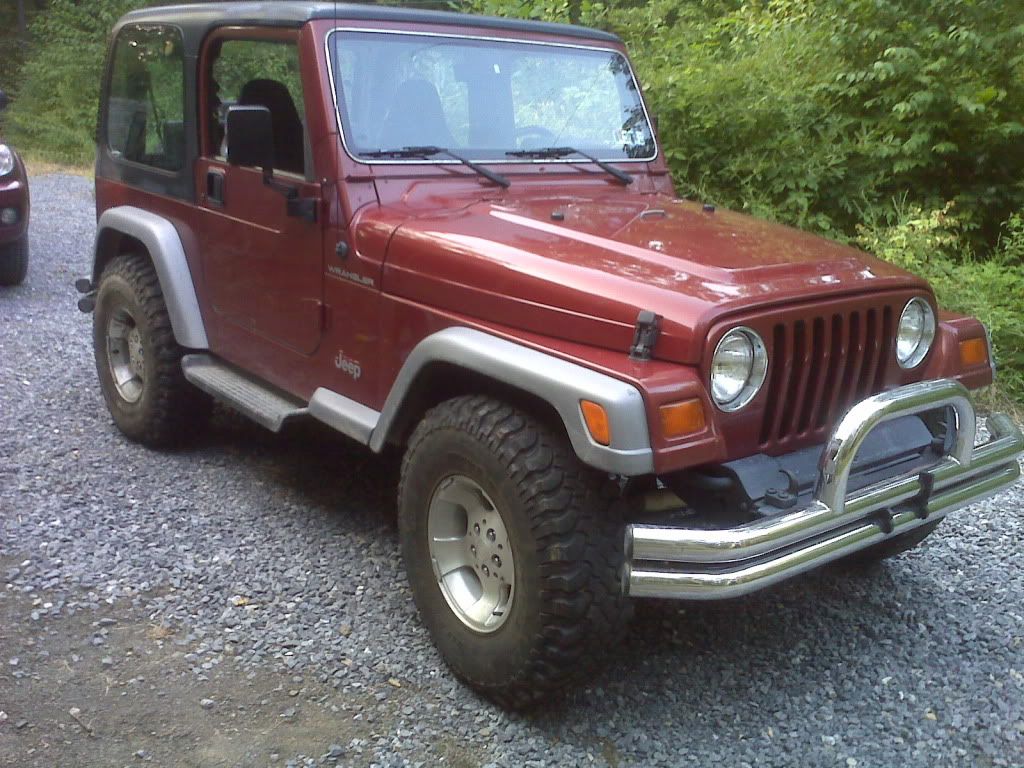 Next objective was to get rid of the chrome.
So in an effort to enjoy the topless fun, I was able to purchase a bikini, windjammer, and tonneau for the Jeep. Top now will be off until late fall. Do not have pictures of the tops, but you have all seen them before.
In the past few weeks, I have been hitting the trim, etc, hard with the rattle can in flat black. DId the flares, mirrors, headlight rings. Also installed a CB in it as well. Additionally I purchased and received front and rear bumpers from Ryans Rabrication. They were instaled this weekend.
Next mods will be American Racing flat black wheels, which I already have, and new 33s. Will probably go with Yokohama Geolanders for daily driving. I will keep these MTRs for the fun days. I will also be installing additional lights on the new bumper as well as the winch. Not sure after that, but I am sure I will be seeing many new ideas on this site.