Quote:
Just seems to be the LCA bushings that are dry rotted. And here are the alignment specs left caster is 6 9/16 deg , right caster is 6 5/16 deg , left front camber is -1/2 deg , right front camber is 1/8 deg , left front toe is 5/16" , right front toe is -1/32" , total toe is 9/32" , left rear camber is -19/32 deg , right rear camber is -9/32 deg , left rear toe is 3/32" , right rear toe is 1/8" , and thrust angle is -1/32 deg
Why are those measurements in fractions? Is your alignment shop using tape measures and trigonometry to figure out your alignment specs?
That toe reading is what needs to be in degrees, if you have a total toe difference of 9/32" from the front to the back of your tire, it's about 7-8/32" too much. I'd estimate that to be over 1.0 full degrees of total toe
If your front caster is indeed higher on the left side vs right side, that would make it pull right if anything. So that definitely means a bad bushing more than likely.
If you have a clusterfunk of toe like I think you do then I'd say correct that first because having a ton of toe on a solid front axle vehicle can cause some strange handling quirks(pulling one way or the other based on road surface angles/dips and whatnot). It doesn't cause a pull by itself, but the fact that road surface isn't consistant will dictate how much of a negative effect it has on handling.
Quote:
Flatlander, I was under the impression that when upgrading past a 31" tire... Say a 33 that you need to have toe slightly less then factory spec. (IE: +9 per tire = combined +18 rather then +30 like factory spec calls for) Is this true?
Quote:
wow great thread, nice job flatlander. thanks a bunch.

I just read the whole thing, but i'm still confused on some things.

I'm installing a 2.5" OME soon:
1. Caster will be off a little, but I can't afford adjustable UCA's right now, so theres nothing I can do.
2. my front tires are cupping, so i've already got excessive toe in.
3. when doing a DIY alignment to set the toe in after the lift, what do I use to measure in 1/32nd of an inch? I can't imagine a tape measure is accurate enough, or is it? I read the write up on 4x4xplor, but I've seen another method using rods attached to the wheels to measure toe. Any comments about this?

When you measure the toe front to back using either the tire as on 4x4xplor, or the tube/rod method, what type of difference should I be looking for front to back? Is a tape measure actually accurate enough for this?

Another question - is there any benefits/negatives to running excessive caster with larger tires? like 7* with 35s? or 7* with 33s? (Ignoring pinion angle) Will this make the jeep more stable on the highway, or any other benefits/negatives?
As far as toe goes I can't say but I'd stick to factory specs if you're going by degrees on an alignment machine.
If you're using a tape measure(which IS accurate enough in my opinion) THEN you need to go for a slightly closer tolerance(more towards 1/32" difference vs 1/16" difference front to back of the front tires) due to the fact that the tire surfaces where you're comparing distances to are further from the wheel center. (Go back through the thread, this was covered elsewhere, somebody actually figured out the formula as to what the numbers need to be).
I believe Mr. Blaine and Jerry B. are the ones who pull the tires and mount square tubing to the wheel mounting surfaces for more accurate measurements.
FWIW I do mine on the tire centerline with jackstands placed under the axle so the tires are off the ground(no rubber "deflection" from turning/adjusting on pavement where the tires don't want to move). I'll do it a few times from a few different points(ie: spin the wheels and measure again front and rear) to ensure it's not off far from a not-so straight tire. Obviously I'd make sure your rims aren't bent before you do it this way.
BTW these are Jeeps, no econocars, you NEED to rotate tires religiously or you'll get cupping pretty much no matter what. If I let my Swampers go more than 5000 miles they'd start to show signs of wearing on the leading edge of the lugs. I did it every 3000 miles except for once with no issues.
As for your lift, you *should* be okay, as you lift the Jeep caster decreases so on 33s you might be alright. 35s would be borderline/necessitate adjustable UCAs I would imagine.
Read my section on caster again, too much caster for a given tire size(like 7 degrees on 35s possibly 33s) basically has the steering axis/caster angle laid back so far that when you turn you're trying to flop the rim over but the tire wants to stay put. For an extreme example imagine a 90 degree caster angle. Shake the wheel left and right and you'll just be moving the rims inside the tire as the sidewall flexes. It will be less prominent/important w/ less sidewall. This is why Mercedes and Chrysler 300s and Dodge Chargers and a lot of BMWs can get away w/ 10+ degrees of caster on a 22" size wheel inside a 17-18in rim(pulling numbers out of my ***, but you know what I mean).
Sorry about missing your post, not as much useful info in the TJ tech section when I'm swapping in a 1 ton drivetrain.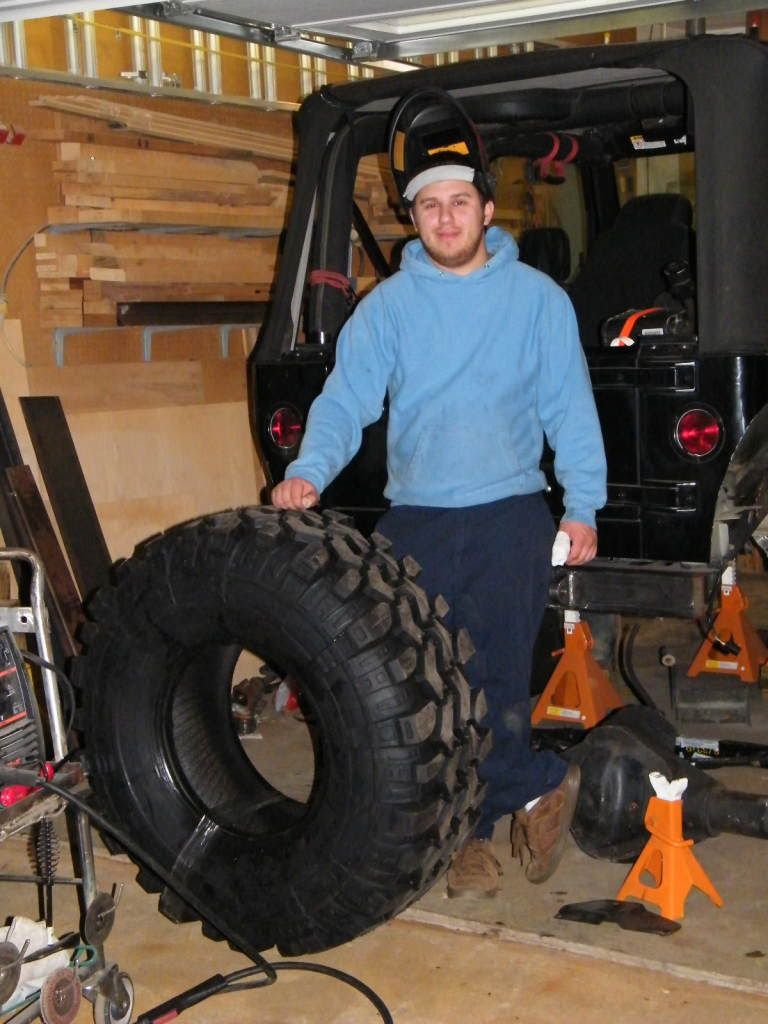 I'll more than likely be aiming for around 3-4 degrees of caster for 40" tires w/ 17" rims then go from there.
---
SOLDThe lumbering steel-laden pig
- 2003 TJ - 40" LTBs - D60/D70HD - 5.86s - Detroit lockers - 110" wheelbase
Build thread here.
Quote:
Originally Posted by 2006 Sport
Being able to make vroom vroom noises in Tonys Jeep was the highlight of my life.
Currently Jeepless.