EMP gas tank skid install, before and after pics
---
I installed my Extreame Metal Products (EMP) gas tank skid this weekend which lifts the tank 1" and protects it with 3/16" steel. Here is my 2c on the product with before and after pics.
First off, I chose this product based on wanting a 3/16" gas tank skid that lifts the tank 1", and at $179 this thing is a bargin.
It arrived on my door step with the box 1/2 torn open and pretty good chipping of the powder coat along the exposed weld line. (The welds were also not the cleanest welds I had seen). The powder coat was chipped down to bare steel. I don't know if this was UPS' fault or that the product wasn't really packed well. The box was slightly oversized and there was nothing in there to prevent the skid from sliding around.
After I gave it a few coats of black spray to cover the exposed metal it was ready to go. This thing weighs about 50lbs.
The instructions left a lot to be desired. I consulted the writeup for the
Kilby tank skid install
on 4x4xplor.com and my FSM. Both the EMP instructions and 4x4xplor instructions leave out some critical steps for us later model TJ guys that my trusty FSM covered in great detail.
The later TJs need to disconnect (I think it was called) the GVRS, Gas Vapor Recovery System. It is located in the fender on the passenger side. After you remove the fender liner and the support bracket, there are 2 vapor lines that must be disconected. The upper one is a PITA.
After that things were relitively easy, disconnected 2 more varpor lines, the electical plug and the high pressure fuel line (after pressure has been released) at the front left of the tank. Unbolt it and drop it out.
Test fit the new skid, then swap the tank into the new skid and reattach the retaining straps:
Then raise the tank and skid backup into position with a floor jack and some help. It bolted in smoothly and everything lined up without having to do any 'adjusting' with a BFH as the instrustions said may be necissary.
The front right mount was kindof a pain as the bolt hole lined up in such a way you could only get a closed wrench on there and turn 1/16 turn at a time. But it was able to bolt up snug.
And the before and after pics.
Before: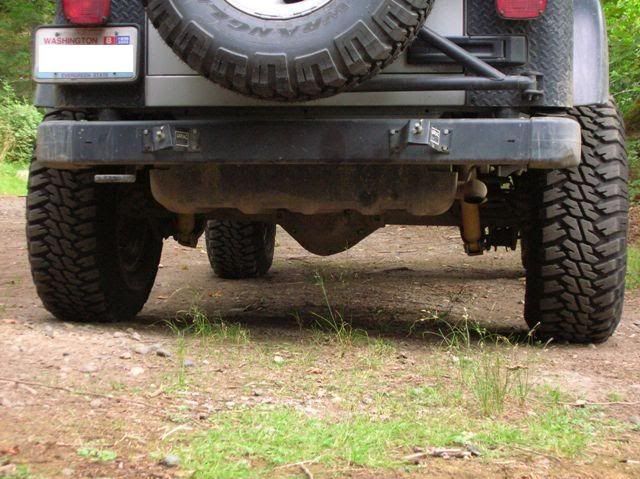 After:
Big improvement, and I am very happy with it. Especially for the price. If anyone local wants a late model TJ skid (heavier than early model) send me a PM.
Edit: edited for spelling.
---
Last edited by Crashnburn80; 08-13-2007 at

11:14 AM

.