Registered User
Join Date: Jul 2013
Location: Edmonton
Posts: 4
dropped hard top
---
Soooo, my hard top was dropped. This happened in the spring while removing it and was immediately put into the pretend it didnt happen part of my brain. So the back corner was compressed... no cracks running up and no damage to the side or windows, just about an inch or so of the back is dammaged.
Has any one ever dealt with this? Will it be an easy fix (do it myself) or should I bring it into a dodge dealer? or I've seen online that some people have brought it to boat repair shops (strange, but Ive seen stranger)??? and How costly do you think this will be?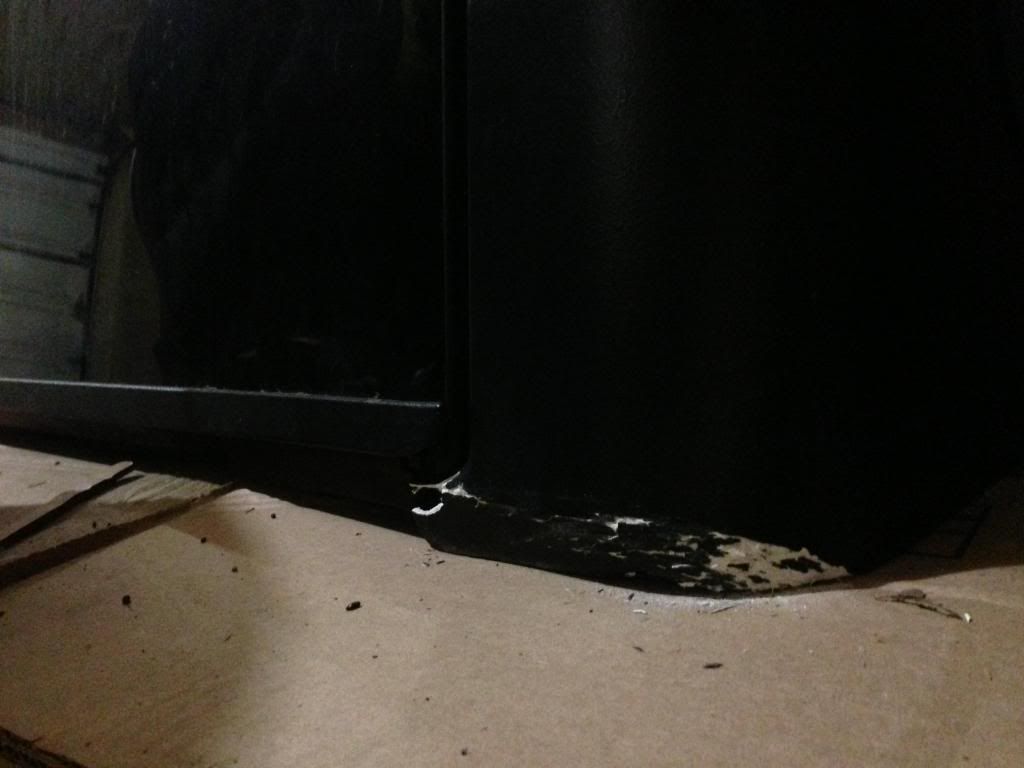 Back ground on me... I'm fairly handy but have never worked with fiberglass at all and would have to buy most tools (moved accross the country and left pretty
I will definitely be more patient and wait for the appropriate friends to help next year!! So hard to wait!
oh and just in case... its a 2005 jeep and a factory top... I hear they arent made of straight fiberglass?
Thanks in advance. I'm still a baby when it comes to jeeps... wanted one since I was a kid, finally got this one a year ago. Lots to learn!
Registered User
Join Date: Jan 2012
Location: Oak Ridge
Posts: 159
I'm halfway joking here, but there's a lot you can hide/fix with diamond plate aluminum and some rivets or bolts.
---
Warranty and customer service won't matter if your equipment fails during a zombie attack.
Torture numbers long enough and they'll tell you what you want to hear.
cq cq KI4DOG
Registered User
Join Date: Oct 2006
Location: Sebring Florida
Posts: 2,370
The hard tops are made of SMC, not fiberglass. With that said, I repaired my hard top with fiberglass resin jelly.

Bondo fiberglass resin jelly is the name of the product. I also mixed in diced up fiberglass mat to thicken it up. Follow the directions and apply liberally. Then use a sander or Dremel tool to remove the excess fiberglass and shape it accordingly. Then paint it. Easy breezy. :-)
---
Quote:
Originally Posted by Patrick Bateman
I have to return some video tapes.
Registered User
Join Date: Jun 2012
Location: New Boston
Posts: 290
Repaired a similar crack in mine with some 2-part epoxy. Used a dremel to open up the cracks, epoxied it, sanded and paint.
Registered User
Join Date: Jul 2013
Location: Edmonton
Posts: 4
Thank you! Sounds like I can do it myself... As for it not being fibreglass... Guess you can't always believe what you read on the Internet
Wizard of Brakes
Join Date: Dec 2004
Location: Quail Valley
Posts: 31,764
Quote:
Thank you! Sounds like I can do it myself... As for it not being fibreglass... Guess you can't always believe what you read on the Internet
Keep digging with your internet search. There are a few that didn't believe they weren't fiberglass, repaired them with conventional fiberglass methods and then later had to recant their statements of easy peasy successful repair.
They are indeed manufactured from SMC and do require the use of SMC specific products and repair compounds which are typically not polyester based but instead, epoxy based.
Put another way, RTV silicone will stick to the steel body of your Jeep. You can tear up some steel wool, mix it up with some RTV and stuff it into the next dent you get, take a grinder to it and knock it down until it matches the contours, squirt some rattle can paint on it, but that don't mean you actually repaired it.
---
I am Savvy
blackmagicbrakes.com
Knowledge does not equal understanding.
Currently Active Users Viewing This Thread: 1

(0 members and 1 guests)
Posting Rules

You may post new threads

You may post replies

You may not post attachments

You may not edit your posts

---

HTML code is Off

---