as the story goes, i was driving down and hit a small bump in the road. there nothing special about this bump and it wasn't even that big. anyway, when i hit it there was and audible thump in the rear that kinda sounded like what i though was my trackbar hitting my gastank skidplate (something that hasn't happend before). needless to say, my wife looks at me and asks "what was that?" so, i pull over into a parking lot and found this....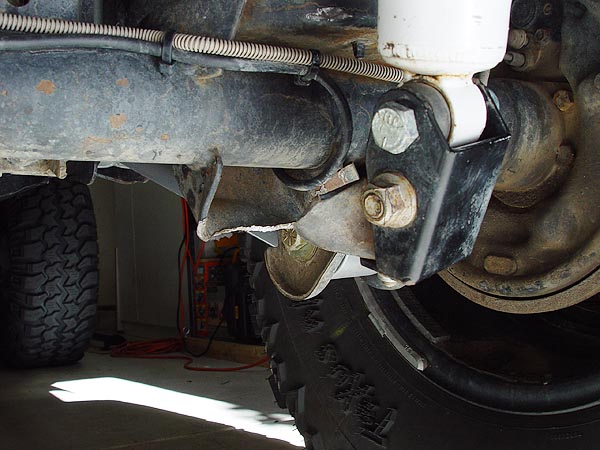 anyway, i took a couple of bungie cords, strapped my shock up and out of the way and headed home. much to my surprise, the ride of my jeep wasn't adversely effected by the break. i have since removed the shock and can i still make my way around town without any problems.
so, what went wrong? i'm not exactly sure but my best guess is that there must have been a crack in the axle mount caused from bottoming out my shocks before installing air bags in my coils (yes, i like to load up my roof rack). after some time and fatigue, it finally gave out on something simple.
what will i do now? well, i've already talked to northridge4x4 and have purchased some nth degree shock shifters and a set of new walker evans shocks. the only thing i have to do now is find a good welder in my neck of the woods to hack off the existing mounts and weld on the new ones.
oh well, i guess i'll have some more write-ups coming soon :roll: