Registered User
Join Date: Feb 2011
Location: Kansas City
Posts: 2
DIY Roof Rack
---
I was, as always, disappointed with the retail roof racks for TJs. The cost of the ones that allow you to put up/take down the soft top without removing the rack is also really high.
I was hoping someone here could put up some info or personal experience about a project like this before I jump into it this spring.
Thanks
Registered User
Join Date: Feb 2010
Location: Denver
Posts: 545
Making a custom Roof Rack isn't that hard at all. All you really need is a tube bender not a hydralic but a man powered arm tube bender, a friend to help, welder and a great idea. I built this roof rack in about a week, but i worked non stop on it to get everything right, remember measure multiple times before you cut, and make sure you bend the tube in the correct spot. I spent about 300 somewhere around there with all the materials and rhino lining it. In the last photo you can see a support beam that goes across the rollbars and through the hardtop to support the weight of the rack and whatever i put in it. I can support up to 300 lbs but i would never put that much up there ever!
Ill take a few better pictures tomorrow in the day light.
Web Wheeler
Join Date: Mar 2007
Location: Elmira, NY
Posts: 10,935
Here's a design that might give you some ideas... this one can be made very inexpensively from two Harbor Freight ATV Cargo Racks. Mine cost about $75 (the racks were on sale plus the 20% off coupon on each so they cost me $30 each), plus the $15 XJ Cherokee roof rack that's mounted on the roof.
It's actually a drill-and-bolt fab job, there's no welding or complicated construction or tools required. If you need more details or info let me know.
I've tested it with more weight than it would be safe to drive with, but that doesn't mean the factory hardtop would be capably of the same weight capacity, my hardtop has brackets that support the roof rack directly on the roll bars.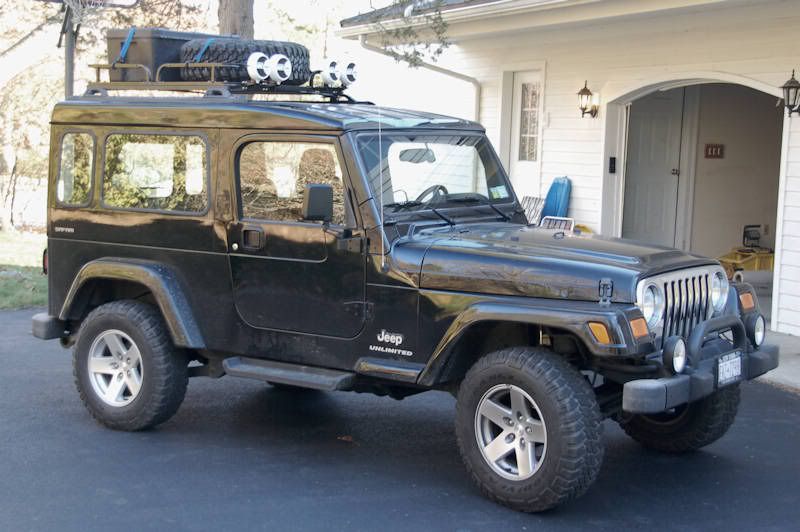 ---
"Whether you think you can do something or you think you can't, you are right" - Henry Ford
Registered User
Join Date: Feb 2011
Location: Kansas City
Posts: 2
thanks for the good ideas. im looking at a more difficult project than it seemed from the first post.
I hope to make a rack similar to the congo cages which let you tip it back and put up/take down the soft top without removing it entirely. im just working out the details and seeing if i have enough time/cash to try it but i will probably start working on it over spring break. ill post pictures here when i get around to working on it though.
Currently Active Users Viewing This Thread: 1

(0 members and 1 guests)
Posting Rules

You may post new threads

You may post replies

You may not post attachments

You may not edit your posts

---

HTML code is Off

---