Registered User
Join Date: Apr 2012
Location: East Louisville
Posts: 98
Disconnected Sway Bar on my new 98 TJ
---
Noticed today that my sway bar on my 98 is disconnected and can't figure out how it should go back.. when I push down hard to move it into position it doesn't want to move.. maybe some oil will loosen it.. but I don't see how it bolts on or anything.. looks like a ball and socket type of system.. what holds it down?
If you look at my profile picture you can see what I am referring to...
Registered User
Join Date: Oct 2010
Location: Newmarket
Posts: 484
It is hard to tell from such a small picture but that looks like a stock sway bar end. In that case it isn't disconnected as it is broken. You would need to buy a new sway bar end link.
---
Quote:
I like the arms, they are a good solution, but they really aren't worth the effort for the average person and you already see the BS that goes on over bushings VS JJ's, the crap that would go on over J arms would be epic.
Web Wheeler
Join Date: Jan 2010
Location: Fredericksburg
Posts: 3,069
Larger picture would help. Looks broken to me, as the other end (bottom of the vertical rod) is where it's normally disconnected from. I've never disconnected this end. Here's a pic of mine: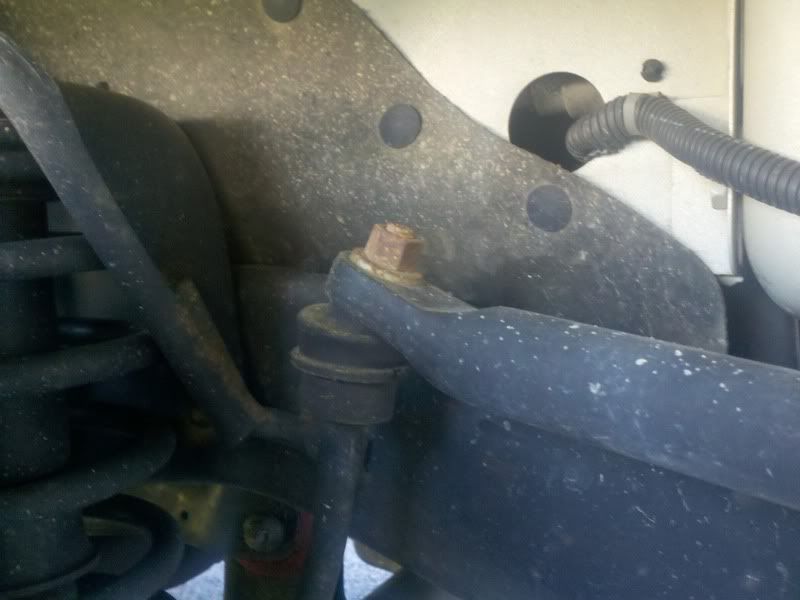 It is broken and you need a new one. Is the jeep lifted?
Yes it has a 3" lift.. and now that I see the picture above I see how mine is broke. How hard to replace and any suggestions?
Easy to replace, but don't get stock ones. You need a pair that will match your lift size.
Can I just replace the disconnect links or since they are stock will I need to/would it be better to replace the entire thing?
You only need to replace the links, that is what's broken. The sway bar is fine.
Currently Active Users Viewing This Thread: 1

(0 members and 1 guests)
Posting Rules

You may post new threads

You may post replies

You may not post attachments

You may not edit your posts

---

HTML code is Off

---