NEWRACER
Name: Michael Castell
Username: newracer
*
99 TJ Sport
*
36" x 13.5" IROKs on 15 x 8 Champion beadlocks
Front Axle- *High Pinion Dana 44,*ARB*Locker,*4:56 gears, Chrome Moly*shafts,**Yukon Super U-joints. 3/4 ton Warn locking hubs, custom heavy duty drag links, tie-rods. Crane diff cover, and custom truss.
Rear Axle-*Super 44 (33 spline Chrome Moly shafts),*ARB Air Locker,*4:56 gears. Blue Torch Fab diff cover
Rear axle is pushed back 5"
*
4.5" Teraflex LCG with a custom built four link system in the rear.
1" body lift and MORE heavy duty motor mounts with 1" lift
TeraLow 4 to 1.
TerraLow SYE
Terraflex Belly Up skid plate
Warn 9000 winch, Roadless Gear In-cab control and wireless control
Poison Spider Customs*front Stinger, Tube fenders, Rocker Guards and Crush Corners
Nth degree oil pan skid
Wilderness rear bumper, tire rack, CO2 mount, Fuel can mount,*and cargo basket.
SWAG Offroad drop down tailgate conversion
The stock gas tank was replaced with a RCI*fuel cell and a custom 3/8" steel skid plate built around it.
Raingler netting
Tuffy center console and rear seat under drawer
OR Fab sport cage.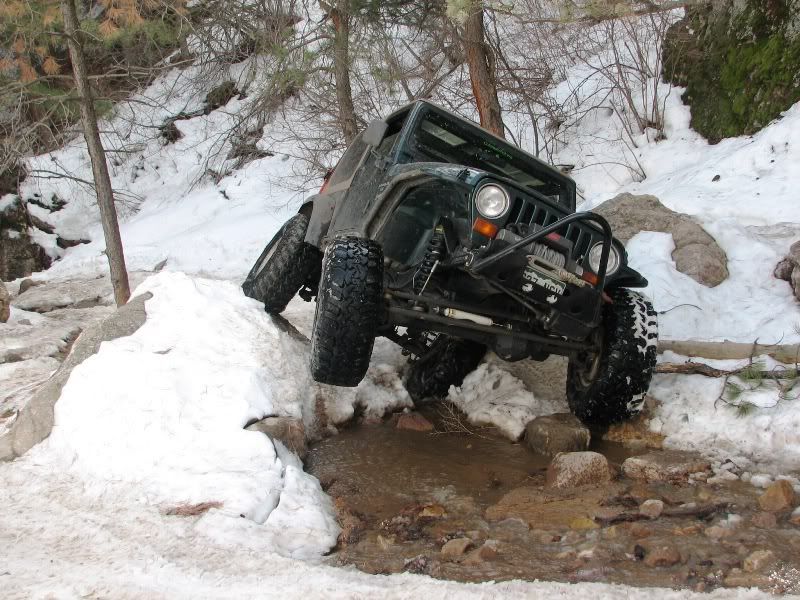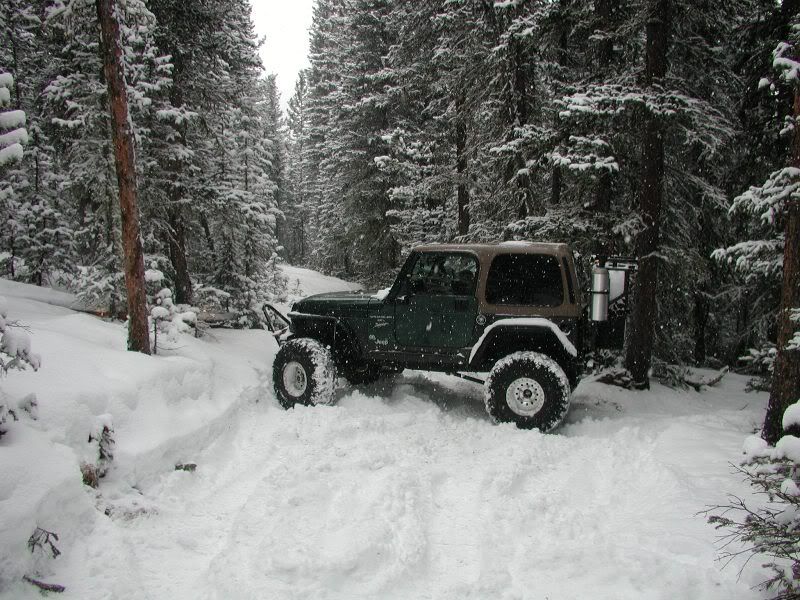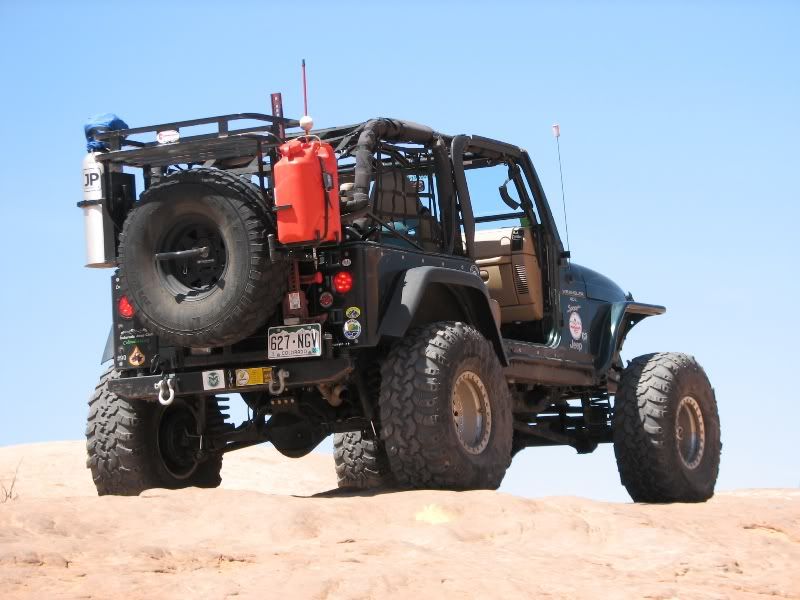 REDLYNER
Name: Jay Callaway
Username: REDLYNER
Mods:
*
Alloy Rubi 44's
ARB Lockers*Front & Rear
Alloy 4.88's
37"x13.5" Pitbull Rockers
RE 3.5" Lift
TNT Front Tube Fenders
XRC Rear Tube Fenders
Poison Spyder Stinger
Poison Spyder Roll Cage
Gen-Right Rear Stinger
TeraFlex Belly Up
Warn M8000 Winch
On Board Air
Story:
*
Built to crawl the hardest lines on Saturday and navigate the most difficult mall parking lots on Sunday!
*
I have been*molding this rig for*nearly four years and it has grown into*everything I could have wanted on the trail, yet handles well enough for my wife to drive it*all over town. *
*
Wheeling is a hobby my wife and I share and we certainly exploit it. We get out to the rocks nearly 25 times per year! We have completed 7 of the top 10 hardest trails in Moab (as rated by Wells), crawled through nearly 50 trails in Colorado, and currently are out to run every major trail in the South East.*
*
Low center of gravity crawling has been the theme behind all of the mods on this TJ. We are running 3.5"s of lift on 37" Pitbull Rockers with a TeraFlex belly up to finish off the clearance mods. While some don't agree with them, we added 1.25" SpiderTrax spacers for a little more added stability and WOW do they make a difference! The balance of this TJ is amazing for such a short wheelbase and with it just about being where I want it, the future of this build is pretty much left to just dialing everything in.
*
Pictures:
*
*
*
JIM SHANKS
Name: Jim Shanks
Username: Jim Shanks
1998 Jeep TJ Sport, 4.0L, 5-sp
Dana 44 rear/Dana 30 front
4.56 Dana gears w/ ARB front and Detroit Soft Locker rear
33" BFG KMs on 15x8" Cragar soft 8's with weld on beadlocks
Those Guys Rod and Customs front tube fenders
Poison Spyder Customs rear crusher corners
Poison Spyder Customs rocker knocker guards
TeraFlex steering skid
TeraFlex adjustable front and rear trackbars
Pure Jeep gas tank skid
3.5" Rubicon Express superflex 3.5" short arm kit
Daystar 1" Body lift
Currie Anti-Rock off road swaybar
Big Daddy Offroad front heavy duty tie-rod
Dan Anderson Mfg. front and rear heavy duty bumpers with tire carrier
Rokmen winch plate
Superwinch EPi9.0 winch, 125' steel cable
Edge Auto seat covers front and rear
Bestop replace-a-top sailcloth with tint
Rubicon Express hand throttle
Story:
Originally bought the Jeep in 2000 from a dealer on trade. Drove it for a year or so before finding our local offroad club. *Most of the rig has been purchased second hand from others in the club and I feel that it has turned out pretty well. *I am now president of the club that got me hooked on the hobby. *The Jeep totally impresses me with how it performs out on the trails, I have beat it within an inch of it's life sometimes and it continues to amaze me just how strong these vehicles are. *It has been through Pritchett Canyon at Moab, Evans Creek trails in Washington, as well as some of the trails at Naches, Washington just this past September. *Prior to that I have wheeled it at Southern Missouri Offroad Ranch, Make It Or Break It near Knoxville, Iowa, and our own stomping grounds near Oskaloosa, Iowa. *It is a very addictive hobby and I have enjoyed each and every minute of it.
Here's some recent pictures:
CMOORE
I like TJOTM. I like being able to one click and see 10 interesting
jeeps all at once. Without TJOTM, I would have missed out on seeing
several awesome builds this year. If my entry can help support one of
my favorite threads continue to be interesting, please count me in.
Username: cmoore
2001 Jeep Wrangler Sport TJ (stretched to 102")
Drivetrain:
4.0L,NV3550, Stak 3speed(5.44, 3.05, 1), Tom Woods
1350 CV shafts f&r rear
Front axle:
Solid HP60 Kingpin: 65" WMS, ARB, 35 spline alloys,
CTM's, drive flanges, 5.38's, PSC double ram hydro steering
Rear axle:
Solid HP60: 64" WMS, 35 spline alloys, drive
flanges, discs, ARB, 5.38's
Suspension:
Custom Three link front, custom t-bar,Clayton
Double Triangulated rear, Fox 14" coilovers, Fox 4" airbumps
Wheels
/ Tires:
39.50x13.50 bias Iroks on 8 lug 17" Walker Evans
Beadlocks
Exterior:
4WD Hardware front bumper (narrowed), Poison Spyder
Tube Fenders, Teraflex steering box skid, Solid front 60 cover / ARB
rear 60 cover, Genright comp stretch kit, Those Guys custom rear tube
flares,4WD Hardware rear bumper w/tire carrier, Skidrow engine skid
(long arm version JP-0008), Clayton belly (painted pink just to bug
Galford), ASD Aluminum Safari top, ASD Aluminum Half Doors
Extras:
Warn 8274-50 winch,ARB compressor, Tuffy rear
trunk,Genright Crawler 14.5 gas tank, A/C converted to on board air,
Rockhard cage,Ready Welder OBW,
It has working lights, leds, litedots, rear armor mounted bottle
opener, a wallet hole and a bunch of widgets...
Story:
Not your typical JeepForum dream jeep, but she makes me
smile and she takes me where I want to go.
For those that are interested my build thread is here:
http://www.jeepforum.com/forum/f9/01-ton-tj-587158/
Pictures: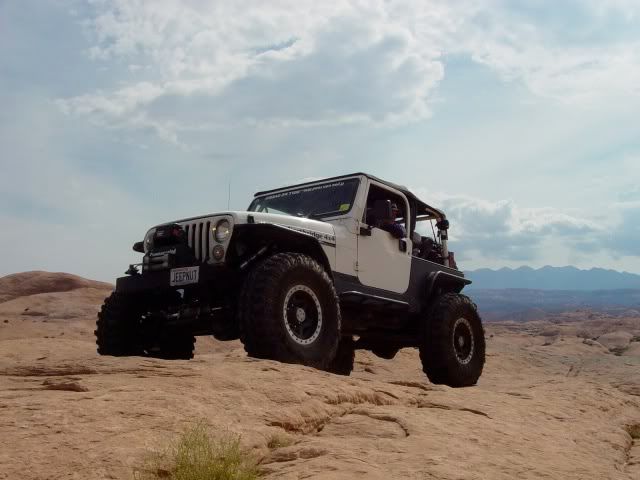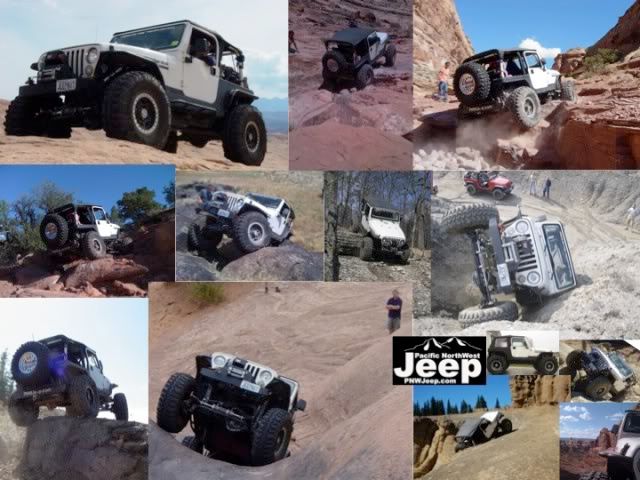 pic of the new paint (sorry for the poser garage shot, no one snapped
a single shot of my junk last time out)