Ok, before you all go on a hate trip, read below!
I finally got around to putting my lift on my 05 LJ Rubicon. I gathered parts for about 2 months for cost savings.
This is my daily driver, and I wheel it about once a month. The trails are challenging but, not extreme, so....
I decided to go with the Ford Crown Victoria Springs in the back and 2" BB pucks in the front.
As for the shocks, the local jeep dealer ship had a set of slightly used (20K miles) JK shocks ( 2" longer) destined for the scrap heap, which they gave me for free.
Here's the cost break down:
New Ford crown Vic springs (police interceptor) : $60 Bucks (napa)
New 2" BB lift pucks : $10 dollars shipped (ebay)
JK shocks: Free! (Jeep stealership)
Rear track bar relocation bracket (teraflex I think): $10 ( craigslist)
Misc hardware (grade 8) : $10 ( local hardware store)
Total: $90 for complete lift!!!
So here's the run down,
Whole install took 4 hrs in the driveway. The back is a lot harder than the front if the 4 upper shock bolts snap, which happen to me and is very common up here in New England. ( the fix: remove the shock after snapping the bolts, Dremel cut the welded nuts or just snap them out with a cold chisel. Replace with grade 8 hardware. Shouldn't take more that 45 minutes to do all 4, and that's the longest I would think it will take!
The rear springs netted me 2 1/2" (2.5") lift over stock (after settling 2 weeks later)
The front pucks obviously gave me 2" in the front.
The rear shocks were bolt in with very minor mods to the bottom bushing sleeve (grind about .080" from each side of the sleeve).
The front shocks needed to have the bottom sleeve pressed out and the stock bar bin pressed in( used the harbor freight u joint tool, some sockets and a vise, took all of 5 minutes to swap them out!)
The ride:
After doing a DIY alignment, and then having NTB make it perfect,...
Thing rides great! The shocks are only slightly firmer than the worn out stock ones I had one there for 120K miles.
Now for those of you who will say the following.......
" that is stupid, why would you mix and match the lift like that...."
" crown Vic spring are only going to give you a $h1tty ride!..."
" You shouldn't have wasted your time, you should have spent tons of money and set your jeep up properly!..."
" you get what you pay for, this is a bad way of lifting a jeep"
" the crown Vic springs bulge to much and don't look safe"
" waaaaa, waaaaa, waaaaa, pout!, waaaaaa, wine!, I'm the jeep god and I know all!!!"
You done?
I'm an electro mechanical engineer with 10+ years with jeeps and engineering, (not gloating, as this isn't impressive compared to some of the other guys on here... Jerry, Blain, both very knowledgable and respected gentlemen)
I deal with springs and shock absorbers a lot.
The crown Vic springs, if cut and installed properly will not bend like a bananna! When installing them, place both the pig tail coils ( top and bottom) towards the front of the spring buckets, also place the coils which are closer together (remember they are variable rate cargo coils) on the axle spring perch.
The crown Vic springs have only a slightly higher spring rate and larger bar diameter over stock rear springs. 140lbs/in vs 167lbs/in. They are also variable rate which admittedly ride firmer than constant rate springs.
Nothing needs to be said about the front lift pucks, everyone knows what they do.
The JK shocks came off a 3900lb 2 door JK. My LJ weighs about 3800lbs.
I know that they are not balanced exactly the same front and back, but let's not be rediculous! The weight bias is very close on both.
The shocks, like I said are noticeably firmer, but not by much, certainly nothing that would bother anyone. It's a jeep not a 70's Cadillac!
And yes, I know I'll need to add 1" extensions to the bump stops, that's coming.
Here are some pictures, I'll post more later.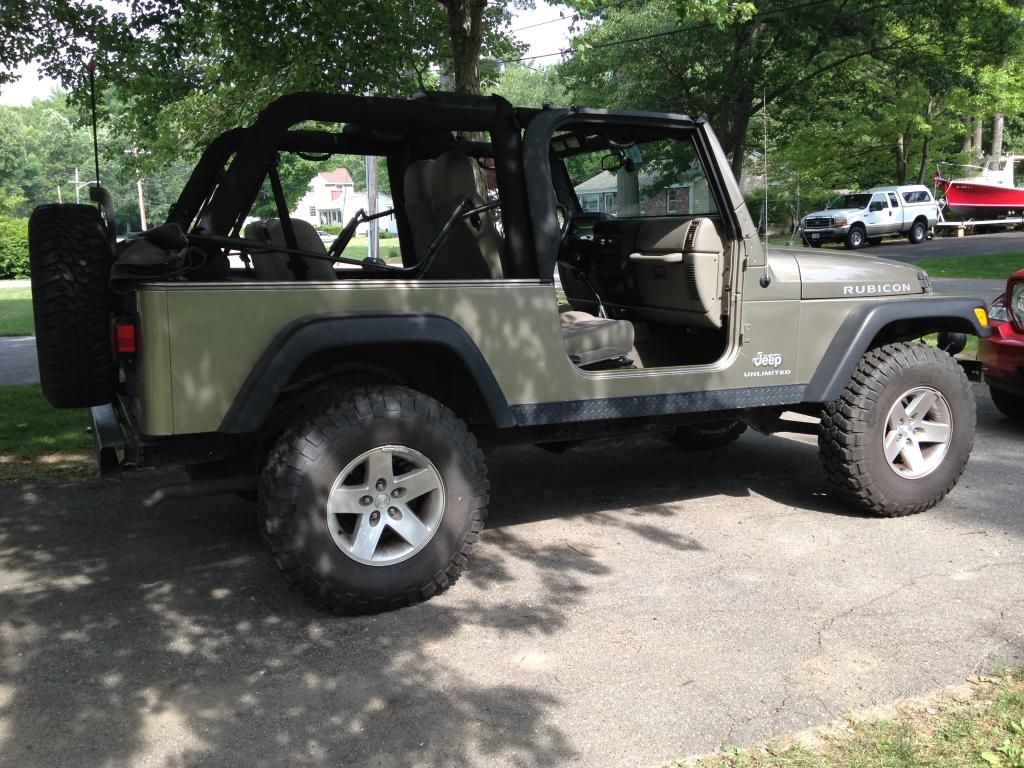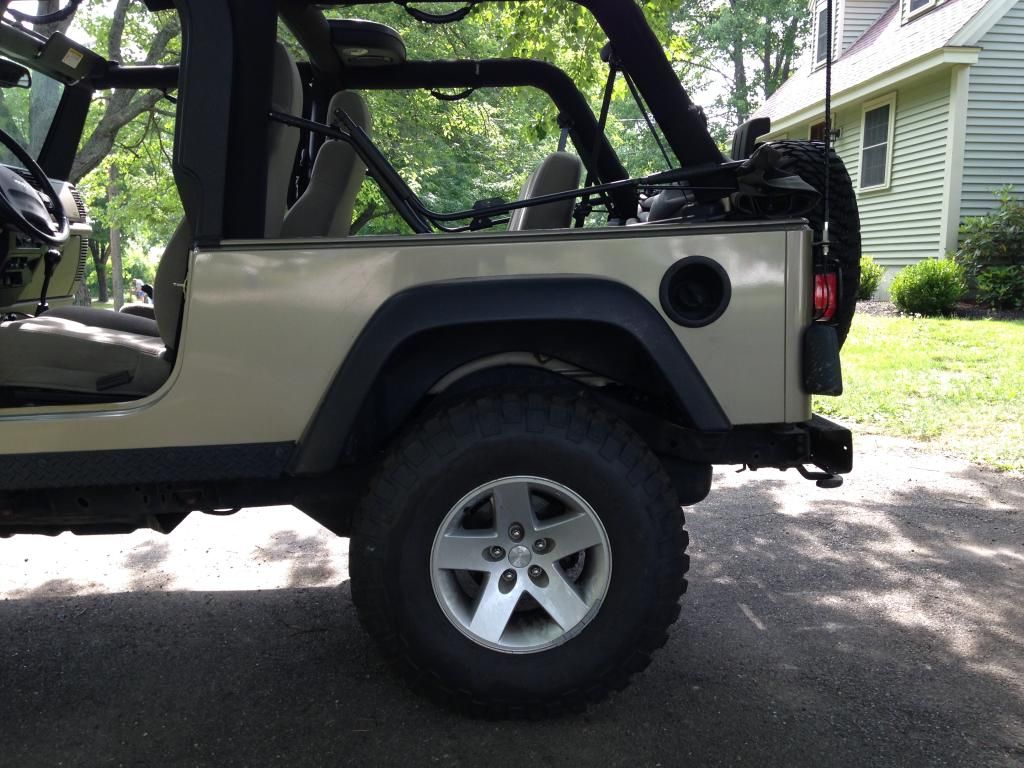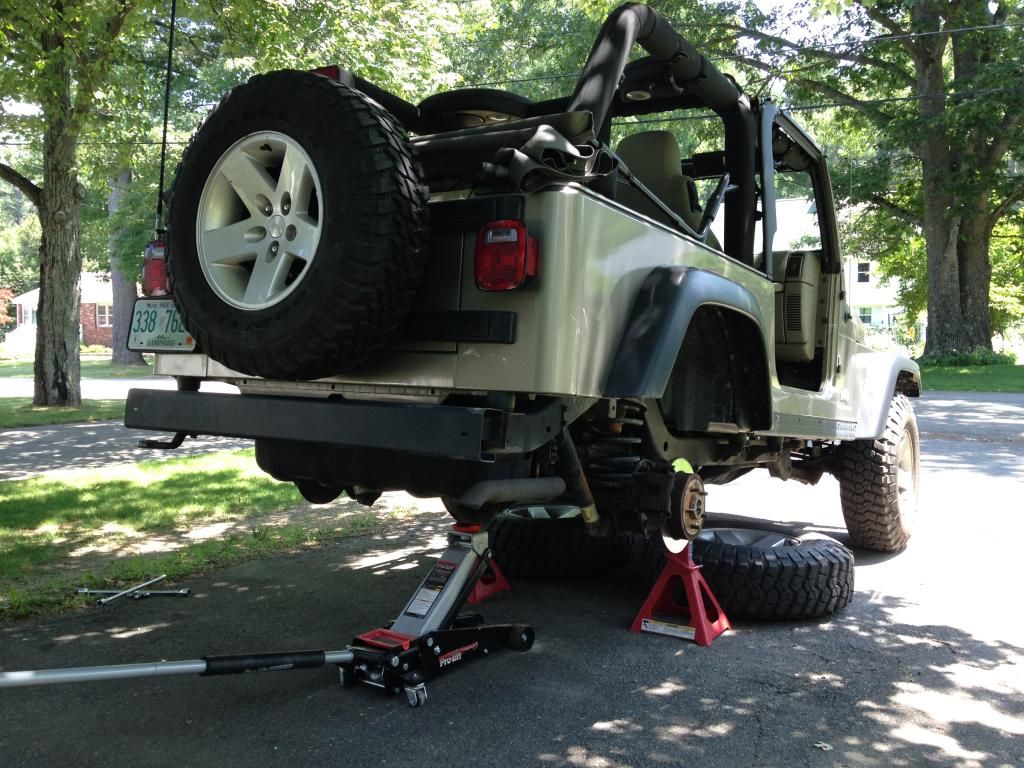 Crown Vic springs compared to stock.