So I know a lot of people have swapped in NV3550's or AX15's in their YJ's etc, but I havnt yet found a NV3550 conversion specifically for the TJ with a 2.5L 4cyl engine. I just finished this conversion, so I thought I'd put together a quick guide based on my experience for anyone who's thinking about doing the same, now that our TJ's are "collectable"
This is basically the same as the
High Impact conversion
, but about a grand cheaper.
Turns out that the '96-'98 Dodge dakota 2.5L 4cyl truck had this exact setup (4banger AMC+NV3550). Only difference is that it had the 2wd version of the NV3550 which had a 14 spline input. The NV3550 that goes into 4wd vehicles has a 10spline input shaft.
Basically all the parts you need come from the Dakota, minus the clutch disk.

So here's the parts list:
Bellhousing
: from a '96-'98 Dodge Dakota 4cyl (2.5) (
salvage
: $80-100)
Flywheel
: Kragen
3418
($59.99 if you give them your old one)
Updated vendor PN
Pilot Bearing
: Napa
B128
($8.49) (You dont need to get the Advance Adapters pilot bearing if you use the Dakota flywheel)
Pressure plate
: Kragen/Oreilly
SC70081
($89.99)
Clutch Disk
: Oreilly
BBD4168
($50.99) or Centerforce
383824
($79.41) The cluch disk you need is 9 1/8" diameter, 10 Spline 1 1/8" shaft diameter. Yes, that includes the '84 Camero 4-cyl, but also
these
. Just easier if you know the part number, than go searching for someone who bothers to list it under an '84 Camero.
Throwout Bearing
:
Online
($23.32)
Clutch slave cylinder
: Stock
will
work if you remove the plastic gasket on the front of the cylinder before re-installing. You can also pull out the plunger shaft and make a new longer one out of some aluminum rod stock.
Transfer Case (NP231) Input Gear
: Advance Adapters
716095
($190) The AX5 had a 21 spline output, the NV3550 has 23 splines. You will need to take your transfer case apart and replace the input gear. This is a lot of work and a VERY good time to install an SYE and get a rebuild kit while you're at it. You can also try to locate an NP231 from 4.0L
TJ
. Make sure you get the right one. There were 40 different
variations
!!
Transfer case shifter relocation bracket
: Advance Adapters
715542
($37.97)
Speedometer Wiring Harness
(If you use the JB Super Short SYE kit):
5014007AA
($20.88) or dealer ($27.85) See JB Conversons Super Short SYE kit instructions for wiring diagram. (Purple/red stripe--5V, Brown/green stripe--ground, white/orange stripe--signal)
Transmission Mounting Plate
:
52058546AB
($34.31) or dealer ($45.80) Works for AX15 too, as far as I know.
Transmission Insulator Bushing
: 52058551AB ($61.95) Dealer. PN is same for the 2.5L and the 4.0. Dont let them charge you retail price. $61.95 is what the repair shop gets. Just say that's what was quoted at another dealer, but they didnt have it in stock. You can also use an aftermarket bushing mount (ie Energy Suspension), but I've heard the polyurethane is a lot harder than the stock rubber and transfers a lot more vibration to the body. They're meant for high torque/horespower engines which tend to "move" a lot more and destroy stock bushings faster.
NV3550
:
ebay
(~$1000 New)
You will need to modify your driveshafts. You're final transfer case location will be 2" further back than before. As I mentioned, it's a good time to install an SYE, preferably a super short one like the
JB conversions
, which will shorten the case about 8" over stock. JB also has a "partial" rebuild kit for when you do the SYE kit install. You will need
this
.
The shift tower will be about 1" further back than stock, but body pan mods are not required. The transmission mount bolts will also be about 1" further back than stock, and won't line up with the holes right. You will need to drill two extra holes in the crossmember/skidplate, and chop off the other two bolts from the insulator mount, as they will line up on a sloped edge. (See pics).
All other electrical connectors hook up just fine, except the speedo connector for the SYE (See above PN).
Usefull Links:
TJ parts catalog
for diagrams, etc.
NV3550 Info
NP231 Background Info
NP231 Rebuild Manual
NP231 Input Gear Info
Bellhousing/Tranny Bible
AX5 next to NV3550:
NV3550 measured length:
AX5 Measured length:
NP231 Input Gears:
JB Conversions Kit: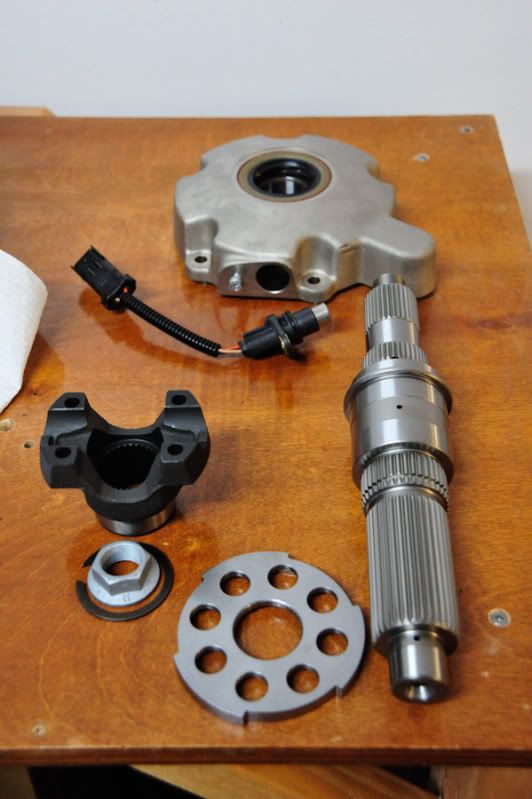 NV3550 with rebuilt NP231: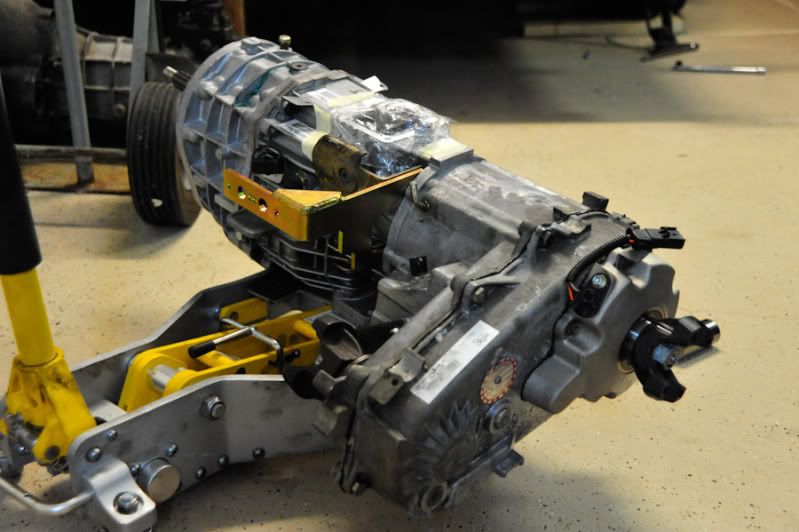 Installed Dakota flyhweel, pressure plate, and clutch disk. (Good luck finding the clutch alignment tool). You might just need a generic alignment set. You can't use the one for the 96-98 Dakota, because the 2wd NV3550 was a 14 spline (you need 10 spline for the 4wd version of the NV3550). I couldnt find one from a 4.0L TJ, and the alignment tools for the '84 camero, etc, had different pilot bearing holes. I ultimately ended up with one for one of these, and the tip was tapered enough that I could center it reasonablly well.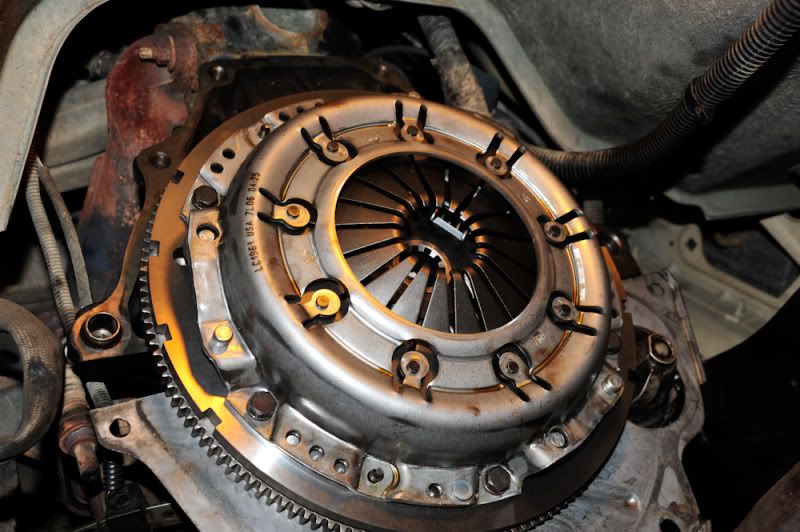 Not really sure what kind of lube you need around the front of the tranny going into the pilot bearing and clutch disk. I stuck some lithium greese around it for good measure. Dont really know if this is what you are supposed to do.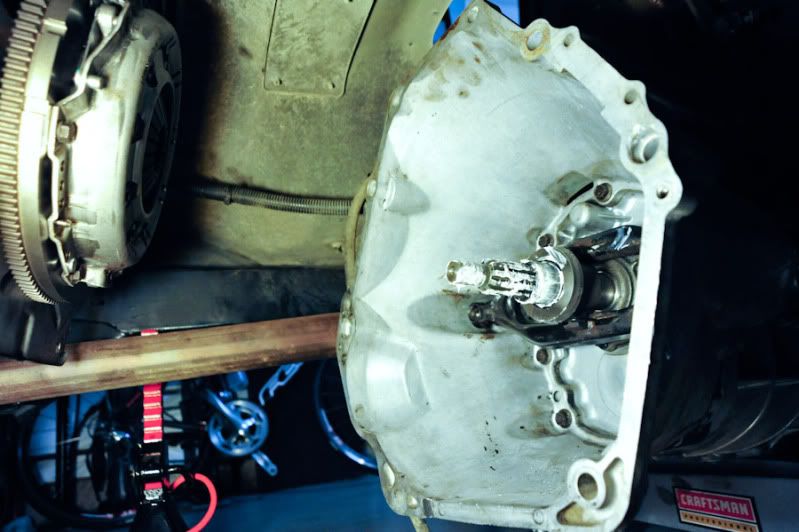 Drivetrain installed with shifter bracket:
I used my front driveshaft and had it shortened for the rear ($80 mod vs $300 for a new one). I'll get a new front driveshaft later; just wanted to get rolling at this point. That's the nice thing about the SYE kit (with the 1310 CV), the yokes on the front and rear are now the same (oh, and despite loosing 2" to the new drivetrain, my rear driveshaft went from 13.5" to 19"! Yeah baby!):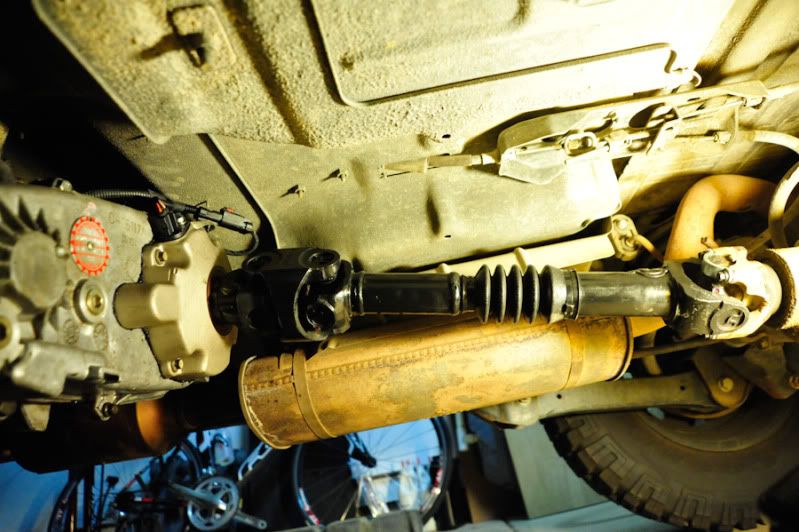 AX5 mounting plate (left) and NV3550 mounting plate (right):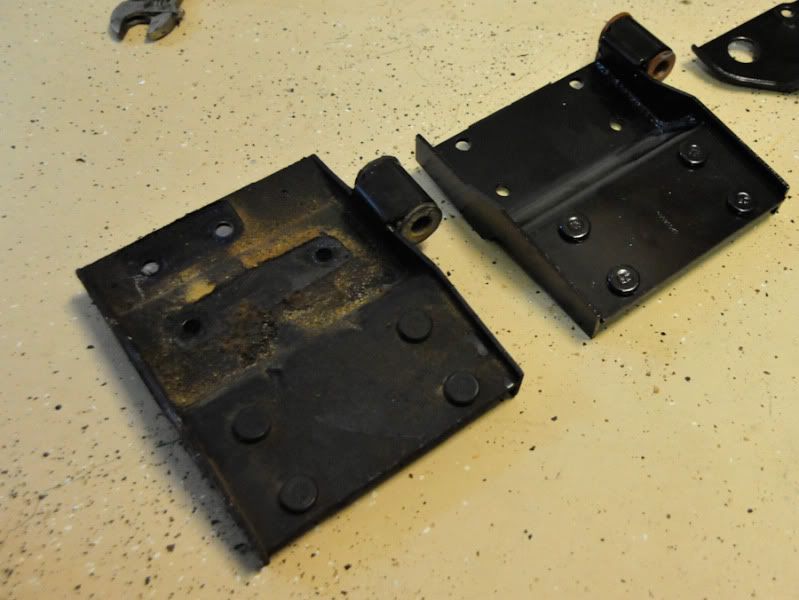 Crossmember/skidplate modification: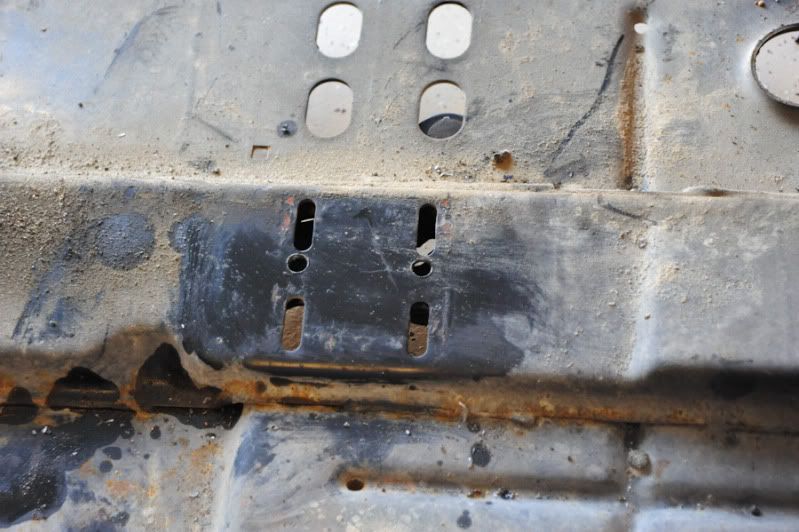 The second set of bolts are now in a "less than ideal" position, so I just chopped them. It still gets enough support. The YJ only had two bolts anyways. I dont have a welder, nor do I know how to weld, or I would add another plate there. I also couldnt find any aftermarket skidplates for the TJ that didnt say you needed a body lift or move your engine mounts.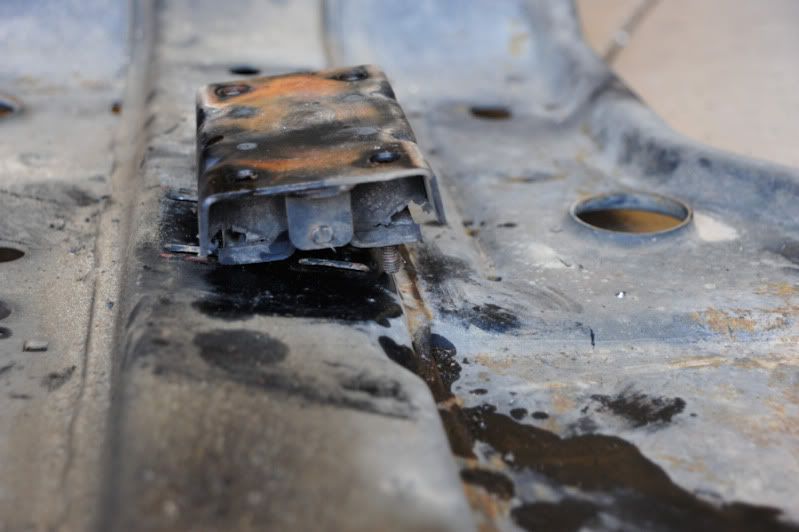 Chopped off the bolts, and it worked fine:
See
Moonshinefuel's thread
for a more lengthy discussion of what went on during the build.
Feel free to post questions, etc.