-sean-
Thanks for the opprotunity, here is my submission for the August poll.
Name: Sean Reina
Username: -sean-
Specs:
2004 Jeep Wrangler Unlimited (LJ).* Project Long Red One:
Project: Long Red One - JeepForum.com
Tub sectioned to TJ spec. Project L-TJ:
Project L-TJ: Sectioning ( Bobbing ) an LJ tub to TJ spec's. - Pirate4x4.Com Bulletin Board
Comp cut rear.
Campbell Ent. glass hood (modified). AutoFab hood pins and extensive under hood accessory relocation.
Currie front and rear bumpers. (modified)
4.0 and automatic transmission.
NP231 w/ Advanced Adapter SYE and Novak shifter.
Tom Woods rear drive shaft.
Rear D44: Trussed, Crusher cover, ARB, Yukon 4:88 gears, Alloy USA axles.
Front high pinion D30: Trussed, Crusher cover, ARB, Yukon 4:88 gears, Alloy USA inner and outer shafts and billet seals.*
One Ton over knuckle steering.
37" Goodyear MT/R's.*
ProComp aluminum wheels, 15x8.
Front suspension is three link, long arm using OME 2.5 springs.
Rear suspension is double triangulated long arm using 106AA springs. Outboarded shocks.
Doetsch Pre-Runner shocks.
Currie bump stops front and rear. (modified)
Custom "belly-up" skid and cross member.*
Currie Anti-Rock.
1" BL w/ 1" M.O.R.E motor mounts.
Front and rear L.E.D. lights.
Mile-Marker 12,000 lb. winch w/ HD hook and fairlead.*
RCI fuel cell.
RedTop Optima in BTF mount (modified).
Uniden CB radio, Firestick antenna.
The Source C02 tank.
Empi RaceLine seats (3)
U-Pol Raptor tub liner.
PolyPerformance Racing steering wheel w/ quik disconect.
Current Projects:
Front D60 and 6" stretch.
Full Hydro steering.
Rear 14 bolt.
Airshocks.
40's
Pics:
TIM
Name: Tim Doumit
Username: Tim
Mods:*
SUSPENSION and STEERING
- Clayton Hardarm - Triangulated longarm
- Rubicon Express 4.5" springs
- Rubicon Express Tracbar (front)
- Rubicon Express brake lines
- Old Man Emu shocks
- Old Man Emu stabilizer*
- Curry steering
- Currie Anti-Rock
DRIVETRAIN
- Stock 4.0
- AW-4 (4 speed XJ auto)
- NP231 with Tom Wood's SYE, TeraLow 4 to 1 and*2 lo
- Novak Transfercase shifter*
- Tom Wood's Driveshafts
- Dana 30 HP with Currie Johnny Joints, Detroit True-Trac WARN shafts and WARN Hub kit.
- Ford 8.8 with Superior's Super 88 Kit and ARB
TIRES and WHEELS
- Goodyear MT/Rs 33 x 12.5 x 15
- KMC Beadlocks
ARMOR
- SAVVY gastank skid
- Clayton Belly armor
- Rokmen corners
- Domebrew engine skid
- Domebrew rocker guards
- Crane diff cover
- 4XDoc diff guard
- Curry lower d-30 skids
- Kilby steering box skid
OTHER STUFF
- WARN 8274 winch and mount
- Bestop Tire carrier
- York onboard air
- Uniden C.B.
- Toys By Troy Cage
- Domebrew mandrel bent exhaust
- Domebrew cold air intake
AND... plenty of other stuff like: Mastercraft seat, Alpine media player, Autometer Mechanical Gauges, Rock lights, Fog lights, Olympic rear bumper, Vernier hand throttle, GPS, modified up-Warrior roof rack, Xenon flares, an assortment of LED lighting - Parts from Fords, Chevys, Volvos, Buicks, Cherokees, Dakotas, Durangos and full size Jeep parts live in mine. Including things from almost every year of TJ.*
Story:
I got this thing when 97 Jeep wranglers were a rare thing in this world. To me it was the purest form of TJ in all of it's production years. It was pointed out to me by a friend that my TJ is plenty YJ from the factory too making it probably the most unique year in the production of the TJ.
When the TJ came out there really was not a bunch of stuff you could get for them. Options were limited but that rapidly changed. As years went on, the things available really started to improve. There were definitly nicer modifications to purchase...
This is probably why this jeep has been through five suspensions, five sets of doors, five sets of wheels, five tops and many other things. One of them being CD players.... The places i go seem to destroy them (almost 10). Now there is a media player / Ipod. I gotta rock, you know...
The Drive train changes being most expensive... The most recent being an AW-4 transmission swap. the actual price of a low mile AW-4 out of an XJ was inexpensive at $225.00. All the other parts to make it work added up. This was a very satisfying swap to do and my confidence level really shot up when i took this on pretty much alone, except for information found on Stu's site.
The suspension made me pick up welding again. Clayton Longarm brackets must be welded on hence my purchase of a fine welding machine. This in itself was a great joy for me and quite a learning experience. The garage has always been my place and now it is more than ever. Friends seem to enjoy having a pal willing to help.
The Jeep:
I picked this up way back and didn't really know what to do with it at first. It was a replacement for the 1990 YJ I had. Stock to stock the TJ was better in every way.*
Two weeks after i bought mine my dad bought one just like it. It was all down hill from there... literally...*Our first obstical was to drive down the side of a rock pit. It took a very long time to get enough courage. We were going to back out and i said "screww-it!" and just went. Dad was cussing me on the c.b. because he now had to go too... Been hooked ever since!
There have been many-many modifications. So many of them have been taken off and then replaced. Some just removed because they just plain stunk.*
It has been tipped over but not on its top. Been in water and mud over the fenders. Braved 5' to 9' feet of snow and has spent the night out there rescuing people even dumber than me.*
The whole idea behind my Jeeps existence is to be used for anything I need it for. It can tackle anything in Moab after driving there 1000 and then go get groceries. It can reach remote areas here in Washington at times of flooding, slides or some other natural disaster which we seem to get a lot of. It also makes a great farm implement. "It IS the family fun machine".
THE FUTURE
Diesel? i hope
ARB up front
Near future, 35" Kevlar MT/Rs
Today, Tranny cooler repositioning time.
The best things are the new friends it attracts, the old ones it helps me keep and that it keeps me busy. Always something i can change!**
MY WEBPAGES
http://web.mac.com/dome.detour/DOME_...ventures.html*
Pictures: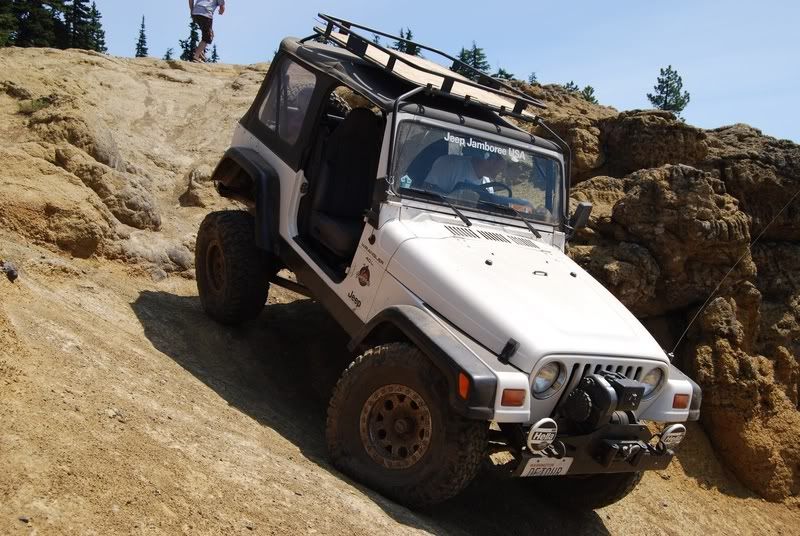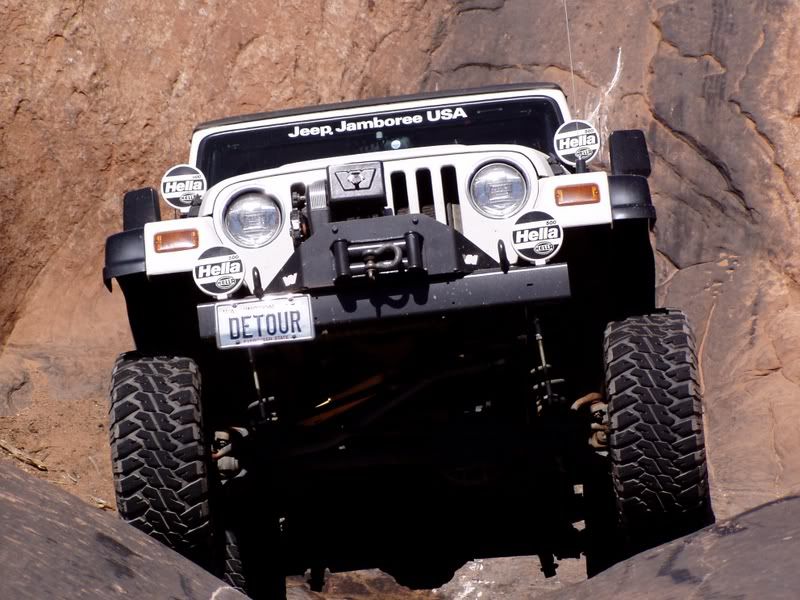 jasongjco1
This is my 98 tj I bought 9 years ago as a salvage. Since then I've done alot to it.
*
-Rock Krawler X-Factor 5.5 inch lift that I stretched to 101" wb*************************************
-Currie high pinion 9 inch*axles front is 31 spline with arb and rear is 35 spline with a
*spool.*Cromoly all around with longfield joints in the front. 4.88 gears.
-4.0 motor with a banks header and custom intake
-AX-15 trans
-Atlas 3.8 t-case
-Warn XD 9000i winch
-Homemade bumper/grill guard
-Homemade 1/4 inch armor from tailgate to cowl
-Boat tailed the rear quarter panels 6 inches on each side with aluminium tailgate
-Rock Crawler fiberglass hood
-Custom cage tied to the frame at 6 points
-Homemade fuel cell that fits behind the rear seat and uses the stock sending unit
-PSC hydrolic assist on custom drag link and tie rod using heims
-Hand throttle, rock lights, and Hella 1000ff driving lights
-39.5/14/15 Super Swamper Iroks on 15-10 Eaton 32 bolt beadlocks
Thanks, Jasongjco1