APRIL TJ of the MONTH CONTEST!!! Gst95dsm IS the WINNER!!!
---
Congrats. Please read the rules to see how to claim your prizes.
Nathan James
Gst95dsm
Mods:
Aussie locker front
Detroit Locker rear
Superior 30 spline axles
Sierra 4.88's front and rear
Tera Low 4.1 t-case
Cragar Soft 8's 15x8 with 35in. BFG Km2's
Tera Flex 1.75 coil spacers (front only, for leveling)
Rough Country 2.5 springs in the front only
Mercury Maurader Moog springs in rear (high spring rate, 2.5inchs of lift)
1in. body lift
Modified Rough Country Long Arm Upgrade
Rough Country High clearance skid
Skyjacker Hydro shocks
Teraflex 5550 shocks (front)
JKS quicker disconnects
Smittybilt rear bumper w/carrier
Smittybilt classic front bumper (bobbed 4 inches off each side)
Smittybilt XRC8 winch (regular use haha)
Metal Cloak front arched fenders with rub rail
Metal Cloak rear corners with rub rail
Trail Gear rock sliders
OR-fab sport cage
DIY front spreader bars, and lower windshield bar
Big Daddy Off Road Tie Rod (goooood upgrade)
5000k HID headlights (hella e-code housings)
4in. LED tails (harbor freight)
Bike shop hand throttle
Swag off road tailgate kit
Raptor Lined tub
Home made in cab winch switch (radio shack ftw)
Savvy Aluminum gas tank skid
Savvy Aluminum half doors
Poison Spyder Hood Louver
Raceline Monster 231 beadlock wheels
Poison Spyder rear trail cage
Home made Oil pan skidplate
Home made Steering Box skid
Synergy rear shock outboard kit
Under Cover Fab front and rear link mounts
Poly Performance CO2 System
Swag Baja Bin
CRAWL Fire Extinguisher Bracket
IGGEE Seat covers (nice stuff!)
BTF DIY Diff. covers front and rear
Yukon Chromoly D30 Axles
Story:
I've owned this Jeep for the last 5 1/2 years. Like a lot of others I bought it knowing very little about TJ's. Over the years this is what it has become. I continue to evolve my installation and fabrication skills along with my wheeling abilities and this little Jeep just keeps putting up with anything I can throw at it. I wheel this Jeep on regular basis in Sierra's and although it was born a runt, and retains it's original 4cyl. and D30,D35 axles it's proven to be a very capable and reliable family wheeler. Thanks for your consideration!
Photos: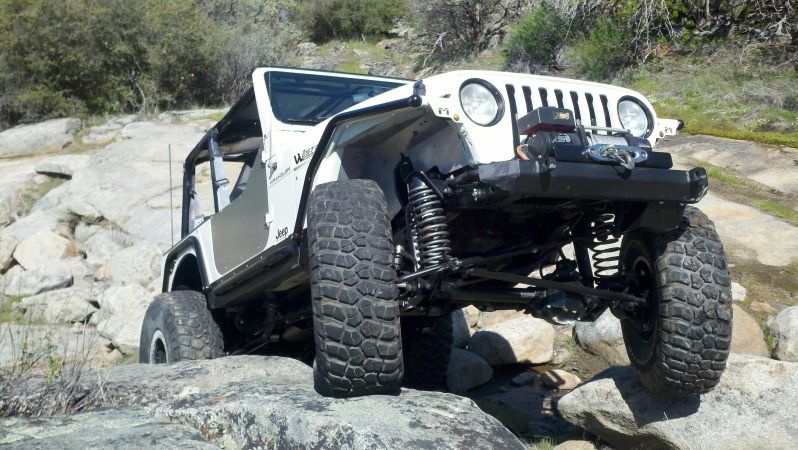 ---