APRIL TJ of THE MONTH!! CMOORE IS THE WINNER!!!
---
CMOORE
Name: Chris Moore
Username: cmoore
My rig's changed a bit since the last time I entered (12/2009) so I
thought WTH, let's toss her in one more time.
I really like TJOTM. I like being able to one click and see/read about
10 interesting jeeps all at once. Without TJOTM, I would miss out on seeing
several awesome builds this year. If my entry can help support one of
my favorite threads continue to be interesting, please count me in.
2001 Jeep Wrangler Sport TJ2a
(stretched to 102.5")
Drivetrain:
4.0L, NV3550, Stak 3speed(5.44, 3.05, 1), Tom Woods
1350 CV shafts f&r rear
Front axle:
Solid HP60 Kingpin: 65" WMS, ARB, 35 spline alloys,
CTM's, drive flanges, 5.38's, PSC double ram hydro steering
Rear axle:
Solid HP60: 64" WMS, 35 spline alloys, drive
flanges, discs, ARB, 5.38's
Suspension:
Custom Three link front, custom t-bar,Clayton
Double Triangulated rear, Fox 14" coilovers, Fox 4" airbumps
Wheels/Tires:
39.50x13.50 bias Iroks on 8 lug 17" Walker Evans
Beadlocks
Exterior:
M38 grill frenched into the TJ grill's outer shell,
CJ2a chrome bezels, 4WD Hardware front bumper (narrowed), Poison
Spyder Tube Fenders, Teraflex steering box skid, Solid front 60 cover / ARB
rear 60 cover, Genright comp stretch kit, Those Guys custom rear tube
flares,4WD Hardware rear bumper w/tire carrier, Skidrow engine skid
(long arm version JP-0008), Clayton belly (painted pink just to bug
Galford), ASD Aluminum Safari top, ASD Aluminum Half Doors
Extras:
Warn 8274-50 winch,ARB compressor, ORO synthetic line, Tuffy rear
trunk, Genright Crawler 14.5 gas tank, A/C converted to on board air,
Rockhard cage, Ready Welder OBW,
It has working lights, leds, litedots, rear armor mounted bottle
opener, a wallet hole and a bunch of widgets...
Story:
I love this rig, I've had it forever, I built it myself,
and I wheel it all over the country.
For those that are interested my build thread is here:
01 ton TJ - JeepForum.com
These pics are from Easter Jeep Safari 2010:
Behind the Rocks -- High Dive
Hell's Revenge -- Escalator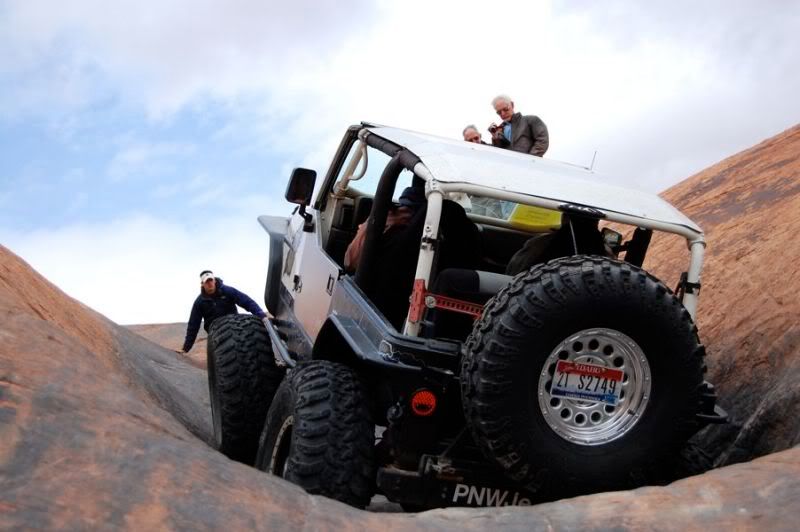 Area BFE -- Upper Helldorado