Registered User
Join Date: Jul 2011
Location: lucasville
Posts: 7
98 TJ SE fog light harness issue
---
I have a 1998 TJ that is hard wired already for factory fog lights. The only thing I thought was missing was the switch. The wiring to the switch is in the dash behind the blank. (I know the all have this.) The wiring then goes to the fuse box behind the glove compartment where it is wired on both sides with the factory 10 mini fuse in it. It then goes right above the fuse box to the 2 factory mounted fog light relays and back into the wiring harness.
However outside the vehicle I can not find the factory fog light plug-in anywhere. I have looked under both fenders and still no avail. Can someone show me a pic of where it should be and better yet a pic of where the factory harness connects it outside the vehicle.
I fear it may all be wired up except not have the correct headlight/fog light wiring harness from the main connector which I believe is located on the drivers side under the brake fluid reservoir.
Thanks, Stephen.
Ill just go ahead and BUMP!

Seriously though, I went ahead and ordered a factory switch yesterday. When I get it, Ill go ahead and plug it in and if it lights up the toggle then I will go ahead and post some pics relating to the entire situation. If it is just my headlight harness that does not have them and I would need to find an entire other one I think I will just try to "tap" into the wire right after it leaves the relays.

Any additional thoughts or info would be greatly appreciated.
Stephen.
New switch!!
---
Update!! I received the switch today! I plugged it in and it works perfectly. You can even hear the relays kick with it being switched on and off. Here are some pics to show you the whole issue.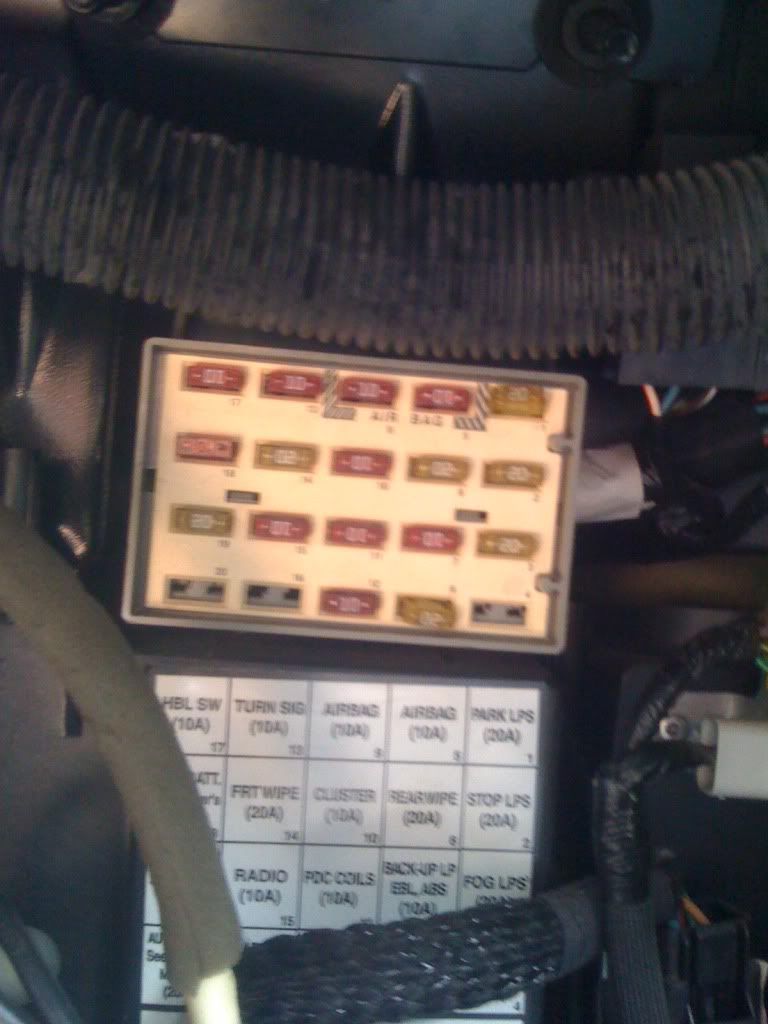 Issue is I still cannot find the wires to tap into in under the hood. Does anyone know what color the wires are?
Stephen.
Never mind. I picked up a Haynes repair manual and found the wire on the main harness. I was exactly as I thought. My fog light set up was run from factory to the main harness connector but not to the headlight harness. I have some pics that I am going to use some paint shop to show exactly what wire you need and where it is located for others in my same situation.
Stephen.
Here are some pics to show exactly what wire you need and where it is located for others in my same situation. I am going to pic up a splice connector and finish the job this week. Ill post the final pics then.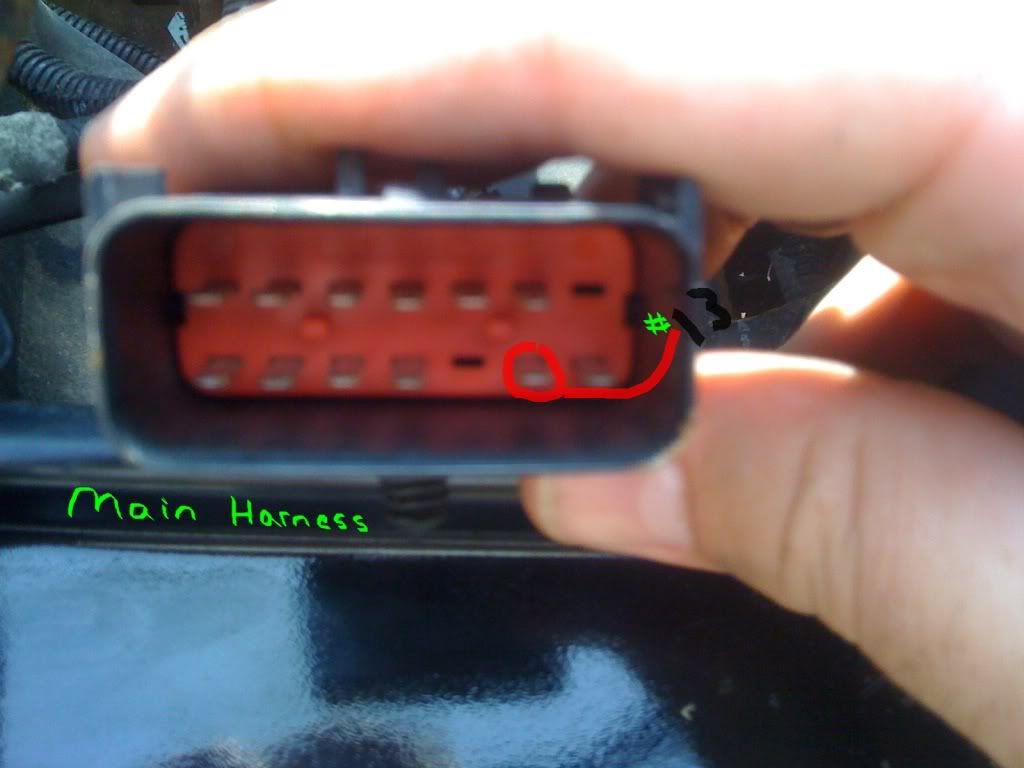 Stephen.
Registered User
Join Date: Jul 2011
Location: Bloomington
Posts: 8
Factory fog main harness missing
---
Did you ever get this to work - looks like you were close. I'm going to go see if I can find pin 13 too. I have the switch for the fogs not installed, looks as if the fuses are already there too - 99 TJ.

Good pics though.
Registered User
Join Date: Sep 2011
Location: Missouri Valley
Posts: 22
My 99 TJ has the factory fog lights and there is a wiring harness connection setup for the fogs out front. Let me know if you need pictures. Trouble I'm having is that I've got something wrong. My fogs quit working years ago and I've never had the time to diagnose the problem. They never worked right. Took it to the dealer once and after fiddling around, they couldln't find the problem but the fogs started working after fiddling with the wires and testing. Must be a bad connection or something for me to find.
Everything worked out excellent. I spliced into the back side of the harness without cutting the wire in 2 that way if something went wrong I could repair it to normal. It works perfect. I don't have any new pictures at this time but I will get some on here in a couple days when the rain stops. It's been a little over a month and everything has worked flawless. Good luck.
Stephen.
Registered User
Join Date: Jul 2011
Location: Bloomington
Posts: 8
Your post helped my install!
---
I installed my 99 Tj with the fog light switch and then the relay, battery connections for the fog lights using the terminal wire you show pictured as the relay trigger wire. My set up works great - just need the fog lights now. I tested the output from the relay and bingo - 12v where it should be. I'm looking at a pair of Delta's - made in the USA. Just like the sylvania silverstars I just put in too.

Quite happy, I love this forum.
Registered User
Join Date: Mar 2010
Location: Minneapolis
Posts: 1,635
Let me know when you get a chance for some more pics.
I too am trying to do this but, am not sure what you mean when you say "spliced into the back of the harness without cutting the wire in two"?? I have found the harness, have the switch and lights. Also did you have to put a fuse in the fuse box, or was one already there?
Thanks Oak
---
1999 TJ
2000 XJ Cherokee
2010 Mustang
1964 Ford Fairlane 500
Registered User
Join Date: Jan 2004
Location: Richmond
Posts: 33
Bump! I just bought a 97 wrangler that doesn't have foglights. I'm looking to do the same.

I called a local salvage yard, and they said they could get me the OEM lights and switch and "wiring". Is this going to be plug-n-play or will involve some splicing? I read in another thread that 97-98's may have fog wiring installed on non-factory fog cars....??
---
Justin - 97 Wrangler Sport - Founder of Car Club of Va Tech, President 97-00
93 Typhoon | 76 Corvette | 99 Grand Prix GTP | 04 Sierra Z71 | 66 Chevelle | 02 Explorer
07 Honda 600RR | 85 Honda 125M 3wheeler | 06 Honda HRC TRX450R | 03 Honda 400EX | 04 Honda Rancher 400
Registered User
Join Date: Nov 2010
Location: Portland
Posts: 50
Connector Location and pictures
---
Stephen, I am in the same boat as you were. I am lost though as to where this harness connector is that you are showing where you tied into. Can you help another Jeeper out? Pictures and a description of where this is.
Thanks, Patrick
Registered User
Join Date: Aug 2017
Location: SoCal
Posts: 38
This would be a super helpful thread if someone can re-post pictures. I have a 98TJ and it looks like it does NOT have the harness even though many say it was pre wired even in units that did not have the fog lights installed. Solutions? Use the aftermarket harness (KC has an inexpensive-relatively-kit) wired to the battery or ?? I am electrically challenged and without pics/u-tube totally incompetent
Currently Active Users Viewing This Thread: 1

(0 members and 1 guests)
Posting Rules

You may post new threads

You may post replies

You may not post attachments

You may not edit your posts

---

HTML code is Off

---