Quote:
Originally Posted by
badtux
The NSG370 is going to be an expensive PITA to rebuild though. The syncros go out in it if you sneeze on them. That said, it has the lowest gearing of any Jeep transmission, which is an advantage when rock crawling -- I don't ever miss having an automatic transmission.
That's why you don't rebuild it
I started to add up the cost myself - buying the special fixtures off ebay etc... Truth is, there isn't much known about this transmission this side of the world. It is used overseas but even then, information is hit and miss.
I'm the 2nd owner of my Jeep, bought it with 40,243 miles. I noticed the first Summer, 5th and 6th were very rough to shift between when it was very hot after extended highway driving. This only got worse and then 3rd gear started grinding, kept getting worse and worse too were it would grind on upshifts.
A junkyard used transmission was around $1k with 50k miles. The best/only rebuild info I could get was from the FSM itself. After almost spending a few hundred in special fixtures, I found out that 3rd gear synchros are not even replaceable. They are part of the "3-4 countershaft assembly" which - is nowhere to be found, and who knows how much it'd cost.
So after some research I found a factory reman for $1,639. No sales tax because I used an out of state credit card, no shipping because I picked it up myself and no core charge because I exhanged the old one at the same time. That also includes a 3yr/unlimited miles nationwide waranty thru any Chrysler dealer. For the price, it simply couldn't be beat.
I'm not ready to dismiss the NSG370 just yet. As I mentioned in my first reply, there were several factors against them.
They also have a Sachs clutch, which in the BMW world are very good, but in the Jeep world, had a considerably less amount of friciton material surface area than the LuK that Jeep has used for years (and that mine got replaced with).
If I ever have a problem with my NSG370 beyond the 3yr waranty, I may replace it with one of those aftermarket built "bulletproof" AX15s, or if I decide that an auto would be better for my needs, than I'd swap in the only one worthy - AW4. Till then, I'm very pleased with my NSG370 and enjoy all it has to offer.
Some highlights of my swap:
Old one out (93,079 miles)
Benz, yo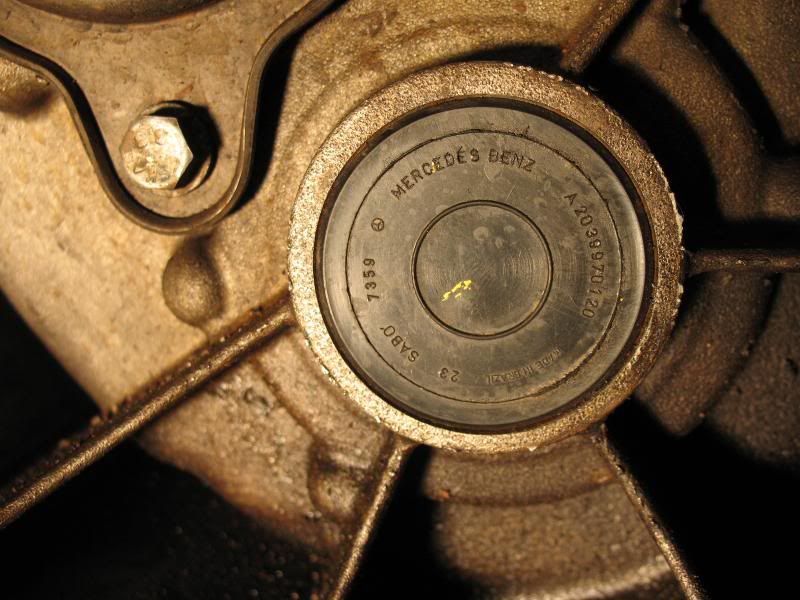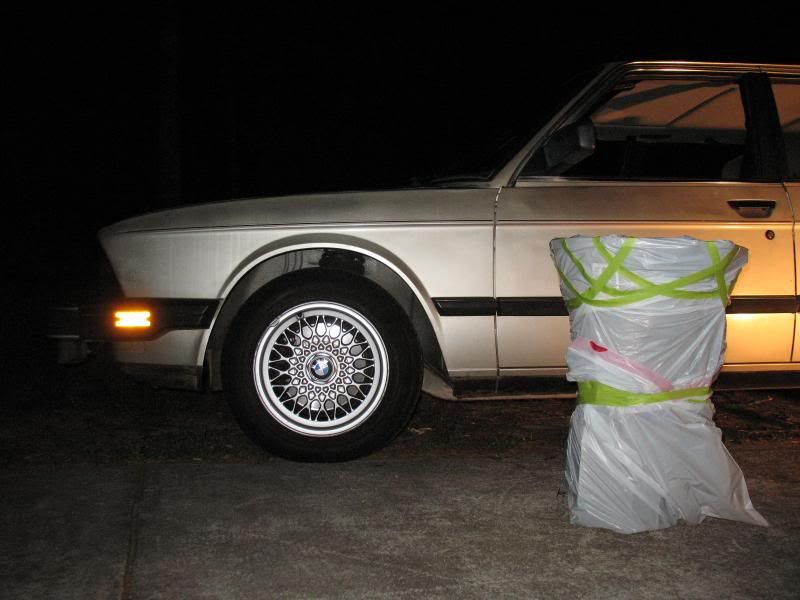 In the trunk of the Panzer (25y/o, 276k):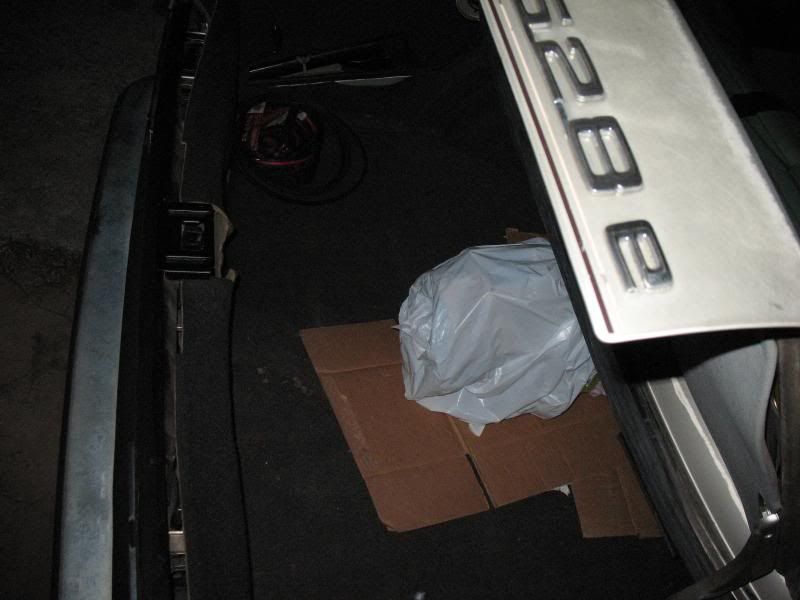 As per FSM, the flywheel was not damaged so I did not resurface it due to the slight dome. The new LuK clutch did ride on a previous unused porition of the flywheel but that shouldn't be a problem. I did scuff it up though.
Original Sachs clutch disc on the left, replacement LuK on the right. The Sachs still had a lot of life left even after all the wheelin, dragstrip run and overall use. The surface area is easy to spot, also interesting is the difference in springs. The Sachs has smaller within larger but only 4 sets, the LuK has 6 single. This is the same LuK clutch Jeep used since the 80s. I got this for a good price too as I picked it up in the store - no tax and a reduced rate because the online price included shipping, IIRC $165.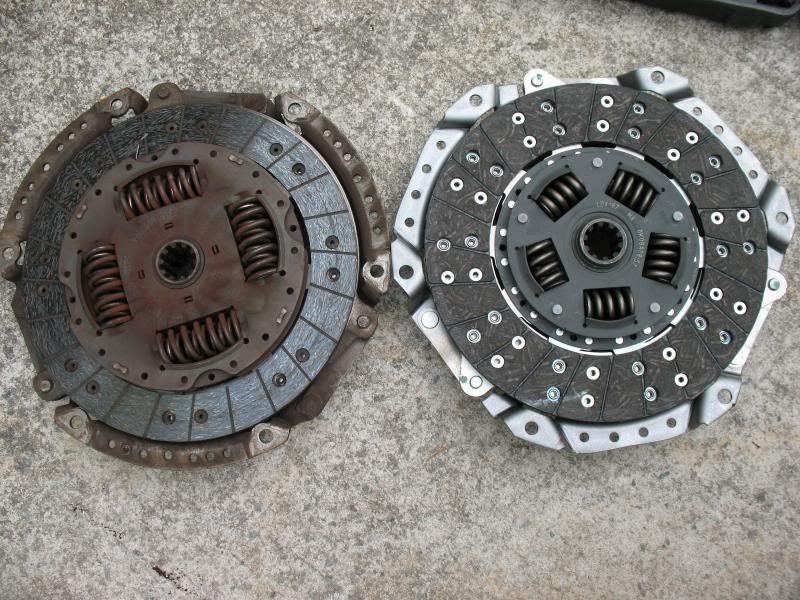 Difference in pressure plates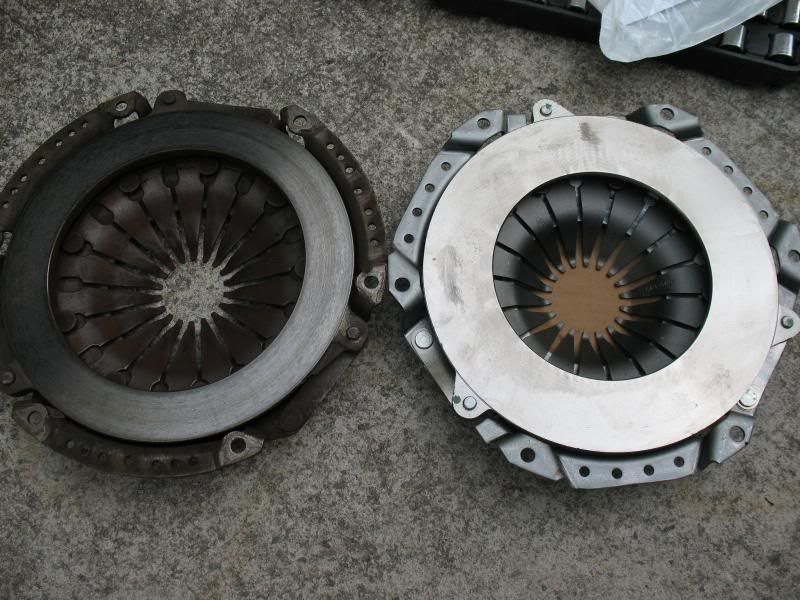 The parts wagon in Florida. Had the new transmission, clutch set and Jeep battery in the trunk as well as travel stuff for a week at time of picture taken. Kinda sad that, overall, the Jeep has had more things, important things, fail that really shouldn't have just yet in the 96k miles so far, while the Panzer is ready to hit 276k, is 25 yrs old and will keep going till the world ends. Can you tell which has proven itself to me far more beyond any expectations?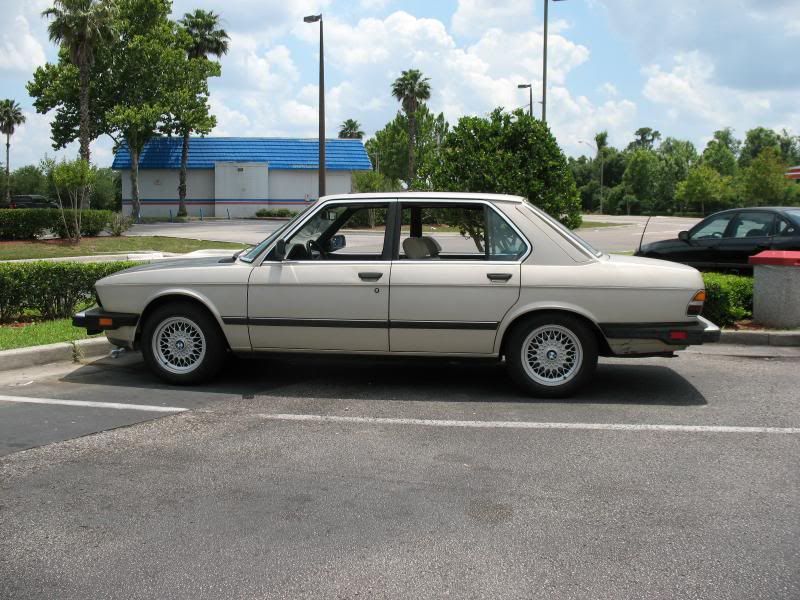 Shiney!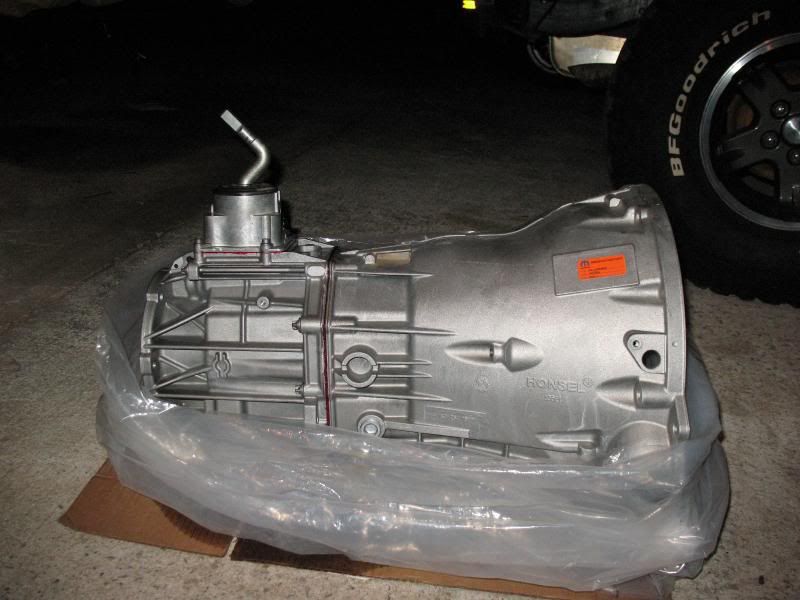 That's my input on it. Probably not what pro-NSG370 folks want to hear, but it is my experience with it. I enjoy what it has to offer, but the simple fact alone that the neglected 276k Getrag in the old BMW shifts far better, smoother and simply works - any gear, any speed - than the NSG370 ever has is frustrating at times. I tell myself "it's a Jeep...." and can mostly deal with it.
I have learned that the NSG370 is very picky in how it's shifted. Do not shift it fast. Needs to be kinda slow coming out of gear and into neutral, then once the RPM dropped so the next gear is rev matched, shift from neutral into the next gear, still slow, but a bit faster than when shifitng into N coming out of gear. I always double clutch when down shifting too.
As for my new transmission, Initially, 3rd gear grabbed a bit going in. This was not good as that is the main reason why I replaced the last. Which makes me wonder if the "3-4 countershaft assembly" was replaced during the reman, or found to be "in spec" and left. I used the proper Penzoil Synchromesh and drained it after 1,000 miles. The magnetic drain plug was full of shavings - expected of a newly rebuilt transmission. I now put 1,500 miles on it since and will be changing the fluid again in the next day or two. Hoping to see none/minimal shavings, but we'll see. I'll keep changing it every 1500-2000 miles until the drain plug is clean then go to 10k then 20k intervals. The 3yr waranty was what closed the deal - awesome piece of mind, if it gives me problems, it gets replaced. If it still operates the same after 3yrs, then it won me over and shouldn't give problems for time to come.
*** If I was in the market for a new (used) NSG370 Jeep, I would do a few tests. When parked, does it shift into Reverse easy without going into 1 first? I made it a habit now to shift into 1st, 1st. But it shouldn't require it. Also, run it hard - wide open throttle acceleration, shifting at redline - redline 1st, 2nd, 3rd and 4th - do it when merging on the interstate, this will get you to 80mph or so. Any grinding? Then downshift each gear at a semi-high RPM that way the RPM goes to 4000+ after the downshift, any grinding? Then cruise for a steady 15mins in 5th or 6th on the interstate, push the clutch in and shift between 5th and 6th a few times. Is it smooth? Just like it feels when the Jeep was parked for hours? Or Does it feel like the transmission is filled with crunchy tar?
That would be my test. Reverse to check for damaged/bent shift forks- early '05s were prone as people would shift into R instead of 6, later updated, apparently my June, '05 build Jeep had the revised "'06" transmission. Then redline gears 1-4, check for grinding, downshift the same gears at a higher RPM, again checking for grinding. Finally get it warmed up, preferably on a hot day and see if it is a bear to shift between 5th and 6th.
If it passes all those tests, then it is most likely in very good condition. The first thing I would do when I got it home was drain out the "lifetime" underfilled junk in it and refill it with 2qts of Pennzoil Synchromesh (Advance Auto carries it) and change it every 20-25k miles. Should have many happy NSG370 miles ahead