Registered User
Join Date: Dec 2008
Location: Lexington, KY
Posts: 1,168
2" lift with 30's?
---
hey guys. i just bought a set of 30" courser AT's, and dont plan on buying new tires for a while. would 30's look ok with a 2" lift?
---
Black 98 TJ
Low Output 4 Cylinder Jeep Club #178

build thread:

To view links or images in signatures your post count must be 10 or greater. You currently have 0 posts.

Registered User
Join Date: Mar 2006
Location: Texas
Posts: 778
yeah, I think it would...
---
05 Jeep Wrangler 2.4l 4 cylinder
3" SL, 2" BL, 33 Eng belly up, 33x12.5 Pro comp MT
Low Ouput 4-cyl Jeep club member #151
Registered User
Join Date: Feb 2007
Location: new jersey
Posts: 397
i run 33 13.50 tsl's with 0 inches of lift.
Registered User
Join Date: Apr 2006
Location: Crescent Springs, KY
Posts: 1,140
I'm planning a 2"-3" lift and am running 30" BFG ATs. I think it may look a little goofy, but not much. I saw a couple TJs on a trip this last week that I'm pretty sure were on 30"s with 2"-3" lifts and it wasn't as goofy as I'd thought it would be. I can't afford new tires with the lift, so I think I'll just live with it. I want to run 33"s offroad eventually. I'm considering getting the 33"s put onto some inexpensive rims and only using them for the offroad trips and keeping the 30"s on for daily use in order to keep the mileage as good as is practical. We'll see.

FWIW,
Adam
---
'99 TJ Sport, 4.0 I6, 5 speed manual transmission, Hi Lift w/offroad kit, Viair 450C compressor, Garmin GPS, Skid Row Engine/Transmission, steering box & radiator skid plates, Kilby gas tank plate, AtoZ Fab full length rocker guards, Performance Accessories 1" Body Lift, OME 2.5" HD springs & shocks, JKS trackbars front & rear, BFG AT 33x12.5r15, EBC Yellow pads and Centric rotors
Registered User
Join Date: Oct 2008
Location: Virginia
Posts: 95
I have a 2 inch bb with rubi springs and 30's. I think it looks fine. If I can ill try and take some oictures and post them up.
Disturbed Jeepaholic
Join Date: Aug 2006
Location: CharlottesHELL
Posts: 35,714
Yes.I had 31's with a 2" lift way back.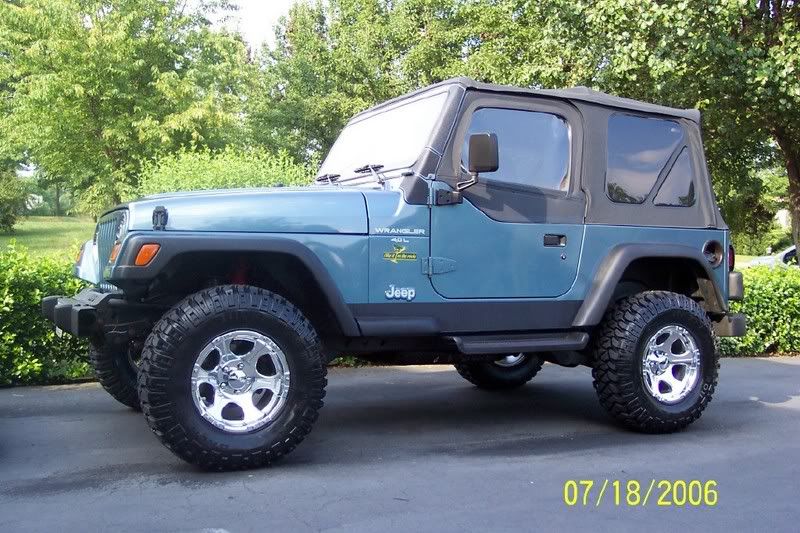 Registered User
Join Date: Mar 2006
Location: Texas
Posts: 778
Most everyone builds in stages. If you have smaller tires cause you just added a lift and couldn't afford both at once so be it.

If someone tries to clown you just tell them STFU.
---
05 Jeep Wrangler 2.4l 4 cylinder
3" SL, 2" BL, 33 Eng belly up, 33x12.5 Pro comp MT
Low Ouput 4-cyl Jeep club member #151
Currently Active Users Viewing This Thread: 1

(0 members and 1 guests)
Posting Rules

You may post new threads

You may post replies

You may not post attachments

You may not edit your posts

---

HTML code is Off

---