Couple months ago, I asked if a 1" suspension lift existed.
http://www.jeepforum.com/forum/f9/do...66/index4.html
While many said no or recommended other mods, I received some great info which led me to H&R 1" springs paired with Bilstein 5100 shocks. Over the Thanksgiving weekend, I purchased a set of H&R 1" progressive springs (part # 52107) and Bilstein BE5-785-HO and BE-784-HO shocks. I had planned to do the install myself, but with work, cold weather, and other interests, I decided to let the local 4x4 shop have at it. Took them 3 hrs and then off to the alignment shop.
Picked up the Jeep yesterday. After approx 10 miles of driving, I would say the ride is great. PO had installed Edelbrock shocks with stock springs. I was pretty sure one of the rear shocks was bad and the overall ride was very soft. I have a much more firm ride now, but when I hit bad pavement, I can feel the suspension system doing it's job. I need to obviously drive it more to give a better evaluation, but first impressions were very positive. As expected and planned for, no vibes at any speed.
So did I get any lift? Measuring in the dark last night, it appears I gained 1.25" in the front and .75" in the rear. I'll confirm those measurements again once I have some light. While I only have a soft top, I do have a back seat, spare, and the back was loaded with the old springs and shocks. I thought my Jeep was pretty level at stock, but after the new gear was installed, it still seems level. So maybe the difference in lifting heights helped me. Who knows.
Can you tell a difference? I can. It's subtle, but just enough for my liking. I think it's just enough to make the 31s look proper. I'm happy.
I know this sucks without pictures. I promise to post some once I have light and some time. So for now, here is the only pic I have prior to the work being performed.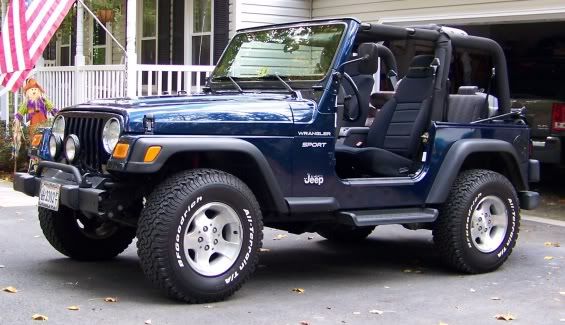 Special thanks to Fargo and Hustler905 for helping me find and match the H&R and Bilstein parts.