Registered User
Join Date: Aug 2011
Location: ft benning
Posts: 2
04 Rubicon sub woofer
---
hey yall...i hear its really difficult to find a sub woofer to replace the one in the center console. i will put the new one in the original place...no boxes or amps.
and jeep dealership is outrageously priced.
ive just put in new kickers and a kenwood stereo, and want a great subwoofer, too.
i wanna listen LOUD even on interstate driving!!!!!!
THANKS
Registered User
Join Date: Aug 2011
Location: ft benning
Posts: 2
oh i was just wanting recommendations on brands and such and where to get one.
Registered User
Join Date: Jun 2009
Location: San Jose
Posts: 71
Replaced mine with a
marine certified Polk Audio 6.5" slim mount coaxial
(sold in pairs). Cost like $90-100.
Ordered from Crutchfield.
If I had the money, I would buy a Tuffy sub/center console and an amp.
Pretty easy install. Don't need to do any major rewiring.
Make sure you have a torx set.
Here's a link to a thread that discusses how to change the sub.
http://www.jeepforum.com/forum/f20/h...woofer-579589/
---
05 LJ Rubicon, stock
Web Wheeler
Join Date: Jun 2007
Location: Denton County, TX
Posts: 8,021
Registered User
Join Date: Nov 2010
Location: Aurora
Posts: 142
I built a custom box based off plans on here. The box fits under the center console. I think the member was Adam something.

I the put an 8" polk audio marine sub in it. Sounds great.
Registered User
Join Date: May 2006
Location: Vidor
Posts: 1,474
You can get a pyramid brand 6.5 subwoofer that fits. You just have to dremel or notch out the back of the subwoofer box to accept the new deeper subwoofer. They go from 10.00 to 20.00 on Ebay. People have also used a low profile Kicker 6.5, but with the stock amp that Kicker is being wasted IMHO.
---
05 Electric Lime Green LJ with a 4spd Auto, 2.5inch Suspension Lift, OME Shocks, OME Steering Stabilizer, 32inch BFG M/T's on 17inch Moab's using Spidertrax Spacers, UCF Aluminum TC Skid, Novak Cable Shifter, Brown Dog MML, Rokmen 1/2 BL, Banks CAI, Diehard Platinum Marine Battery, JW Speaker 8700 LED Head Lights, Safari Nets, G.E.A.R Overhead Console/G.E.A.R Tailgate Storage, Rugged Ridge XHD Front Bumper, Warn Gas Tank Skid, Mopar Rock Crawler Rear Bumper, Warn XD9000i Winch with Warn Wireless Remote, and a Uniden 880 CB Radio
Registered User
Join Date: Aug 2009
Location: NW Pennsylvania
Posts: 1,754
Just do what I did, rattles the whole jeep.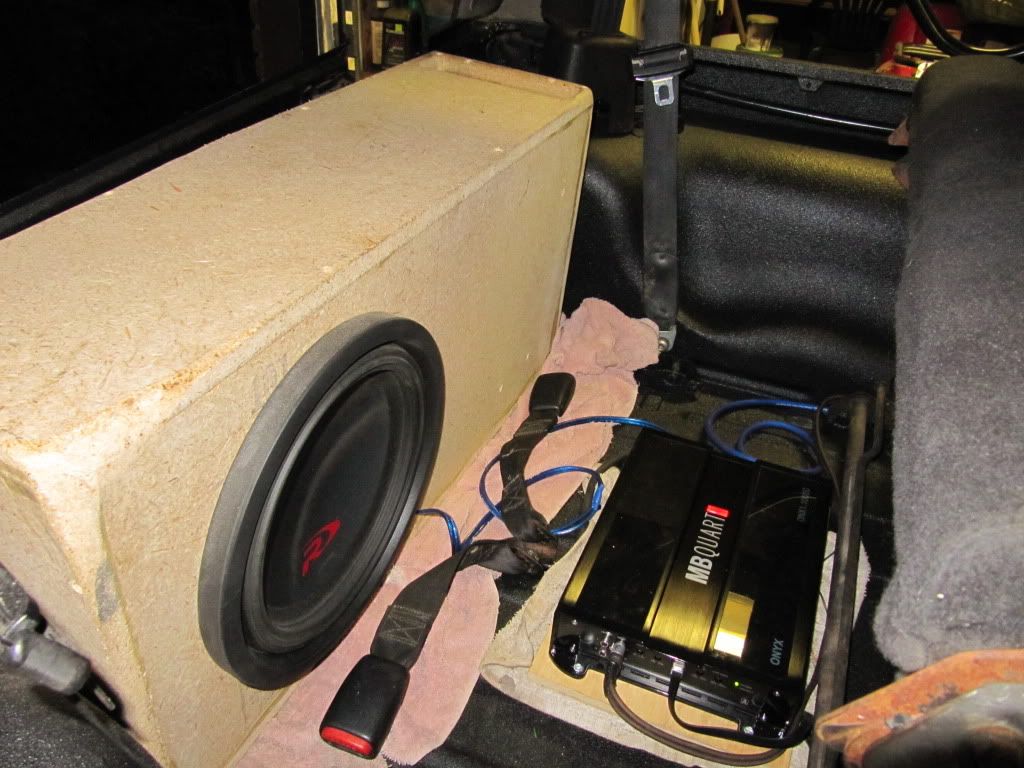 ---
95 xj bone stock for now
Registered User
Join Date: Dec 2004
Location: north of Houston, TX
Posts: 7
new exact fit subwoofer speaker from quadratec
---
I just installed a new subwoofer speaker from quadratec last weekend. it's a perfect match and fit, in the space as well as wiring.
quadratec has an exclusive on the speaker.
part number 14133.1001 \
it's worth it. swaping the speaker out of the subwoofer unit took about 5 minutes...
it's made of much better weather resistant and long lasting material.
don't mess with buying a new speaker unit from the dealer or another supplier. 2 reasons:
1) the electrical connector of the new subwoofer unit may be different. My Sahara connector has a connector with about 16 or 18 pins in it. I paid a high price for an OEM Jeep subwoofer box unit ( a week before quadratec came out with the new speaker) and the plug on it did NOT match my Jeep wiring!!!! It only had about 8 pins in the connector.
2) old OEM parts are going to be OLD and the same lousy material as the original speaker. i doubt any new old stock replacement from jeep will last long.
my old speaker was SHOT. it was separated all the way around to the speaker mount. no wonder it sounded like "crud".
by the way, to take out your center console you will only need a 13mm socket and a either a T30 torx.I don't recall which. the 13mm socket works on the front cup holder bolt.
my new speaker sounds great. and the wife can't beef about the old busted one anymore.
---
Mango Picker
north of Houston, TX
03 Sahara, light khaki, dual tops
CB, Smittybilt Titanium tubular bumpers
Currently Active Users Viewing This Thread: 1

(0 members and 1 guests)
Posting Rules

You may post new threads

You may post replies

You may not post attachments

You may not edit your posts

---

HTML code is Off

---