Registered User
Join Date: Mar 2007
Location: vancouver
Posts: 42
wirring manual
---
Hi Guys...
well my cj8 is driving me nuts... turns out the big ticket items are the eaisest to deal with, its the small things that are causing me stress.
I got a new engine,
removed the old body lift,
solved the old leaky top problem...
BUT every time i turn around i have some wirring problem. I think the PO cut into every wire they could.
I need a good manual with good wirring diagrams and good system overviews.
I have the haynes manuls now its soso, find there is to much covering every other years, gets confusing.
what manuals do you guys suggest?
thanks.
scott in vancouver.
Alpha dog
Join Date: Apr 2001
Location: Near Fairfield, CT
Posts: 1,220
There are some decent digrams floating around the 'net.

However, I was in your shoes not long ago, and realized that the best fix was to start from scratch. I rewired it with a Painless kit, but there are others out there that other people like. While the kit is not cheap, you can do it in a weekend, and eliminate all of of your electrical problems. Everything will be cleaned up and neat, you will know where every wire goes, and you will have the security of knowing everything electrical is going to work.
---
'82 Scrambler - NV4500/4.5" lift/33" Toyo MTs/4.0/twin stick, and my windshield washers work! Full 1/2 cab Cage



2004 Grand Limited 4.7 HO - OH Boy!

2010 Grand Laredo 5.7 Hemi - SICK - back for a second time!

"Both my Doberman and my Jeep can accurately be described as 'black and rust.'"
Registered User
Join Date: Oct 2005
Location: Dayton, Ohio
Posts: 1,826
Registered User
Join Date: Nov 2006
Location: Oklahoma City, OK
Posts: 2,369
Go to your local library. You can find high quality, multi-page fold-out wiring diagrams in the reference section.
---
My '70 CJ5 Build Thread:

To view links or images in signatures your post count must be 10 or greater. You currently have 0 posts.

Registered User
Join Date: Jul 2007
Location: connecticut
Posts: 51
i used the painless kit as well after my wireing lit on fire. the kit fit great and now everything electrical works great. i would suggest investing the time to save agravation in the future
Web Wheeler
Join Date: Aug 2004
Posts: 4,701
Factory Service Manual. You can buy reprints on the web, and I believe the Alldata CD's that you can get from AutoZone contain the same diagrams.
---
'86 CJ-7 Laredo: 4.2,T-999,D300,D30/D44,'94 YJ tub, full cage, Shrockworks rockers, OYR corners, AC,cruise,restored seats,3 tops,2.5" Superlift,F-T shackle reversal, RS9000x's,35" Dunlop Mud Rovers.
'83 Scrambler: time & money pit under construction with parts from CJ's,YJ's,TJ's,FSJ's,GM,Ford,IH,Honda,Toyota and a whole lotta aftermarket & custom stuff.

To view links or images in signatures your post count must be 10 or greater. You currently have 0 posts.

Registered User
Join Date: Apr 2007
Location: Naples, FL
Posts: 1,417
The year specific Jeep Technical Service Manual is your best resourse for the wiring diagram and all other service related issues. If I had only one resourse it would be the year specific technical service manual. I found mine on Ebay a long time ago.

Jim
WTF is that?
Join Date: May 2006
Location: Brandon, MS
Posts: 1,441
Autozone online also has some wiring diagrams as well. If you have some specific questions, post them up and many will be able to help you out.

I got my FSM on ebay as well for about $60 or so. Keep your eye out, they are on there often.
---
1984 CJ 7, SBC 350TBI, 700R4, D 300, AMC 20, D30, 35" Mickeys, 3.54 Gears, 4" susp. Lift, 2" body lift.


To view links or images in signatures your post count must be 10 or greater. You currently have 0 posts.

In Progress - 4.56 gears, Aussie Rear Locker, Moser 1 Piece Axles
Coming Soon - CV Shafts, Welded Tubes, trusses
Registered User
Join Date: Jan 2003
Location: Lancaster
Posts: 1,763
this is a 78 wiring from the factory manual should be close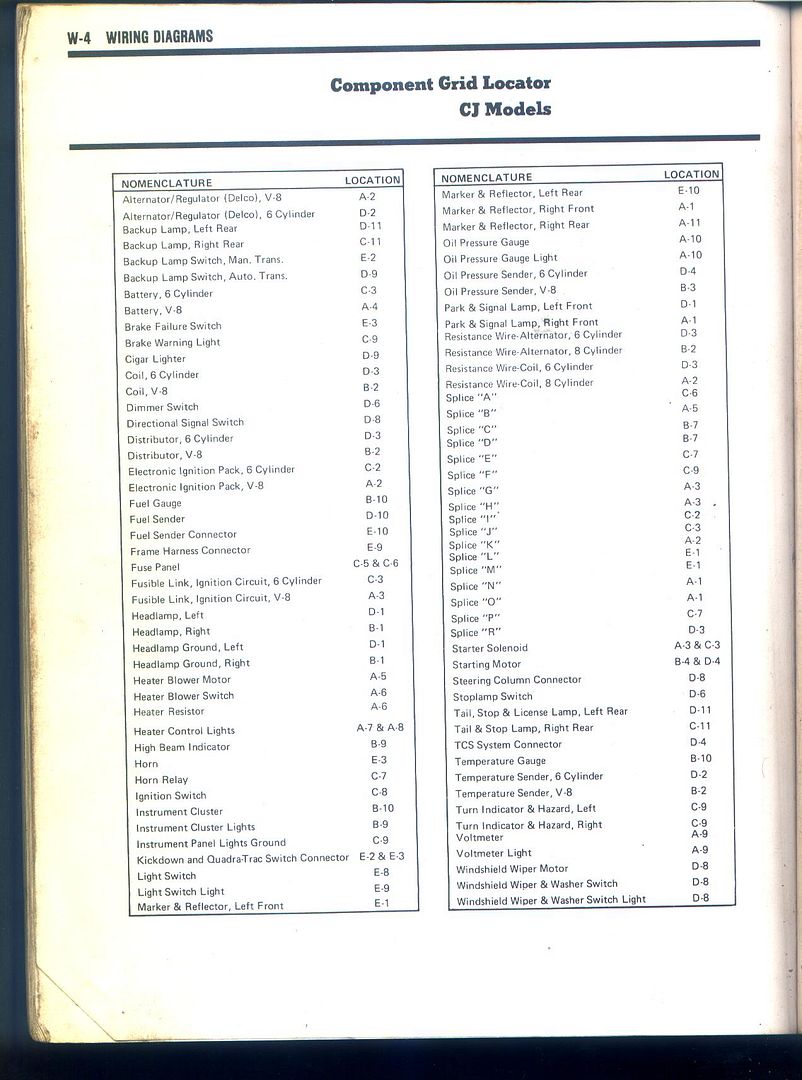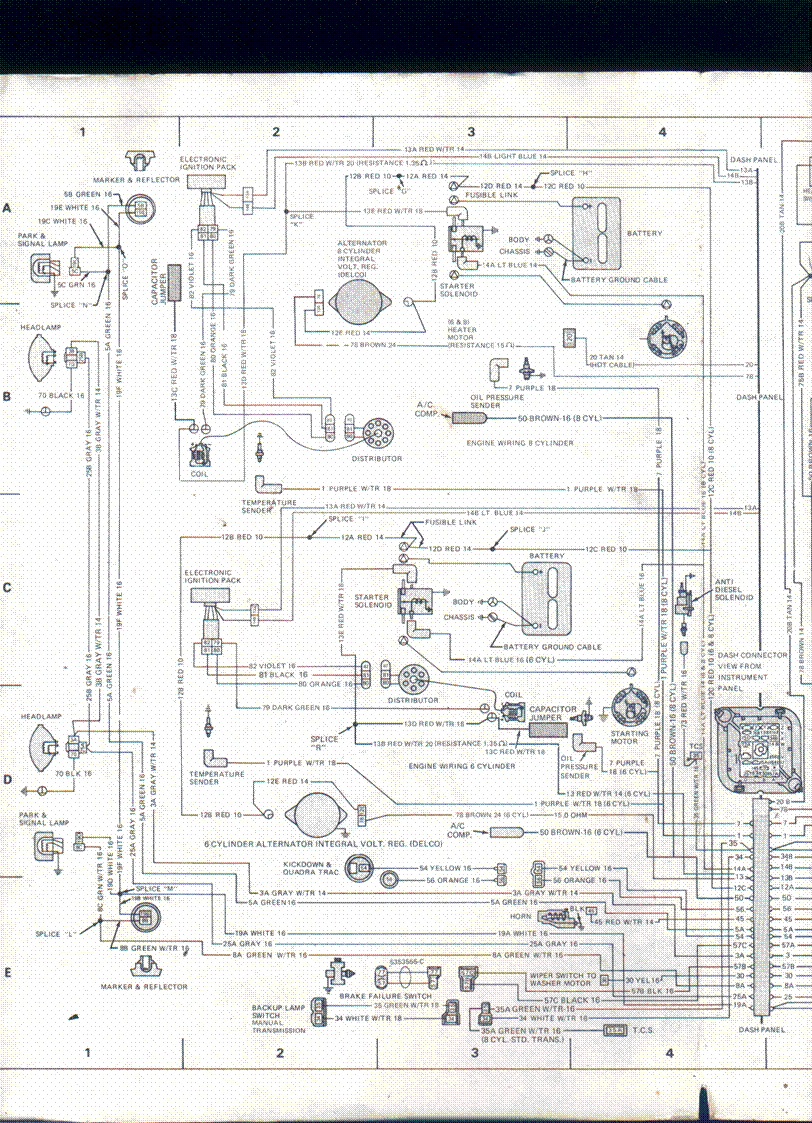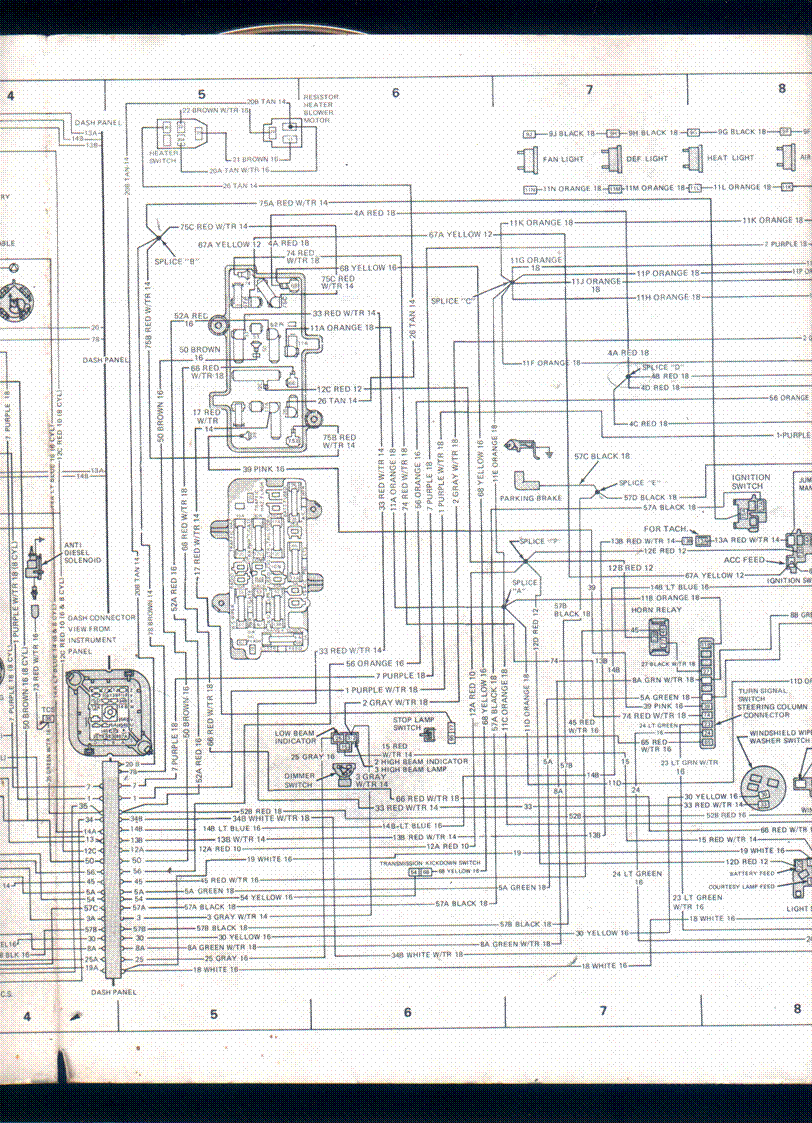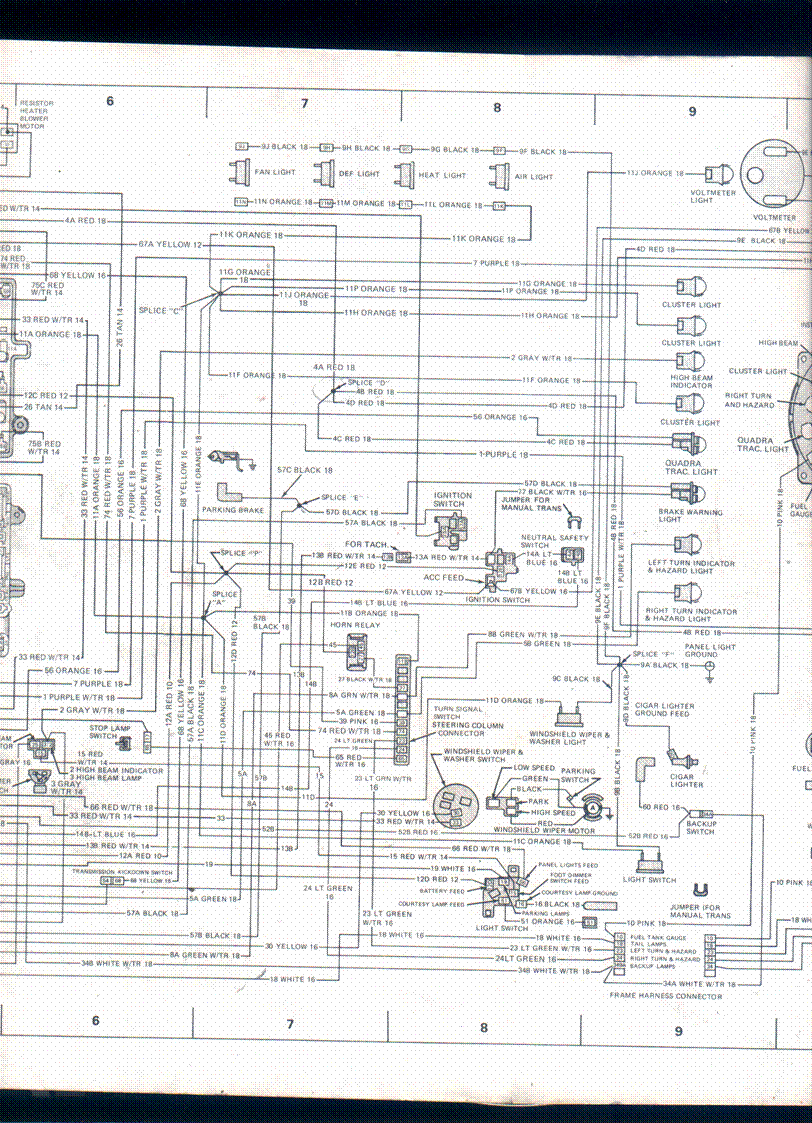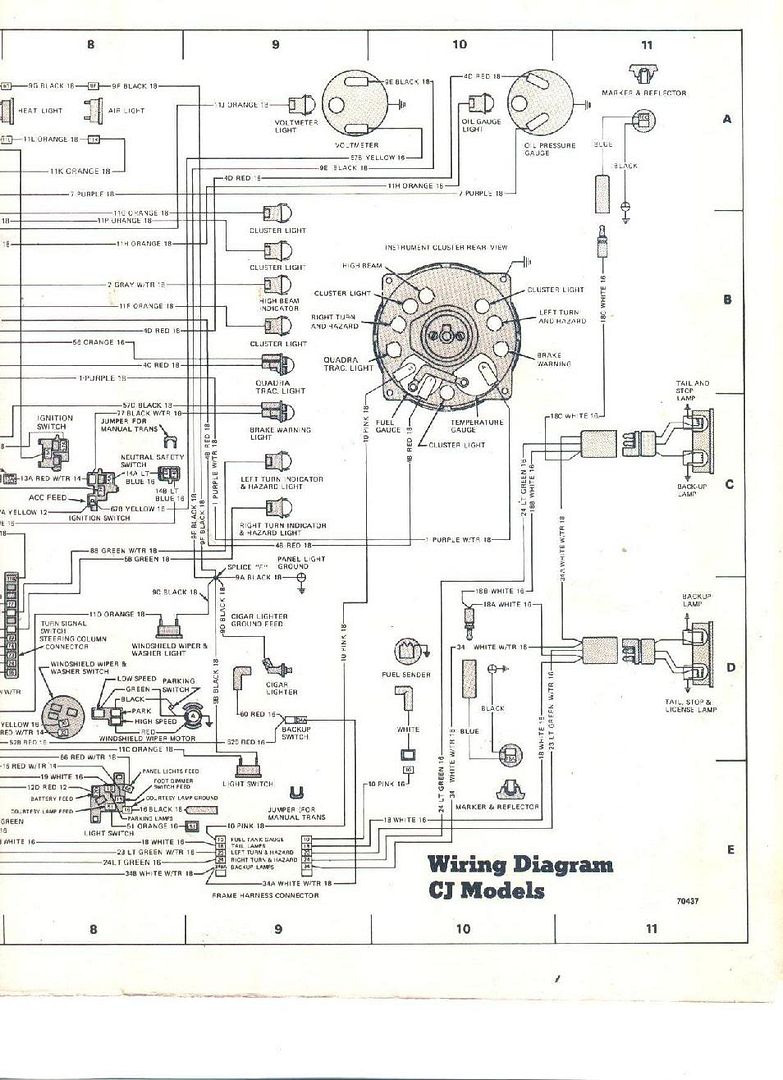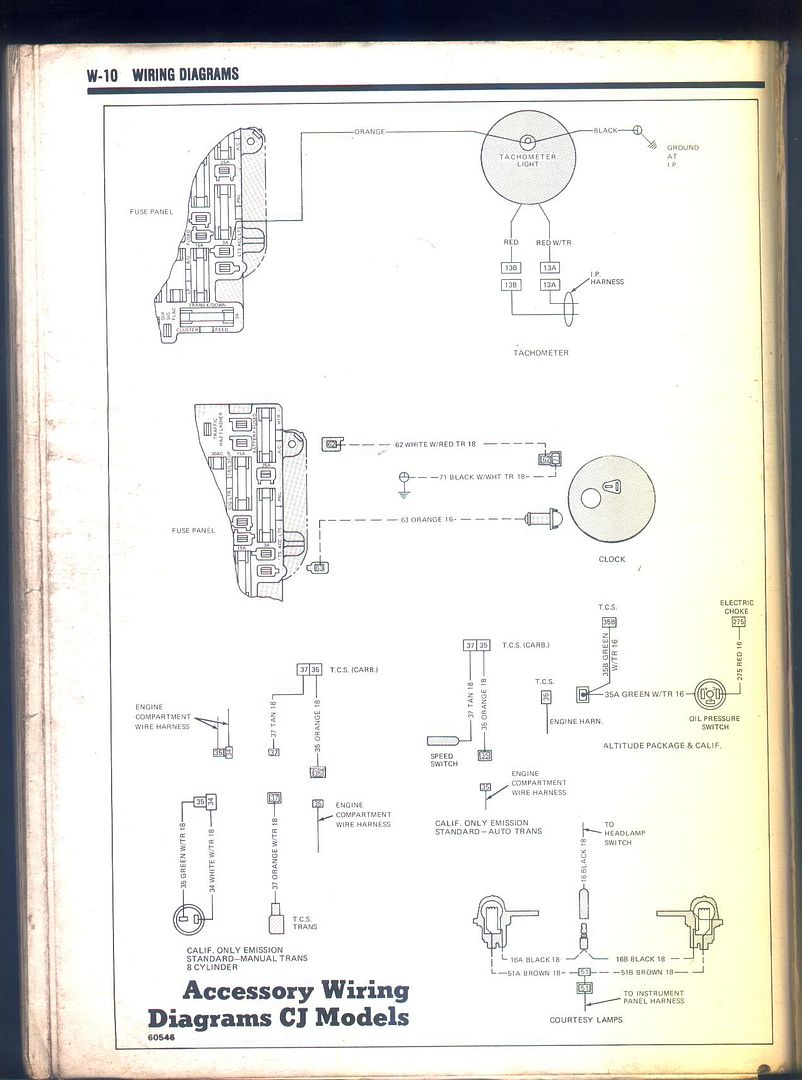 ---
1978 cj-7 had since 1979
401 .030 over- full floating flat top pistons
crower solid cam 292 dur .500/.510 lift
turbo 400 tranny 2500 stall
model 20 transfer case
aj delux glass body
4" lift
dana 30 frount
dana 44 rear
4.56 gears

To view links or images in signatures your post count must be 10 or greater. You currently have 0 posts.


To view links or images in signatures your post count must be 10 or greater. You currently have 0 posts.

13.461 @ 92.45 mph on 37" super swampers on 1/4 mile
Currently Active Users Viewing This Thread: 1

(0 members and 1 guests)
Posting Rules

You may post new threads

You may post replies

You may not post attachments

You may not edit your posts

---

HTML code is Off

---