Registered User
Join Date: Jun 2002
Location: San Diego
Posts: 490
Who's Running A Dana 44/60 Combo?
---
In my ongoing search for axles here in Hawaii I've stumbled across a Waggy Dana 44 Front and a D60 Semi-Float Rear (Pulled from a limousine).
Now I'm trying to see how this setup would be on my CJ5.........I'm currently SOA with stock rims on 33's..
I'm not planning on running larger then 37's when it's all said and done so I know that the Dana 60 is gonna need to be shaved to make up for the lack of tire that I'd plan on running (Or run a different axle is the feeling that I'm gonna get when you kind folks respond) :talkface:
I'm also a bit un-educated on the pros/cons of semi-floaters other then if your axle breaks on a semi float your tire gets away from you vice on a full float at least all four tires stay where they should be (I believe this to be correct)???
- Can you convert a semi-float to full-float?
- Are the cons of the SF not worth it and to wait for a FF?
Any info you can offer is appreciated.......axles pictured below.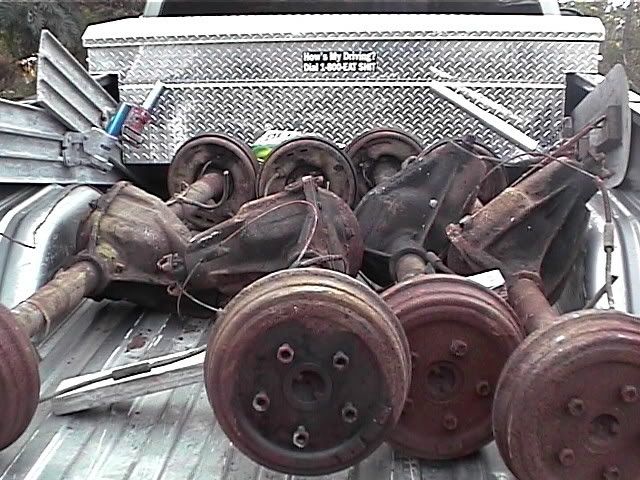 ---
Jason "MJ" - 79 CJ-5 | SOA/HI-STEER | 304/T18A/D20 w/3:1 TeraLow | Holley Avenger Carb | Edelbrock Performer Intake Manifold | DUI Distributor | K&N Filter | Centerforce 2 Clutch | Waggy D44's | 4.11's | ARB's | Hydroboost | HAD Shafts | 35 Toyo MT's|
GROUND POUNDER
Join Date: Nov 2002
Location: Newport News, VA
Posts: 12,285
All the semi-floater 60s I've seen came with 35 spline axles and were retained at the flange with a pressed on collar.. no C-clip. I could be way wrong on that axle since it was pulled from a limo. Might ask to pull a shaft and see. If you can unbolt the brake backing plate and yank the axle assembly out.. no C-clips. 35spline shafts would be 1.5" diameter.
The other thing you'll want to check is the width. A front Waggy 44 is in the 60" range while I've seen semi-floater 60s as narrow as 50".
Currently Active Users Viewing This Thread: 1

(0 members and 1 guests)
Posting Rules

You may post new threads

You may post replies

You may not post attachments

You may not edit your posts

---

HTML code is Off

---