Registered User
Join Date: Feb 2008
Location: southern illinios
Posts: 141
What soft top works with a full rollcage?
---
Has anyone had a problem with the soft top if they have a full rollcage?
Don't want to order 1 and it not fit right or rub.
Thanks for any help.
PICS OF YOUR MAY HELP IF YOU HAVE ANY....
Registered User
Join Date: Jul 2010
Location: The Mojave Desert - Palmdale, Ca. U.S.A.
Posts: 6,752
I fitted my cage to clear the OEM soft top.
To many "ifs" here to say.
LG
---
Have'n you along, is like loose'n 2 good men
Registered User
Join Date: Dec 2011
Location: Atlanta
Posts: 566
As LumpyGrits eluded - you have to start with the top, e.g. put the soft top on, and start measuring for the roll cage.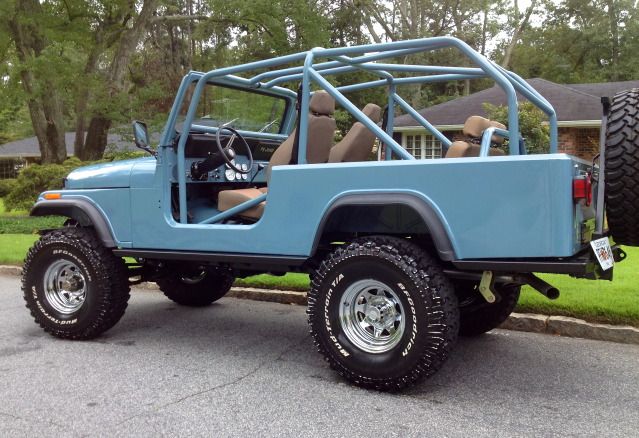 If you're using hard doors, don't forget to check for clearance - hard doors come in much further than soft doors... and often interfere with the A-pillar leg of the cage.
---
1981 CJ8, Chevy 5.7, SM465, D300, RE 4.5, 35" BFG MTs, 20/30 4.56, Detroits, Warn 9500ti
Registered User
Join Date: Mar 2011
Posts: 4,057
As others have said, it depends on the cage. What's a
FULL
cage?
This...
Fits under this with no trouble...
It's a Bestop. Are you talking about a "Family cage"?
---
I'd rather be lost on the trails than found at home!

Phoenix Rising- A Flame Off Restoration?
To view links or images in signatures your post count must be 10 or greater. You currently have 0 posts.

Registered User
Join Date: Sep 2011
Location: Brabant
Posts: 47
If you have an Hardtop en doors put it on and measure, the softtop
( cj/yj supertop) will fit then for sure.
I used a family bar to modify as full cage with 2 knicked bars extra behind,
still have the space for 3 weekend bags on the Bestop Rack Tray.
---
cj7 305 V8 TH-700R4 D300 lomax, front & rear D44 4.88 with detroit lockers, 4'' skyjacker lift, Doetsch Baja Ryders & u-bolt flip kits
Web Wheeler
Join Date: Dec 2003
Location: Schenectady
Posts: 1,462
If you are ordering a cage kit, call the manufacturer and ask them if it fits under the stock top.

Most cage 'kits' will. But best to ask.
Currently Active Users Viewing This Thread: 1

(0 members and 1 guests)
Posting Rules

You may post new threads

You may post replies

You may not post attachments

You may not edit your posts

---

HTML code is Off

---