For those of you that might be shaky on
Packing Wheel Bearings
or
Servicing Spindle Bearings
,
Or don't know how to service the
Ball Studs
or
Front Axle U Joints
,
I'll Cover that in general here...

BUT REMEMBER!
There are SEVERAL VARIATIONS of lockouts and a couple or three variations of brakes on the '76 to '86 CJ's, so you might find some differences!
Always good to have a Service Manual for your particular year handy to explain the particular version of things you have!
-----------------------------------------------------------------------
Same three steps as above apply here!
Step One,
Would be to get a spindle nut socket. 2-1/16", Thin Wall.
Available from EVERY Jeep parts supplier in the free world for $6 to $50, with the average being around $8 to $10.
This is the ONLY specialty piece of equipment you will need.
Everything else will be available commonly, or you can 'Borrow/Rent' it at the local parts store.
...............................
STEP TWO, Jacks and JACK STANDS!
Don't even think about working on hubs/axles without Jack Stands!
...............................
Step Three,
Clean work surface.
I don't care if you get a piece of plywood, a $6 Foam 'Sleeping Mat', or a clean spot on the garage/driveway floor, but you MUST have a clean work surface for this!
Doesn't hurt to cover that surface with paper towels so you don't get everything greasy.
A little tray for small parts is a good idea, I use magnetic trays for small parts and they work great, or you can just hack off a gallon jug and toss a magnet in it for the small stuff.
You don't have to be fancy, just handy!
...............................
Step Four,
Remove Wheel & Tire.
Usually will be 3/4" lugs, but with wheel & tire swaps, you may have something different.
...............................
Step Five,
Remove Brake Caliper.
Usually 1/4" Allen (hex) wrench in the "Caliper Retaining Screw" in the image below,
Then use a 1/4" punch and hammer to drive out the "Caliper Support Key",
And be aware the "Caliper Support Spring" is going to come with the Key when it drives out.
Hub Exploded View,
If you are even a little bit fuzzy about how all this goes together, TAKE PICTURES, LOTS OF PICTURES! So you can get it back together again!
The Caliper will lift straight away from the rotor...
Remember, there is a rusted edge on the rotor keeping the caliper from lifting, so it often takes some 'Persuasion' with Mallet (NOT Hammer) or pry bar to get the caliper to let go of the rotor.
Once the caliper is free of the rotor, DO NOT let it hang by the hose!
YOU MUST wire tie or wire the caliper up so it DOES NOT HANG BY THE HOSE!
................................................
Step Six,
Removing the Hub Cap or Lock Out Switch.
Some of the 'Quadra-Trac' models, won't have lock-outs.
They have 'Drive Flanges' instead of lockouts, see the diagram above, top is 'Drive Flange' with hub cap,
Bottom is 'Lockout' with outer switch.
You need to remove the OUTSIDE SWITCH of the locouts (usually small Allen (hex) bolts or the 'Hub Cap' on the drive flanges.
Since there are SO MANY different designs of lock-outs, there is no way I can cover all the different kinds...
So this is one of those times where you will need to have a CLOSE LOOK and see if there is an outer switch & face plate that can be removed, or the lockout is just held on by bolts into the hub...
Hub Caps just come off by prying on them, or pulling with large pliers.
They are 'Interference Fit' and just pull off.
.................................................. ....
Step Seven,
Snap Ring Removal.
Clean off the end of the axle in the hub, and you will find a snap ring on the outside of the stub axle end that sticks through.
Look on the article pictures above, where the axle end sticks out of the spindle, and you will see the snap ring groove.
You will need Snap Ring Pliers to get this Snap Ring off.
Snap Ring Pliers, A Common tool that's sold everywhere.
.................................................. .....
Step Eight,
Unbolt and pull off the body of the lock-out or drive flange.
Once the 5 or 6 bolts are removed from the drive flange or hub body, they pull straight off the axle.
Some will be rusted on, or some dummy will have them glued down with RTV sealer, and they will require some 'Persuasion'...
Go easy and take your time loosening them up.
Hammering on them can distort the sealing surface face, so use a 'Soft' hammer face when 'Tapping' them loose...
Remember, these have to be cleaned out REALLY WELL for the gears to mesh with both axle and lockout body.
Lots of RTV sealer, or improperly installed gasket/'O' ring will interfere and keep the Lock Out from engaging properly...
So make sure you clean ALL the RTV gunk the Previous Owners heaped in there!
.................................................. .......
Step Nine,
Lock Washer Straightening.
The outside SPINDLE NUT will be showing, but if it was properly installed,
There will be a large washer bent outward keeping it from backing off.
Use the 1/4" punch and hammer to straighten the lock washer up off the outside Spindle Nut, then use the 2-1/16" Specialty Socket listed above to remove the outer Spindle Nut.
Idiots often use chisels to remove/install Spindle Nuts.
If your Spindle Nuts have been damaged, REPLACE THEM!
This is the ONLY thing holding your wheel on, so don't try and save $5.00 and reuse damaged nuts!
http://www.napaonline.com/Search/Res...+50038+2038003
Spindle Nut Set,
Every Jeep Parts supplier carries spindle nuts and spindle nut sets...
And the entire set (2 Nuts, One Large keyed Washer, One small Keyed Washer for $5.00) is dirt cheap so there is no excuse!
.................................................. ...............
Step 10,
Removing the Spindle Nuts & Washers,
This is pretty straight forward, unscrew the outer spindle nut, large keyed washer, the inside spindle nut, and the small washer if it's convent.
The inside small washer DOES NOT have to come out, it can come with the bearings & hub when you pull it off...
.................................................. ..
Step 11,
Removing The Hub/Rotor Assembly,
The Hub in it's entirety should pull directly off the spindle at this time.
Be careful of the outside bearing WILL fall out when it clears the spindle!
Be ready to catch it!
Pry out the rear grease seal, then take out the inside wheel bearing.
Clean the hub out REALLY WELL, all the old grease MUST come out, and there is no such thing as 'Too Clean'!
.................................................. ...........
Step 12,
Inspection of Hub Bearings and 'Cups' or 'Races'.
Clean out the bearings with 'Brake Cleaner' or 'Parts Cleaner', and SLOWLY roll the bearing around on your fingers, inspect the roller for any Pits, Scratches, 'Warbles', Chatter Marks, ect.
If you don't find any problems of the bearings, you can reuse them with no problems at all!
Check the Bearing 'Cups' or 'Races' for all of the above...
Pits, Scratches, 'Warbles', Chatter Marks, ect.
If both bearings and races pass inspection, then sit them aside for packing, and it's a good idea to cover the clean hub/bearings while you are servicing the Spindle/Axle/Ball Studs.
.................................................. ...........................
Step 13,
Remove the 6 nuts holding the spindle and brake dust shield on.
(On '76 to '78 brakes, these 6 nuts hold the brake caliper bracket on also)
Spindle Puller.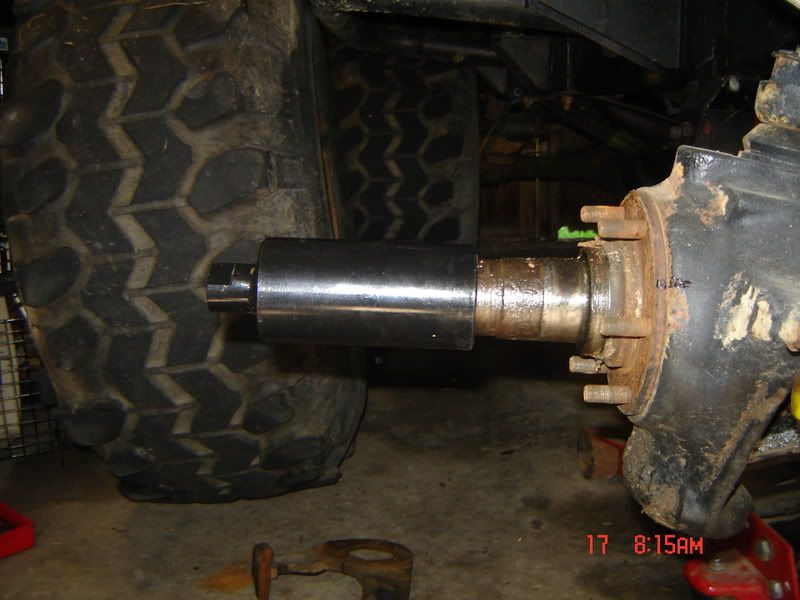 5 Piece NAPA BK1 Spindle Bearing & Seal Kit.
LINK:
http://www.napaonline.com/Search/Det...+50038+2038003
You will probably have to use a 'Spindle Puller' to get the spindle off.
Auto Zone has a spindle puller for 'Lend/Rent' Part Number OEM 27104
Or, you can use your spindle nuts on the spindle (use BOTH) and use a gear puller, DO NOT forget to 'Rent' the slide hammer that makes this thing work!
Gear Puller.
Clean up the spindle and Inspect the internal SPINDLE BEARING.
Normally, these are shot and have been for a LONG TIME!
The full bearing kit is NAPA p/n BK1 and that is for the 5 piece set.
Bering, both seals, thrust washer and 'Slinger' or 'Grit Guard'.
Spindle & Steering Knuckle,
While at NAPA, pick up new 'Prevailing Torque' nuts for the spindle bolts.
The 'Crimp Nuts' used on spindle bolts are technically called 'Prevailing Torque' and you should replace them every time you service the spindle, they were NOT intended for more than one use!
If you find the bearing in the spindle is bad...
You can make a tool by bending the tip of an old screwdriver about 20° and use it to drive the old bearing out,
Home Made Bearing Remover,
[img]
OR,
You can use a 'Pilot Bearing Puller' on the 'Lend/Rent' from Auto Zone p/n OEM 27059. Again, you will need to 'Rent' the slide hammer that makes this thing work.
Pilot Bearing Remover
New bearings can be driven in with a bearing/seal driver, also a 'Loan/Rent' item, or you can use the correct size socket for the job of 'Driver'.
REMEMBER!
You CAN damage this bearing easily!
Tap it into place gently, and it DOES NOT have to bottom out in the bore!
The bearing only has to go in far enough for the smallest of the grease seals to fit in the bore with it, any farther, and you have gone too far!
Spindle Bearing & Seals,
LUBE THE BEARING & SEAL FACES BEFORE YOU ASSEMBLE THINGS AGAIN!
I would also use 'Never-Seize' on the metal to metal contacts before assembly, it will make things MUCH easier to work on next time!
.................................................. .......................
Step 14.
Axle Removal & Inspection.
At this point, you can pull the axle straight out of the axle tube and get a good inspection of the U Joint.
This would be an EXCELLENT time to replace it if you find any problems!
Also keep in mind, this is an EXCELLENT time to prepare the axle housing for air pressure if you intend to do that!
U Joints are easy to remove and replace once you have done it a time or two, but they are DIFFICULT to do if you have never done them before!
I suggest if you haven't done this before, you take the axle someplace with the correct equipment and let them change the U Joint while you watch.
REMEMBER, Presses often bend the ears of the U Joint yokes in and that is a REAL PROBLEM with this type of 'Internal Clip' U Joint!
A Cable Puller is a MUCH better way to do things.
Look for cracks in the splines of the axle, twisted splines, stuff like that is going to indicate an impending failure, and a good time to change the defective/damaged parts is NOW!
.................................................. .......
Step 15,
Checking Ball Studs.
Ball Studs are what allow the steering knuckle to swing through it's arc, and it's the part your spindle bolts to.
Normally, you can bolt up your spindle,
with or without the axle installed for a test,
And shake the spindle forward/backward and up/down to see if there is any 'Play' in the Ball Studs.
If you find very much at all, REPLACE the ball studs now!
Loosen the 'Castle Nuts' on the ball studs, but don't take them all the way off!
Use a 'Ball Joint Fork' or a 'Ball Stud Fork' & a hammer,
Pop the bottom stud first! If you don't the top 'Split Ring' won't let go enough to get it out!
Once the bottom s popped, you can pop the top loose if it hasn't already, and take the Castle Nuts the rest of the way off, then remove the Split Ring from the top of the Steering Knuckle....