Registered User
Join Date: Apr 2002
Location: Austin, TX
Posts: 93
valve cover smoking and throwing oil
---
Jeep 83' Cj7 258 with Painless Wiring, Weber 32/26, and computer system removed.
Last summer I rewired my Jeep with a Painless Wiring kit. While I was at it, I also replaced my carb with a Weber 32/36 and pulled out as much of the vacuum system as I could. After adjusting the timing and working through some carb issues, I thought I had it running pretty good.
Then it started smoking. Pressure built up and it blow the PCV valve, which was clogged (dripping) with oil. Valve cover smokes like a chimney (white smoke) and begins throwing oil as soon as I start the engine.
I am looking to do a sanity check and verify I have all the right hoses going to all the right places. Does anyone have a diagram or labeled picture similar setup that they could post? Everything looks good from what I've read, but I really think I may have something screwy.
Also, any other suggestions on where to look or what to do (avoiding gaskets and seals and want to verify everything else beforehand, as I am planning on a complete engine rebuild later in the year).
Registered User
Join Date: Aug 2005
Location: Phoenix
Posts: 3,809
PICS? por favor
---
91 YJ Sahara, 4.0L, AX-15/NP231, D30/D35@3.07
12 Cherokee 4x4,3.7L,42RLE/MP1522, D30M/8.25@3.73
Emission test=YES
"Non Vi Sed, Arte"
Registered User
Join Date: Apr 2002
Location: Austin, TX
Posts: 93
Cannot do pictures, as I have everything taken apart at the moment. Figured I would replace some of the old hoses (spliced, re-spliced, joined, ect...a 25 years worth of mess), replace the PCV, clean up the oil which sprayed all over everything, and use this opportunity to re-run everything nice and neat like.
Here is a posting I've been using for reference…
http://www.jeepforum.com/forum/f8/ct...2-36-a-921742/
What I need to know (some of which still confuses me)…
Vacuum Canister (four ports...left to right):
Going to top port on Weber (evap canister bowl vent)
Green hose going into firewall (no idea after that)
Small port below/offset from round disk
Small port on a round disk

Basically, I need to verify I have the correct port hooked up to the PCV splitter (which one is canister purge?) and verify where the other line needs to be run/capped.


There are four small vertical ports which used to be hooked up to the vacuum system near where the PCV splitter is located which used to be a part of the computer vacuum system. Which, if any, of those do I still need to use of these? If unused, do they need to be capped?


On the brass connector for the Factory Air Cleaner TAC system, both the small and large ports are capped (P.O.). Do I need to run these?


On the valve cover side of the Weber are two small ports. Currently, I have one running to my distributor and the other is capped. Does this sound right?
Jeep. There's Only One
Join Date: Jan 2007
Location: Doylestown, PA
Posts: 7,107
Try these pictures for reference and since you have a Weber carb, the vacuum and vent lines should be connected as seen.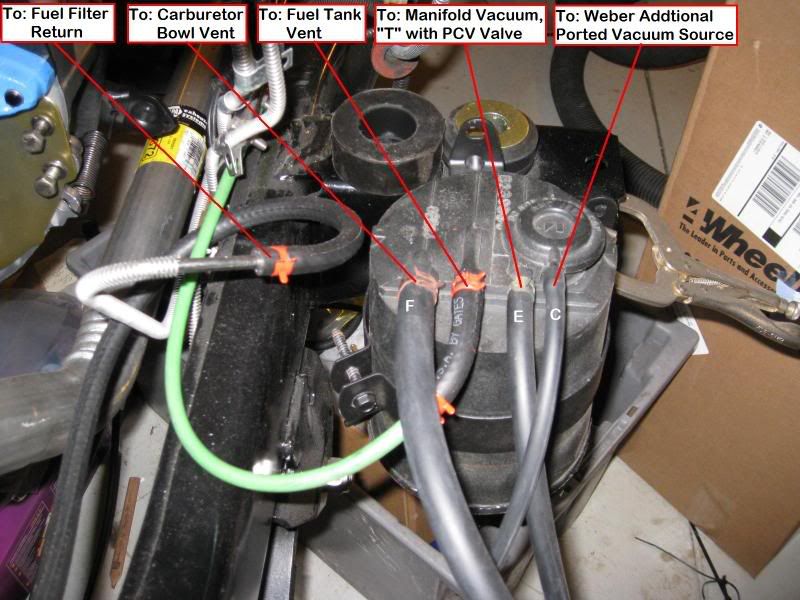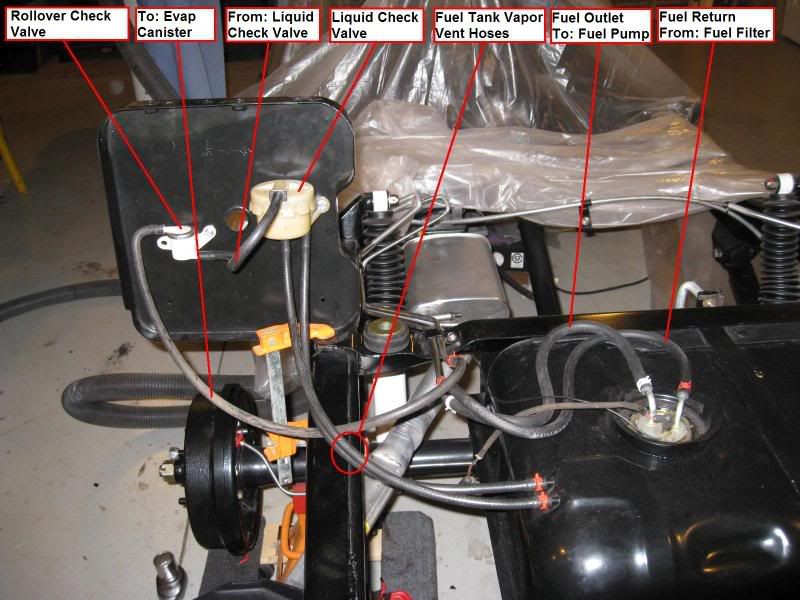 ---
.
1984 CJ-7 Renegade
__________________
Registered User
Join Date: May 2009
Location: Seattle
Posts: 464
Currently Active Users Viewing This Thread: 1

(0 members and 1 guests)
Posting Rules

You may post new threads

You may post replies

You may not post attachments

You may not edit your posts

---

HTML code is Off

---