Nice looking jig. I'm just thinking out loud here as I look at the pictures.
I know it's impossible to completely retool overnight and you have to keep the production line running I'll just point out a few things I see going on where improvements can be made.
I'll quote the first picture with a couple items circled: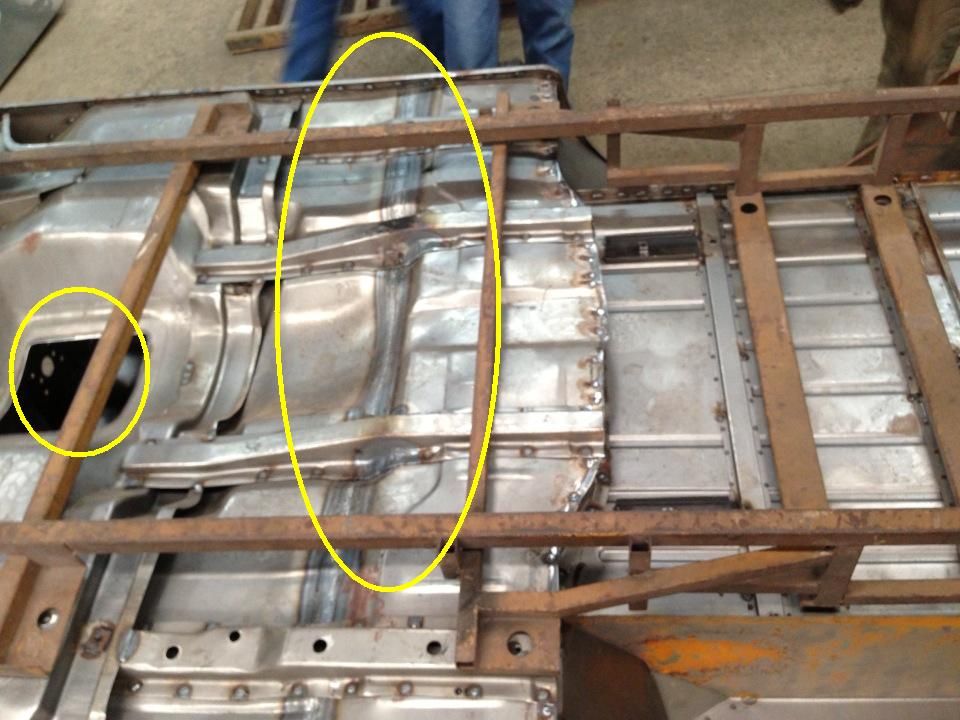 The large oval is a weld that goes completely across the tub floor. Do you have machinery large enough to make the entire floor pan one stamping to eliminate this weld? Also the ribbing in the main floorboard area seems to be very weak/undefined to me compared to the factory tubs whereas the ribbing in the rear floor section and the wheelhouses is bold and crisp just like the originals were.
The smaller oval is of the transmisison tunnel hole, which should be enlarged to accomodate the newer transmissions in the 1980-86 CJ7 and 87-95 YJ Wrangler. This tunnel hole is the same from '80-95 so that's a lot of tubs covered.
Next picture: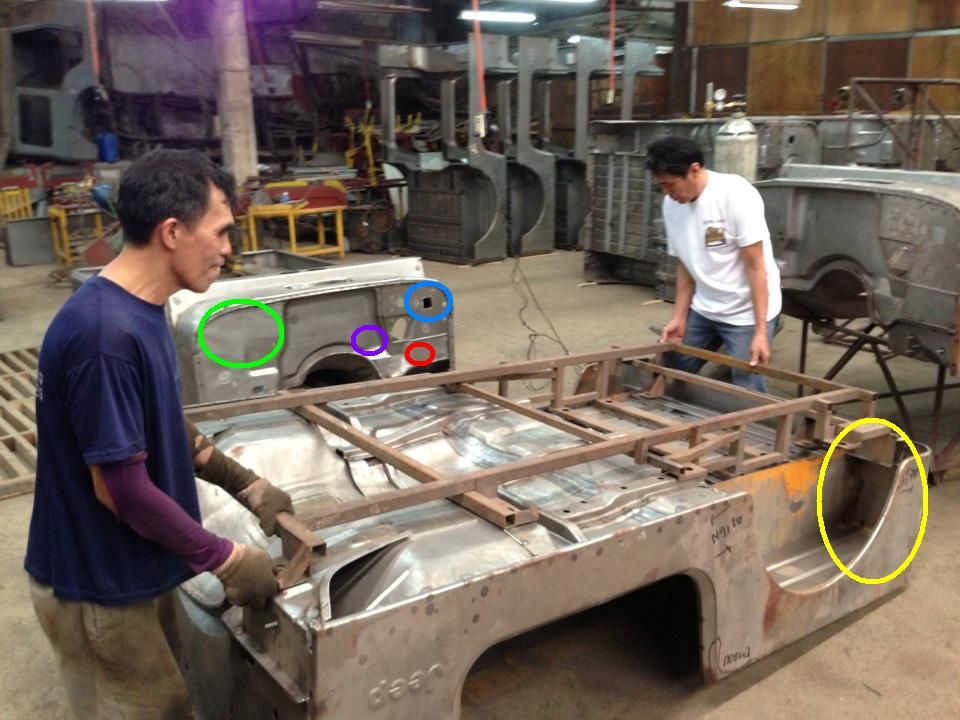 Here we have different colors.
In yellow we can see there is no baffle in the rear wheelhouse. This is really needed on all tubs to mount the roll bar to and also the liquid check valve and rollover valve mounts here. It also protects the fuel filler hoses from debris from the tires. All CJ'7's had these baffles as do the YJ Wrangler tubs. One rib on the wheelhouse needs part of the rib "paused" to make way for the roll bar mounting. I believe one of the other tubs pictured earlier in the thread was set up this way. Was that one a YJ tub?
In green it would be quite handy to get all the nut plates welded on and proper holes for battery tray mounting.
In Blue the bulkhead connector hole isn't the correct size and two holes missing to mount the fuse panel bulkhead connector
In Red there should be an oval hole for clutch linkage rod to pass thru firewall.
In Purple/Violet is where the angled throttle cable square hole and reinforcing rib goes.
If you keep at it Rommel you may eventually be able to produce pieces better than AMC/Jeep was rolling out in the 1980's