Registered User
Join Date: Jul 2008
Location: canada
Posts: 386
trying to clean up thw wires under ther hood
---
So i am getting ready to cleam up my engine bay and wiring...hoping someone could point me a tread that would help my searching hasnt turned up the right results....anyway here's a pic ...you can see its a mess, it does run i drove it home like this n it ran pretty good.Any suggestions of what this should look like or how i can clean this up would be great... im going pretty much stock not wanting to add anything i dont need. Also i pretty much a noobie at wiring. Its been hacked i know like the big group of wires running down the right support rod (not sure of the correct name) that goes no where lol...Anyway any help would be great
Registered User
Join Date: Sep 2008
Posts: 114
Wiring can really make or break a good build, in my opinion. I would start with a wiring diagram and figure out what you need and what you can get rid of. I cannot think of any threads relating to this topic, but I sure there a plenty out there. An internet/forum search is always a good place to start.

You also need to decide what you want to enclose the wires in, such as plastic loom, fabric loom or even armored (aluminum) loom. I would not recommend the armored loom, it would be expensive and a pain to trouble shoot. The plastic loom would look good and is the cheapest option.

Waterproof connectors are a good option, but expensive. If you can, reuse the original ones, but make sure you take them apart and clean the connectors. I would suggest investing in a connector pick set, I got mine though Snap-on, but I am sure they are available elsewhere. Using a screwdriver usually results in breakage.

Lastly, take your time and pay attention to detail. It makes all the difference. Post up some pics so we can all enjoy the results.

The attached wiring diagrams are the same, but different sizes, in case you are to copy and paste them for reference purposes.
---
If you can't be handsome, you'd better be handy.
Jeep. There's Only One
Join Date: Jan 2007
Location: Doylestown, PA
Posts: 7,046
You can do the "Nutter" bypass and eliminate quite a bit of wiring. Search the forum on the details but caution yourself as to what can be removed and still pass local emission laws for where you live.
Pictured below is what was removed from my CJ wiring harness after installing a Weber carb and MSD ignition system but the same can be removed after the Nutter bypass too with the exception of the factory ignition system.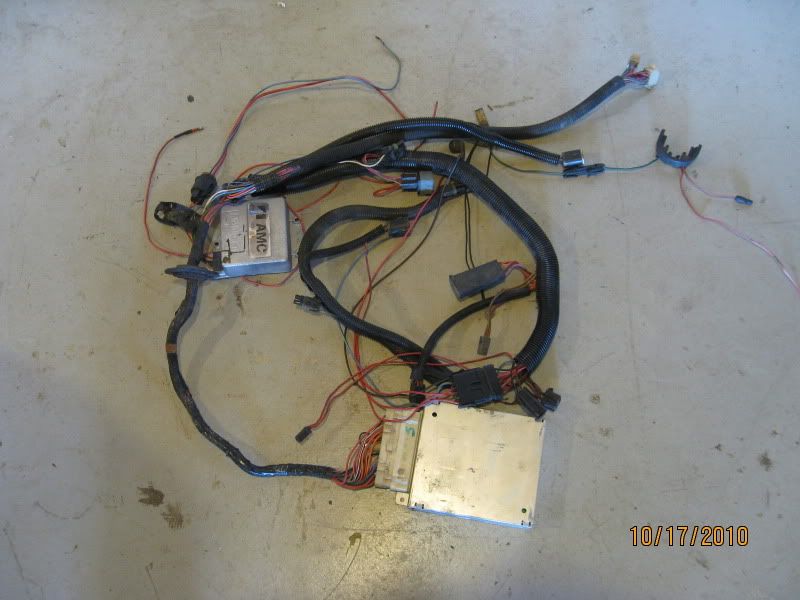 ---
.
1984 CJ-7 Renegade
__________________
Registered User
Join Date: Jul 2008
Location: canada
Posts: 386
I did some searching and going over the wiring...its seems as if there is a nutter bypass or somekind of bypass done. So im thinking i will to the nutter as described on aanother thread i just read. Just got to figure out what wires i have to keep after. Thanks for the quick response. any more tips are welcome...
Registered User
Join Date: Apr 2010
Location: Whitehouse Stn,NJ
Posts: 1,459
Guys I'm doing a complete resto on my '86 CJ7 and yanked the old 258. I put in 302 Ford V8 in its place. Question I have for you below is did I successfully remove all the nutter wiring below? The goal is to keep the starter wires, alt wires, oil pressure guage wire, temp guage wire and what else? Let me know if I can still remove stuff from the wiring that I need to keep, thanks.
Originally it was all together and still connected here at the connectors circled in yellow: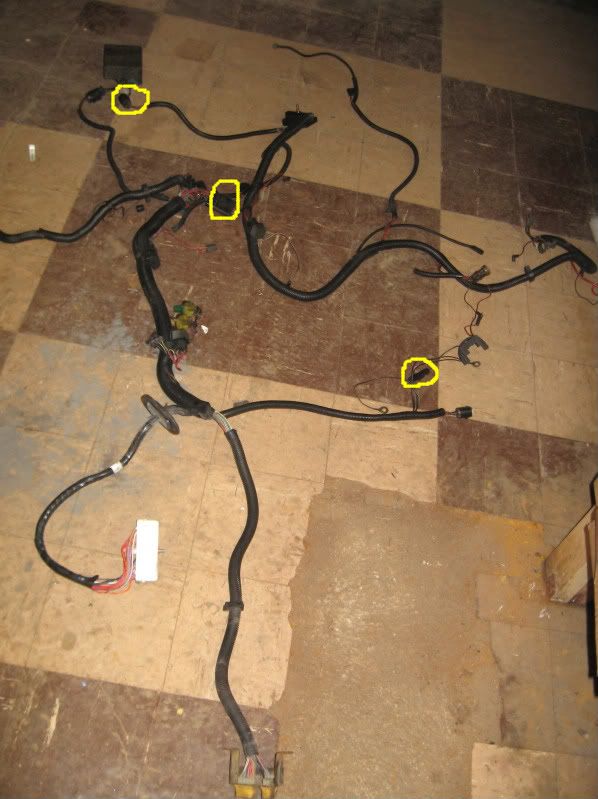 A little closer:
I disconnected at the 3 points above, so am I done or do I have more to do? thanks
This is everything I've eliminated so far below: Keith it looks like you eliminated that wide flat connector and that half circular plug thing too. I guess I need to do the same as well. So really what do I need that comes from the firewall plug? thanks
Currently Active Users Viewing This Thread: 1

(0 members and 1 guests)
Posting Rules

You may post new threads

You may post replies

You may not post attachments

You may not edit your posts

---

HTML code is Off

---