Registered User
Join Date: Aug 2008
Location: Austin
Posts: 243
threaded frame inserts where can i get?
---
Installing a factory swaybar on a cj without one. The holes are already there from the factory. Does anybody know where I can get the threaded inserts, it looks like they were pressed in. Any suggestions?
Web Wheeler
Join Date: Jul 2008
Location: Inwood
Posts: 3,802
Do you mean Rivet Nuts or Nutserts? The use a tool to compress a portion of the insert to grab the material they are being used in.
http://www.mcmaster.com/#rivet-nuts/=2f6ymj
If the holes are there, are you sure a nut is not is not already welded inside the frame?
Registered User
Join Date: Aug 2008
Location: Austin
Posts: 243
No there is no nut welded inside of frame sure of that
Registered User
Join Date: Sep 2007
Location: Columbia, SC
Posts: 86
I cut some thin rectangles out of 1/4" steel. They need to be slightly longer than the frame is wide and small enough to fit in the frame opening closest to the bolt hole for the swaybar bracket. Drilled and tapped to a fine thread 7/16 or 1/2 inch (can't remember which) and fished into position with string and coathanger. Once over the hole, attached bracket with a grade 8 finethread bolt. The metal rectangle will spin in the frame and grab the sides and will be there forever. Locktite recommended.
Getting the bolt started can be a bit tricky as the rectangle will tend to slide around while you're trying to thread the bolt into it. You could shoot a little JB weld under it to hold it into place for installing the bracket.
Registered User
Join Date: Apr 2009
Location: Melbourne, FL
Posts: 170
they are rivet nuts, i have a bunch, ill send you a handful but you will have to buy the tool! Let me know
Web Wheeler
Join Date: Jun 2007
Location: Saunderstown
Posts: 2,361
The swaybar frame brackets mount onto threaded tubes in the frame. The tubes stand proud of the frame, a little.
In this pic, the right one is there, but the left one was in rough shape...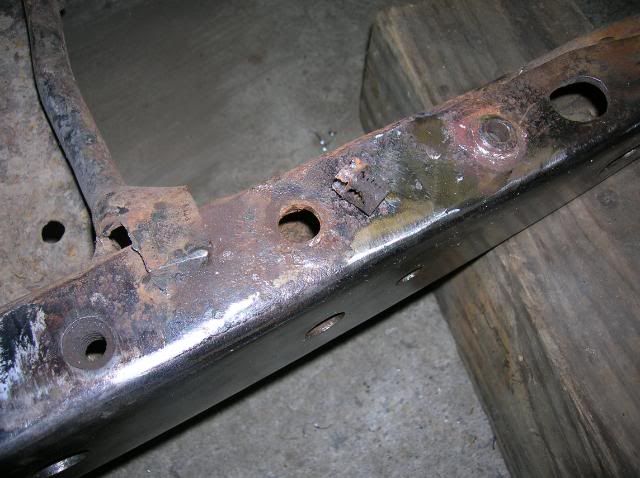 Here's how I replaced it. I took a piece of new tube, and welded a 3/8"-16 nut to the bottom of it...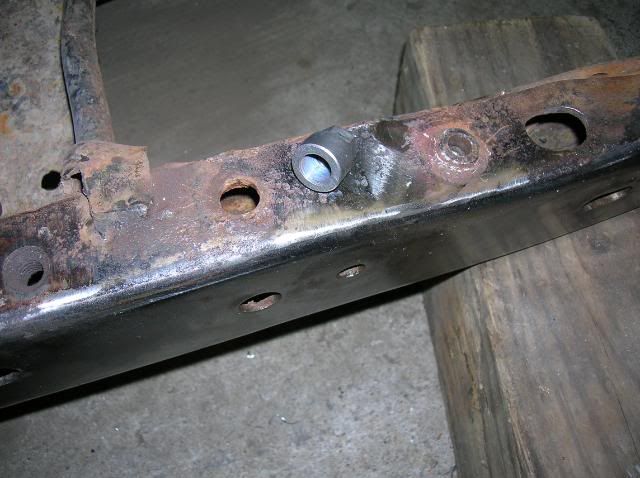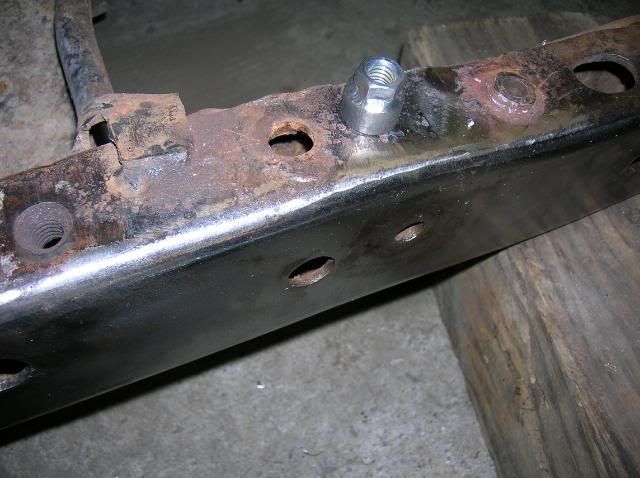 Then, welded it into the hole...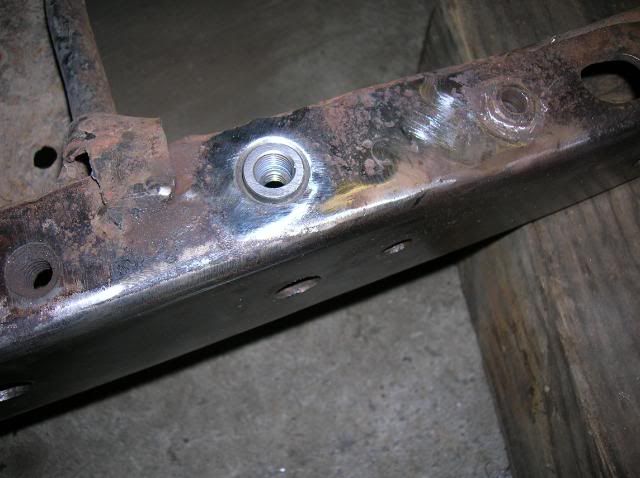 Rich
---
'79 CJ5, AMC 360, t-18/d20 twin stick, dana 30/amc20(Mosers), Edelbrock Performer intake, Holley 600, ps/pb, DUI HEI, 'glass tub/1pc. tilt nose, 33x12.50 BFG AT's.

There's a fine line between "hobby" and "mental illness".
Registered User
Join Date: Nov 2007
Location: Lake Zurich, IL
Posts: 423
I took flat bar stock, drilled holes at a spacing to match the frame, and welded nuts to it. Then I fished it into the frame and attached the sway bar brackets. The long piece of flat stock won't spin around once you get one bolt started.
Registered User
Join Date: Sep 2008
Location: Boerne
Posts: 126
Look in the cj rebuilder's manual.
It is discussed in detail with pics.
Registered User
Join Date: Sep 2017
Posts: 1
i need 4 of them. i have a 78 cj7 and all of them are wasted. if you call me i will by them. 614-278-9458 thank you!
Registered User
Join Date: May 2017
Location: Wichita
Posts: 33
The swaybar was always the first thing I removed on my CJs, even the CJ with stock suspension. Do you guys really get that much body roll without them?
Registered User
Join Date: Feb 2009
Location: Memphis
Posts: 265
Registered User
Join Date: Dec 2012
Location: colorado springs
Posts: 173
you can make the tool out of a bolt and a larger nut and washer. put a 7/16 or 1/2 nut on a 3/8 bolt then a washer, thread the bolt into the rivnut and tighten it up. easy.
Currently Active Users Viewing This Thread: 1

(0 members and 1 guests)
Posting Rules

You may post new threads

You may post replies

You may not post attachments

You may not edit your posts

---

HTML code is Off

---