Where do all the days go? Well at least I'm here to post some significant progress and if it keeps going like this I might just be able to take the Jeep for a spin before it snows.
I was getting very frustrated with the two people I had helping me with the tub because they started out on fire then quickly slowed down to not coming over at all. Having discussion with a couple other friends found me someone who is willing to get this done, and get it done quickly although his price is a little higher than the others were charging me. Oh well.. an extra $500 isn't going to break the bank after all I've spent on this Jeep over the years. So here goes:
Loaded up the tub last Wednesday night in basically the same stage of work as was last posted above. Took it to the guy that will be finishing the body work and painting it.
Here's how it looked when he last sent me pics on Saturday afternoon: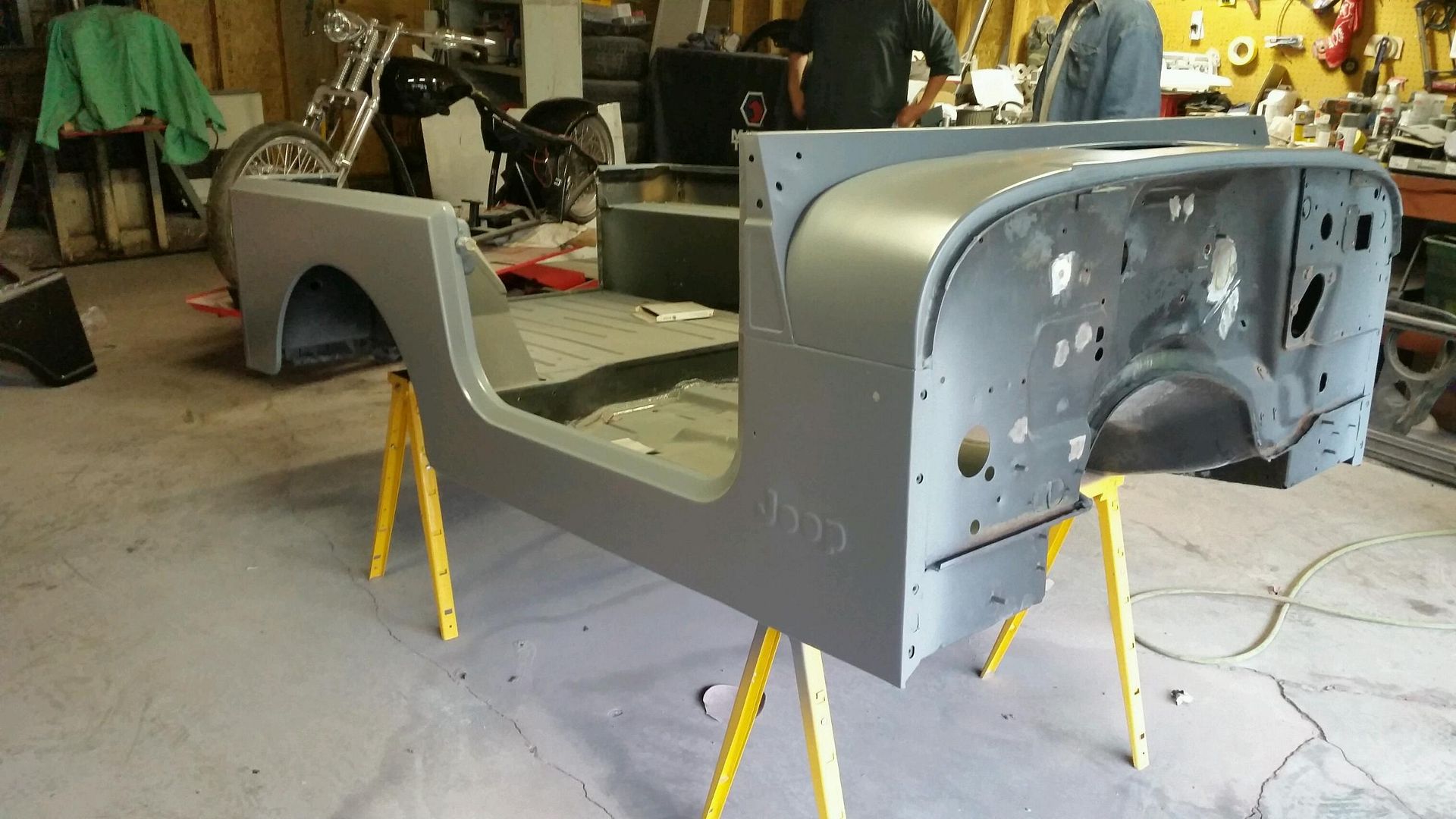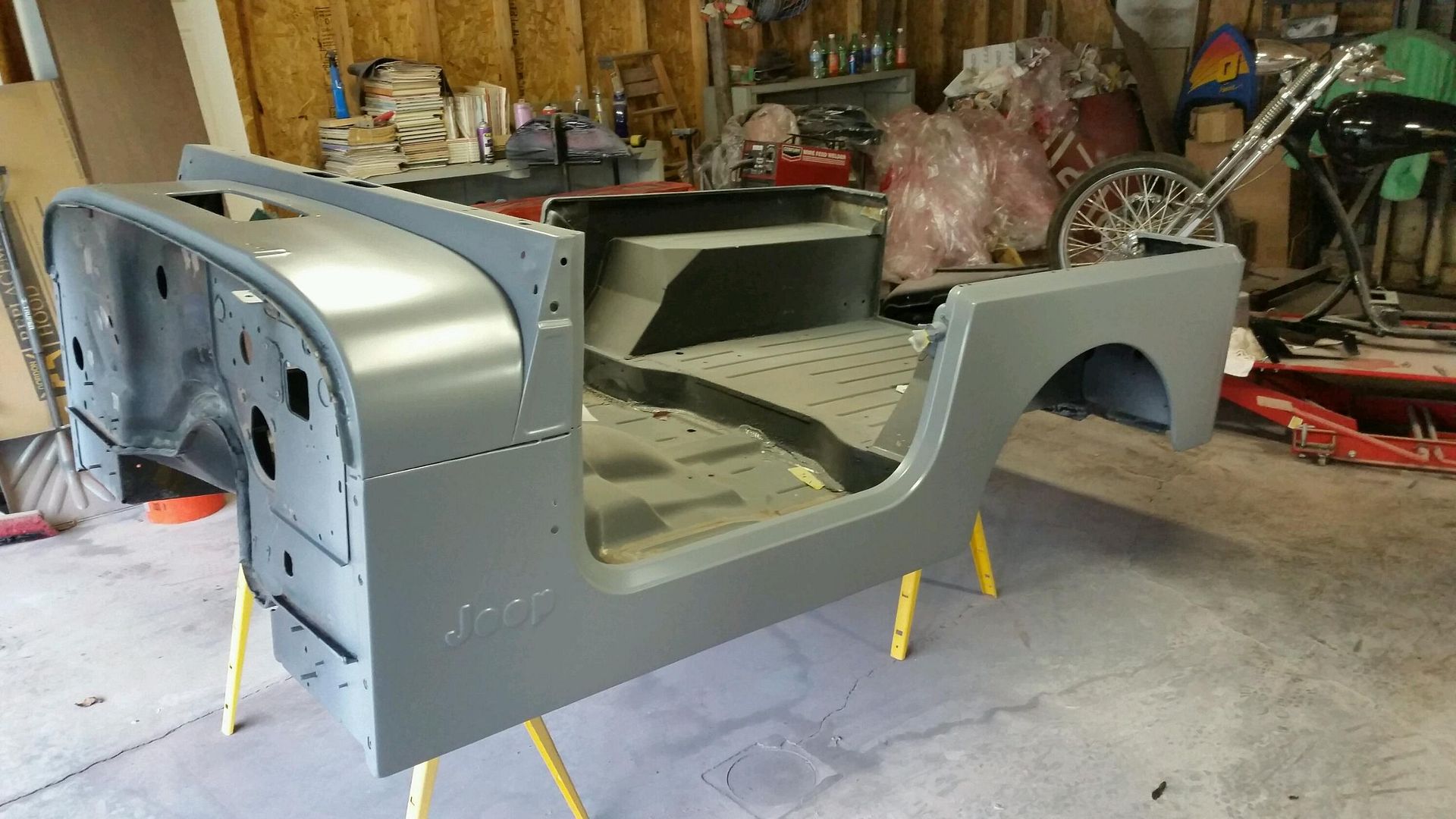 With the tub and the rest of the body parts at his place for body work and painting I was able to get the chassis in the garage. Got a lot done on that this weekend as well:
Getting the stainless fuel and brake lines laid out and installed: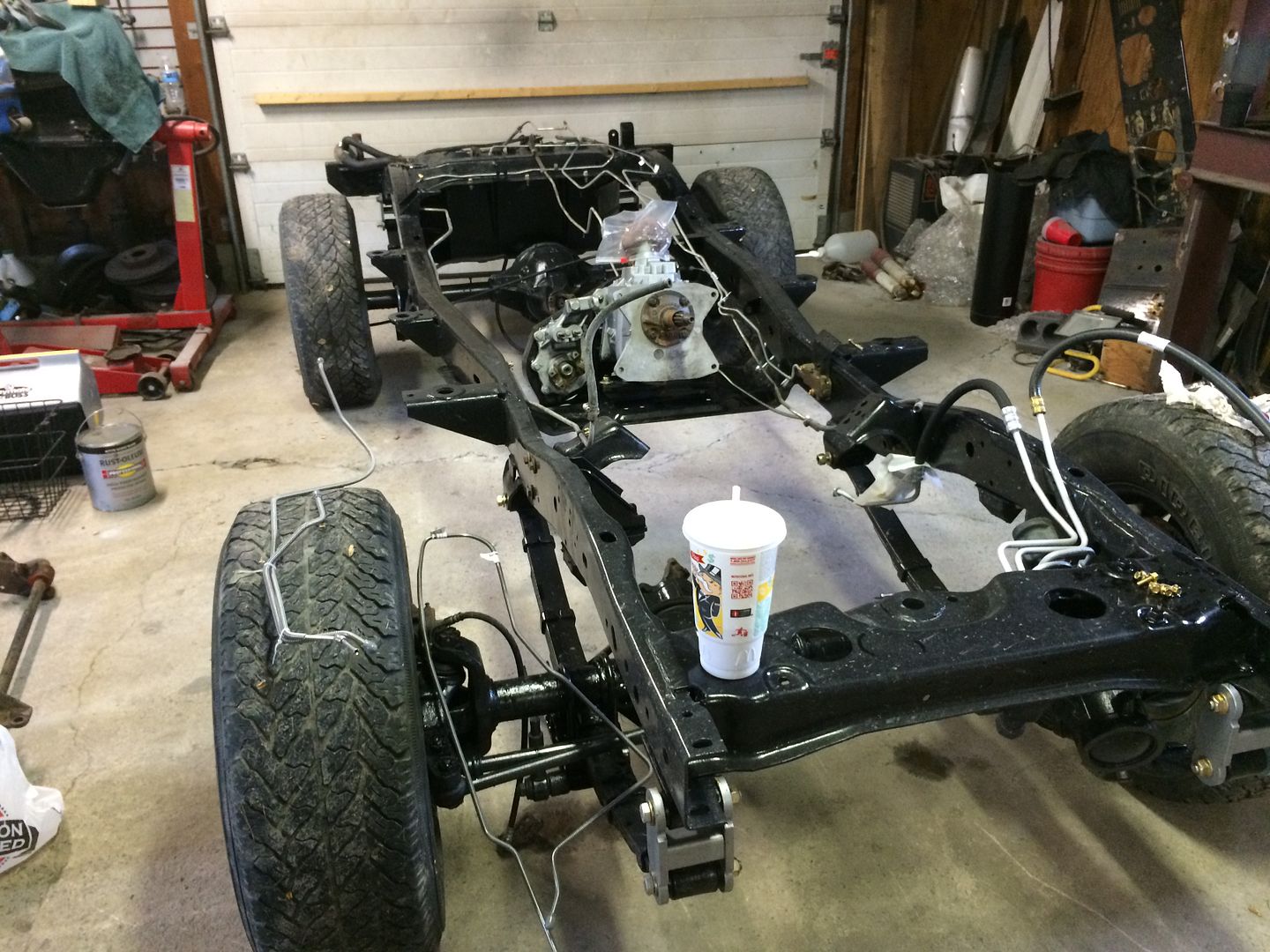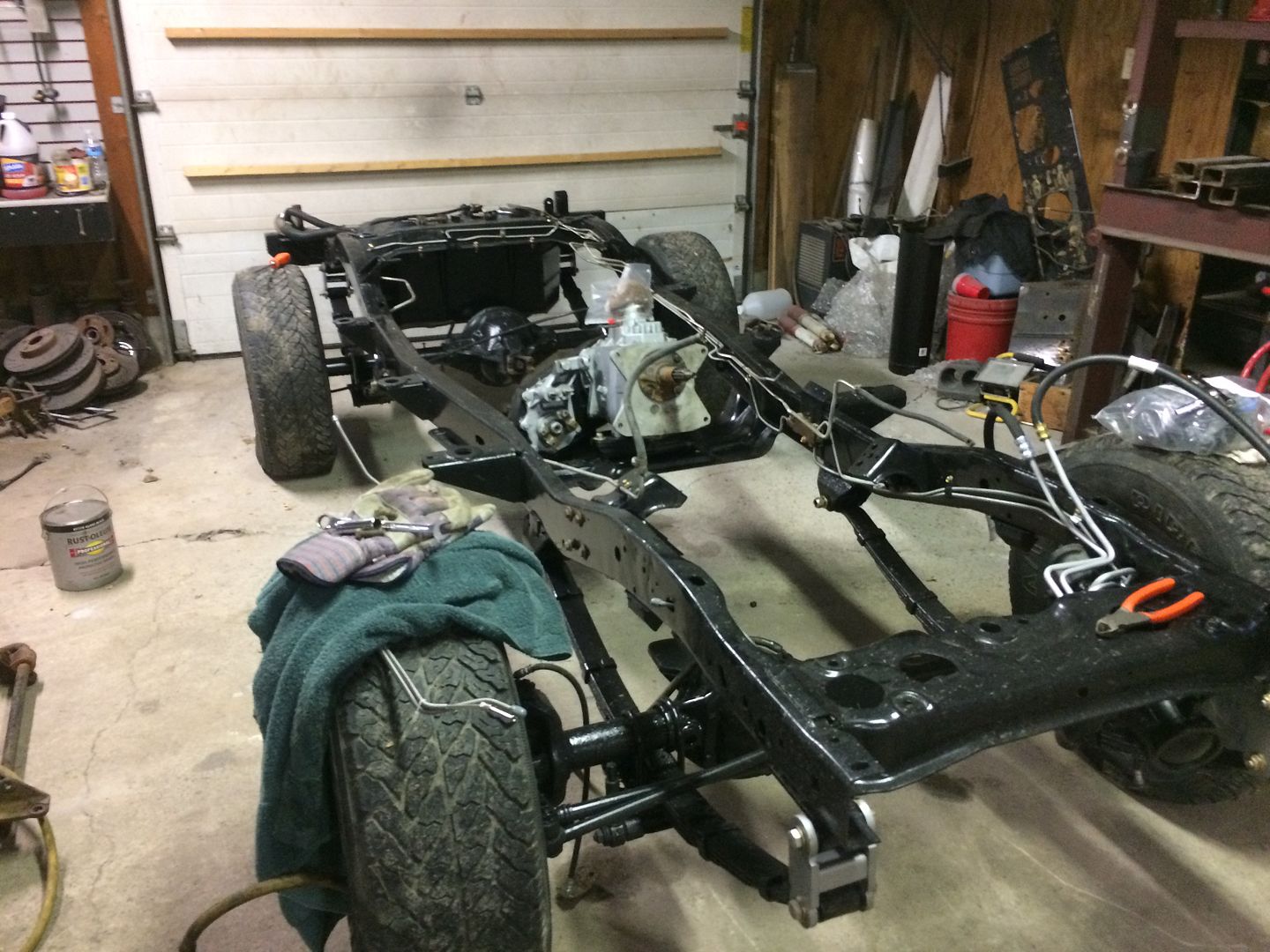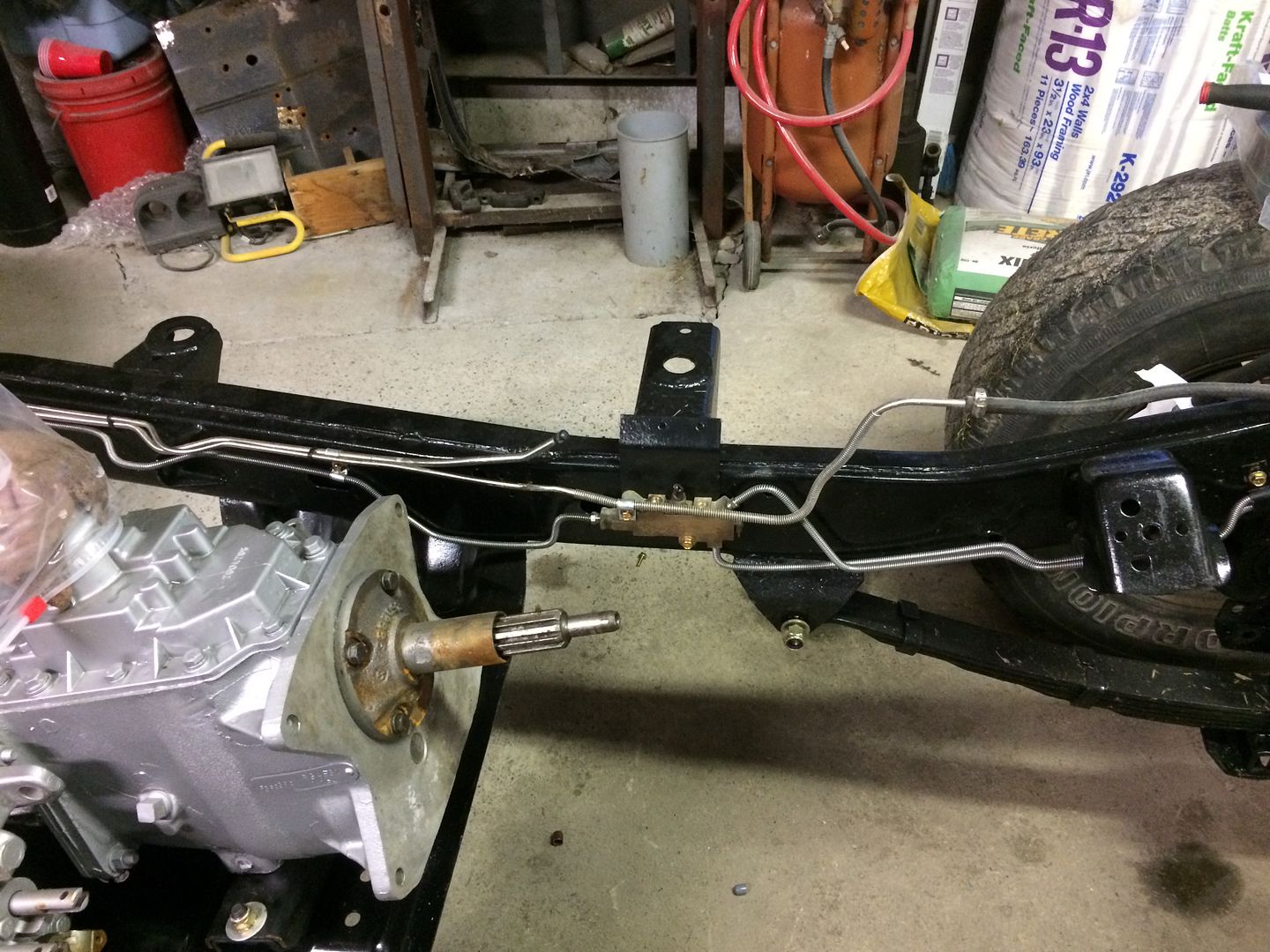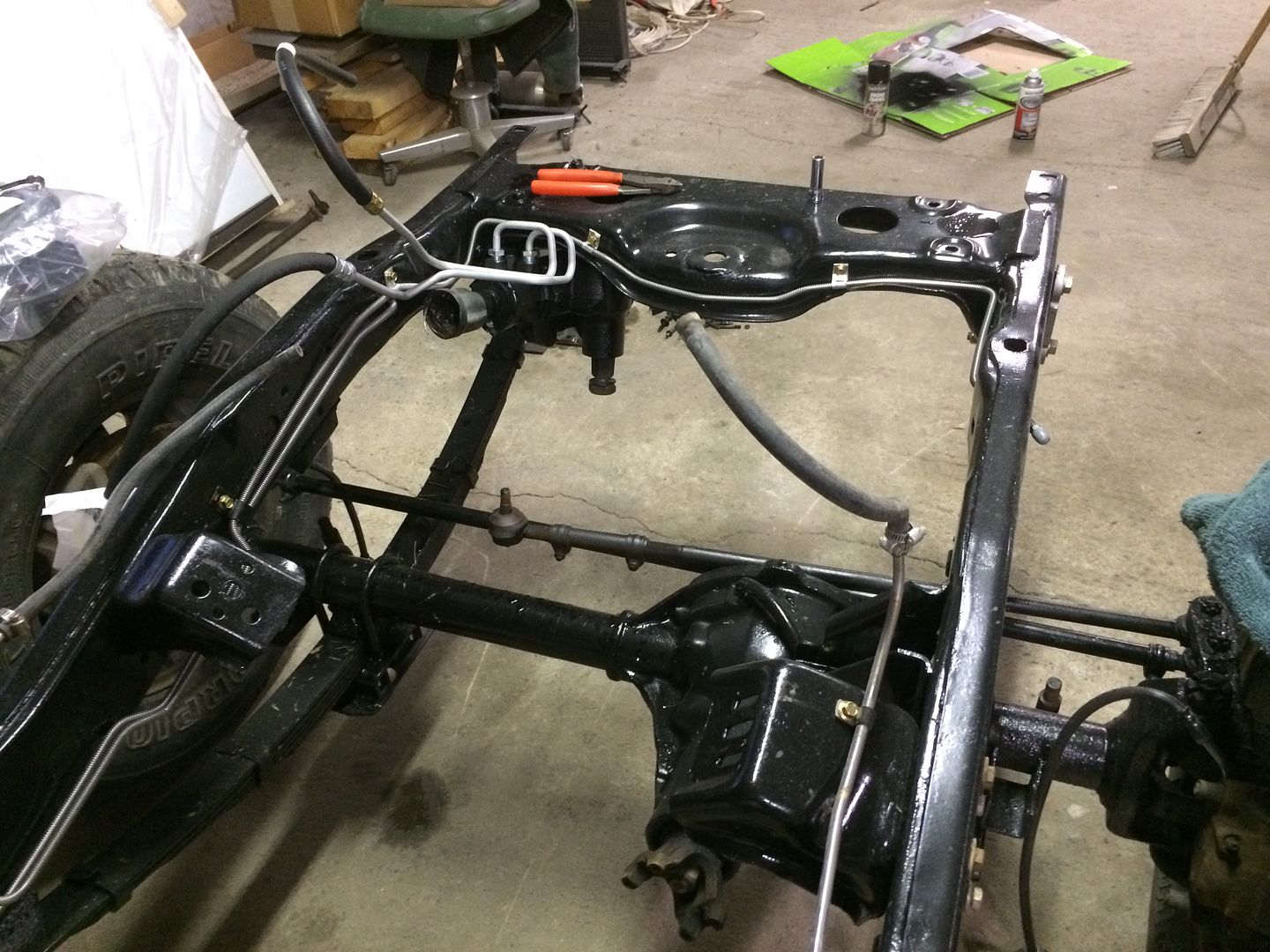 Getting the trusty 258 I-6 ready to drop back in the chassis. This came from a 1988 YJ after I cooked the original 258 back in 1997 by blowing an upper radiator hose and thinking if I drove slow it wouldn't hurt it. Guess we all gotta learn somehow.
Finally off the engine stand where it's been patiently waiting for 2 years!
Flywheel installed and aligning the clutch disc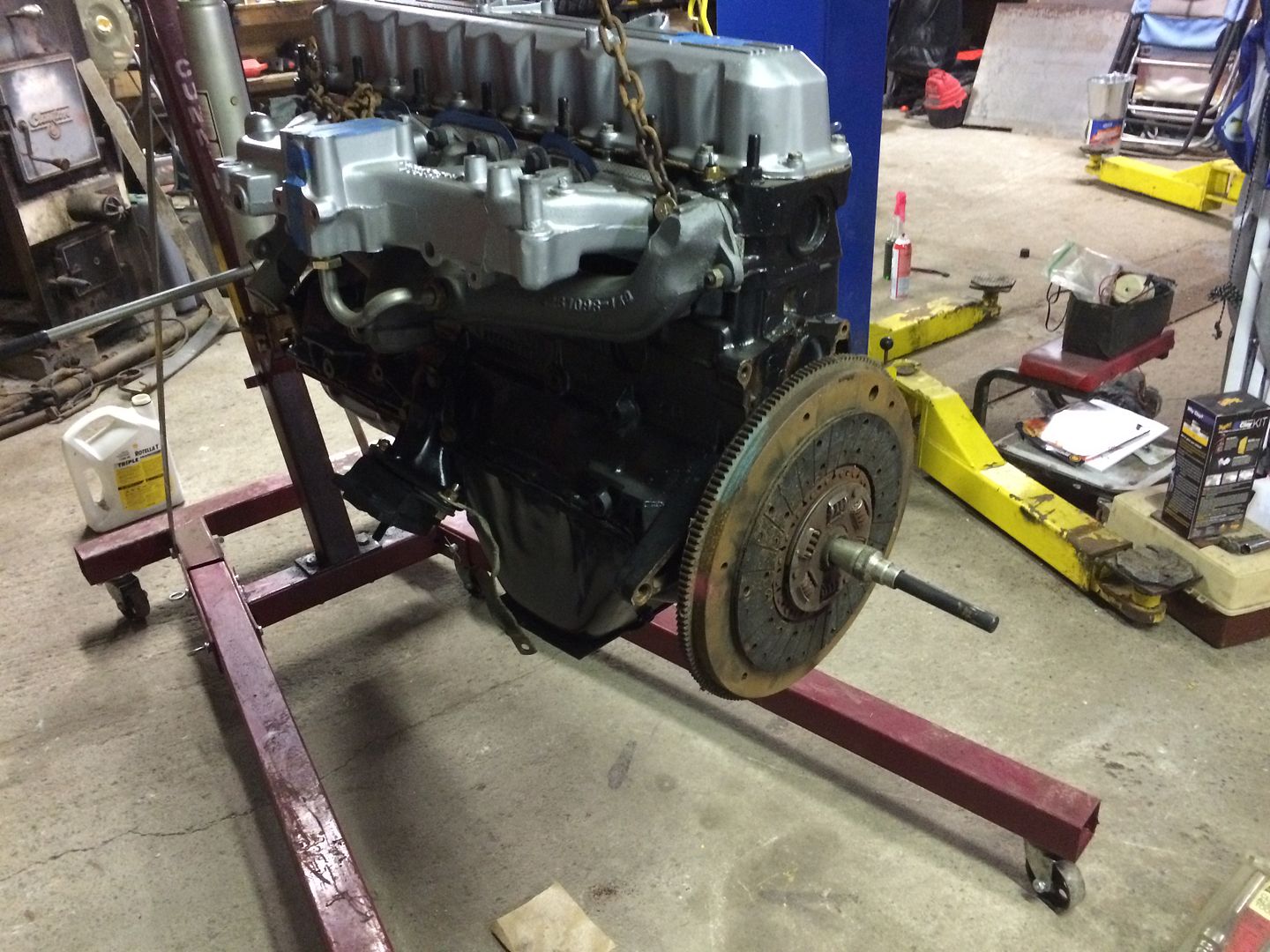 new springs on the clutch fork and a new Timken throwout bearing. Unfortunately it looks like Timken didn't actually make this... They are reboxing stuff just like everyone else nowadays.
New alignment dowels installed into the block (then I later found the missing original... Don't ya hate that?!) Clutch aligned, pressure plate bolted down and bellhousing installed with the original bolts that I also found after hunting down another set for $25. I really need to get more organized.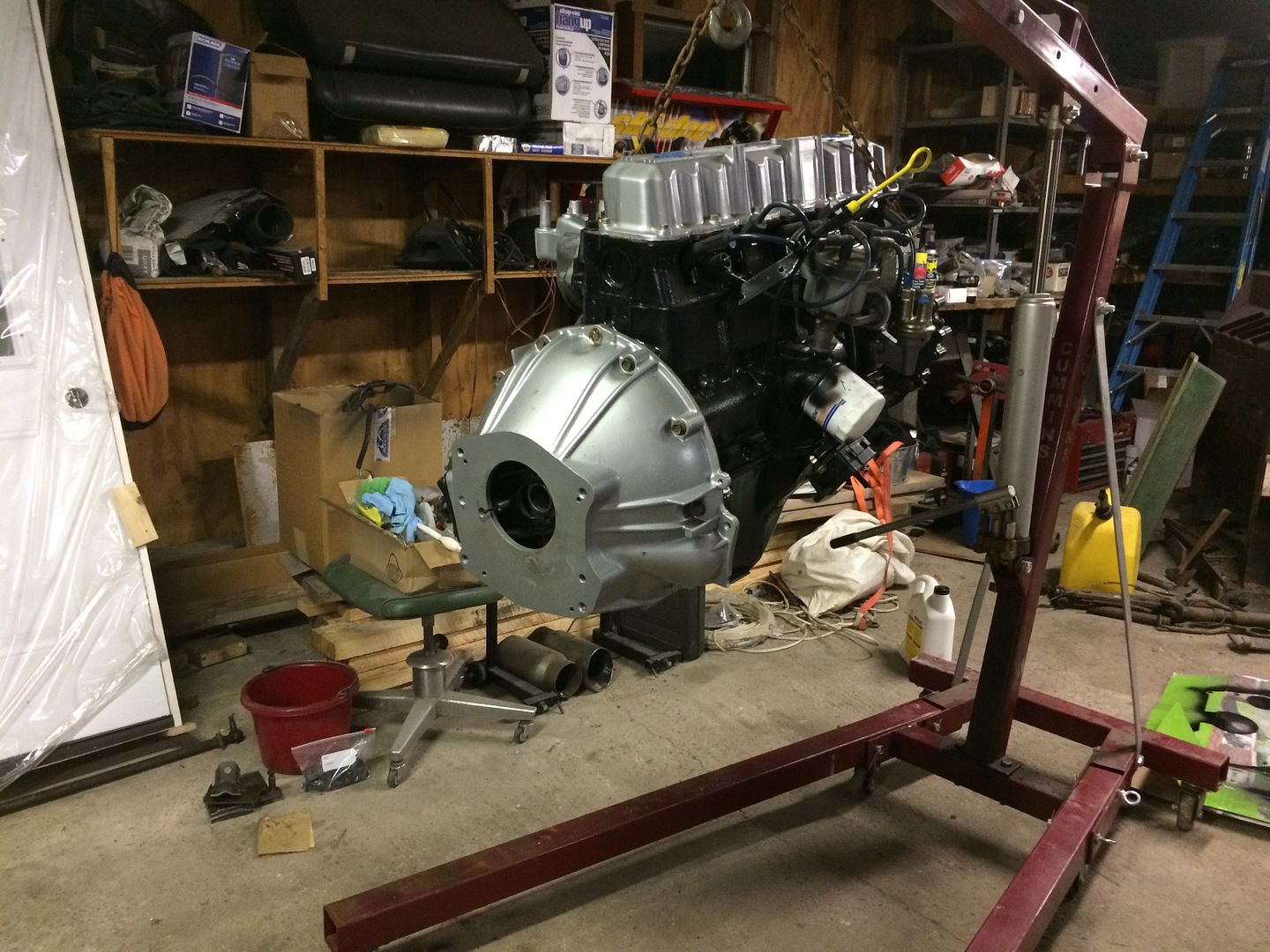 It's on its way!
Finally! Back in the chassis after 2 years. Took me a bit to figure out that I had the engine mounts upside down on both sides (the tab is supposed to go up on passenger side and down on driver's side)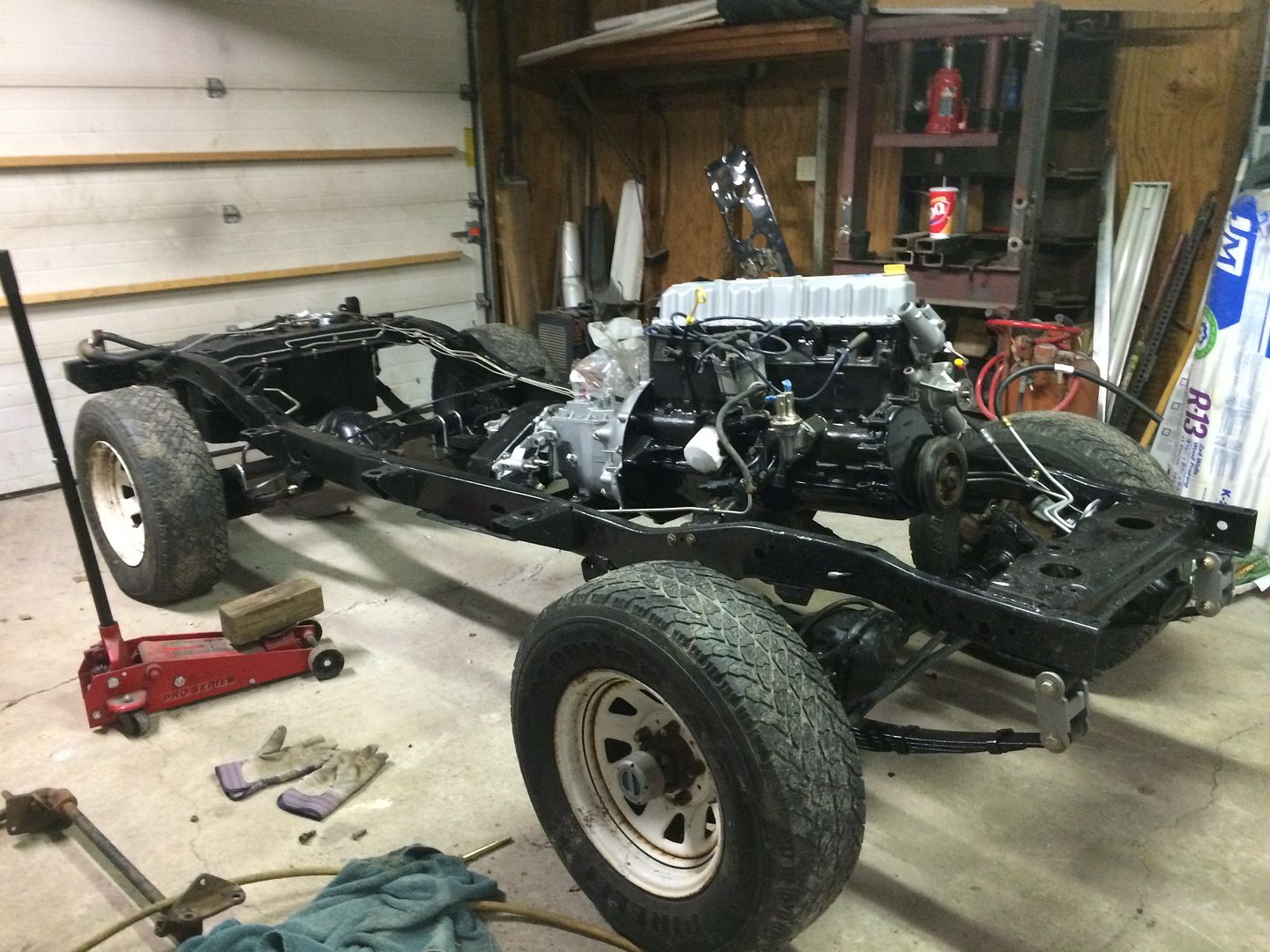 Another snag when I went to bolt up the transmission.. In years past I had to tap two of the mounting holes out from 7/16-14 to 1/2-13.. Well the other two stripped out when I tried to tighten the bolts, so I had to lift the engine back up and out and fix that. Now it's fastened well, and the bolts torqued to spec no problem.
Would ya look at that. A brand new genuine Carter BBD 1980 vintage before the stepper motors came along.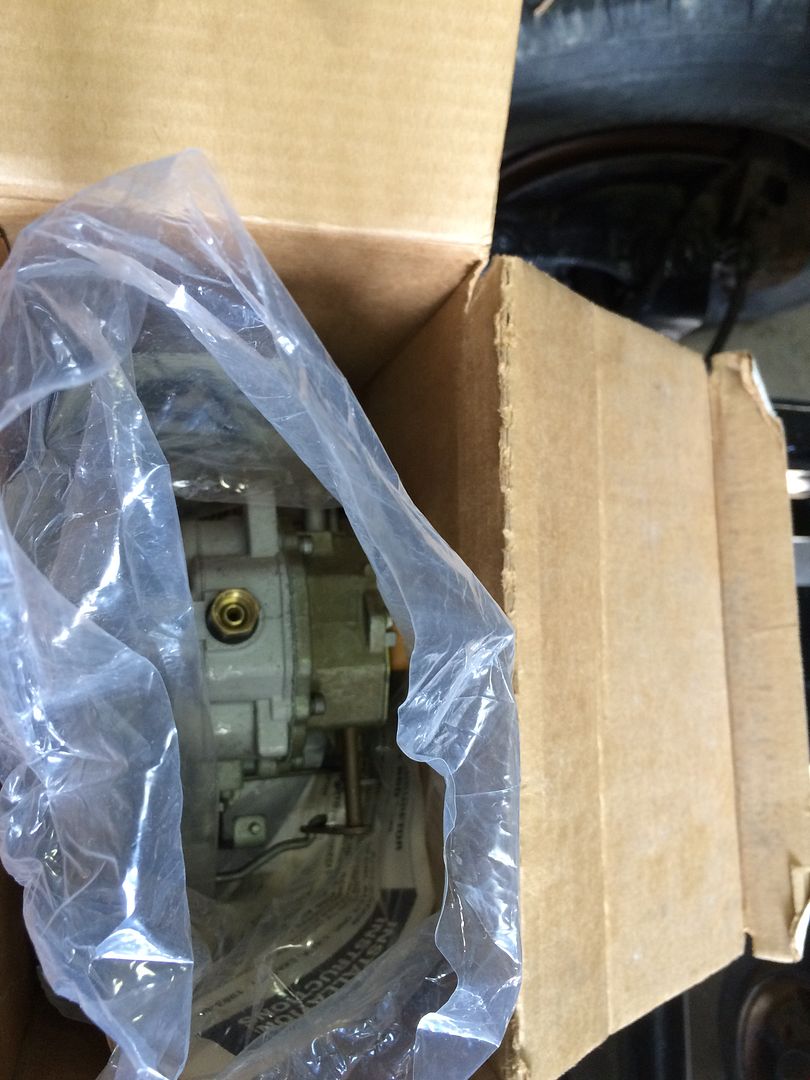 OEM studs and insulator installed and new gaskets.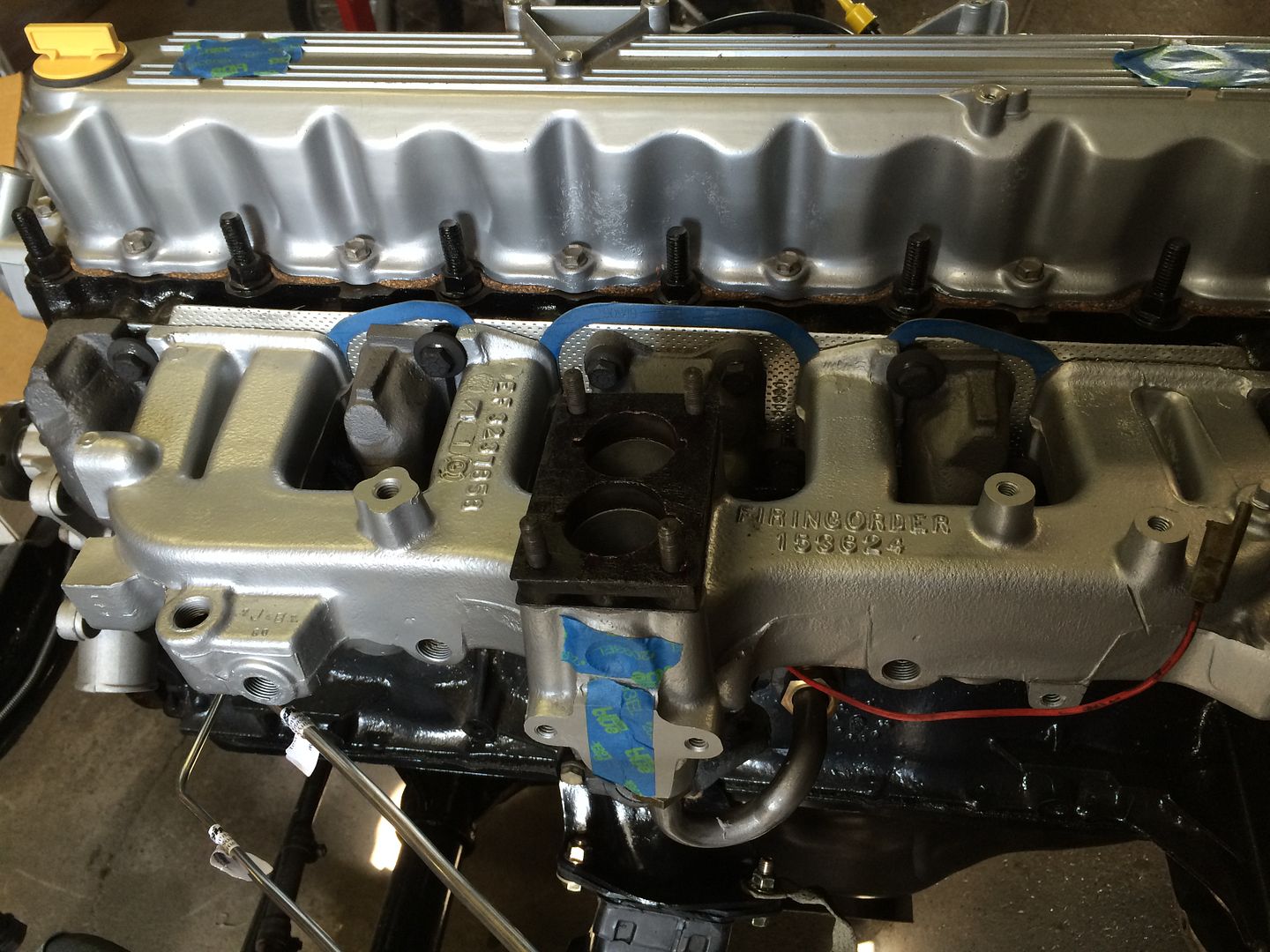 All bolted down and ready to go:
Bolted on a few other odds and ends and brackets yesterday and set the exhaust in to make sure everything is going to fit. This is how the chassis is sitting right now:
So that's it for this installment. Hoping to have the body parts back by the end of next weekend and I should have the chassis completed by then so the body can be set down and bolted back on for the final time. I think once the chassis is done and I have the body back everything should go very quick.
If anyone sees anything I'm missing so far please chime in. I want to make sure this is right before the body is back.