Swapping Turbo 350/Dana 300 into 79 CJ-7, looking for ideas and possibly a pic
---
My best friend has a 1979 CJ-7. Had a 360/3-speed/Dana 20.
I'm in the middle of putting in a Turbo 350 and Dana 300.
Tranny and T-Case are in there now, and I'm thinking of different ways to mount it to the skid plate. Obviously, the orignal holes don't line up now.
Who's done this swap, and what did you do to solve this? Simply move the skid plate back and use the stock holes?
Some sort of adaptor?
Drill new holes in the plate and cobble up some sort of spacer to bolt the mount to?
Probably asking a lot, but I'd love to see a pic of someone's setup to get an idea of what route I'm going to take.
Oh, and there is VERY little room for the front driveshaft, just eyeballing it. The kit says I might need to move the drivetrain centerline a bit, and I think it might be right.
Or just get a smaller diameter shaft for the front...we'll see.
I'll worry about that when I get the transfer case supported.
Registered User
Join Date: Oct 2003
Location: Stinktown, Colorado
Posts: 13
I'm running a 700R4/D300 combo, which is similar to the TH350...
I built a completely new crossmember to mount everything, and so far it's working just fine. I welded new 'tabs' for the bushings to bolt to. Unfortunately, I don't have any pictures of it installed in the rig.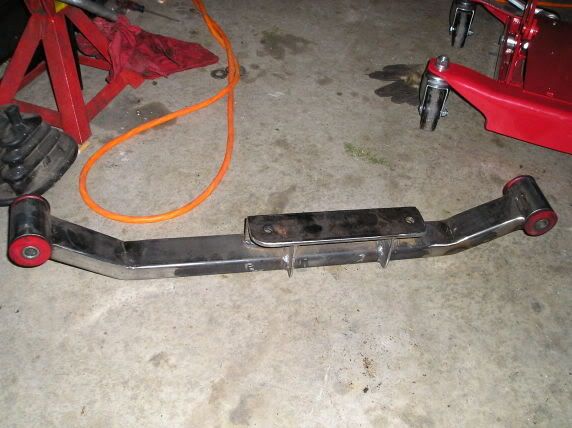 I run a D44 up front with outboarded springs, and am able to run a small diameter (1 3/8") shaft up front. When I had the D30, I had to run a two-piece front drive shaft, which was no fun at all.
Registered User
Join Date: May 2006
Location: CT
Posts: 119
I got a th350 with a dana 300 in my cj5. with the adapter plates, I had no problem with the skidplate. Got the adapter from advance adapters.

the front driveshaft was a whole other ballgame. I ended up having to have the guys in the machine shop where I work make rework the oil pan for the th350 transmission with a notch in it so that the front driveshaft wouldn't rub against it.
Go Wolfpack
Join Date: Jan 2005
Location: Wake Forest, NC
Posts: 2,577
Okay, got the skid plate installed.

I just bolted the mount on, bolted the skid plate to the mount...which moved the plate back a few inches from where it bolted with the stick trans.

But turns out there were two holes farther back on the frame that weren't being used, so all I had to do was mark the location and drill new holes in the skid plate and bolt it in.

Now I'm going to have to put some spacers under the mount, because the transfer case is almost touching the skid plate...when the engine moves, I'm sure it will hit.

Plus, raising the back of the trans/t-case assy will give a little more angle to the front driveshaft, and it's so close on clearance it could use it.

The rear really doesn't look that steep, but I will let the driveshaft maker decide if it needs a double cardan or some sort of CV setup when I get the final measurments.
Registered User
Join Date: Dec 2010
Location: yelm
Posts: 78
hey brypten do you have any pics of that notched tranny pan
---
Nothing in this truck is worth your life!
Registered User
Join Date: Sep 2010
Location: phoenix
Posts: 667
I am looking at doing this as well and would like pics from all of it includeing the O.P. thanks
Currently Active Users Viewing This Thread: 1

(0 members and 1 guests)
Posting Rules

You may post new threads

You may post replies

You may not post attachments

You may not edit your posts

---

HTML code is Off

---