Just a brief update. I got an OBA setup on it now. I acquired a good used York from a truck at work - the driver insisted the compressor was bad and was locking up only seconds after turning the A/C on, when in fact it was a loose v-belt! He had the new compressor already, so I put it on. He didn't want the old one, so I put it on my CJ!
I had to make a bracket, there are not many CJs in the JYs around here anymore. The big scrap price jump a few years ago saw a lot of house cleaning from the yards, anything older than 2000 went to scrap. Really sucks!
I started out with a piece of 3/16 (?) steel and some cardboard, making a template and tracing it on the steel. I just used the 2 studs on the front two head bolts on the driver side.
Rough cut of the base plate after using the Oxy/Acetylene torch to cut it out and a flap disc to clean it up a bit.:
http://i61.photobucket.com/albums/h6...psa31fd62b.jpg
I was going to borrow a co-worker's plasma cutter, but he forgot it the day before and he was off the day we did this. We ended up doing this at work (we as in the service writer and I) since it was a day with no work coming in, and we were bored out of our minds - hence not waiting for the plasma cutter...
Mocked up, cut, and fine tuned the support piece. Bolted it in place, drilled the holes for the top plate, heated and bent the top plate in the vice, and set it in place to tack weld them together.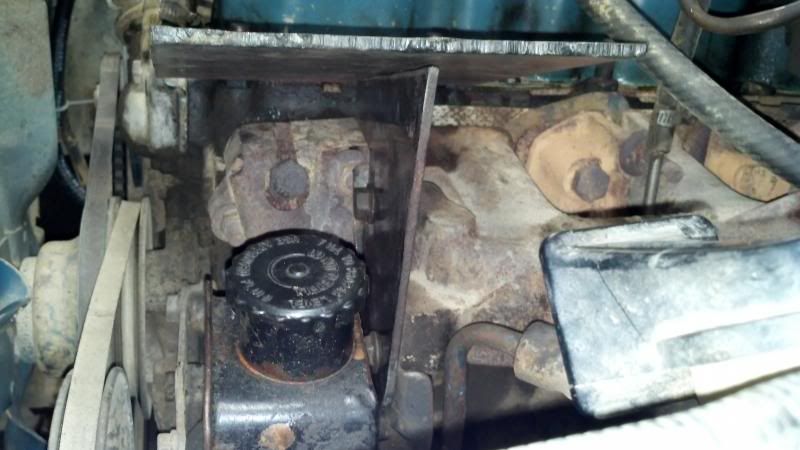 Welded both sides, he likes his stick welding. Notice the length of the support, it had to be cut down as the mounting bolts for the compressor ended up right in place of that piece.
Didn't get a pic after trimming it, but here it is installed.
A pic showing the bracket finished: