Yep, after playing with the CJ7 for a few years and reading up on everybody's build projects I have gone over the deep end. I'm going to see how many parts from different Jeeps I can stuff into my CJ to get the Jeep I want. OK , at least I think I want...
A little background. 3 years ago my back let me know my quad riding days were about over. Since we mainly liked to trail ride and I am reasonably handy with tools I figured I could pick up a CJ7 that suffered from PO stupid and have it whipped into shape in no time. After a bit of looking I found an 85 that was fairly stock with the only mods being a 4" lift and 33's. Best part was that it was an Arizona desert Jeep with no rust! OK, so it barely ran, had breaks that defied logic, and refused to drive in a straight line. How hard can this be?
If I had only known
After pulling the oversized Holley and assorted PO fuel system nonsense and installing an MC 2100 and fuel pump it ran. Well better anyway. A team rush upgrade along with some dizzy work yielded a 4.2 that actually ran half decent, and after a Sea Foam job that had the neighbors calling 911 (literally) no longer knocked and wheezed. Deletion of a long clogged catalytic converter brought on enough power to make the brakes and steering scary.
Fast forward through the usual brake and suspension work, throw an an old 8274, sliders, high jack and some goodies and you got this.
A decent trail Jeep, fun on the beach, but OH so underpowered with the 3.55's and 33's. Plus being open on both ends was no fun, so in go the 4.55's and lockers on both ends along with a 1 piece axle kit for the AMC 20 rear end and all new Spicer joints to limit the weak spots.
OK, now we have a useable CJ that is off to explore the NW as only can be done in a jeep with soft top and doors!
Until the first Oregon winter!
Since CJ7 doors and tops are rare as honest politicians in our neck of the woods, I ended up buying a set of YJ doors and hard top and modifying them to fit the CJ. The following summer I decided to go to Wrangler 1/2 doors so I had a little metal between me and road debris being thrown by other vehicles. At this point I was calling it the CJWrangler thanks to the YJ parts.
Fast forward to a few weeks ago on the beach. While running with a couple of Wranglers and a Cherokee I was definitely the slowpoke in the group, and in one particularly deep hole I had to fight my way out and smelled... clutch.
Well, time for a clutch. and you know any good CJ owner can't just change one part without doing several others while you were in there. So, I bought a new clutch and this: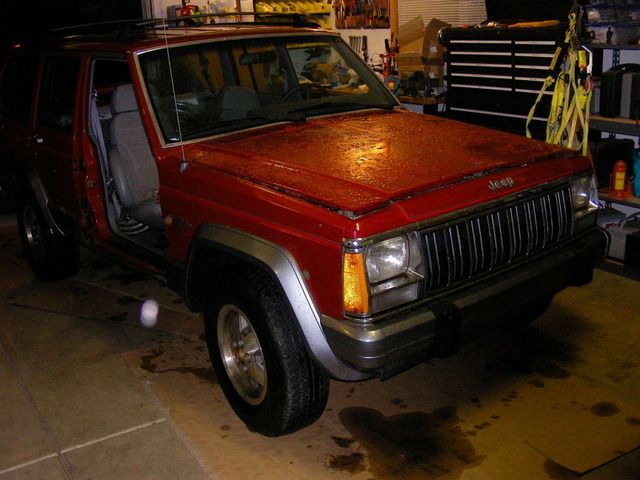 OK, stay tuned and I'll explain...