Registered User
Join Date: Sep 2007
Location: Pennsylvania
Posts: 671
repairing rear frame on CJ7 (picture request)
---
Hi,
I've been searching around and I can't seem to find what I'm looking for and was hoping for some ideas. I have the typical frame rot by the rear spring shackle hangers. I was planning on cutting off the rot and grafting on rectangular tube 3/16" thick maybe 2x3 or 2x4. I was going to then plate on the outside and inside of the grafting for added strength. I'm ditching the rear crossmember and I'm going to weld my rear bumper, which is 3/16" rectangular 2x4" tube, to the new grafted pieces. I was thinking just replacing from the curve back maybe 12" on each side. My question is would this be good or would just plating it essentially making my own rec. tube be better. That just seems like a lot of welding... thoughts, ideas and pics
Thanks,
Nick
Registered User
Join Date: Mar 2008
Location: Northern, IL
Posts: 4,226
---
Mike
My build thread
1979 CJ7, FI 5.0L Ford, NP435, D300, Full floated D44 Detroit, D30 Detroit EZ Locker.
Web Wheeler
Join Date: Oct 2008
Location: Northeastern Illinois
Posts: 1,566
I only had about 1-1/2" of rot right at the ends of my frame rails. The first thing I did is to make rectangular tube .188" thick approximately the same size as my frame rails:
I did this by spitting 2x3" tube and welding the larger halves together. My rails measure approx. 2.530"x2.900". Then I welded in a solid block of steel to replace the welded nuts, and drilled and welded in cross tubes to bolt on my homemade crossmember without crushing the tube:
Then I cut off 6" of the frame rails and buttwelded them to my frame:
And before anyone says so, I did chamfer the join edges better than shown in the picture. I also made side plates, which I am in the process of welding on. I'm also going to fab bottom and top plates as well. Now, I have 20 years of metalworking experience, as well as access to a fully equipped machine shop. I know not everyone has access to the resources I do, but just maybe what I put up here may provide inspiration for someone else. As I progress, I can post more pics if you like. I'm in the middle of welding the inner and outer plates to the driver side rail right now, and hope to have both sides finished before the weekend. And to think this just started out as mounting a rear bumper!
---
Last edited by chet44; 08-11-2009 at

09:07 PM

. Reason: grammar
Registered User
Join Date: Sep 2007
Location: Pennsylvania
Posts: 671
Thanks guys great pics, that's exactly what I was talking about! If you have anymore helpful pics send them my way.

Chet, I like your idea to mount the bumper. I was planning on losing my rear cross-member and welding my 2x4" bumper right to the end of the frame. I'm not sure how I'll mount the gas tank yet maybe have to weld the bumper to the cross member then weld that to the frame... any thoughts?


Coiz ,

Nice job I think because my body is still on the frame it will be easier for me to hack off the bad and install new, but your job looks very nice.

Are you guys welding the shackle hanger to the bottom or are you drilling for new holes. I wonder if I could do Chet's idea for his bumper, but a little lower to make an internal sleeve instead of running the shackle hanger. I think because I'm going to use 3/16" material it would be fine. thoughts?

THanks,

Nick
Registered User
Join Date: Mar 2008
Location: Northern, IL
Posts: 4,226
3/16" will be solid. I opted for the 1/8" since it was the same as stock thickness and made it easier to line up the fish plates flush on the inside and out. Also knowing that I was going to add the 3/16" reinforcement to the sides and the 1/4" plates to the bottom was going to make it considerably stronger than stock. It doesn't show it in the photos but I also added a piece of tube steel to the inside of the rails where the bumper frame tie-in bolts go to keep the frame rails from getting compressed by the bolts. As far as the shackle hanger, I welded nuts to the inside of the lower plate just like they come from the factory. Chet's idea with the solid bar tapped to fit looks solid and unlikely to ever strip out the threads.
---
Mike
My build thread
1979 CJ7, FI 5.0L Ford, NP435, D300, Full floated D44 Detroit, D30 Detroit EZ Locker.
Jeep. There's Only One
Join Date: Jan 2007
Location: Doylestown, PA
Posts: 6,506
If only the rear inner "C" sections are rotted, as most are because the steel is thinner, you can just cutout the rotted section and use a new piece of steel as pictured below. The new piece of steel will fit either side of the rear section of the frame and has the original holes for mounting accessories like the OEM draw bar.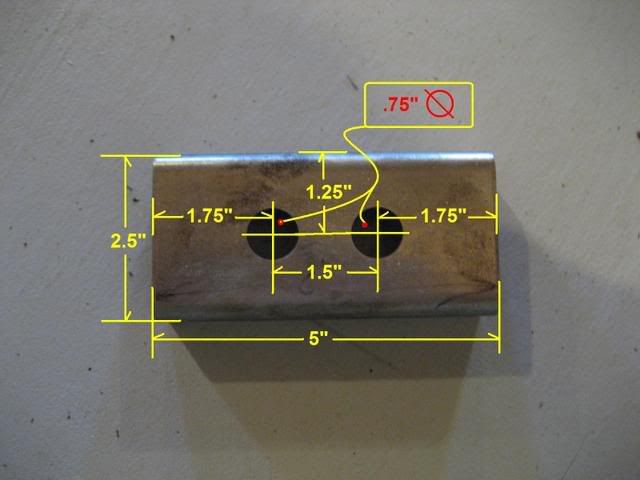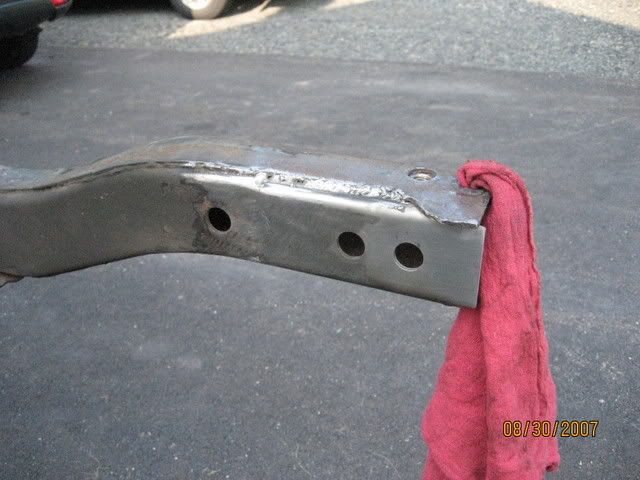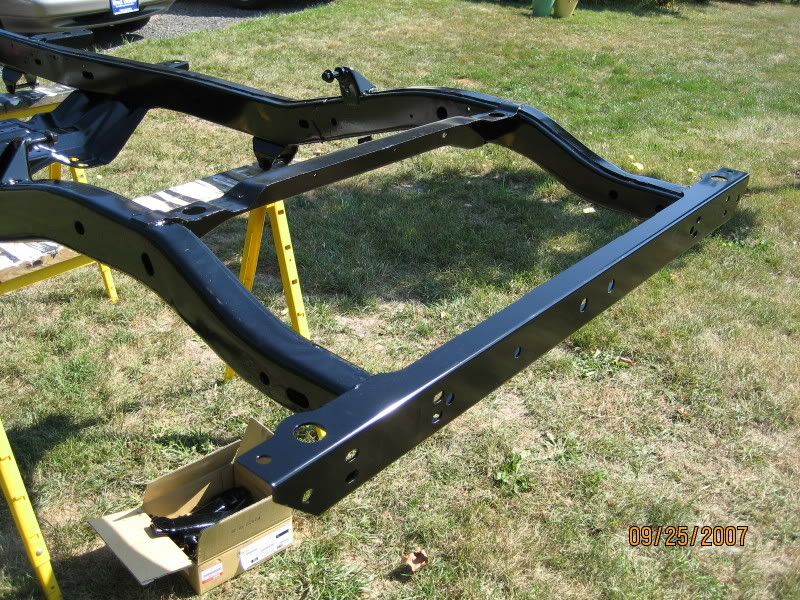 Bicentennial Nickel
Join Date: Aug 2002
Location: Bedford, NH
Posts: 2,421
Web Wheeler
Join Date: Oct 2008
Location: Northeastern Illinois
Posts: 1,566
My frame rails were rotted on the outer and inner rails. But only about 1-1/2" from the back. I've seen a few guys on here that did like you want and weld the bumper right to the frame rails, but they also welded a piece of angle iron to the front face of the bumper and bolted the skid plate to that. As for a rear crossmember, I "found" a piece of 3/8" x 4" channel that no one wants so I'm going to try to use that as a new crossmember. I want my bumper removable because it seems that every time I make something like that permanent, within a year or so I find myself cutting off the welds to get at something behind it. I'll post pics as I finish the frame but lately I've been swamped at work and after a 14 hour day I really don't want to even see more metal, much less work on it.


I welded a solid block in the repair pieces, then drilled and tapped them. So I will still be bolting the shackle hangers to the frame. Those do get damaged, or rust, etc. and it would be nice to just un-bolt them to change them. And, I take a page from JeepHammer's book and put Never Sieze on everything.
Currently Active Users Viewing This Thread: 1

(0 members and 1 guests)
Posting Rules

You may post new threads

You may post replies

You may not post attachments

You may not edit your posts

---

HTML code is Off

---