Registered User
Join Date: Jul 2011
Location: Valley Center
Posts: 11
Remove body lift??? Please help...
---
I have an 86' CJ7. I recently purchased it and it is my first jeep.
It has 35" tires and the prior owner told me it has a 4" suspension lift and 2" body lift. The suspension lift appears to be 4" and I believe it has 1" lift shackles as well.
The body lift has 2" tall body mounts. Is this a 2" lift or a 1" lift. I am new to this but it would make more sense to me if 2" body mounts were actually a 1" lift.
I am contemplating dropping the body down 1" (either removing the lift and going back to standard mounts or go to a 1" lift..depending on the responses to the question above).
So the second question, do you think I will still have enough clearance to drop the body 1"? The main reason I want to drop it is so that the jeep will fit in my garage with the hardtop on....currently there is only about 1/2" clearance between the roll cage and the header of my garage.
Any advice would be greatly appreciated. Thank you!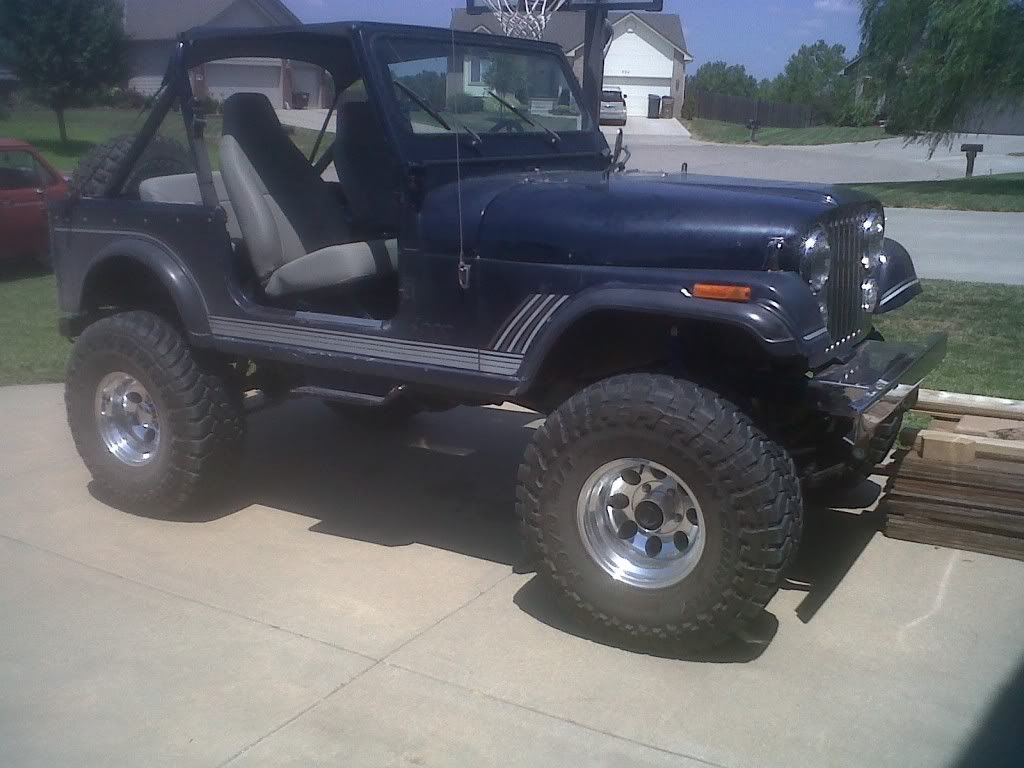 Alpha dog
Join Date: Apr 2001
Location: Near Fairfield, CT
Posts: 1,220
Can you take a close-up pic of the mount? Who knows what the PO meant.
---
'82 Scrambler - NV4500/4.5" lift/33" Toyo MTs/4.0/twin stick, and my windshield washers work! Full 1/2 cab Cage



2004 Grand Limited 4.7 HO - OH Boy!

2010 Grand Laredo 5.7 Hemi - SICK - back for a second time!

"Both my Doberman and my Jeep can accurately be described as 'black and rust.'"
Yes...I will get some better pics and post them tomorrow. Thanks in advance for you help!!
Registered User
Join Date: Jul 2011
Posts: 82
buy stock length shackles and get rid of the 1" shackles you have now, a lot easier than removing the body lift and on top of that you will have a nicer ride.
Web Wheeler
Join Date: Jan 2009
Location: Beach City
Posts: 6,039
Also step down to 33" tires.. Having those 35" tires looks like you might run into clearance issues with the rear there.
---
Rick

1978 CJ5 5.0HO/T177/D300, '86 D30/D44 WT axles, 'glass body, 31x10.5 BFG A/T, TDK galv'd frame - DD and weekend toy


To view links or images in signatures your post count must be 10 or greater. You currently have 0 posts.

Here are some better pics of the suspension and body lift. I appreciate the advice thus far....
I have contemplated going to 33" tires, however the tires on it are in really good shape and I am starting to lean towards keeping them, however I also realize it may be best to swap them out to best accomplish my goals (lower the overall height by approx 1" and still maintain decent clearance for wheelin.
Take a look and let me know what you all think....And thanks again for the help!!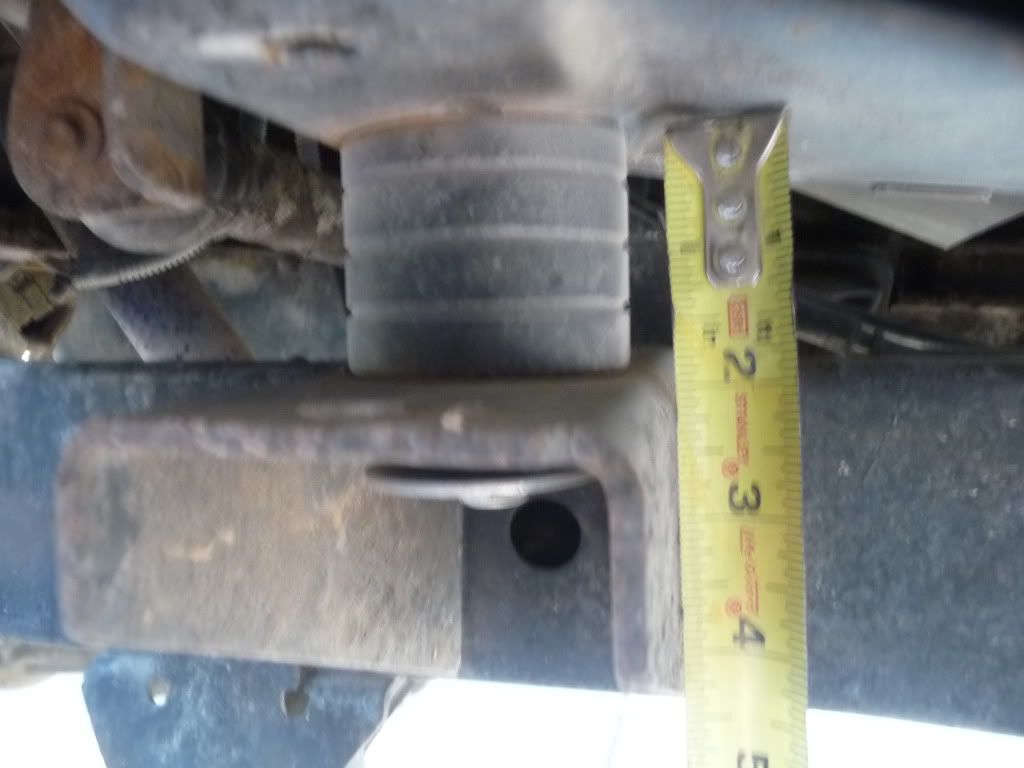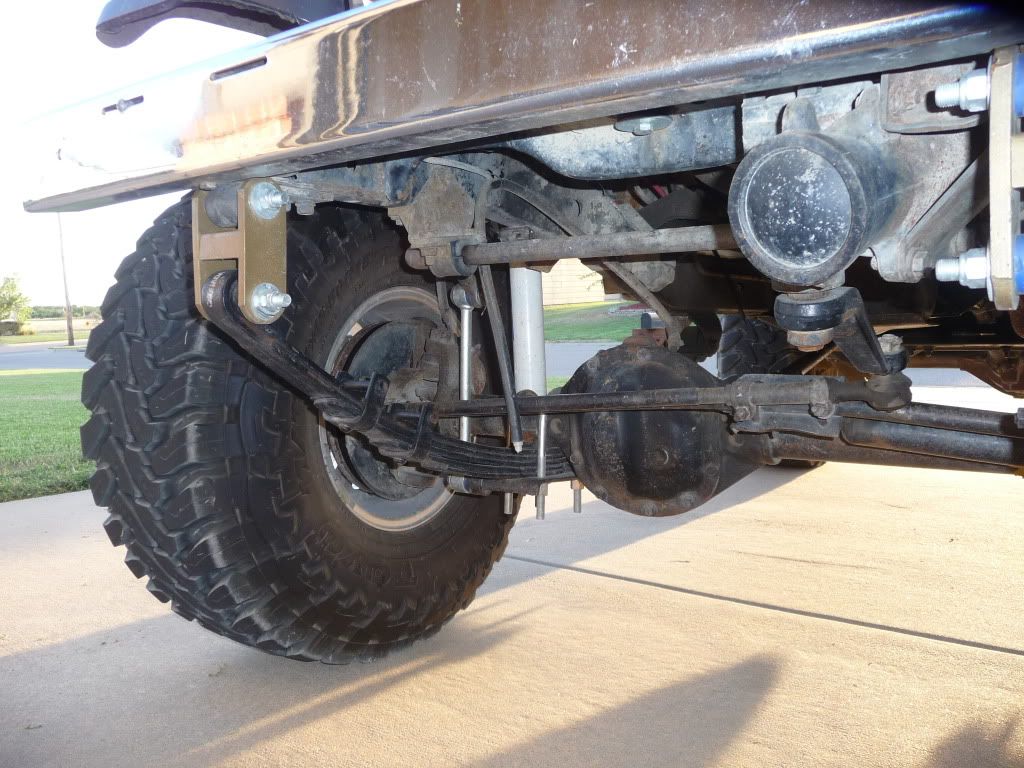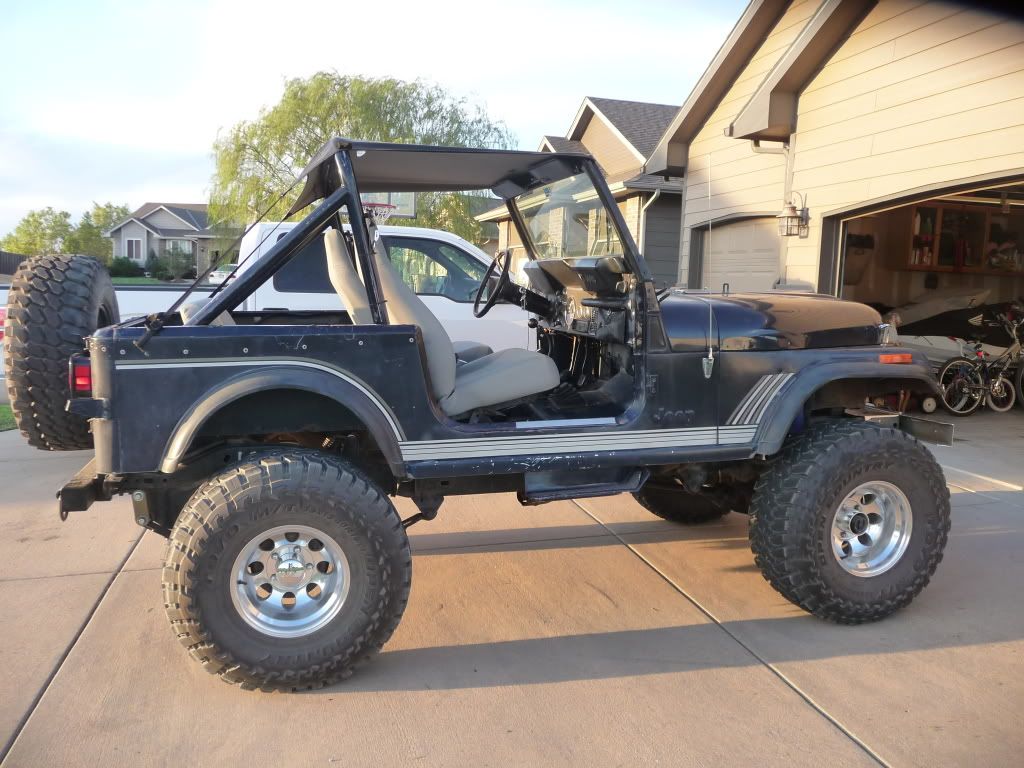 I should also add....I am planning on other upgrades to the drivetrain. I have another dana 30 front diff that i will be installing (warn hubs, trutrac locker, upgraded axles w/ 4.56 gears) and detroit locker w/ 4.56 gears in the rear dana 44. Also will be upgrading the tie rod and drag link to a heavy duty setup.
Registered User
Join Date: Nov 2008
Location: Louisville, Ky.
Posts: 2,105
looks like a 1" LIFT on the body. (1" over stock height mounts)
here's mine
if your gonna do a new tie rod and drag link, look into a flip kit for them while your at it.
looks like you have a HD steering box bracket too...great! might want to look into a brace too.
i'll let others advise on this too- but your ubolts look long and might want to be trimmed to keep from hanging up on obsticles.
what else can i spend your money on?! lol!
good lookin Jeep!! Im jealous of the BDS suspension lift!
keep us updated with pics as you go for sure!
edit: disregard the HD bracket comment. it was the shackle i was seeing.
hey look, I found something else to spend your money on!!
---
Torque is the measure of force that gets the cap off your beer.


Mike D.
Registered User
Join Date: Jun 2008
Location: The otherside of your monitor...
Posts: 5,656
x2 on the 1" Daystar body lift.
---
Under A Sun Thats See It All Before...
Thanks for the advice! I appreciate all I can get
Registered User
Join Date: Jul 2009
Location: Bali
Posts: 5,792
The 4.56 are doable with 35" tyres but they would be more comfortable in everyday use combined with 33" tyres, possibly 34". This will put the top gear engine speed at highway speed in the right ballpark for fuel economy and acceleration.
---
BagusJeep lives in Bali.

1981 CJ7 258ci - Bagusjeep
1984 CJ7 258ci - Puthijeep
1981 J20 258ci - Gladys
1951 Willys CJ3A/MB/M38 - Little Willy
1995 Cherokee 4.0 - CHEROKEE
Registered User
Join Date: May 2011
Location: Providence
Posts: 640
Why not just air down the tires when you have the hard top on. If you like the way it is then have a compressor handy to air back up when you back out of the garage.air bleeder valve caps would be all you would need.

If you are going to do something like lower the Jeep then you can cut the body mounts and get shorter bolts to replace the long ones.a bandsaw will work good if you don't have one then a hacksaw will work,just will take longer.
Currently Active Users Viewing This Thread: 1

(0 members and 1 guests)
Posting Rules

You may post new threads

You may post replies

You may not post attachments

You may not edit your posts

---

HTML code is Off

---