Hey guys I went ahead and set my weber 32/36 to baseline and readjusted it, made a couple videos.
My mixture ended up 1 3/4 ish turns out, idle screw is 1 1/2 turns in.
My issue is the secondary adjustment. I had to mess with it just a little to get my rpms up.
what do you guys think?
Thanks
[IMG]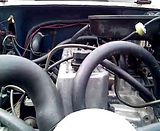 [/IMG]
[IMG]
[/IMG]
Sorry I couldnt figure out how to put them right on the site
kov