I can't get my engine to idle below 800 rpm with the advance at 12*.
The carb is a quadrajet ('77 not original to the motor or Jeep) with a recent carb kit done on it. It is manual choke. I have carb sprayed for vacuum leaks. I recently upgraded the ignition and all is good there.
The engine idled high before the carb kit and ignition upgrade.
The issue is... The idle screw is backed off to the point it is not touching the throttle linkage. The linkage can't go any further forward.
At 12* advanced it idles at 800. At 10* it idles at 700. At 8* it idles at 600.
I would like it to idle somewhere between 550 and 650. Not sure yet, cuz I haven't got it there.
You might ask now, if it idles at 600 at 8* advanceda then leave it there. I would, but it doesn't run good there. It wants to bog down, especially in 3rd and 4th gears.
It runs best through the gears at 12*, but it is idling at 800 when I have it there.
Right now I have it at 10* and idling at 700. It runs good, but is a little sluggish.
So my question is... What the hell can I do to make this thing idle around 600 with the timing set at 12*??? Is it the high idle screw? I haven't messed with that because I thought that had to do with the choke???
When I did the carb kit, I took pictures of the choke linkage and am pretty sure I got it all back together the same way. Of course maybe it was messed up to begin with and I put it back together messed up. Not even sure if this matters, cuz the choke works fine. Is there something else on the passenger side of the carb that could be wrong???
For what it's worth, here is a pic and thanks in advance for any pointers...
[IMG]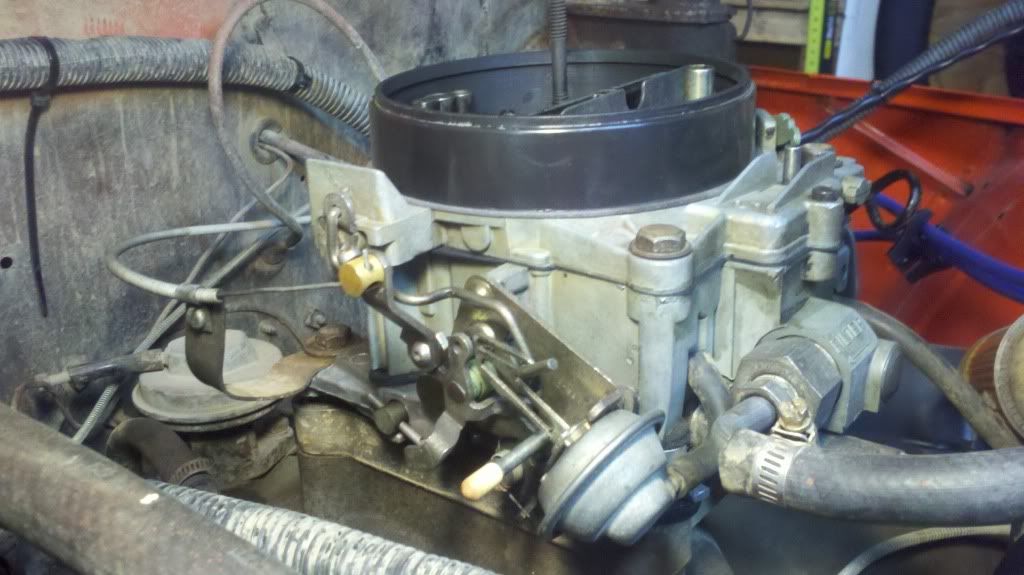 [/IMG]