I talked about train horns with my son and his friends. Looked into them on the internet and saw the total cost could exceed $1,200.00. I watched a couple of videos of folks tearing apart "real" train horns, and pictures of pvc horns and decided to attempt to build my own.
The materials are easy to obtain at the big box or corner hardware store. I made three for my CJ-7.
What you need: 4" to 2", or 4" to 1 1/2" reducer, which is the main body of the horn.
a 2" to 1" or 1 1/2" to 1" reducer (depending on what you purchased above).
threaded nipples to thread into the body, and the manifold you will build (I bought 7)
a foot or two of 4" PVC pipe
a 5' section of 1" PVC pipe
a couple of 1" caps to cap off the manifold
some plastic for the horn diaphram (i used dollar store plastic food container lids) trimmed to fit the 4" end of the body
plastic transmission funnel for each train horn's "flare"
reinforced tubing to run from the horns to the manifold and from the manifold to your air source/on/off valve
light PVC cement (for reducer to 1" pipe and inner diaphram ring)
screws to secure back diaphram retaining ring and to secure flare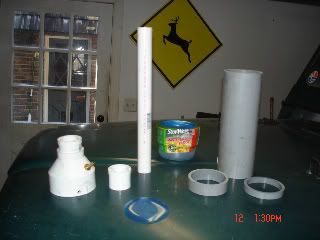 an image of some materials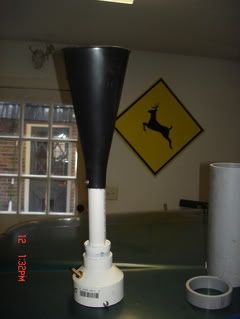 a completed horn with flare
two horns under hood with a view of the air distribution manifold